Learn how to make this easy and refreshing Korean milk ice sorbet or known as injeolmi bingsu. Milk shaved iced is topped with soft and chewy rice cake, sweet red bean paste, almond flakes, and other toppings you like. Such a great contrast of texture all in one.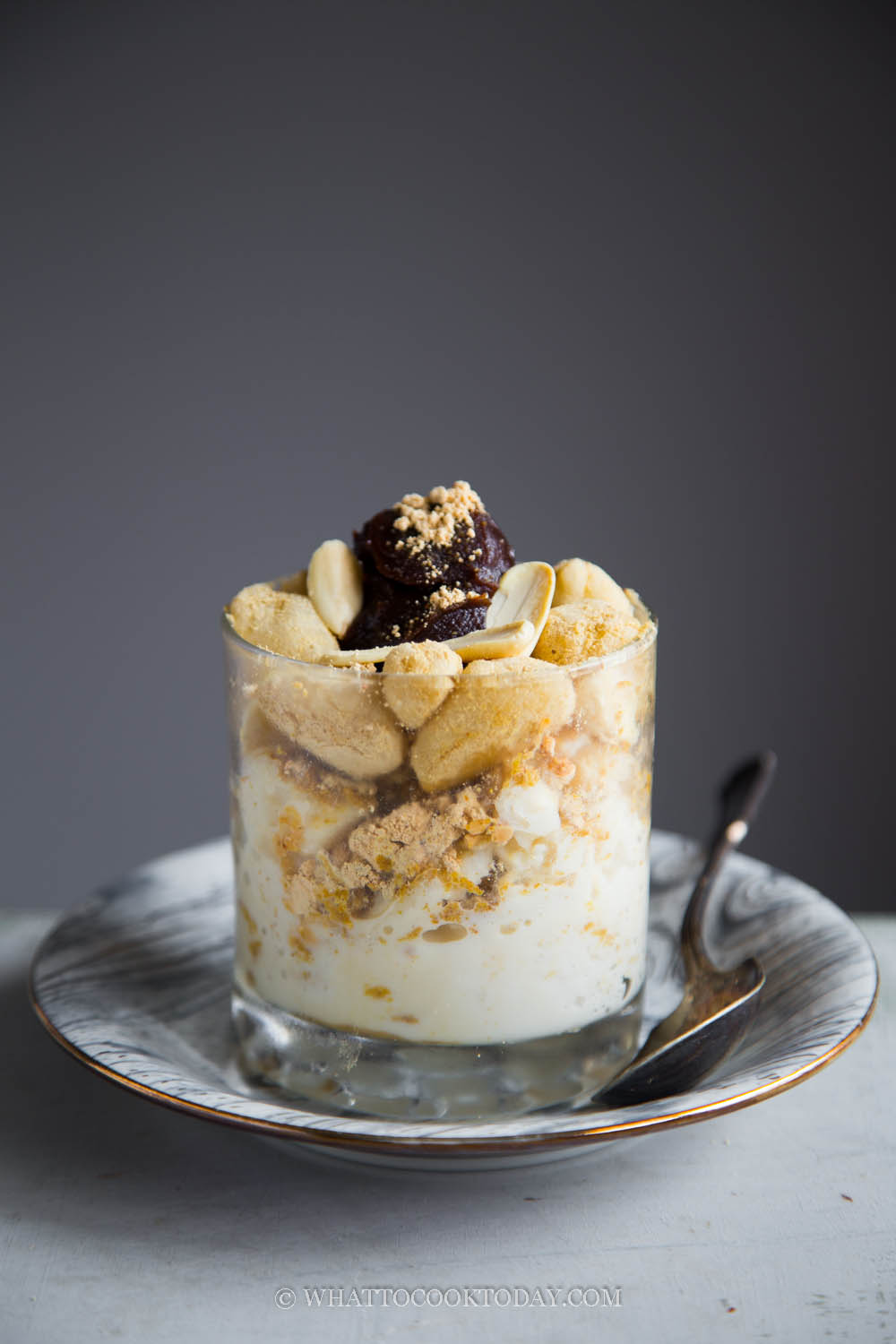 Injeolmi bingsu is one of Korea's popular Summer desserts. I learned about Injeolmi bingsu from a fellow YouTuber. It's easy to make and I had all the ingredients on hand and decided to give it a go 🙂 Besides, the weather is still pretty humid and warm at this time of the year. My kids love having this refreshing dessert!
What is injeolmi bingsu?
Injeolmi is Korean-style rice cake (tteok) made with glutinous rice and coated with toasted soy bean powder or another type of bean powder. Basically, if you have a mochi before, that's exactly how the texture of injeolmi is. Bingsu or bingsoo is a type of Korean shaved ice, the most popular one is pat bingsu, which is shaved ice topped with sweetened red beans, fresh fruits, and condensed milk. The bingsu in this dessert is made with milk, so it's a milk-shaved ice topped with injeolmi, sweet red beans, almond flakes, or any other toppings you like to add on.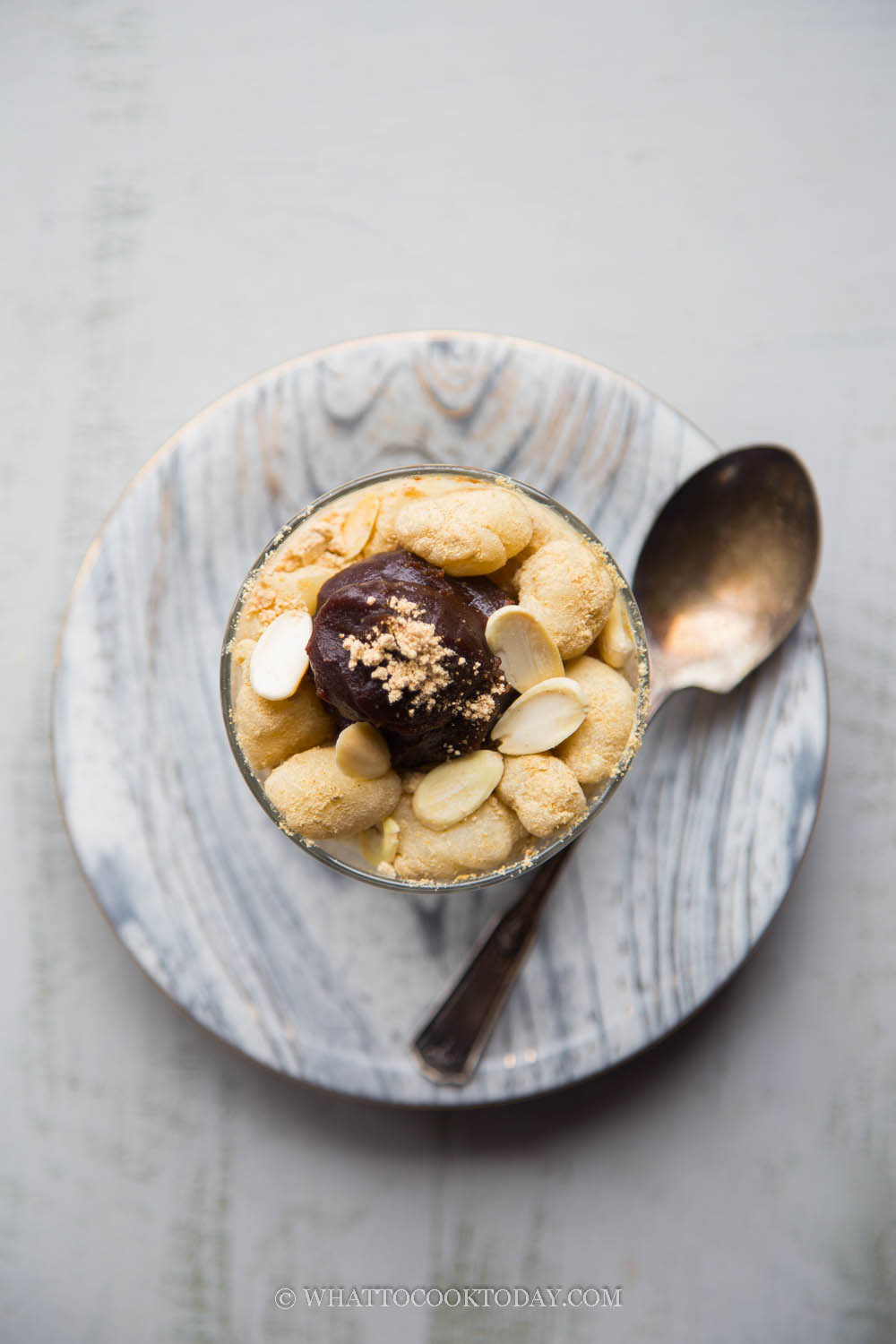 How to make injeolmi bingsu
1. You will need a leak-proof freezer-friendly plastic bag or you can use an ice cube tray. If you use an ice cube tray, you need a food processor or a blender to crush the ice later. If you have silicone trays, that's even better as the ice cubes are easier to take out. I use a leak-proof freezer plastic bag. I prefer using the bag because I can lay it flat in the freezer and it's easier to crush the ice later
2. Combine the milk, condensed milk, and water. Stir to combine thoroughly and gently pour inside the plastic bag, push out the air and seal tightly. You can lay this flat on a tray. You can also pour the milk mixture into ice cube trays. Freeze for at least 5 hours, preferably overnight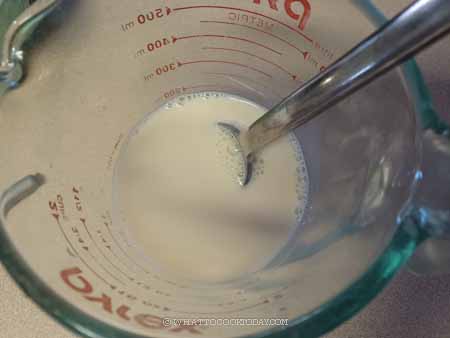 3. Combine glutinous rice flour, sugar, and salt in a heat-proof bowl. Pour hot water and stir to combine. You will get a paste-like consistency


4. Cover with a foil and then put in a steamer and steam for 15-20 minutes or until the cake is cooked through. When you insert a toothpick, it should come out clean


5. Use a rubber spatula to fold the rice cake a few times, sort of kneading it. This will make the rice cake soft and chewy. The dough is sticky at this point


6. Pour about 1/2 cup of roasted soybean flour on a plate. Put the injeolmi dough on top and coat it with flour. Use a plastic knife, or plastic dough scraper, or an oiled knife to cut into bite-size and coat each piece with the soybean flour


7. The milk bingsu should be nicely frozen by now. If you use a bag, gently crush the ice with a rolling pin, kind of rolling back and forth to break the ice. If you use ice cube trays, you can wait for 2-3 minutes at room temperature and it will be easier to get it out from the tray. Put the ice cubes in a blender or a food processor and process it for about 15-20 seconds to get the shaved ice consistency. Keep them chilled in the freezer when you get all the things you need for assembling
8. Get 2 bowls out and all the toppings you will need. The shaved ice melts pretty fast so we want to work faster. Portion 1/4 of the milk ice out into the two bowls


9. Top with 1 Tbsp of soybean flour on each (you can add more if you want)


10. Then top with the remaining 1/4 o the milk ice to each bowl


11. Top with another 1 Tbsp of soybean flour in each bowl. Arrange some injeolmi pieces surrounding the edge of the bowl


12. Lastly but surely, top with about 1/2 cup (or more if you wish) of the red bean paste in the middle and serve immediately before the shaved ice melts

Why we love injeolmi bingsu
It's so refreshing, creamy, toasty (thanks to the roasted soybean flour), the soft and chewy injeolmi, the sweet red bean paste, and the crunchy almond flakes! oh…so many textures and delicate tastes fused together in one bowl. It's seriously so good and so easy to put together too! The toppings can be flexible too. You can use whatever your heart desires if you ask me!

Did you make this easy injeolmi bingsu recipe?
I love it when you guys snap a photo and tag to show me what you've made 🙂 Simply tag me @WhatToCookToday #WhatToCookToday on Instagram and I'll be sure to stop by and take a peek for real!

Korean Injeolmi Bingsu (Milk Ice Sorbet)
Ingredients
For the milk bingsu:
300

ml

whole milk

you can use low-fat milk too

45

gr

condensed milk

40

gr

water
Instructions
Prepare the milk bingsu:
You will need a leak-proof freezer-friendly plastic bag or you can use ice cube tray. If you use an ice cube tray, you need a food processor or a blender to crush the ice later. If you have silicone trays, that's even better as the ice cubes are easier to take out. I use a leak-proof freezer plastic bag. I prefer using the bag because I can lay it flat in the freezer and it's easier to crush the ice later

Combine the milk, condensed milk, and water. Stir to combine thoroughly and gently pour inside the plastic bag, push out the air and seal tightly. You can lay this flat on a tray. You can also pour the milk mixture into ice cube trays. Freeze for at least 5 hours, preferably overnight
Prepare the injeolmi tteok:
Combine glutinous rice flour, sugar, and salt in a heat-proof bowl. Pour hot water and stir to combine. You will get a paste-like consistency. Cover with a foil and then put in a steamer and steam for 15-20 minutes or until the cake is cooked through. When you insert a toothpick, it should come out clean. Use a rubber spatula to fold the rice cake a few times, sort of kneading it. This will make the rice cake soft and chewy. The dough is sticky at this point

You can also cook the dough in a microwave. Cover the heat-proof bowl with a plastic wrap and poke a few holes on top and cook on high for about 3 minutes. It should come out like a dough. If it's still wet, add another 30 seconds or 1 minute. Then use a rubber spatula to fold the dough several times to knead it so that it's soft and chewy

Pour about 1/2 cup of roasted soybean flour on a plate. Put the injeolmi dough on top and coat it with the flour. Use a plastic knife, or plastic dough scraper, or an oiled knife to cut into bite-size and coat each piece with the soybean flour
Back to the milk bingsu:
The milk bingsu should be nicely frozen by now. If you use a bag, gently crush the ice with a rolling pin, kind of rolling back and forth to break the ice. If you use an ice cube trays, you can wait for 2-3 minutes at room temperature and it will be easier to get it out from the tray. Put the ice cubes in a blender or a food processor and process it for about 15-20 seconds to get the shaved ice consistency. Keep them chilled in the freezer when you get all the things you need for assembling
Assembling and serve:
Get 2 bowls out and all the toppings you will need. The shaved ice melts pretty fast so we want to work faster

Portion 1/4 of the milk ice out into the two bowls. Top with 1 Tbsp of soybean flour on each (you can add more if you want). Then top with the remaining 1/4 o the milk ice to each bowl. Top with another 1 Tbsp of soy bean flour in each bowl. Arrange some injeolmi pieces on surrounding the edge of the bowl. Lastly but surely, top with about 1/2 cup (or more if you wish) of the red bean paste in the middle and some almond flakes and serve immediately before the shaved ice melts
Nutrition
Serving:
1
serving
|
Calories:
1053
kcal
|
Carbohydrates:
161
g
|
Protein:
37
g
|
Fat:
31
g
|
Saturated Fat:
7
g
|
Polyunsaturated Fat:
9
g
|
Monounsaturated Fat:
13
g
|
Trans Fat:
1
g
|
Cholesterol:
26
mg
|
Sodium:
242
mg
|
Potassium:
1645
mg
|
Fiber:
13
g
|
Sugar:
86
g
|
Vitamin A:
362
IU
|
Vitamin C:
1
mg
|
Calcium:
452
mg
|
Iron:
6
mg