Vegetables are mixed with a very flavorful mix of spices and herbs that give you that sour, salty, sweet, slightly spicy, and umami taste at the same time. They are so delicious that you will find an excuse to eat them with pretty much anything. It is vegan and gluten-free.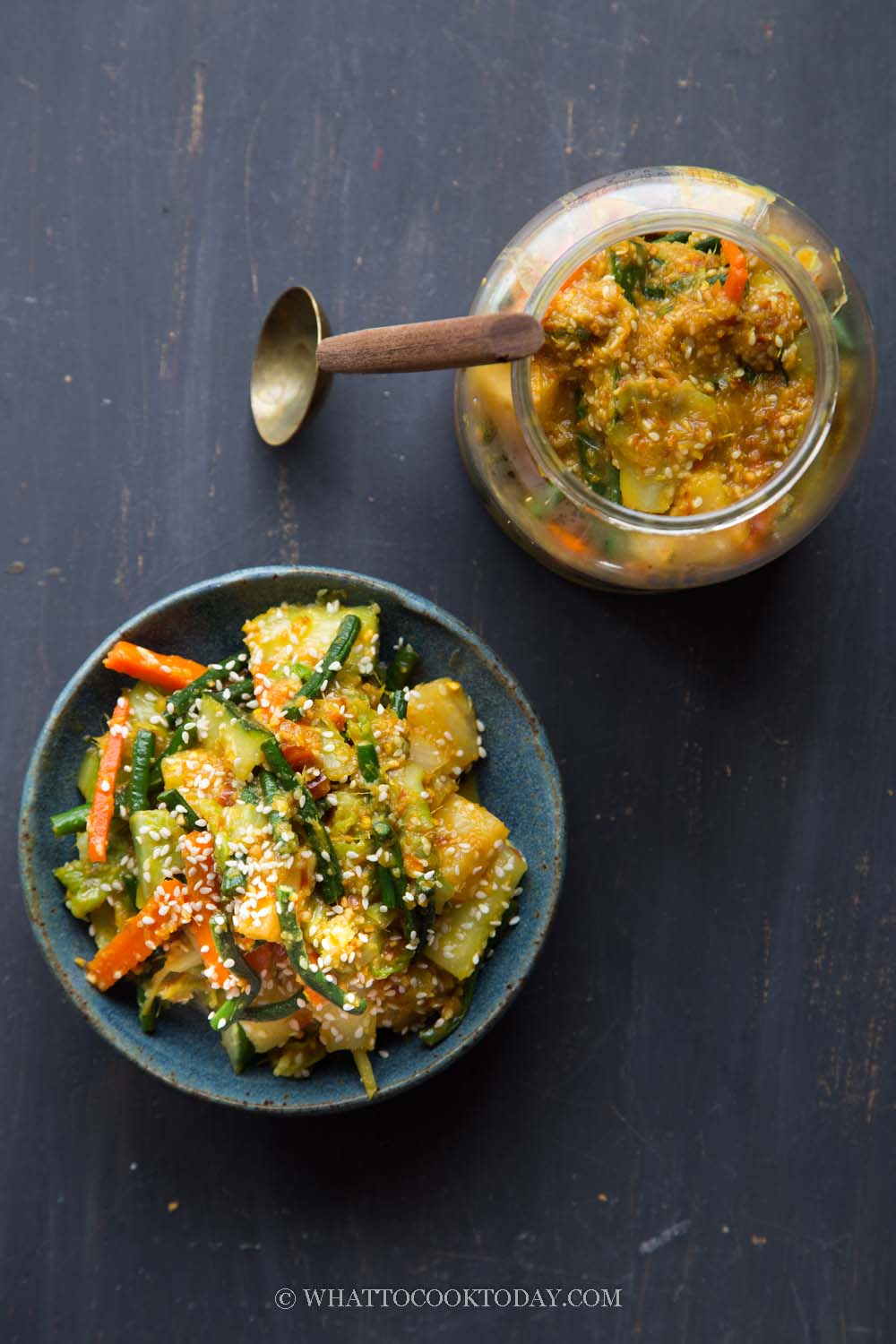 What is Acar/Achar?
Acar is a description for pickled vegetables of anykind in Southeast Asia, mainly in Indonesia, Singapore, and Malaysia. It is originated in India, known as Achaar.  In Indonesia, the acar is usually quite simple and consists of few vegetables such as cucumbers, shallots, carrots, and fresh chilies, pickled in vinegar and sugar. Acar is usually served as a condiment, especially to accompany meaty and seafood dishes, though of course you can serve acar with pretty much anything. Acar is usually made in big bulk and then stored in jars.
Nyonya acar awak is incredibly tasty
Nyonya acar awak is popular in Singapore and Malaysia. The crunchy vegetables are tossed in incredibly aromatic and flavorful sauces. It has a very complex taste and flavor, typical of Nyonya cuisine (or Southeast Asian cuisine in general). It's a bit more work but it's so worth it.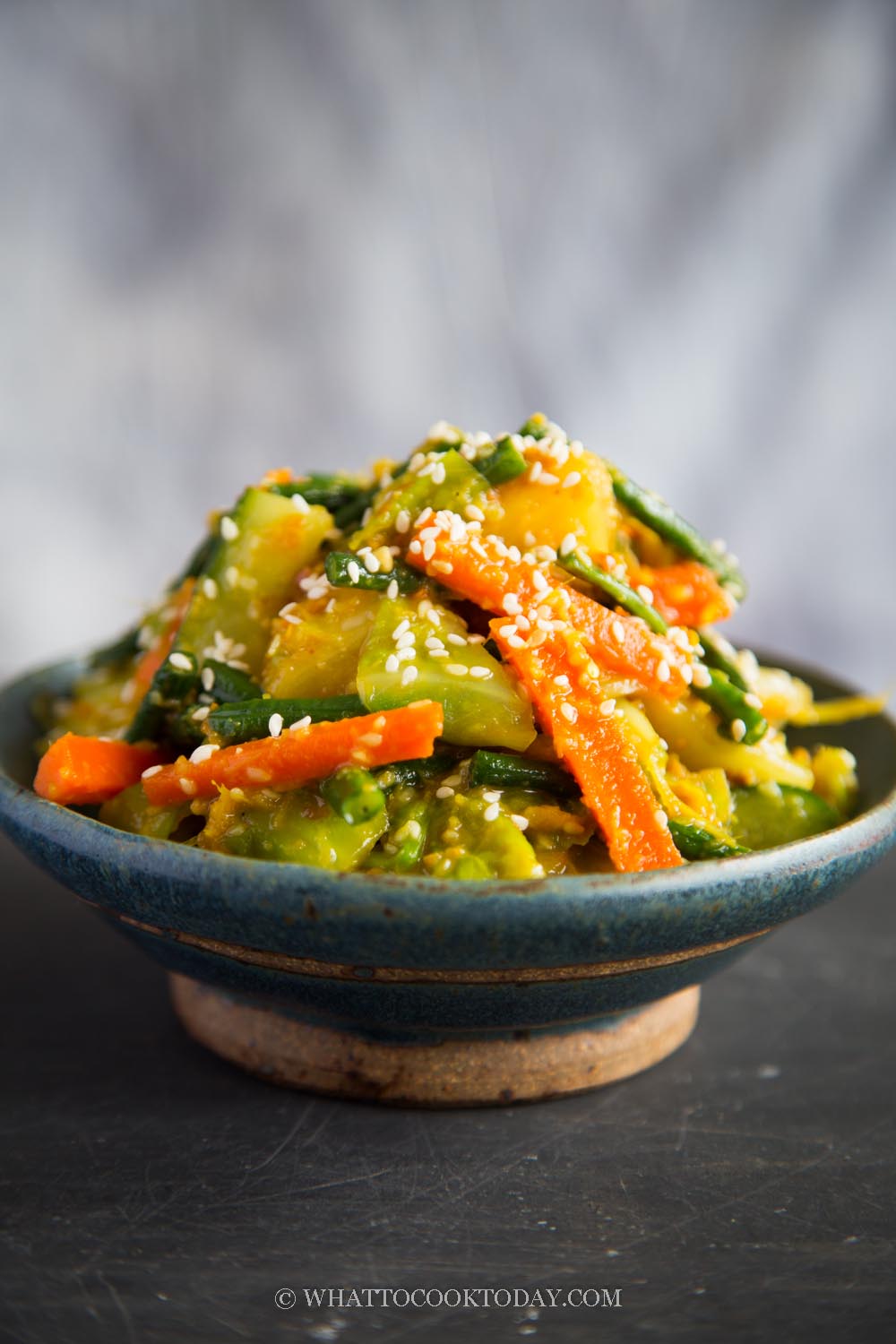 Vegetables to use in Nyonya acar awak
You can pretty much use whatever veggies you like, but here are the common ones used in acar awak :
1. Cabbage
2. Carrots
3. Cucumber
4. Long beans
5. Pineapple chunks

How to make Nyonya acar awak from scratch
1. Soak the dried chili in warm water for 15 minutes


2. Ground the roasted peanuts into fine pieces, not powder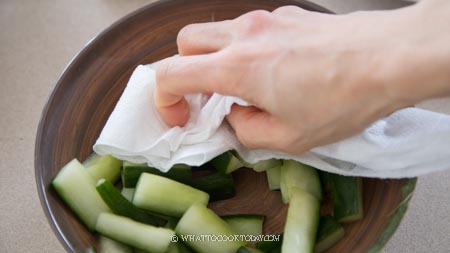 3. Cut the carrots and long beans into strips, about 2 inches long. Cut the cabbage into bite-size. Cut the pineapple into bite-size chunks. Half the cucumber and then scoop out the seeds. Halve again and cut into strips about 2 inches long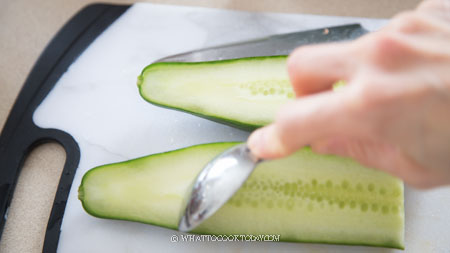 Sprinkle the cucumber with 1 teaspoon of salt and then toss to combine. Let them sit for 30 minutes while you prepare other things. Then squeeze out the extra liquid and pat them dry with absorbent paper towel


4. Bring a large pot of water to a boil and then blanch the long beans, cabbage, and carrots for about 5 minutes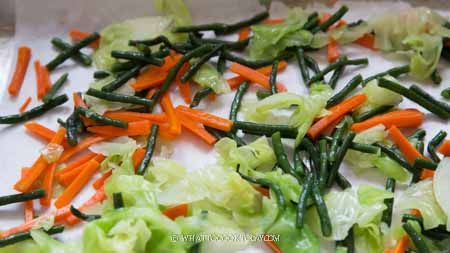 5. Refresh in cold water.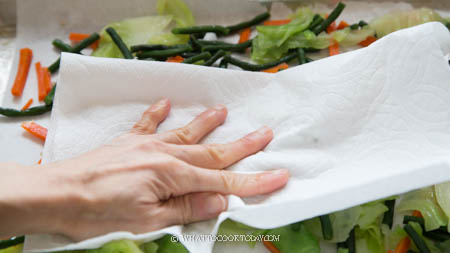 6. Spread them on a large tray and pat them really dry. The drier they are, the longer they will keep in the fridge


7. Place all ingredients for grinding in a blender. Blend into a paste. The oil should make it easy to get it done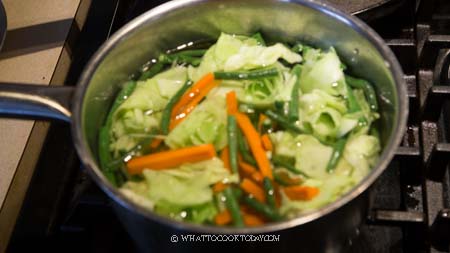 8. Preheat a large wok or pan. Pour the blended ingredients in and saute until really fragrant, about 10 minutes.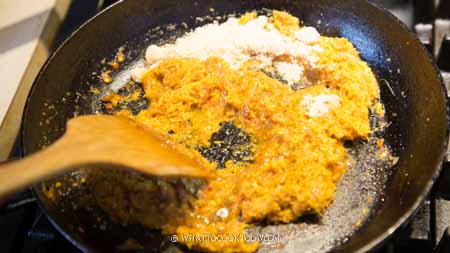 9. Turn off the heat. Stir in all the vegetables, sesame seeds, and ground peanuts. Toss to make sure they are coated in the spices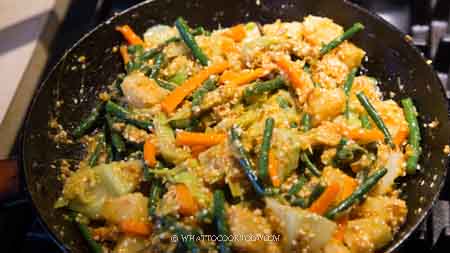 What to serve Nyonya acar awak with?
You can serve it with pretty much whatever you plan to eat. I have had acar served with nasi lemak, sate ayam bumbu kacang, sate ayam kecap. Just to mention a few. I can eat this with a plain white rice and I would be happy 🙂
How to store Nyonya acar awak
Let them cool down in a pan or wok completely. Transfer to a large jar with a tight-fitting lid. Store in the refrigerator and let them pickle for 24 hours before serving. They can be kept in the fridge for about 1 month (It only lasted a week at our house!)

Did you make this Nyonya acar awak recipe?
I love it when you guys snap a photo and tag to show me what you've made 🙂 Simply tag me @WhatToCookToday #WhatToCookToday on Instagram and I'll be sure to stop by and take a peek for real!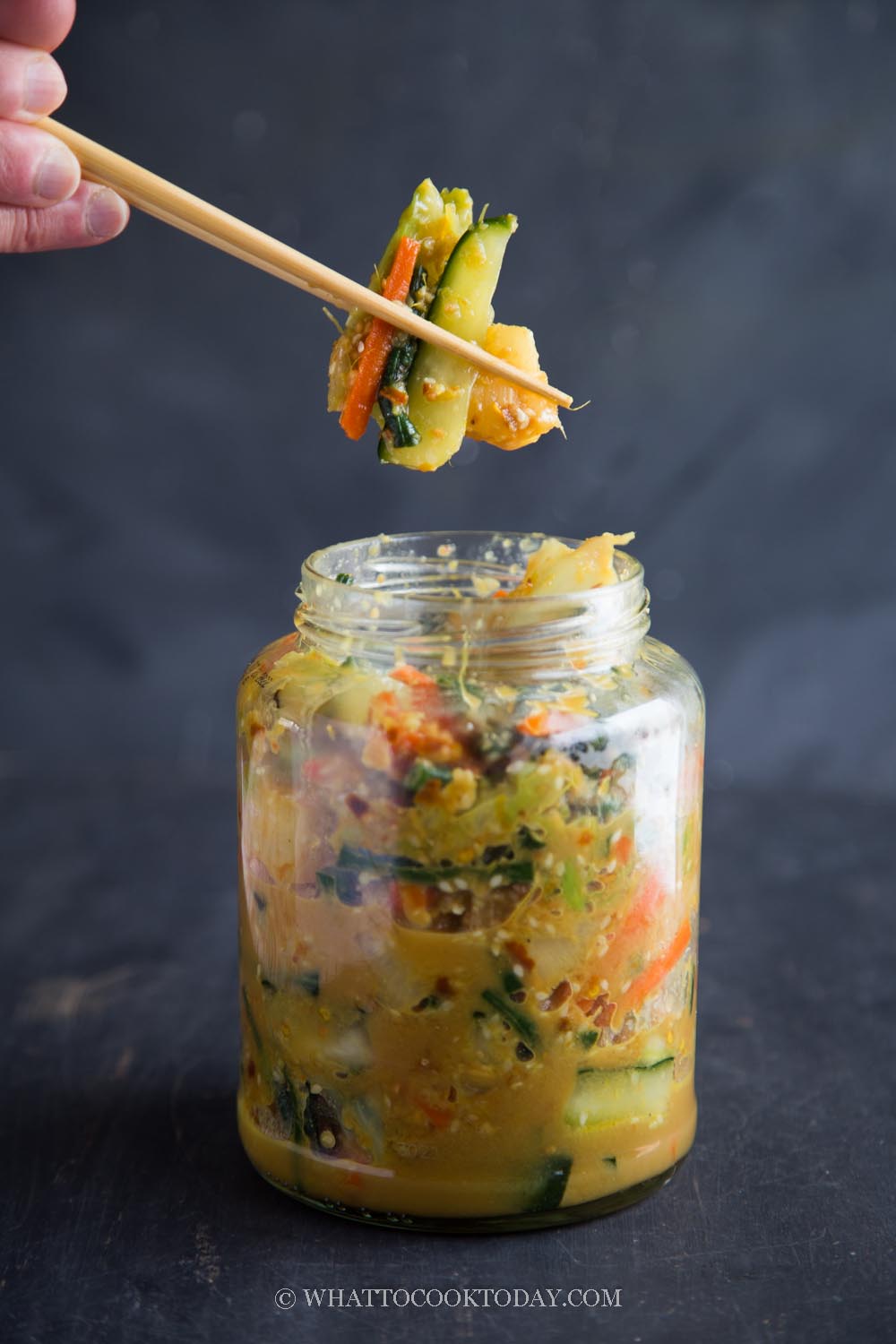 You may also like these acar or pickle vegetables
The recipe is adapted from MyKitchen101.

Nyonya Acar Awak (Nyonya Pickled Vegetables)
Ingredients
Vegetables:
300

gr

cabbage

200

gr

carrots

200

gr

long beans

200

gr

cucumber

300

gr

pineapple

1

tsp

salt

for the cucumber
Ingredients to grind:
2

stalks

lemongrass

white parts only

20

dried chili

80

gr

shallots

30

gr

garlic

15

gr

galangal

or 1 Tbsp galangal powder

1

inch

turmeric

or 1 tsp of turmeric powder

160

gr

cooking oil
Seasonings:
150

ml

white vinegar

100

gr

sugar
Instructions
Soak dried chili in warm water for 15 minutes. Ground the roasted peanuts into fine pieces, not powder
Prepare the vegetables:
Cut the carrots and long beans into strips, about 2 inches long. Cut the cabbage into bite-size. Cut the pineapple into bite-size chunks. Half the cucumber and then scoop out the seeds. Halve again and cut into strips about 2 inches long

Sprinkle the cucumber with 1 teaspoon of salt and then toss to combine. Let them sit for 30 minutes while you prepare other things. After 30 minutes, you will see some liquid pooling in the bowl, Discard that and squeeze out as much liquid as possible. By removing the water, it makes the cucumber crunchy. Drain off the liquid and rinse the cucumber with water to get rid of salt. Pat the cucumber really dry with an absorbent paper towel

Bring a large pot of water to a boil and then blanch the long beans, cabbage, and carrots for about 3 minutes and then refresh in cold water. Spread them on a large tray and pat them really dry. The drier they are, the longer they will keep in the fridge
Cook the ground spices:
Place all ingredients for grinding in a blender. Blend into a paste. The oil should make it easy to get it done

Preheat a large wok or pan. Pour the blended ingredients in and saute until really fragrant, about 10 minutes. Add vinegar and sugar and stir fry until the sugar melts. Stir to combine everything. Turn off the heat. Stir in all the vegetables, sesame seeds, and ground peanuts. Toss to make sure they are coated in the spices
How to store:
Let them cool down in a pan or wok completely. Transfer to a large jar with a tight-fitting lid. Store in the refrigerator and let them pickle for 24 hours before serving. They can be kept in the fridge for about 1 month
Recommended products:
Nutrition
Serving:
1
serving
|
Calories:
439
kcal
|
Carbohydrates:
35
g
|
Protein:
8
g
|
Fat:
32
g
|
Saturated Fat:
3
g
|
Trans Fat:
1
g
|
Sodium:
377
mg
|
Potassium:
579
mg
|
Fiber:
5
g
|
Sugar:
21
g
|
Vitamin A:
4709
IU
|
Vitamin C:
77
mg
|
Calcium:
172
mg
|
Iron:
3
mg