Super delicious and soft Chinese steamed cake infused with natural pandan flavor made without yeast with that signature smiling top. Can be made into assorted flavors.
CHINESE STEAMED CAKE (NO YEAST)
A while ago I shared sweet potato huat kueh and pumpkin huat kueh recipes. Both recipes use yeast to leaven the cake. This pandan coconut huat kueh does not use yeast. Similar to the other two huat kueh, this pandan huat kueh has that signature top splitting into sections. Some call these sections as "smiling" or in Singapore or Malaysia, people will say "Huat" in Hokkien. Huat means "to rise" or "to prosper". Some people call huat kueh as smiling cake too.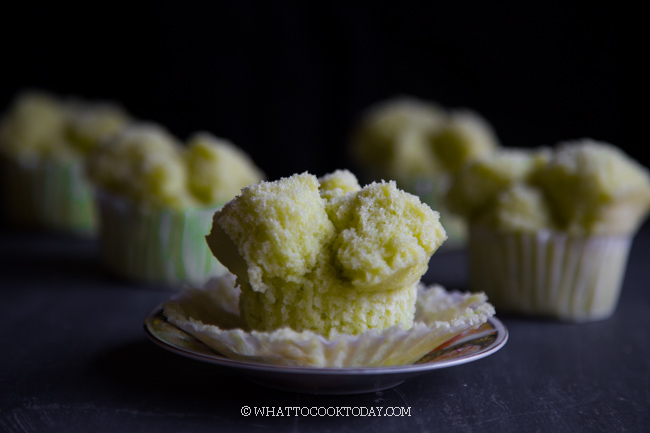 WHY YOU WILL LOVE THIS HUAT KUEH RECIPE
1. INCREDIBLY SOFT
It's no joke when I say this cake is incredibly soft. I use cake flour and oh my!!! it's so soft and crumbly. It tastes more like cake compare to the yeast version huat kueh. It's really a matter of preference. I like both versions to be honest.
2. NO YEAST
I like the yeast version of huat kueh too, but this is very convenient. The huat kueh is basically leavened with baking powder.

THIS RECIPE VS RICE FLOUR HUAT KUEH
Traditionally, mom made huat kueh that used rice flour, which used Eno fruit salt or in Indonesia, we use "tuak" (palm wine) as a leavening agent. But mom said the cake didn't taste that good. She usually made them as offerings for praying and none of us ate them because we didn't really like how rice flour huat kueh tasted! This huat kueh uses all-purpose flour (cake flour works too, but very soft and more crumbly)  and they actually taste incredible! Taste more like cupcakes!

HOW TO MAKE SURE YOU HUAT KUEH WILL SPLIT INTO SECTIONS ON TOP
One of the things that I learned during my short stay in Singapore was that people like to shout "huat ah!!!" when something good happens 🙂 So, of course we want to make sure the huat kueh you are making also splits into sections, which represents good luck and prosperity.
1. CHECK THE BAKING POWDER
Make sure your baking powder is not expired. The cake depends on baking powder to "huat". How to check if your baking powder is still fresh? place 1 teaspoon baking powder in a cup and add 1/3 cup hot tap water. If it bubbles, then you are good to go, if not, please get a new one.
2. GET THINGS READY
Before you start making the cake batter, line cups with paper and get the steamer ready so when the batter is ready, you can fill it up right away (see point no.4)
3. FILL ALL THE WAY TO THE TOP
Fill the cups with batter all the way to the top. When I only fill 3/4 of the cup, it doesn't split into sections as big as to when I fill all the way to the top
4. DON'T LET THE BATTER SITS AROUND FOR TOO LONG
Once you fill up the cups, it is best that the huat kueh are steamed immediately. This is to ensure that the baking powder works its full potential immediately. If the batter is sitting around for too long, your huat kueh may not huat at all. If your steamer is not able to accommodate the whole recipe, you can set up another steamer by using a pot or a wok. Otherwise, you just need to wait for the first batch to be done and then give the batter a stir and pour them into cups right before steaming the second batch. Don't fill it up ahead into the cups while waiting for the steamer.
5. MAKE SURE THERE'S ENOUGH WATER IN YOUR STEAMER
It will take about 15 minutes to steam the huat kueh and you CANNOT open the lid before the cake is done steaming or it will never huat. So you need to make sure there will be enough water for 15 minutes of steaming over high heat
6. STEAM OVER HIGH HEAT
Unlike in my soft and fluffy steamed buns post where I said you need to steam the buns over medium heat, with huat kueh, you need the highest heat possible to ensure it will "huat" to its fullest potential
If you know those pointers above, you will have a very high chance of making huat kueh that will smile back at you in the end.
HOW TO MAKE PANDAN HUAT KUEH
1. Cream egg and sugar until slightly pale and creamy. Get your steamer ready by bringing water to a boil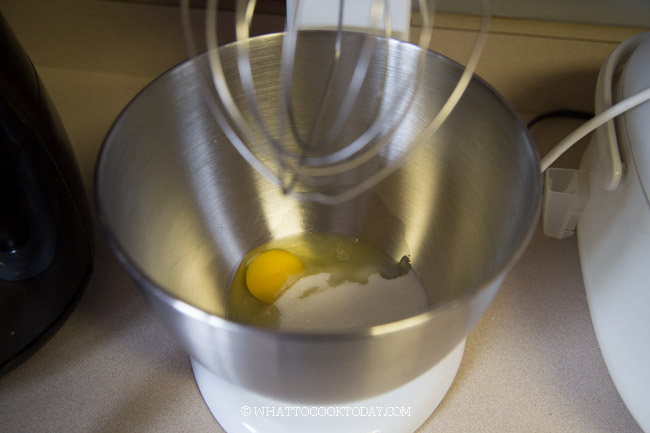 2. Gradually add in coconut cream and pandan juice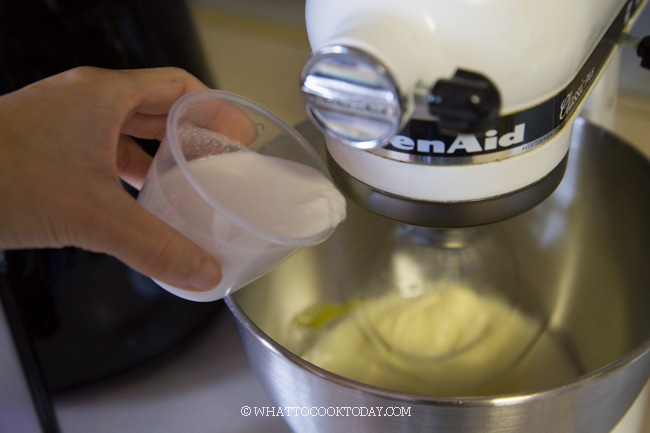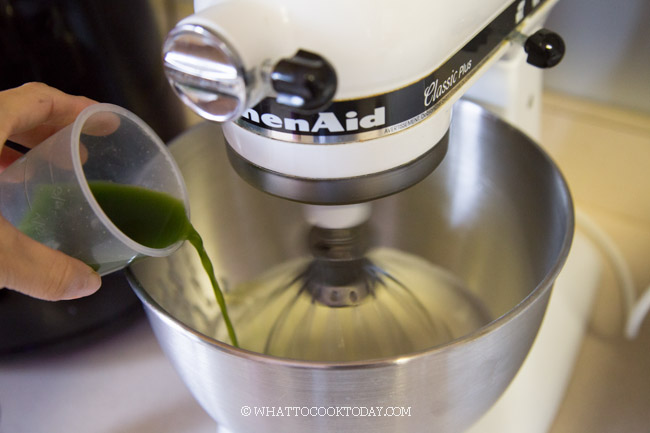 3. Add flour mixture gradually alternating with oil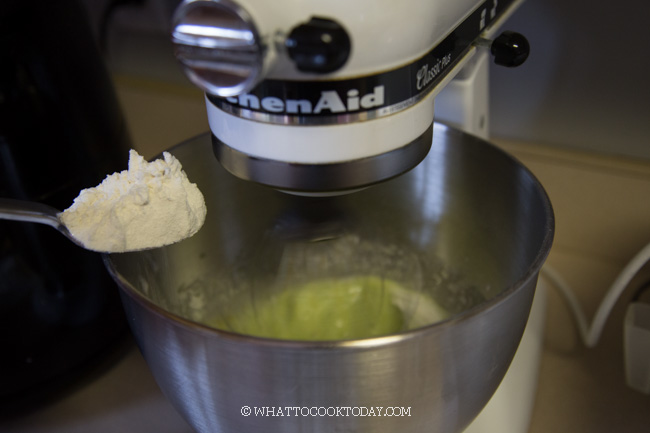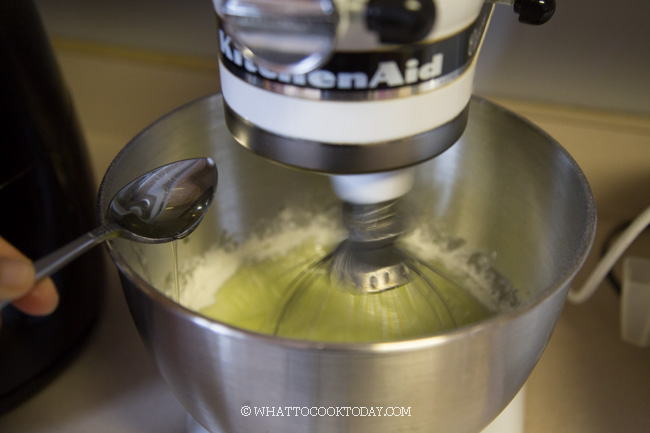 4. Continue to mix until batter is thick but still spreadable


5. Fill the cups with batter, all the way to the top


6. Steam over high heat for 15 minutes (Do not open the lid during steaming or the huat kueh will not huat or collapse)

HOW TO MAKE ASSORTED FLAVOR HUAT KUEH
For cocoa flavor: just add 1 tsp of cocoa powder
For vanilla flavor: just add 1 tsp vanilla extract
For pink color (or any color): just add one drop (or more) of red food gel (the intensity of the color is personal preference)
For brown sugar flavor: just half the amount of regular sugar and top up with brown sugar. In this case, 75 gr regular white sugar + 75 gr brown sugar
My mom usually likes to make pink huat kueh as offering for praying.
I love how pretty the assorted huat kueh looks when they are together 🙂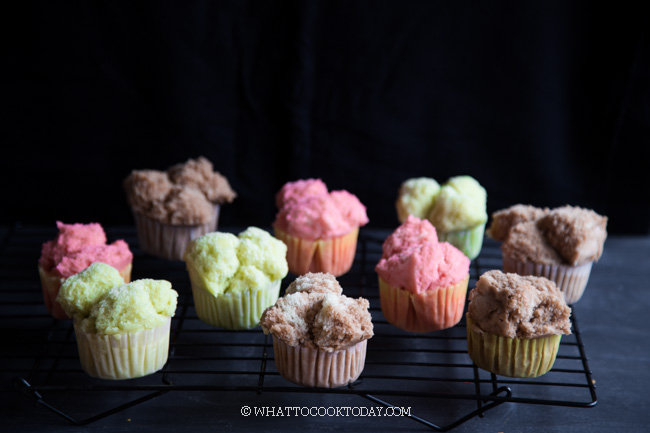 I wish I could eat one of these again soon! Sooooo soft!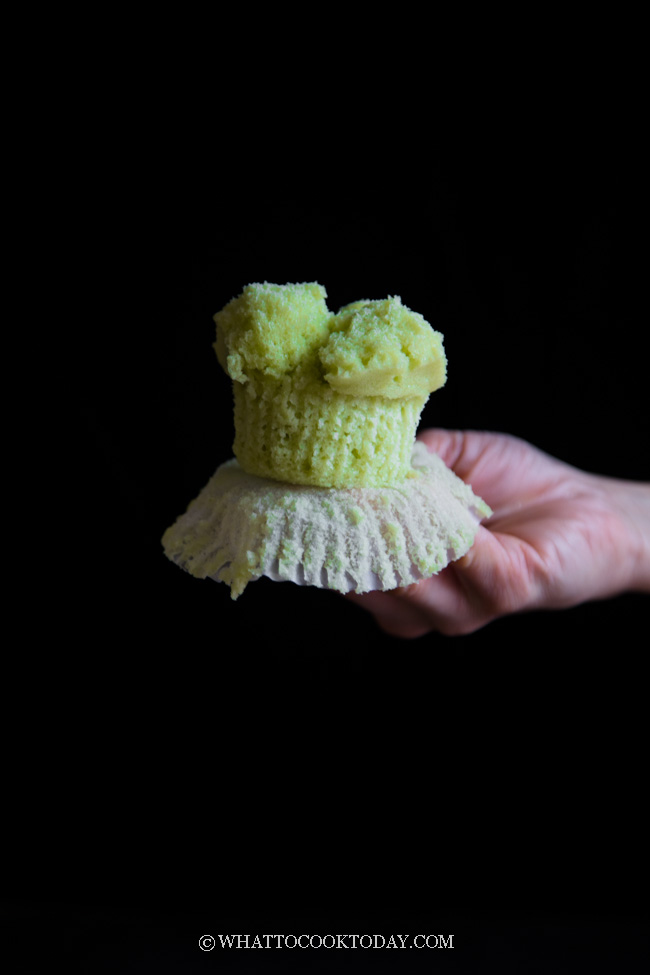 *This huat kueh recipe has more "cake" like texture, like cupcakes. If you prefer huat kueh with more springy texture, you may like these sweet potato huat kueh or pumpkin huat kueh. Both are made with yeast.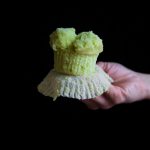 Pandan Coconut Huat Kueh (Fatt Koh)
Ingredients
Wet ingredients:
150

gr

sugar

1

large

egg

about 58-60 grams with the shell

150

gr

coconut milk

for cocoa, vanilla flavor, and if using pandan essence

100

gr

cooking oil
For pandan flavor using homemade pandan juice:
For pandan flavor (using pandan essence):
For vanilla flavor (pink color):
Instructions
Making the cake batter:
Mix all dry ingredients in a mixing bowl. Set aside. Bring a water in the steamer to a boil. Make sure there's enough water in the steamer. Line individual muffin cups with paper

Crack egg into a mixing bowl of a mixer. Add sugar and use a whisk attachment to cream until the mixture is pale and creamy, about 2 minutes. For pandan flavor using homemade pandan juice, add coconut cream and pandan juice. For other flavors, add coconut milk (not coconut cream).  Continue to whisk another 2 minute

Gradually add in the flour mixture, alternating with the cooking oil. Continue to do so until you run out of flour and oil

Add in cocoa powder, vanilla extract, red food gel, or other essences of your choice at this point. Continue to mix until the batter is thick but spreadable

Scoop the thick batter to the cup with a spoon. You might need a rubber spatula to help you. Fill it up to about 3/4 full

Place the cups inside the steamer and steam over high heat. Make sure the heat is high. Steam for 15 minutes. Do not open the lid throughout the steaming process. After 15 minutes, you can open the lid immediately and remove the cake from the steamer. Let them cool down for 1 minute and then transfer out from the muffin tin and let them cool down on a cooling rack
Notes
You can also use an equal amount of self-rising flour and simply omit the baking powder and salt in the recipe.
Nutrition
Serving:
1
cake
|
Calories:
293
kcal
|
Carbohydrates:
35
g
|
Protein:
4
g
|
Fat:
16
g
|
Saturated Fat:
5
g
|
Polyunsaturated Fat:
3
g
|
Monounsaturated Fat:
7
g
|
Trans Fat:
1
g
|
Cholesterol:
19
mg
|
Sodium:
214
mg
|
Potassium:
86
mg
|
Fiber:
1
g
|
Sugar:
15
g
|
Vitamin A:
27
IU
|
Vitamin C:
1
mg
|
Calcium:
58
mg
|
Iron:
2
mg
You may also like this Eggless No-Yeast Banana Huat Kueh. They are so soft and yummy and super easy to make!

If you bake sourdough bread, chances are you may have some discard and you can use the discard to make sourdough discard huat kueh too