Learn how to bake this super soft and fluffy Japanese-style pandan cotton souffle cheesecake. The cheesecake has an airy texture like chiffon/sponge cake and soft like a cotton.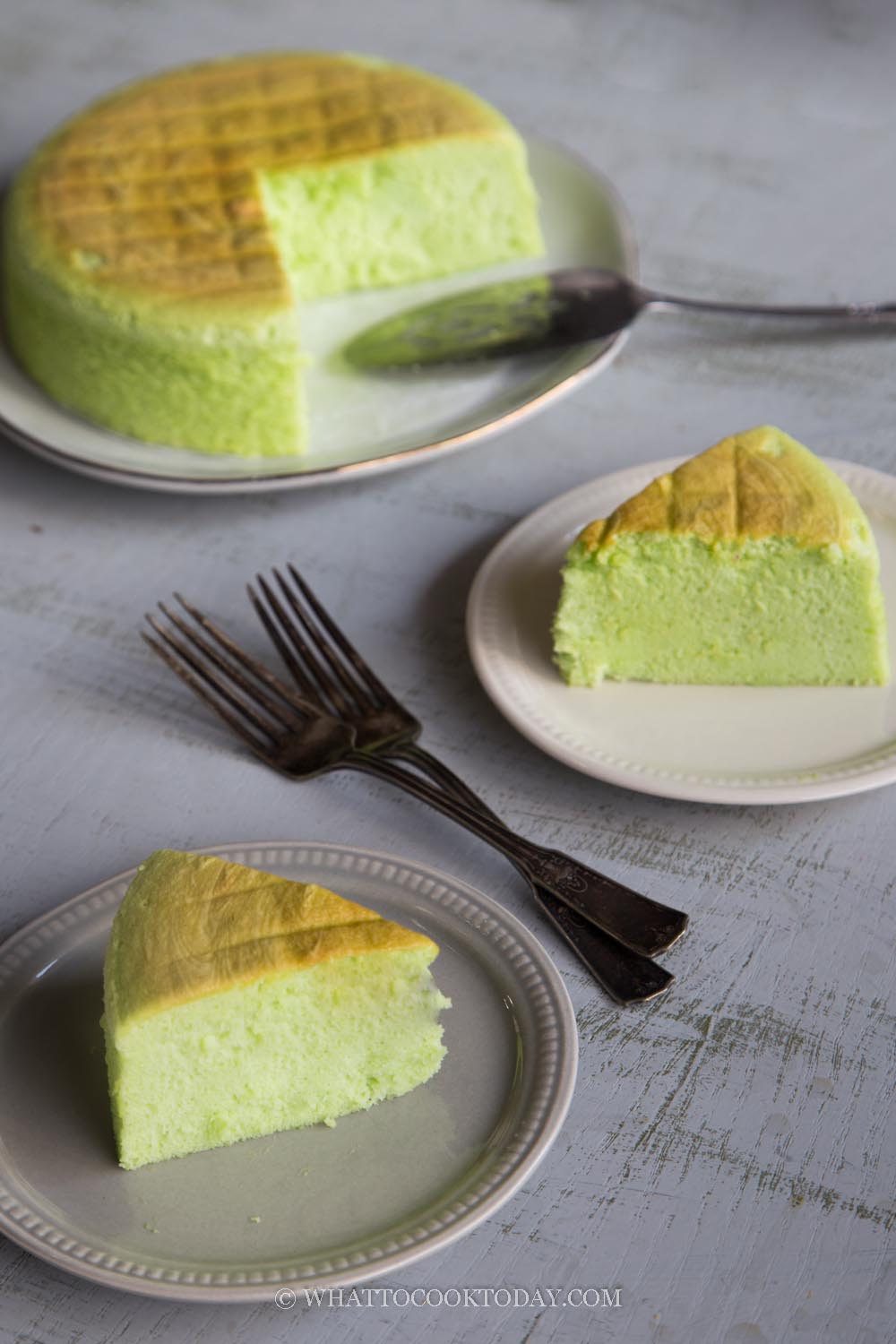 After successfully baking this Soft Cotton Souffle Cheesecake, I have more nerve to bake more Japanese-style cheesecake. This round I decided to make the pandan version. My life is not complete without pandan flavor of everything LOL!
You can read in-depth about how to bake cotton souffle cheesecake successfully in this post. So, I won't repeat the same thing again here. This cheesecake is baked with cream cheese, while the former I made was made with American cheddar cheese.
How to make pandan cotton souffle cheesecake
1. Preheat oven at 285 F (140 C). My oven uses bottom heat only. If you have top and bottom heat oven, you can set it to 250 F (120 C). Please note that, the temperature is just for reference, it may or may not work for your oven. You may need to do some adjustments
2. We will bake this cake using a water-bath method. You will need to use two pans in this recipe. I use a 8-inch loose-bottom round pan to bake the cake and another 10-inch or large round pan or any size pan you have that can fit in the 8-inch pan for water bath. I double wrap the loose bottom pan with aluminum foil to prevent water from sipping into the pan during baking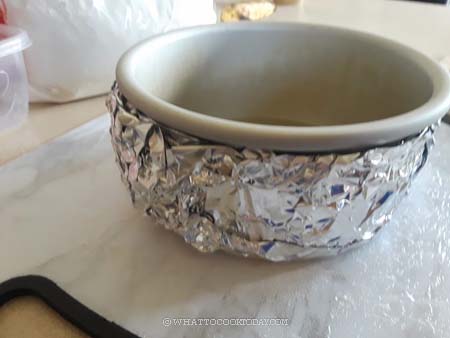 3. Fill up the larger pan with some water, about 1-inch high and I put this at the lowest rack, where I will be baking the cake. Let the pan with water preheat together with the oven


4. Put cream cheese, milk, and butter in a heat-proof bowl that can sit on top of a saucepan filled up with water, not touching the bowl. Melt them over low heat. If you crank up the heat to high, the cream cheese will curdle


5. Remove from the heat and let it cools down a little bit, then add egg yolks and pandan essence and whisk to combine. Then sift in all-purpose flour and cornstarch. Whisk to combine again. The batter will be medium-thick and flowy


6. Start whipping the meringue at medium speed (speed 4 on KA) until foamy. Add the lemon juice (or any acid you use) and beat for another minute


7. Gradually add 1/3 of sugar and let it beat for another minute before adding another 1/3 until you run out. Increase the speed to 6 and whip until the mixture form a soft peak, meaning when you lift it up, it will bend because it is soft.

8. Lower the speed to 4 and whip the meringue until it forms a medium stiff peak. When you lift the meringue up it will hold its shape but with slight bent on the tip. Stop beating


9. Fold 1/3 of meringue into the batter using a whisk. Swipe down like a "J" motion and then fold over. You can be a bit more vigorous with this first round of folding to combine the batter and the meringue. Continue with the next 1/3 using the same "J" motion but be gentle and don't take too long to combine either.


10. Continue with the last 1/3. Then switch to using a spatula with the same "J" motion and scrape the bottom of the bowl to make sure everything is folded in evenly. Sometimes some batter got stuck at the bottom of the bowl


11. You shouldn't see anymore white meringue and the combined batter is silky smooth, light, airy, and tripled in size. Use a skewer or chopstick to go round and round the batter to pop any air bubbles inside the batter. Then tap the pan on the countertop 2-3 times to pop more air bubbles


12. Gently put this pan inside the larger pan that is preheated in the oven. The water inside of the pan should be simmering as it has been preheated. Close the door and set timer to 20 minutes


13. Increase temperature to 170 F (330 C). For top and bottom heat oven adjust to 150 C. Set the timer to 15 minutes. You don't need to wait until it reaches the newly set temperature to start the timer. I kept monitoring its progress during this 15 minutes. This is the time where the cake starts to rise. If you start seeing some cracks are about to form, the oven is too hot. Open the oven door for about 10 seconds to release some pressure and close it back. If during that 15 minutes the cake still has a smooth top, then there's no need to open the oven door


14. Lower temperature to 120 C (250 F). For top and bottom heat oven adjust to 100 C. Open the oven door for 10 seconds and then gently close it back and set the timer to 60 minutes. You may not need 60 minutes. You can start checking at around 40 minutes


15. Increase temperature to 150 C (300 F) and bake for another 10 minutes. This part is to brown the top of the cake. If yours is already brown, you can skip this part. Mine was still pretty pale at the end of the 50 minutes of baking. So I need a total of about 100 minutes to bake this cake. It could be different with your oven. You will notice that the cake shrink a little bit and that's normal


16. Turn off the oven and open the door for 10 seconds and then close it back


17. Let the cake cools in the oven for 10 minutes


18. Remove from the oven and let it sits on the counter for another 10 minutes. You'll see that the cake starts to pull from the side of the pan


19. I started to unmould the cake by pushing up the cake (I use a loose-bottom pan).


20. If you use a regular pan, trim off the excess paper on top and then invert the cake upside down on a cooling rack or a plate. Peel off the parchment paper at the bottom and the side. Flip the cake back onto a serving platter and let it cools down completely


21. Let the cools down completely before cutting. The cake is fluffy at room temperature but the aroma of cheese is not as noticeable. If you chill the cake for at least 4 hours, you will notice that the aroma and taste of the cream cheese are more intense
It is not an easy cake to bake I have to admit. I really have to babysit this cake from start to finish LOL! But, the sense of satisfaction when you are done doing it is definitely there! It's probably one of the most difficult cake I've baked so far! But the airyness of the cheesecake is unlike others for real!

Did you make this recipe?
I love it when you guys snap a photo and tag to show me what you've made 🙂 Simply tag me @WhatToCookToday #WhatToCookToday on Instagram and I'll be sure to stop by and take a peek for real!

You may also like these cheesecakes
The recipe is adapted from Michael Lim's

Super Soft Pandan Cotton Souffle Cheesecake
Ingredients
Cream cheese batter:
60

gr

whole milk

140

gr

cream cheese

40

gr

butter

unsalted

50

gr

all-purpose flour

15

gr

cornstarch

5

egg yolks

from 60-62 gram egg with the shell

1

tsp

pandan essence
Meringue:
5

egg whites

from 60-62 gram egg with the shell

100

gr

granulated sugar

1

tsp

lemon juice
Instructions
Please weight ingredients with digital kitchen scale. Precision is required to bake a finicky cake like this
Things to prepare before you start baking:
Separate the egg whites from the yolks. Let them come to room temperature while you prepare other things

Preheat oven at 285 F (140 C). My oven uses bottom heat only. If you have top and bottom heat oven, you can set it to 250 F (120 C). Please note that, the temperature is just for reference, it may or may not work for your oven. You may need to do some adjustments

We will bake this cake using a water-bath method. You will need to use two pans in this recipe. I use a 8-inch loose-bottom round pan to bake the cake and another 10-inch or large round pan or any size pan you have that can fit in the 8-inch pan for water bath. I double wrap the loose bottom pan with aluminum foil to prevent water from sipping into the pan during baking. Fill up the larger pan with some water, about 1-inch high and I put this at the lowest rack, where I will be baking the cake. Let the pan with water preheat together with the oven

If you don't have a loose-bottom pan, line it with a parchment paper. Line the side of the pan with a parchment paper too, with the paper extending about 1 inch extra above the top of the pan. I find it easier to remove the cake when I line the side with a parchment paper
Prepare the cream cheese batter:
Put cream cheese, milk, and butter in a heat-proof bowl that can sit on top of a saucepan filled up with water, not touching the bowl. Melt them over low heat. If you crank up the heat to high, the cream cheese will curdle

Remove from the heat and let it cools down a little bit, then add egg yolks and pandan essence and whisk to combine. Then sift in all-purpose flour and cornstarch. Whisk to combine again. The batter will be medium-thick and flowy
Prepare the meringue:
Start whipping the meringue at medium speed (speed 4 on KA) until foamy. Add the lemon juice (or any acid you use) and beat for another minute, then gradually add 1/3 of sugar and let it beat for another minute before adding another 1/3 until you run out. Increase the speed to 6 and whip until the mixture form a soft peak, meaning when you lift it up, it will bend because it is soft. Lower the speed to 4 and whip the meringue until it forms a medium stiff peak. When you lift the meringue up it will hold its shape but with slight bent on the tip. Stop beating
Combine meringue with cream cheese batter:
Fold 1/3 of meringue into the batter using a whisk. Swipe down like a "J" motion and then fold over. You can be a bit more vigorous with this first round of folding to combine the batter and the meringue. Continue with the next 1/3 using the same "J" motion but be gentle and don't take too long to combine either. Continue with the last 1/3. Then switch to using a spatula with the same "J" motion and scrape the bottom of the bowl to make sure everything is folded in evenly. Sometimes some batter got stuck at the bottom of the bowl

You shouldn't see anymore white meringue and the combined batter is silky smooth, light, airy, and tripled in size. Use a skewer or chopstick to go round and round the batter to pop any air bubbles inside the batter. Then tap the pan on the countertop 2-3 times to pop more air bubbles
Bake the cake:
Gently put this pan inside the larger pan that is preheated in the oven. The water inside of the pan should be simmering as it has been preheated. Close the door and set timer to 20 minutes

Increase temperature to 330 F (170 C). For top and bottom heat oven adjust to 300 F (150 C). Set the timer to 15 minutes. You don't need to wait until it reaches the newly set temperature to start the timer. I kept monitoring its progress during this 15 minutes. This is the time where the cake starts to rise. If you start seeing some cracks are about to form, the oven is too hot. Open the oven door for about 10 seconds to release some pressure and close it back. If during that 15 minutes the cake still has a smooth top, then there's no need to open the oven door

Lower temperature to 250 F (120 C). For top and bottom heat oven adjust to 100 C. Open the oven door for 10 seconds and then gently close it back and set the timer to 60 minutes. You may not need 60 minutes. You can start checking at around 40 minutes. It's normal to see the cake rise pretty high in the oven and then slowly shrink down a bit

Increase temperature to 300 F (150 C) for conventional oven, 280 F (140 C) and bake for another 10 minutes. This part is to brown the top of the cake. If yours is already brown, you can skip this part. Mine was still pretty pale at the end of the 50 minutes of baking. So I need a total of about 100 minutes to bake this cake. It could be different with your oven
Cool down the cake:
Turn off the oven and open the door for 10 seconds and then close it back and let the cake cools in the oven for 10 minutes

Remove from the oven and let it sits on the counter for another 10 minutes. I started to unmould the cake by pushing up the cake (I use a loose-bottom pan). If you use a regular pan, trim off the excess paper on top and then invert the cake upside down on a cooling rack or a plate. Peel off the parchment paper at the bottom and the side. Flip the cake back onto a serving platter and let it cools down completely

There will be a small amount of shrinkage, about 1/2 inch, in my case, if the cake is perfectly baked. When you gently pat the cake on the side while it's still warm, the cake will jiggle. Once it cools down completely and set, it won't jiggle anymore and it is normal
To serve the cake:
Let the cools down completely before cutting. The cake is fluffy at room temperature but the aroma of cheese is not as noticeable. If you chill the cake for at least 4 hours, you will notice that the aroma and taste of the cream cheese are more intense
How to store the cake:
This cake cannot be stored at room temperature because it contains dairy product. You can store the cake in the fridge for about 3-4 days in an air-tight container. The chilled cheesecake will be a bit denser compared to when it is at room temperature but the flavor is actually much better IMHO. You can leave the cake at room temperature before serving and it will be fluffy again
Nutrition
Serving:
1
slice
|
Calories:
180
kcal
|
Carbohydrates:
16
g
|
Protein:
5
g
|
Fat:
11
g
|
Saturated Fat:
6
g
|
Polyunsaturated Fat:
1
g
|
Monounsaturated Fat:
3
g
|
Trans Fat:
1
g
|
Cholesterol:
122
mg
|
Sodium:
106
mg
|
Potassium:
68
mg
|
Fiber:
1
g
|
Sugar:
11
g
|
Vitamin A:
427
IU
|
Calcium:
35
mg
|
Iron:
1
mg