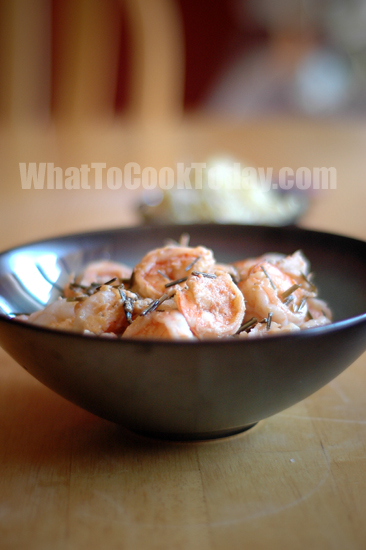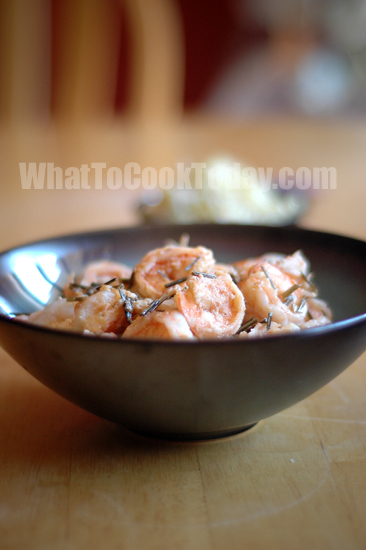 The Chinese like to associates most things in life with Dragon. The Chinese Dragon is a legendary creatures in mythology anyway and it was the symbol of the Chinese Emperor. That's why the Dragon is highly valued in the Chinese culture.
The name of this dish, Prawns in Dragon Well Tea, comes from the name of a tea Dragon Well (Long Jing). The connoisseurs of Chinese tea regard Long Jing as the finest. Quoting from the cookbook : A Taste of China by Ken Hom, "The leaves of this green tea are prepared in a complex process that avoid fermentation. The best quality leaves are picked before the spring rains fall and when the young stems have but one tender sprouts. These fragile sprouts are the basis for the tea's delicate and refreshing fragrance and taste. In this recipe, the tea leaves themselves combine with the prawns to make and exquisite and quite unusual combination with an almost fresh taste"
I, apparently, did not use the Dragon Well (Long Jing) tea. I'm not so much a tea connoisseur, but if you do have one, please try it with the Long Jing tea. The cookbook also suggested Chinese green tea as substitution for the Long Jing tea.
I, personally love this dish. The tea is so flavorful. One mistake I did though, I shouldn't have included the stems of the tea. We both busy picking out the stems while eating. The leaves can be left in the dish as they are not hard like the stems. So, make sure you only use the tea leaves.
PRAWNS IN DRAGON WELL TEA/ LONG JING CHAO XIA (2 servings)
1 lb (450 g) medium-sized raw prawns, unpeeled with head removed, or 12- 13 oz peeled, raw pranws
2 tsp salt
1 Tbsp Long Jing (Dragon Well) Tea or any green tea
8 fl oz (225 ml) boiling water
1 1/2 Tbsp peanut oil
1 Tbsp rice wine or dry sherry
COOKING METHOD:
1. If the prawns are unpeeled, peel them by removing their shells, legs, tails and devein. Rinse them well under cold running water and dry them thoroughly with dry kitchen paper. Rub the prawns evenly with salt and set aside
2. Put the tea leaves in a heatproof measuring jug and pour in the hot water. Let the tea steep for 15 minutes
3. Heat a wok or large frying pan until hot and add the oil. Then add the prawns and rice wine or dry sherry and stir-fry for 30 seconds. Pour in the tea and add about half of the tea leaves and cook for 1 minute further
4. Remove the prawns with a slotted spoon to a serving platter and reduce any liquid in the wok by half. Pour this over the prawns and serve at once