Soft and chewy Chinese New Year steamed cake with a flavor of pumpkin. You only need 4 ingredients to make this cake. It can be steamed or pressure cooked. The cake is naturally gluten-free.
Traditional Chinese New Year Cake or known as nian gao with some twist here! I love the addition of pumpkin puree to the cake. It has that mild hint of pumpkin and it gives the nice vibrant color of the pumpkin.
Ingredients
1. Pumpkin puree
I use store-bought pumpkin pure. Please make sure there's only one ingredient, which is pumpkin. You can also use homemade pumpkin puree
2. Glutinous rice flour
This is also known as mochiko flour or sweet rice flour. Many people think that glutinous rice flour contains gluten because of its name, but it is a gluten-free flour and the glutinous term refers to the sticky and glue-like texture that this flour has when cooked.
3. Coconut milk
I use unsweetened canned coconut milk. Just regular coconut milk will do. You don't want to use coconut cream , which is very thick in texture
4. Granulated sugar
You can also use granulated sugar. If you decide to use brown sugar, the color of the pumpkin will be closer to dark brown than orange pumpkin
How to make steamed pumpkin nian gao with Instant Pot pressure cooker
1. I use 6 inches round pan about 2 inches in height. I line the pan with banana leaves. Blanch the banana leaves in hot boiling water for about 5 minutes to soften them. Then pat dry and set aside. Cut the banana leaves to line the base of the pan and then line the leaf horizontally and then vertically like a "+" (overlapping at the bottom of the dish) and then diagonally like an "X" to make sure I cover all the side and bottom of the dish
2. Place both sugar and coconut milk in a saucepan and bring to a gentle simmer or until sugar is melted. Remove from the heat and let it cool down completely.

3. Add the pumpkin puree and whisk to mix. Then add the glutinous rice flour and whisk until combined. The consistency of the batter should be slightly thick and pourable. If lumps persists, simply strain it with a sieve

4. Pour into the prepared pan lined with banana leaves. If you don't use banana leaves, use parchment paper to line the pan so you can remove the cake easily later. Use a chopstick to swirl around the batter to pop any large air bubbles inside the batter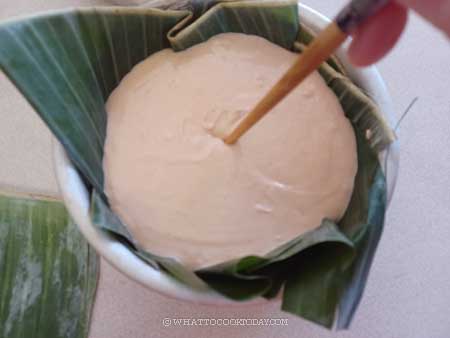 5. Pour 1 cup of water into the inner pot. Set the trivet. Place the pan on top of the trivet. Cover with aluminum foil. Close the lid. Pressure release valve to seal and press pressure cooker, high pressure. I recommend using aluminum or stainless steel pan as they conduct heat better. I don't recommend using a thick glass container. Set the timer to 75 minutes and then natural release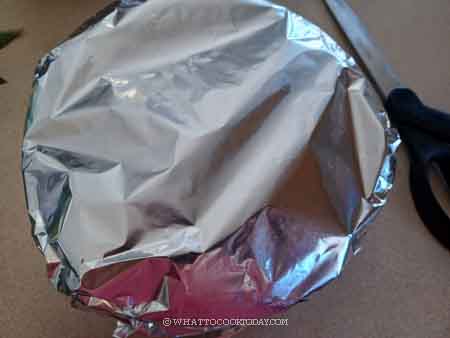 6. The cake will still appear very soft and that's very normal. If you insert a toothpick into the middle of the cake, it will still be wet. Don't worry. It has to cool down completely and you will see that the cake will firm up and the top will dry. Let it cool down at room temperature for 6 hours or overnight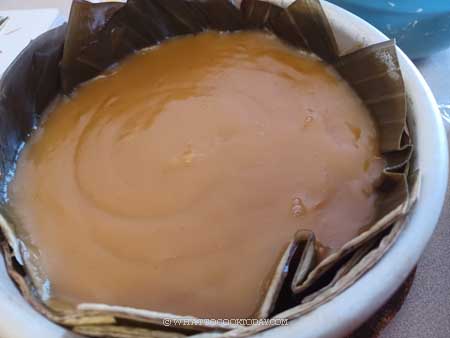 7. Let it cool down completely and then wrap it with aluminum foil. Let it sit at room temperature for at least 24 hours before unmoulding or attempting to cut. They will get slightly firmer. They can be kept at room temperature for up to 1 week if it's not humid. They can be refrigerated for up to 6 months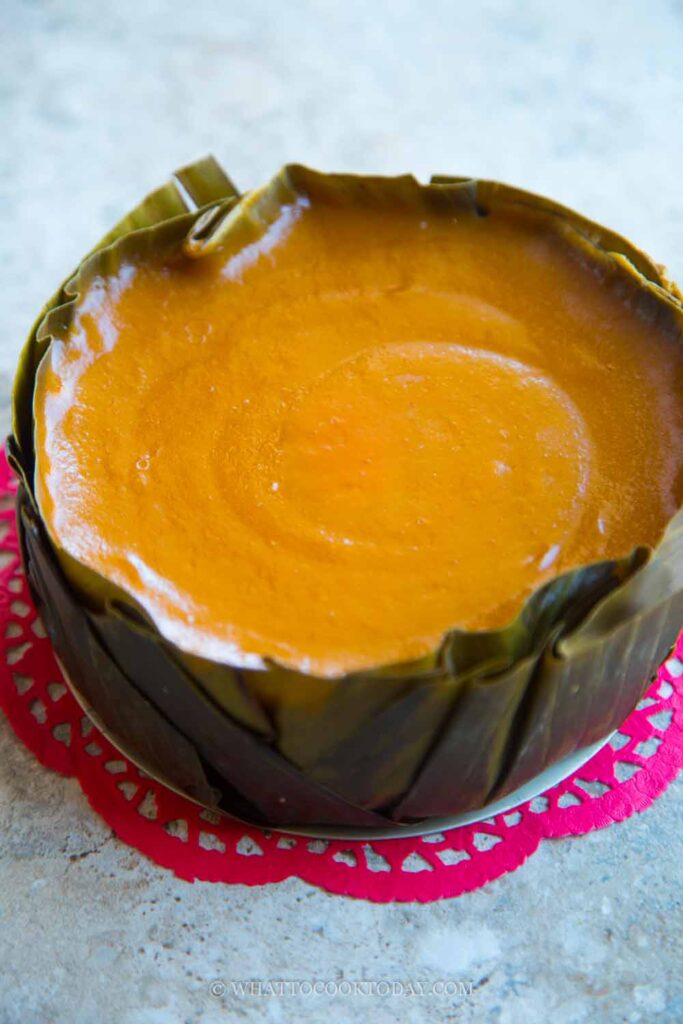 How to store pumpkin nian gao
Let nian gao cool down completely. You can wrap it uncut in a cling wrap and then put it inside a freezer bag, push all the air out and seal the bag. Keep it in the freezer for up to 3 months. Simply thaw in the fridge overnight before you plan to use it in recipe or for consumption.
Did you make this steamed pumpkin nian gao recipe?
I love it when you guys snap a photo and tag it to show me what you've made. Simply tag me @WhatToCookToday #WhatToCookToday on Instagram and I'll be sure to stop by and take a peek for real!
You may like this traditional nian gao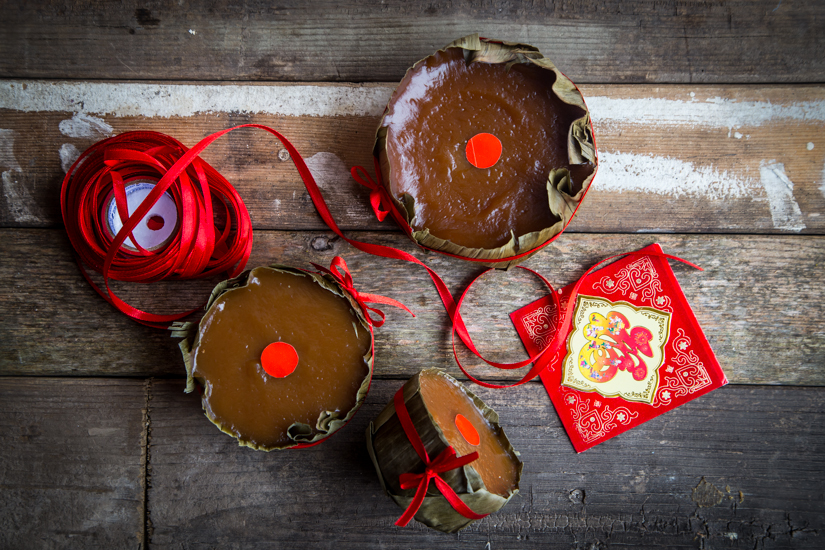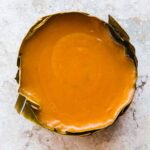 Steamed Pumpkin Nian Gao (Pumpkin Chinese New Year Cake)
Instructions
I use 6 inches round pan about 2 inches in height. I line the pan with banana leaves

Blanch the banana leaves in hot boiling water for about 5 minutes to soften it. Then pat dry and set aside. Cut the banana leaves to line the base of the pan and then line the leaf horizontally and then vertically like a "+" (overlapping at the bottom of the dish) and then diagonally like an "X" to make sure I cover all the side and bottom of the dish
Prepare nian gao batter:
Place both sugar and coconut milk in a saucepan and bring to a gentle simmer or until sugar is melted. Do not let it come to a hard boil as the coconut milk will separate. Remove from the heat and let it cool down to at least warm

Add the pumpkin puree and whisk to mix. Then add the glutinous rice flour and whisk until combined. The consistency of the batter should be slightly thick and pourable. If your batter is too thick and you can't pour the batter, you can add a bit more liquid one tablespoon at a time If lumps persist, simply strain it with a sieve and then pour into the prepared pan lined with banana leaves. If you don't use banana leaves, use parchment paper to line the pan so you can remove the cake easily later
Steamer method:
Prepare the steamer by bringing the water to a rolling boil. Give the nian gao batter a stir and pour nian gao batter into the prepared pan and cover with aluminum foil or wrap the lid of the steamer with a dry kitchen towel. Place inside the steamer and steam on high heat for 30 minutes and then lower the heat and steam for 2 1/2 – 3 hours or longer. You may need to refill the water in the steamer throughout the cooking process. Don't let it dry out

The nian gao will still appear very soft at the end of cooking time and that's very normal. You need to let the nian gao cool down completely. Wrap them up with plastic wrapper and they will be ready in 2 days. At day 3, the nian gao will be much more firm and can be sliced. After day 3, I recommend to wrap them up and keep them in the refrigerator or they can start to get moldy (because we don't put preservatives). They can keep for months in the freezer however
Instant Pot method:
Pour 1 cup of water into the inner pot. Set the trivet. Place the pan on top of the trivet. Cover with aluminum foil. Close the lid. Pressure release valve to seal and press pressure cooker, high pressure. I recommend using aluminum or stainless steel pan as they conduct heat better. I don't recommend using a thick glass container. Set the timer to 75 minutes and then natural release

The cake will still appear very soft and that's very normal. If you insert a toothpick into the middle of the cake, it will still be wet. Don't worry. It has to cool down completely and you will see that the cake will firm up and the top will dry. Let it cool down at room temperature for 6 hours or overnight
Cooling down and storing:
Let it cool down completely and then wrap with aluminum foil. Let it sit at room temperature for at least 24 hours before unmoulding or attempting to cut. They will get slightly firmer. They can be kept at room temperature for up to 1 week if it's not humid. They can be refrigerated for up to 6 months
Notes
I use half sugar and half brown sugar and that's why the color of the nian gao came out more on the brown side than the orange/yellow pumpkin color. If you use all white sugar, the color of the pumpkin will shine through better
Recommended products:
Nutrition
Serving:
1
6 inch round cake
|
Calories:
1763
kcal
|
Carbohydrates:
337
g
|
Protein:
20
g
|
Fat:
41
g
|
Saturated Fat:
33
g
|
Polyunsaturated Fat:
1
g
|
Monounsaturated Fat:
3
g
|
Sodium:
31
mg
|
Potassium:
875
mg
|
Fiber:
10
g
|
Sugar:
125
g
|
Vitamin A:
23345
IU
|
Vitamin C:
8
mg
|
Calcium:
96
mg
|
Iron:
9
mg