Delicious sweet and savory Chinese BBQ pork filling is enclosed in buttery puff pastry dough and baked to perfection. The result is so flaky and yum!

My first encounter with this Seremban siew bao was when my Malaysian college friend brought me some of these when she travelled back to Malaysia during summer break and came back with this amazing stuff. It was one of the tastiest pastries I had ever tasted. It's simply unforgettable. Here is my attempt in making the Seremban siew bao. I can't say it's 100% the same, but I suppose it's enough to satisfy that cravings for now
What is siew bao / shao bao?
Siew bao is of Seremban specialty. Seremban is one of the cities in Malaysia and the capital city of Negeri Sembilan. It is famous for its siew bao, often referred to as Seremban siew pao. Siew bao is Cantonese for baked/grilled buns. Shao bao is in Mandarin. When we talk about buns, these siew bao are not the same with the soft and fluffy type of Chinese char siu steamed buns (char siu bao). Siew bao also has a moist, sweet, and savory Chinese BBQ pork filling (also there are chicken and vegetarian versions too) and they are wrapped in buttery and flaky crust baked to perfection.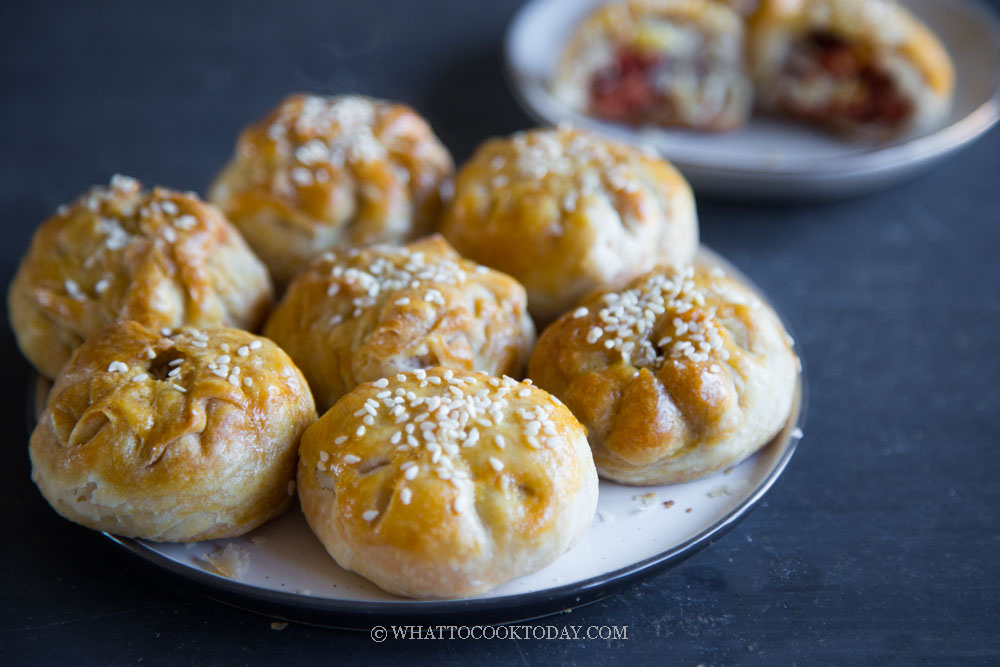 The recipe rundown
1. Taste: The filling is moist, savory and sweet enclosed in flaky buttery crust
2. Texture: The moist filling goes so well with a slightly crisp, flaky, and buttery crust
3. Level: Intermediate
Let's talk about Ingredients for the pastry dough
1. All-purpose flour
All-purpose flour has a medium gluten content. You don't have to use pastry flour to create that flaky crust in this recipe
2. Butter
Compared to lard and shortening, butter gives the best flavor to the pastry. Though shortening makes the dough a bit easier to work with. This pastry dough is not difficult to work with though
3. Sugar
I used granulated sugar. A hint of sweetness will really enhance the overall taste, so I don't recommend skipping this
4. Baking soda
Baking soda is added in this recipe not only to create lighter crispier pastry, but it also helps to brown the pastry a bit better. The first few times I made these siew bao without it, the pastry just won't turn golden brown no matter how long I baked. But of course, you don't want to add too much to avoid any after-taste. Stick to the recipe
5. Salt
I used sea salt. A small amount enhances the overall flavor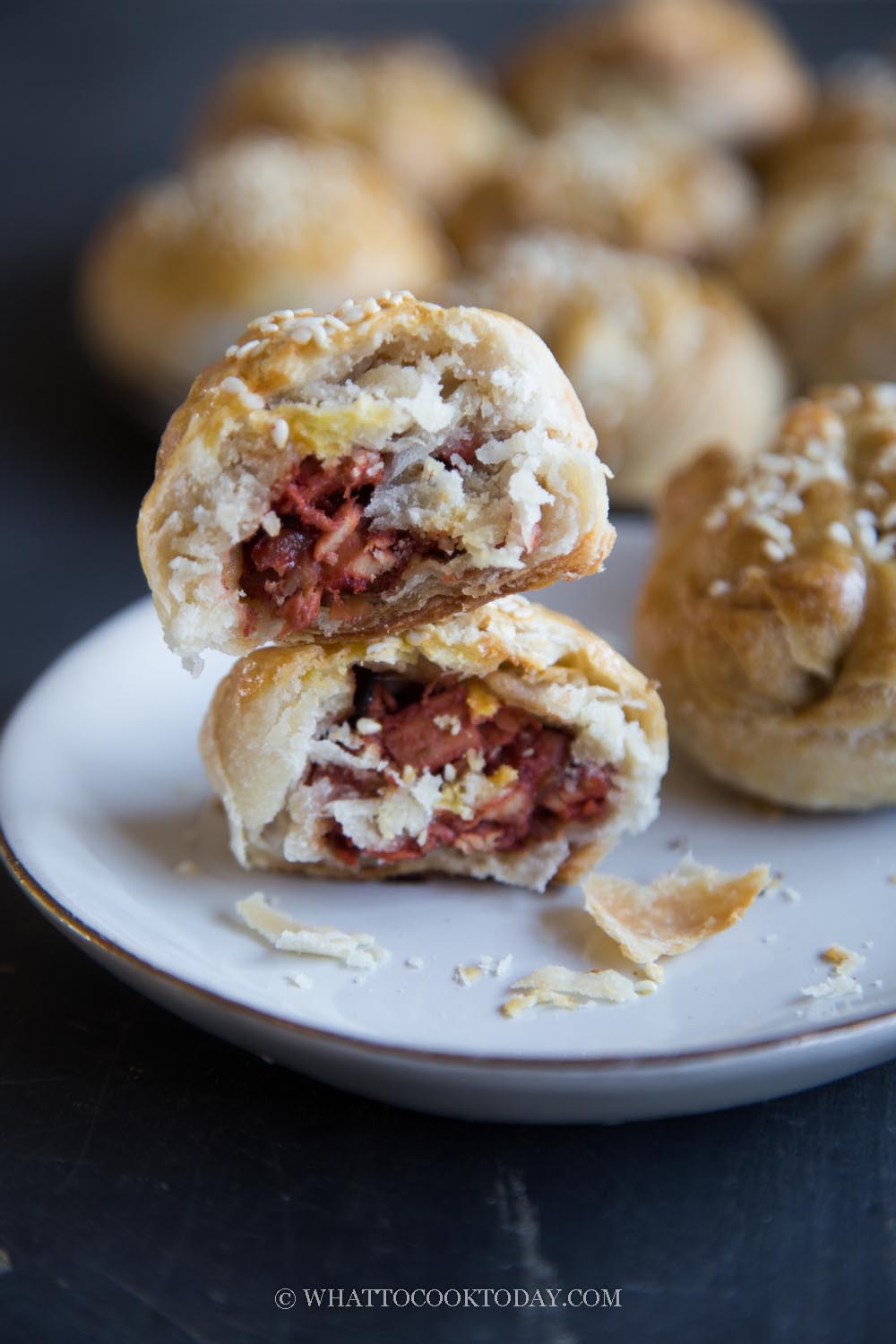 How to make really flaky Seremban siew bao
1. Add flour, sugar, baking soda, and salt to a mixing bowl. Whisk to mix together. Add the diced butter. Use your hands to rub the butter into the flour mixture. It would resemble some coarse crumbs. Add 3/4 of the water and knead into the dough and add more as needed until you can form a smooth non-sticky dough. Wrap with a cling wrap and set aside to let it rest for 30 minutes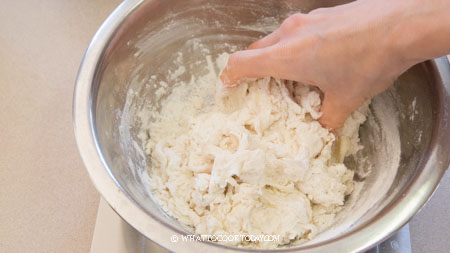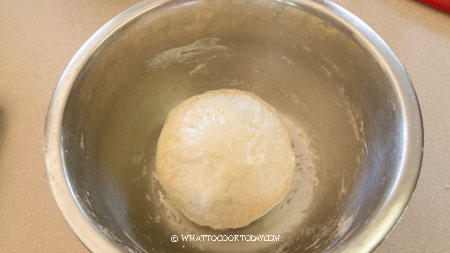 2. Add flour and diced butter to the same mixing bowl. Use your hands to rub the butter into the flour until you can form a non-sticky dough. Wrap with a cling wrap and let it rest for 15 minutes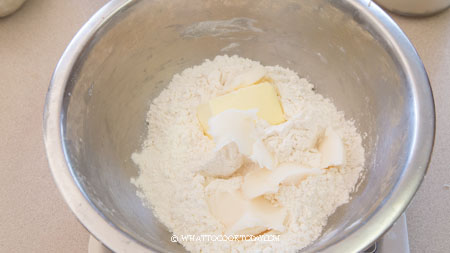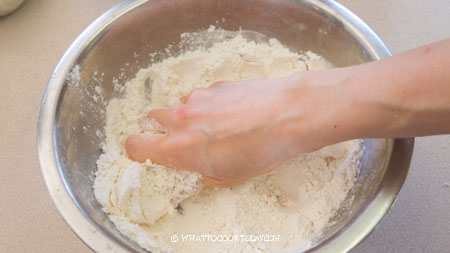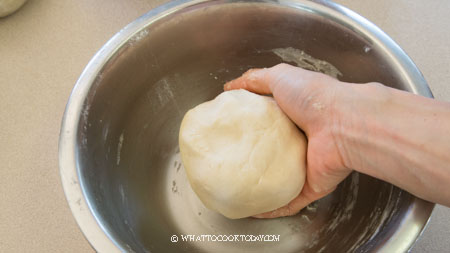 3. Divide each dough into 12 equal pieces. So you will have 12 water dough and 12 oil dough


4. Flatten the water dough (which is a bit bigger in size is how I recognize it) into a round. Put the oil dough on top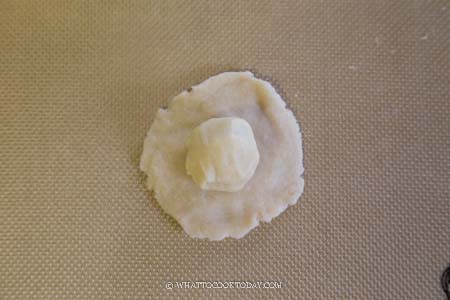 5. Wrap the water dough around it. Repeat with the rest. Cover them and let them rest for 15 minutes. They will be much easier to roll out later


6. Work with one dough at a time and keep the rest covered. Roll the dough out into an oval shape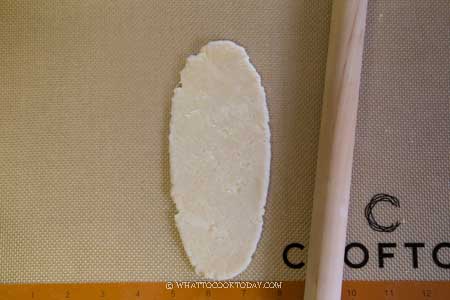 7. Roll it up like a Swiss roll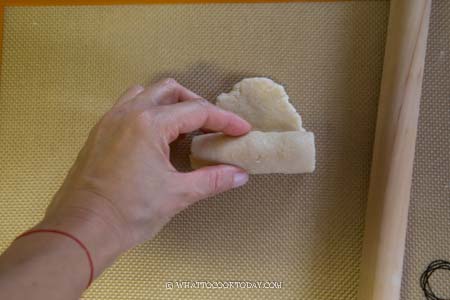 8. Rotate 90 degrees


9. Roll it out again into an oval


10. Swiss roll it up again. Put aside and cover. Repeat with the rest


11. Place the swirl side down


12. Flatten with your palm slightly and roll out into a disc, about 4 inches wide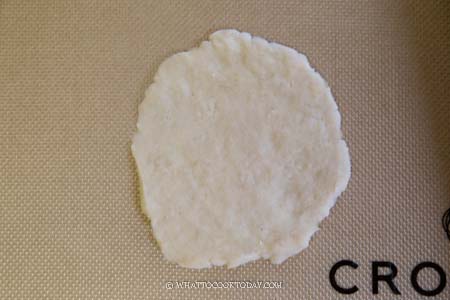 13. Place the filling in the center and then pleat the dough and pinch to seal the dough well. You need to really seal it well or it will open up during baking. I have several that opened up during baking and the filling oozes out. Place the shaped buns on a baking sheet, about 1 inch apart. Repeat with the rest of the dough and filling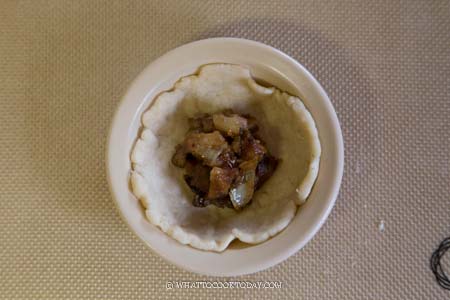 14. Put the baking sheet in the oven, middle rack and bake for 15 minutes. Remove from the oven and brush with some egg wash and sprinkle some sesame seeds on top. Put the baking sheet back into the oven and bake for another 10-15 minutes or until they are golden brown

How to store leftover baked siew bao or baked puff pastry in general
1. Let them cool down completely
If they are still warm, condensation will build, making them soggy.
2. To store at room temperature: Store them in a paper bag, push all the air out and fold over. Put this paper bag inside a plastic bag, push all the air out and seal. They can be kept at room temperature for 4-5 days
3. To store in the freezer for longer storage: Individually wrap them with a cling wrap and then put them inside a freezer bag, push all the air out and seal. Keep in the freezer for about 2 months. Simply thaw in the fridge overnight and then re-crisp in the oven or air fryer at 350 F for 5 minutes or so
Did you make this recipe?
I love it when you guys snap a photo and tag to show me what you've made 🙂 Simply tag me @WhatToCookToday #WhatToCookToday on Instagram and I'll be sure to stop by and take a peek for real!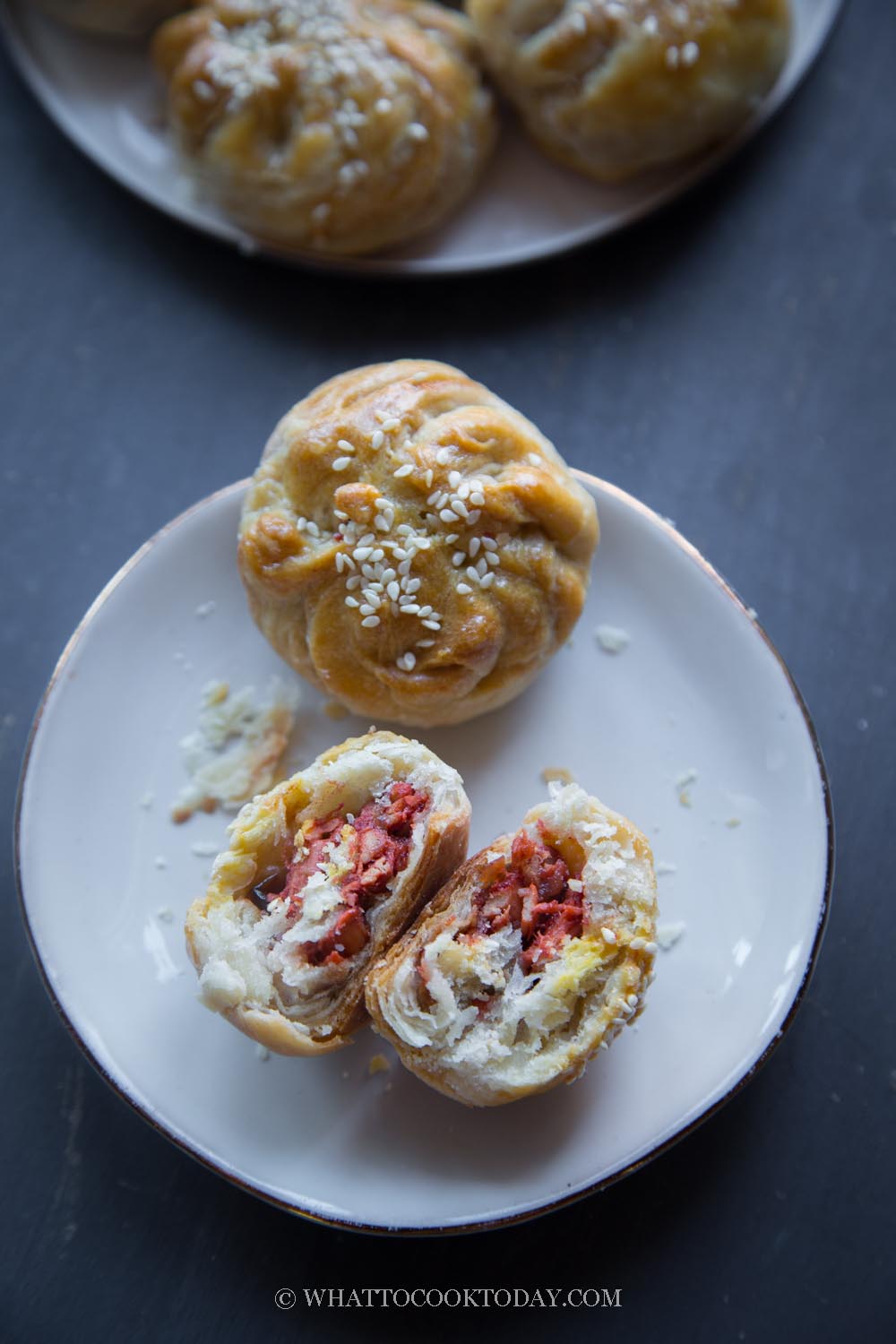 Siew Bao / Shao Bao (Baked Flaky BBQ Pork Pastry 烧包)
Ingredients
Instructions
Prepare the filling: (can be done few days before)
Prepare water dough:
Add flour, sugar, baking soda, and salt to a mixing bowl. Whisk to mix together. Add the diced butter. Use your hands to rub the butter into the flour mixture. It would resemble some coarse crumbs. Add 3/4 of the water and knead into the dough and add more as needed until you can form a smooth non-sticky dough. Wrap with a cling wrap and set aside to let it rest for 30 minutes
Prepare the oil dough:
Add flour and diced butter to the same mixing bowl. Use your hands to rub the butter into the flour until you can form a non-sticky dough. Wrap with a cling wrap and let it rest for 15 minutes
Put the two doughs together:
Preheat oven at 375 F (190C). I have a conventional oven with bottom heat only. If your oven has both bottom and top heat, you may want to adjust the temperature to 15-20 degrees lower

Line a large baking sheet with parchment paper. Divide each dough into 12 equal pieces. So you will have 12 water dough and 12 oil dough

Flatten the water dough (which is a bit bigger in size is how I recognize it) into a round. Put the oil dough on top and wrap the water dough around it. Repeat with the rest. Cover them and let them rest for 15 minutes. They will be much easier to roll out later

Work with one dough at a time and keep the rest covered. Roll the dough out into an oval shape. Roll it up like a Swiss roll. Rotate 90 degrees and roll it out again into an oval. Swiss roll it up again. Put aside and cover. Repeat with the rest

Place the swirl side down and flatten and roll out into a disc, about 4 inches wide. Place the filling in the center and then pleat the dough and pinch to seal the dough well. You need to really seal it well or it will open up during baking. I have several that opened up during baking and the filling oozes out. Place the shaped buns on a baking sheet, about 1 inch apart. Repeat with the rest of the dough and filling
Baking:
Put the baking sheet in the oven, middle rack and bake for 15 minutes. The baking time is just for reference. Please adjust according to your oven. Remove from the oven and brush with some egg wash and sprinkle some sesame seeds on top. Put the baking sheet back into the oven and bake for another 10-15 minutes or until they are golden brown

Remove from the oven and they are truly the best served warm. I usually will ask you to let the pastry cools down first before eating, but for these siew bao,I recommend eating them pipping hot or warm while you can. They are not as amazing once they cool down IMHO, BUT, a simple reheating or crisping in the oven or an air fryer will restore that glory again
Notes
I would recommend making a full recipe for the filling because the leftover is so good with some plain rice or tossed with some noodles. Just a suggestion 🙂