Ants Climbing a Tree – Chinese glass noodle stir fried with seasoning and ground meat is one of the classic Sezchuan dishes that get its unique name because of its appearance. Can be made on stove-top or instant pot
Chinese sure does like to name their dishes in a very unique way. Most of the time it's a "literal" translation of what it visually looks like. This ants climbing a tree dish is one of the example. Fret not, there is no ants involved. This classic Szechuan dish is named as such because of how the little pieces of ground meat clings to the noodles. It resembles ants climbing a tree. Why not other bugs you would ask, why ants? well, I honestly not sure about that part.
This ants climbing a tree is a noodle dish prepared with ground meat (usually pork, but feel free to use ground beef or even ground turkey) stir-fried in spicy chili bean paste. Super easy to prepare but really delicious. As one of the characteristics of Szechuan dish, this noodle dish is spicy, but you can tone it down if you need to. I actually only put a tiny bit of spicy chili bean paste in there or one of my kids will refuse to eat it if it's too spicy.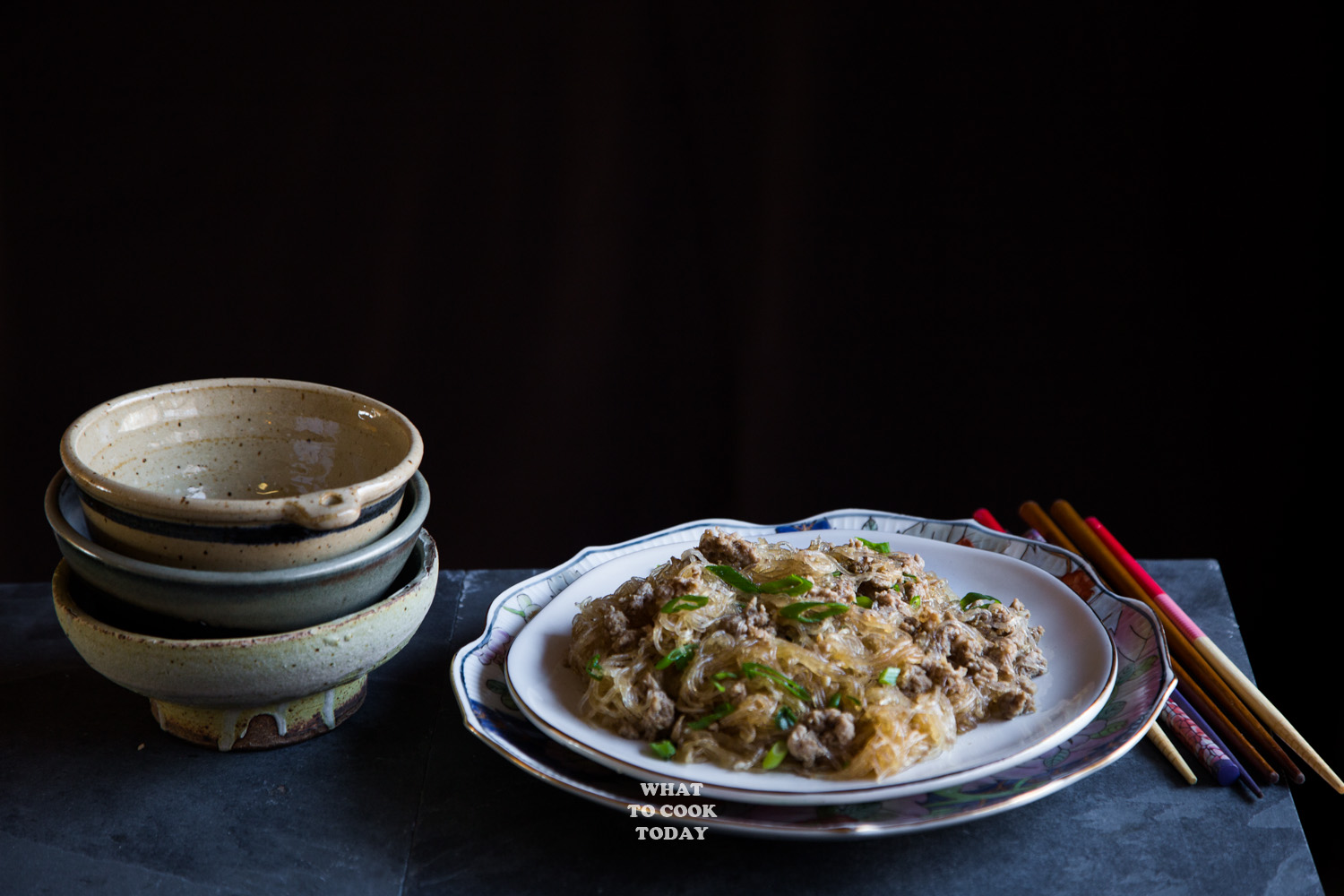 Next time if someone ask you "what are you cooking today?" You can tell them "ants climbing a tree" and let him/her think a little bit! Ha!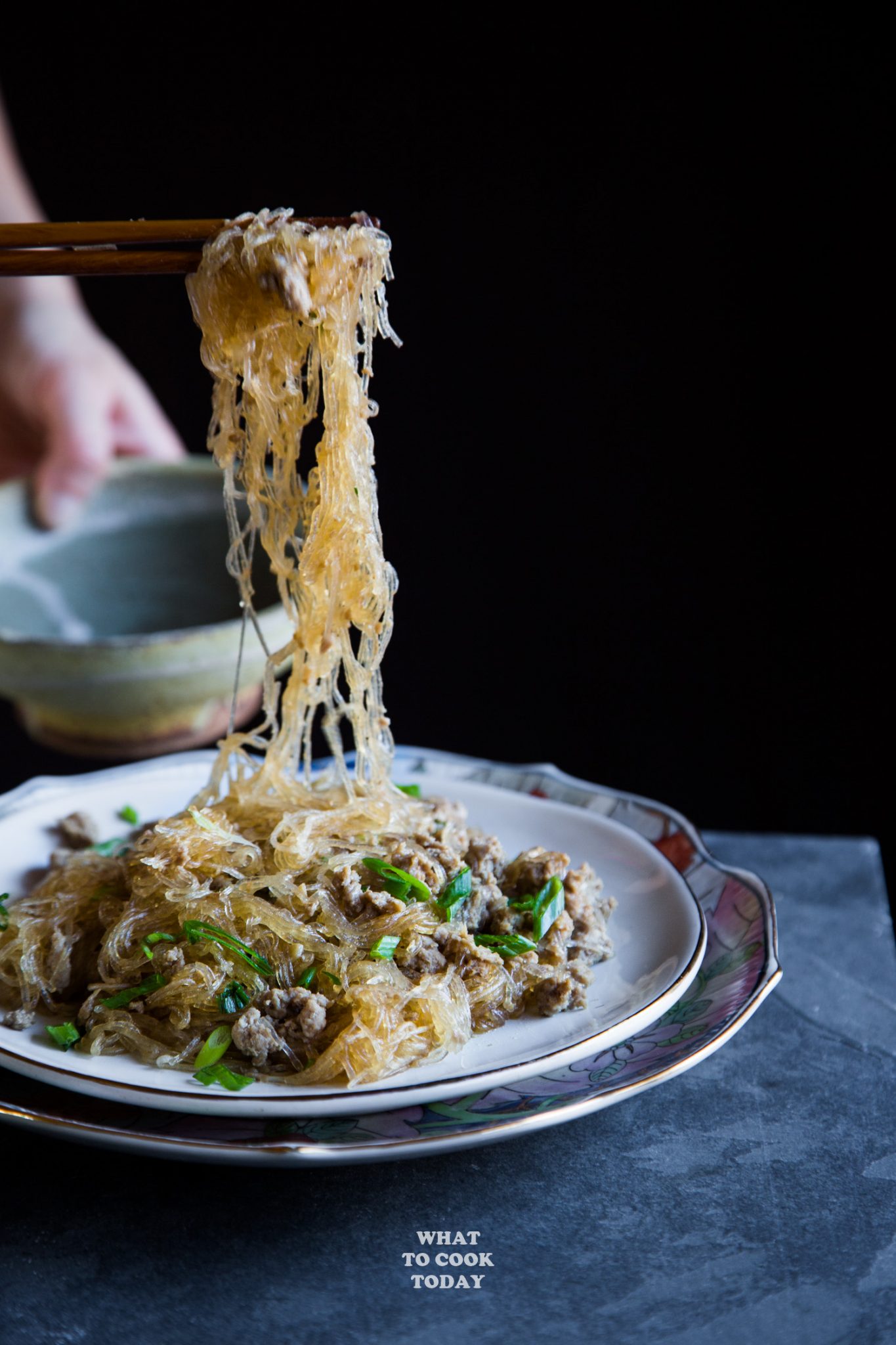 This blog post contains affiliate links. I earn a small commission when you made purchase at no extra cost to you. Learn more.
*Recipe is written for 6-quart Instant Pot. Cooking time should remain the same for 8-quart size but will take longer to pressurize. For mini duo (3-quart), I suggest to half the recipe and use the same amount of time to cook*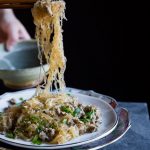 Ants Climbing a Tree - Glass Noodle Stir-fry (Ma Yi Shang Shu)
Ingredients
8

oz

dried bean thread noodles

(soak in water for 10 minutes)

3

Tbsp

cooking oil

1

tsp

grated ginger

250

gr

ground pork

2

cups

chicken stock
Seasonings:
1-2

Tbsp

chili bean paste

optional- amount depends on how spicy you want it

2

Tbsp

soy sauce

or more to your taste

1

Tbsp

sugar
Garnish:
1

stalk

green onion

(finely chopped)
Recommended equipment:
Instructions
Prepare the bean thread noodles:
Bring a large pot of water to a boil. Turn off the heat. Add the bean thread noodles in and let them soak for 8-10 minutes or until they are soft and turn translucent. Cut into shorter pieces with kitchen shears, but not too short, about 10 cm length
If using wok or skillet
Preheat a wok or large skillet. Add cooking oil. Add ginger and stir fry until fragrant, about 30 seconds. Add ground pork and stir fry until it's no longer pink. Add the seasonings and chicken stock. Bring it to a boil and then add the bean thread noodles. Stir to mix everything. The noodle will absorb the liquid
If using Instant pot:
Turn the saute mode on. When it's hot, add cooking oil.

Add cooking oil. Add ginger and stir fry until fragrant, about 30 seconds. Add ground pork and stir fry until it's no longer pink. Add the seasonings and chicken stock. Bring it to a boil and then add the bean thread noodles. Stir to mix everything. The noodle will absorb the liquid
Serving:
Transfer to a serving platter and garnish with chopped green onion. Serve immediately
Nutrition


CHECK OUT THESE NOODLE RECIPES:
SINGAPORE PRAWN AND PORK RIBS NOODLE (HAE MEE)
SURIMI CELLOPHANE NOODLE SALAD
SAUCY CURRY SHRIMP CHOW MEIN