Pieces of chicken are braised in aromatic spices, herbs, and tomato-based spicy sauce. The recipe can be made on the stove or in a pressure cooker.

Ayam masak merah literally means chicken cooked in red sauce. It may look like a chicken curry, but it is not really a curry dish. The tomato-based and turmeric base sauce is what contributing to its reddish-orange color. There are some chilis in the recipe, but it's not enough to contribute to the color. Ayam masak merah is a popular Malaysian dish, which is suitable for everyday-cooking or for festive celebration such as Eid (hari raya).
The recipe rundown
1. Taste
The overall dish tastes savory and slightly spicy. You can make it not spicy at all
2. Flavor
It has an amazing flavor thanks to the mixture of spices and herbs used in this recipe
3. Ease
I would consider this as an easy recipe
4. Pros
This is a recipe you can prepare ahead or in a larger batch and freeze into serving portions. It can also be made not spicy
5. Cons
The ingredient list may not be the shortest, but they are ingredients you can easily find at your local grocery store
Types and cuts of chicken to use
I use bone-in skin-on chicken thighs. You can also use boneless skinless if you prefer convenience, I won't recommend it but it's possible. It will take a shorter time to cook too. You can also use leg quarters, drumsticks, or wings.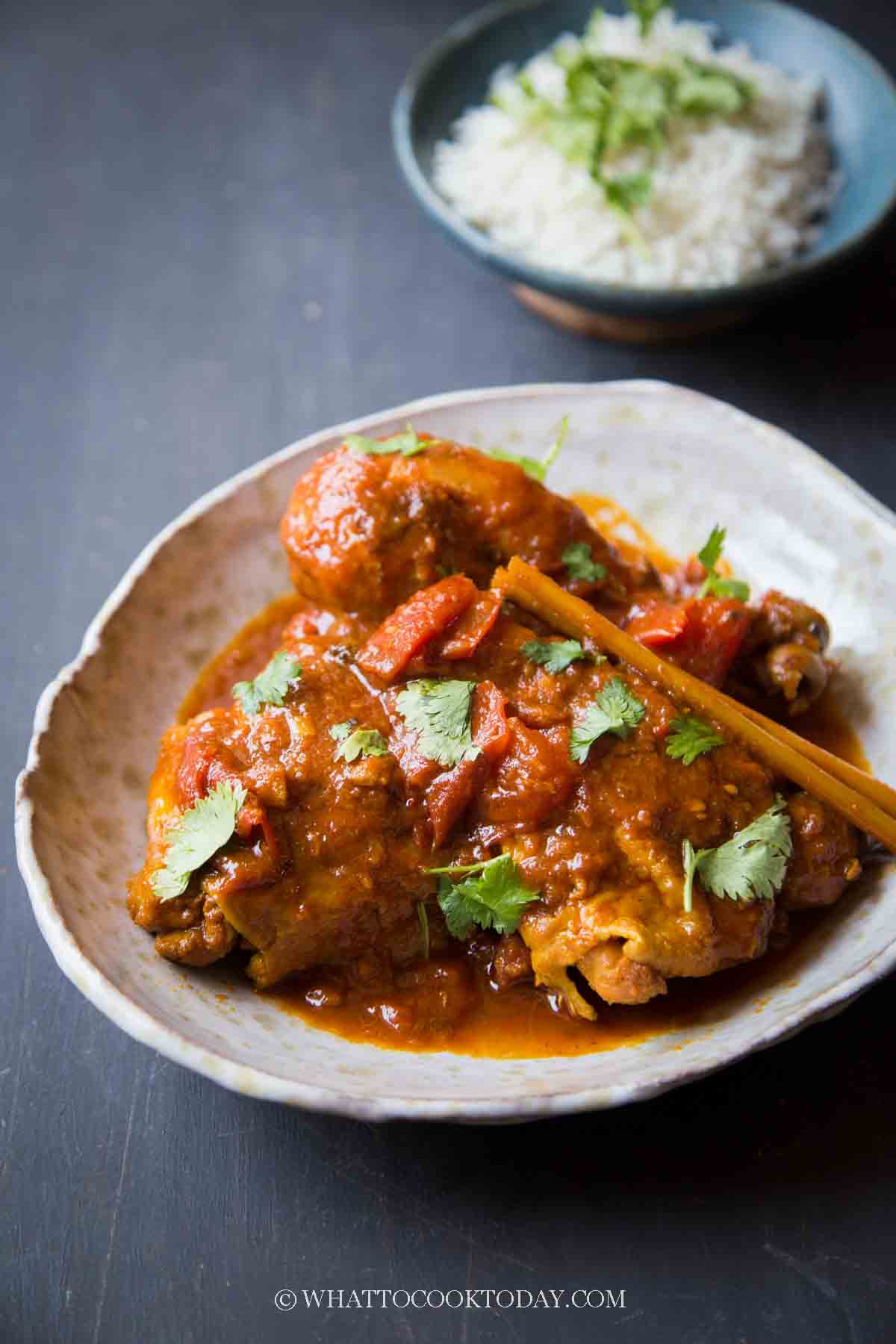 How to cook ayam masak merah
1. Prepare the spice paste
Place all ingredients for the spice paste in a food processor and process until it's a paste consistency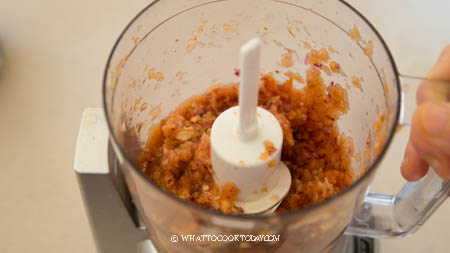 2. Pan fry the chicken
Rub the turmeric powder and salt all over the chicken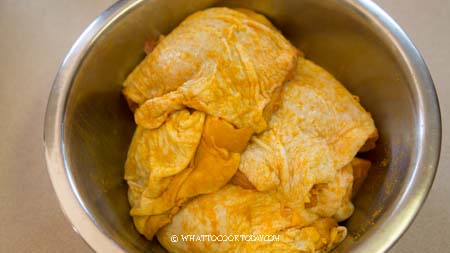 Preheat 1/4 cup of oil in a large pot or skillet. When the oil is hot enough, pan fry the chicken until they are golden brown. This step will not cook the chicken, it's only to brown the chicken. Remove from the oil and set aside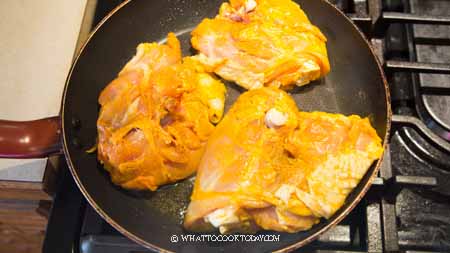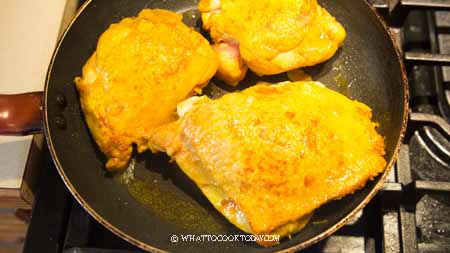 3. Cook on the stove or pressure cooker
Remove some of the oil from the pot or skillet, leaving about 2 Tbsp. Turn on saute mode if using Instant pot pressure cooker. Add the spice paste and stir fry until fragrant, about 3 minutes.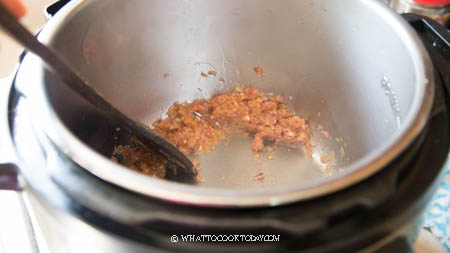 Add lemongrass stalks and star anise. Continue to stir fry for another minute.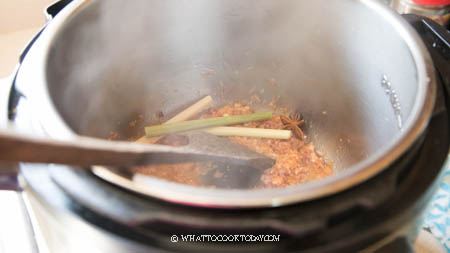 Add the tomato paste and ketchup and stir fry for another 10 seconds.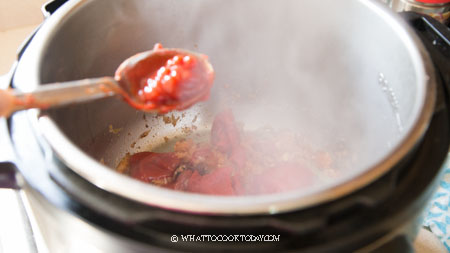 Add the water followed by sugar, salt, and cinnamon powder. Stir to mix everything. Make sure you scrape the bottom of the pot to make sure nothing catches at the bottom. Turn off saute mode if using pressure cooker.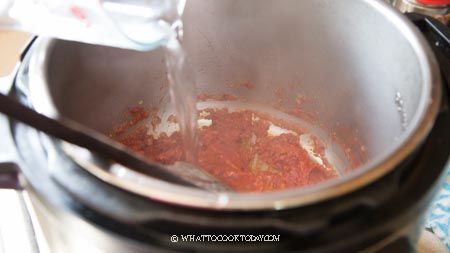 If cooking on the stove, cook until the chicken pieces are tender about 30 minutes or so. If cooking with a pressure cooker, I pressure cook the large chicken thighs on high for 20 minutes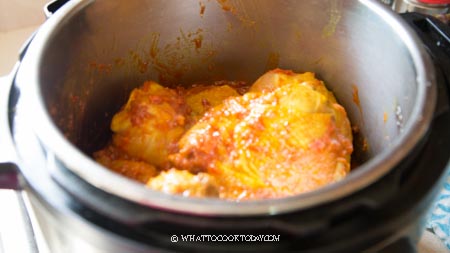 Then stir in the tomato pieces after that. The residual heat will soften the tomatoes without turning them into a mush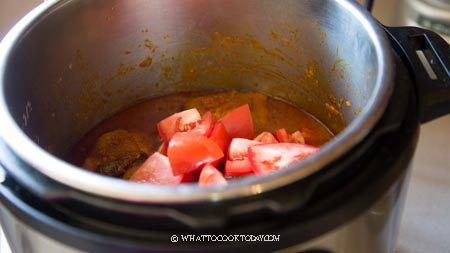 The flavor gets even better the next day like in many stews or curry dishes like this.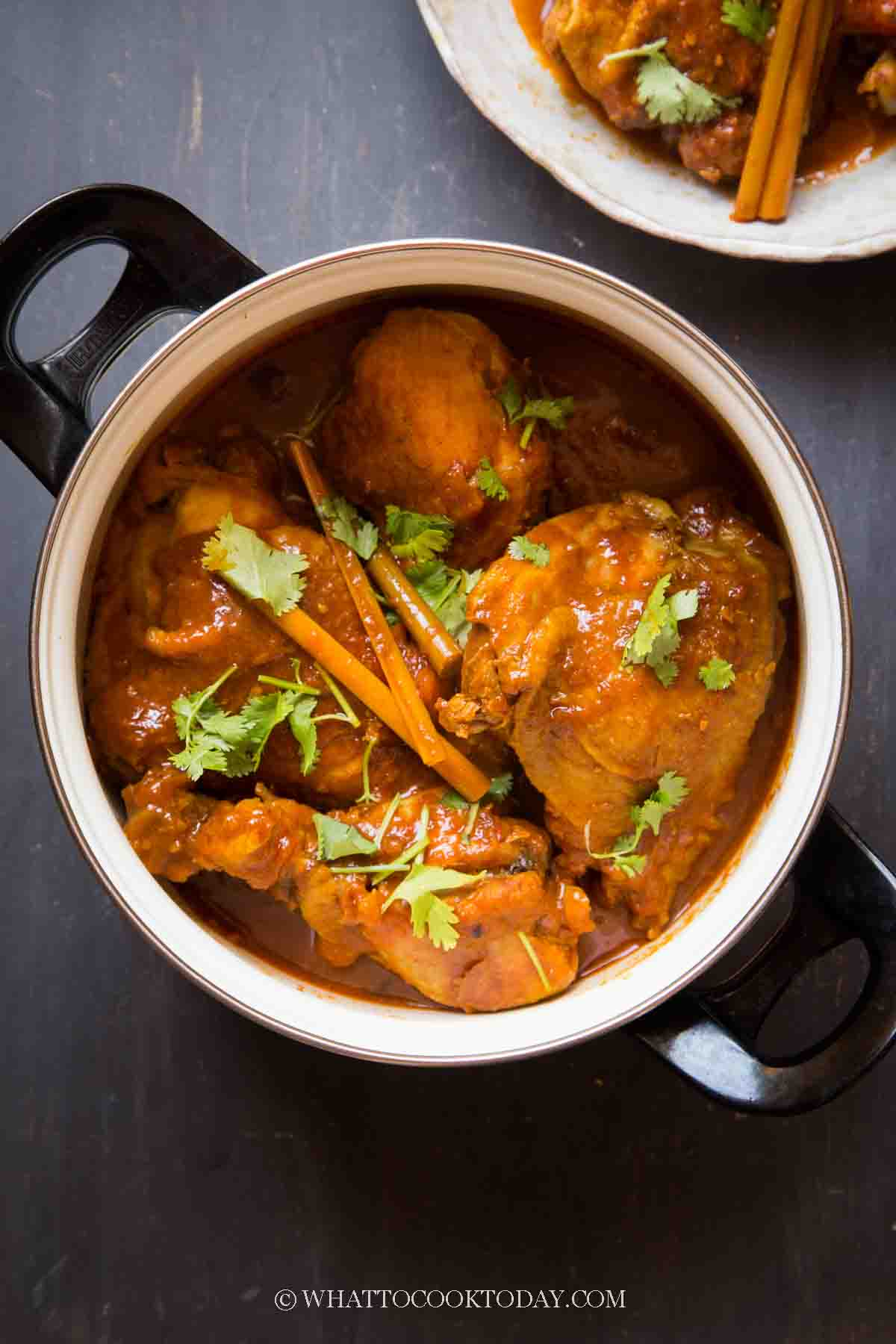 Tips for a good ayam masak merah
1. Use dark meat
I prefer to use thighs, legs, or drumsticks as they are not as dry
2. Pan fry the chicken
Pan frying the chicken to give it that golden brown color enhances the flavor of the chicken and also to seal in moisture
3. Saute the ground spices
Mom often tells me to always stir fry the ground spices (no matter what I cook) as it kicks the flavor up a notch, and I will not argue with that
4. Use tomato paste
Tomato paste contributes to the vibrant red color of the dish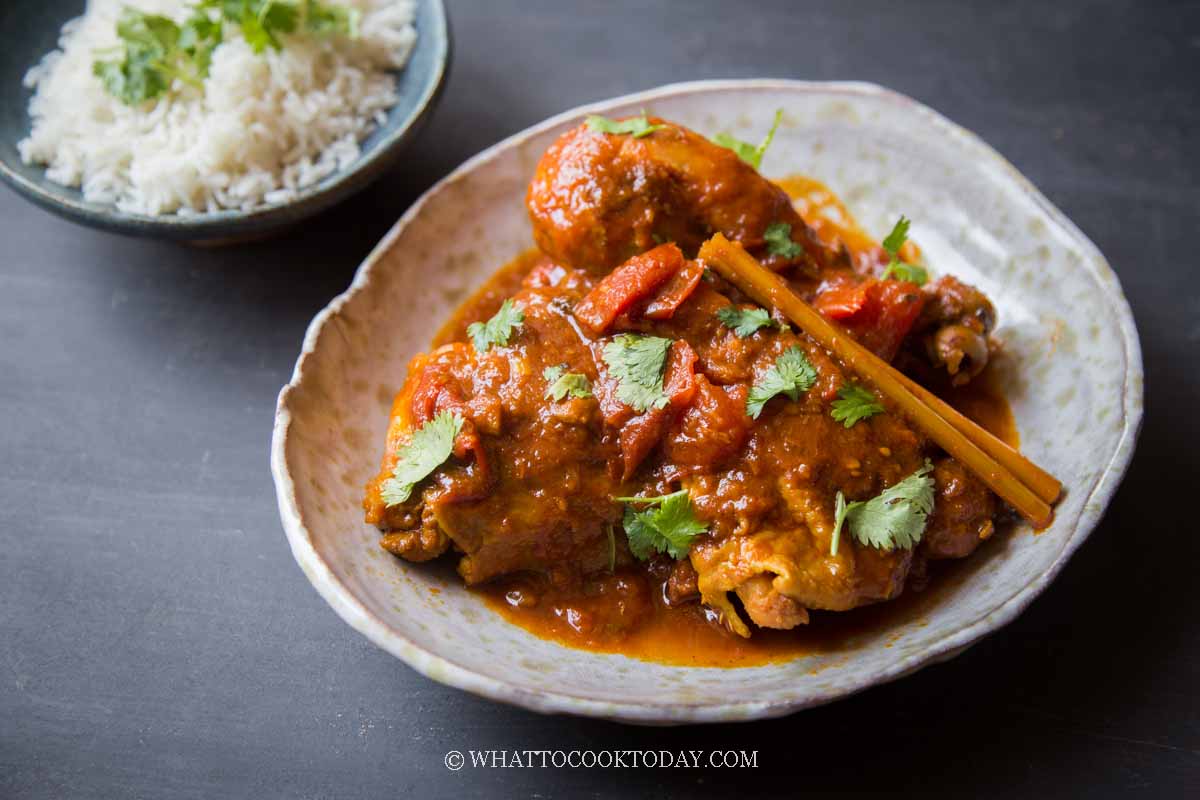 What to serve ayam masak merah with
You can serve this with rice, spaghetti (a bit unconventional, but yes it's delicious), garlic naan bread, nasi pandan (pandan rice), nasi kuning, nasi gurih
How to store leftover
Refrigerator: You can keep leftover in the fridge for about 5 days or so
Freezer: If you are doing meal-prep, simply portion them out into serving portions and keep in the freezer for up to 3 months. Simply thaw and reheat on the stove or in the microwave until it's heated through
Did you make this ayam masak merah recipe?
I love it when you guys snap a photo and tag to show me what you've made 🙂 Simply tag me @WhatToCookToday #WhatToCookToday on Instagram and I'll be sure to stop by and take a peek for real!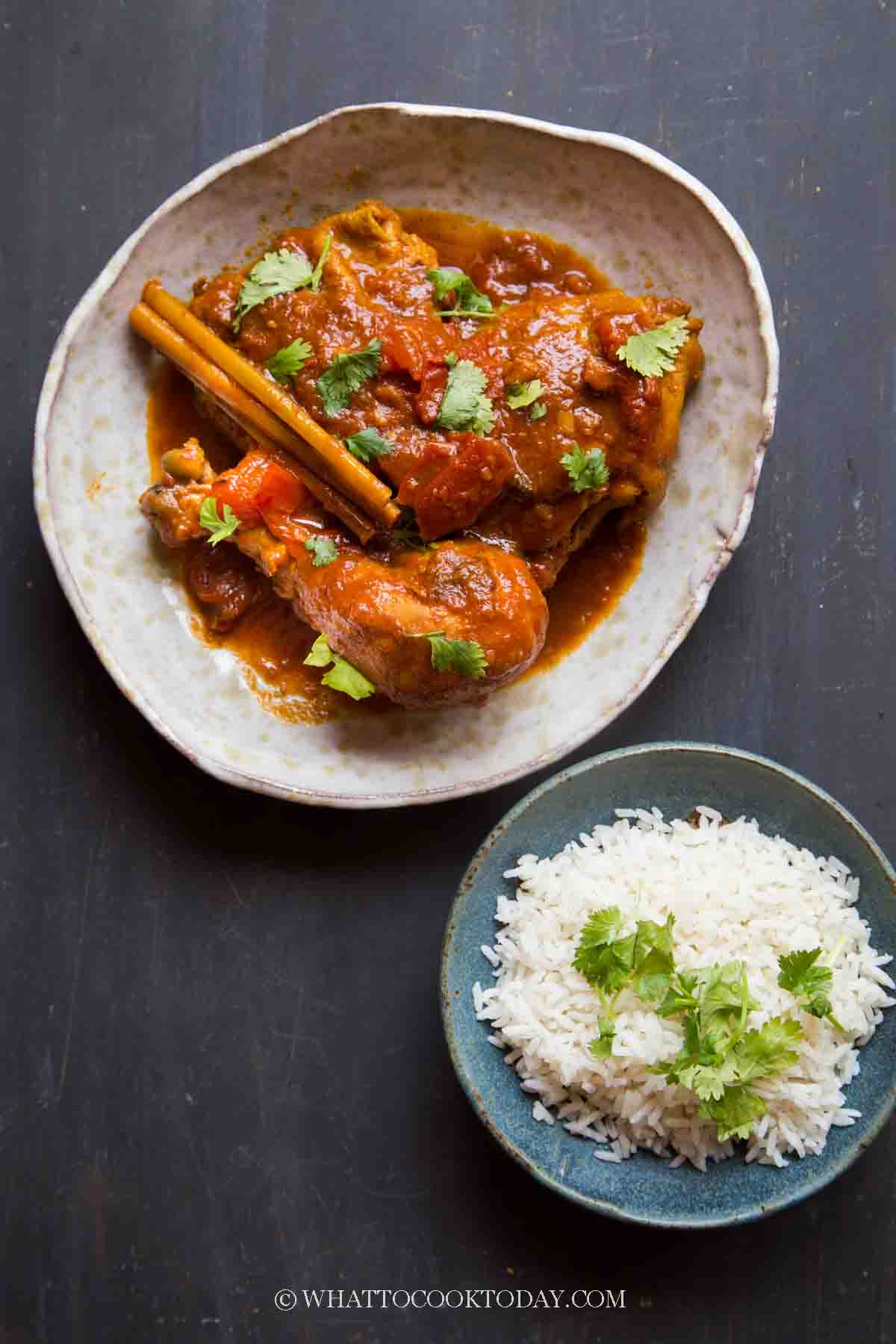 You may also like these similar recipes
Ayam Masak Merah (Chicken in Spicy Tomato Sauce)
Ingredients
Spice paste:
1

small

onion

3

cloves

garlic

6

dried chilies

or use 1-2 Tbsp store-bought sambal oelek or chili paste

1

inch

ginger

1

inch

galangal

or use 2 tsp galangal powder

3

stalks

lemongrass

(white parts only)
For the sauce:
200

ml

water

3

Tbsp

tomato paste

3

Tbsp

ketchup

1

tsp

sugar

1

tsp

salt

or more to taste

2

large

tomatoes

cut into large chunks
Instructions
If you are using boneless skinless chicken, cut them into bite-size and rub the turmeric powder and salt all over the chicken
Prepare spice paste:
Place all ingredients for the spice paste in a food processor and process until it's a paste consistency
Pan fry the chicken (skip if you are using boneless skinless chicken):
Rub the turmeric powder and salt all over the chicken Preheat 1/4 cup of oil in a large pot or skillet. When the oil is hot enough, pan fry the chicken until they are golden brown. This step will not cook the chicken, it's only to brown the chicken. Remove from the oil and set aside
Cooking on the stove:
Remove some of the oil from the pot or skillet, leaving about 2 Tbsp. Add the spice paste and stir fry until fragrant, about 3 minutes. Add lemongrass stalks and star anise. Continue to stir fry for another minute. Add the tomato paste and ketchup and stir fry for another 10 seconds. Add the water followed by sugar, salt, and cinnamon powder. Stir to mix everything. Make sure you scrape the bottom of the pot to make sure nothing catches at the bottom

Add the pan-fried chicken or the boneless chicken pieces into the pot and bring to a simmer. Close the lid and lower the heat to simmer and let the chicken braised until they are cooked through and tender. The boneless chicken pieces will cook faster, probably in 8-10 minutes, whereas the bone-in chicken will cook in about 30 minutes or so

Stir in the tomato pieces and continue to cook until the tomatoes started to soft, but not turning into a mush. Have a taste test. Add more salt and/or sugar as needed. It should be savory and spicy. Garnish with few sprigs of fresh cilantro leaves
Cooking with Instant Pot pressure cooker:
Rub the turmeric powder and salt all over the chicken (whether you use bone-in skin-on chicken or boneless skinless chicken). Press saute on Instant pot. When it's hot. Preheat 1/4 cup of oil in the inner pot of the instant pot. Skip this step if you are using boneless skinless chicken

When the oil is hot enough, shallow fry the chicken until they are golden brown on the skin. This step will not cook the chicken, it's only to brown the chicken. Remove from the oil and set aside

Remove some of the oil from the pot or skillet, leaving about 2 Tbsp. Add the spice paste and stir fry until fragrant, about 3 minutes. Add lemongrass stalks and star anise. Continue to stir fry for another minute. Add the tomato paste and ketchup and stir fry for another 10 seconds. Add the water followed by sugar, salt, and cinnamon powder. Stir to mix everything. Make sure you scrape the bottom of pot to make sure nothing catches at the bottom. Turn off saute mode

Add the chicken pieces into the pot . Close the lid. Turn the pressure release valve to sealing. Press pressure cooker and make sure it's on high pressure. Set the timer to 20 minutes for bone-in chicken pieces. If you are using boneless chicken, set the timer to 2 minutes

Release the pressure immediately when the timer is up. Carefully unlock the lid and stir in the tomato pieces. The residual heat will soften the tomato pieces without turning them into a mush. Have a taste and add more salt and/or sugar to your taste. Garnish with few sprigs of fresh cilantro leaves
Recommended products: