Moist and flavorful glutinous rice is cooked in coconut milk and naturally colored with butterfly pea flower extract and then pressed into a cake pan and then serve with a rich and creamy kaya jam is one of the popular Nyonya kueh/kuih you can easily make at home with this easy recipe.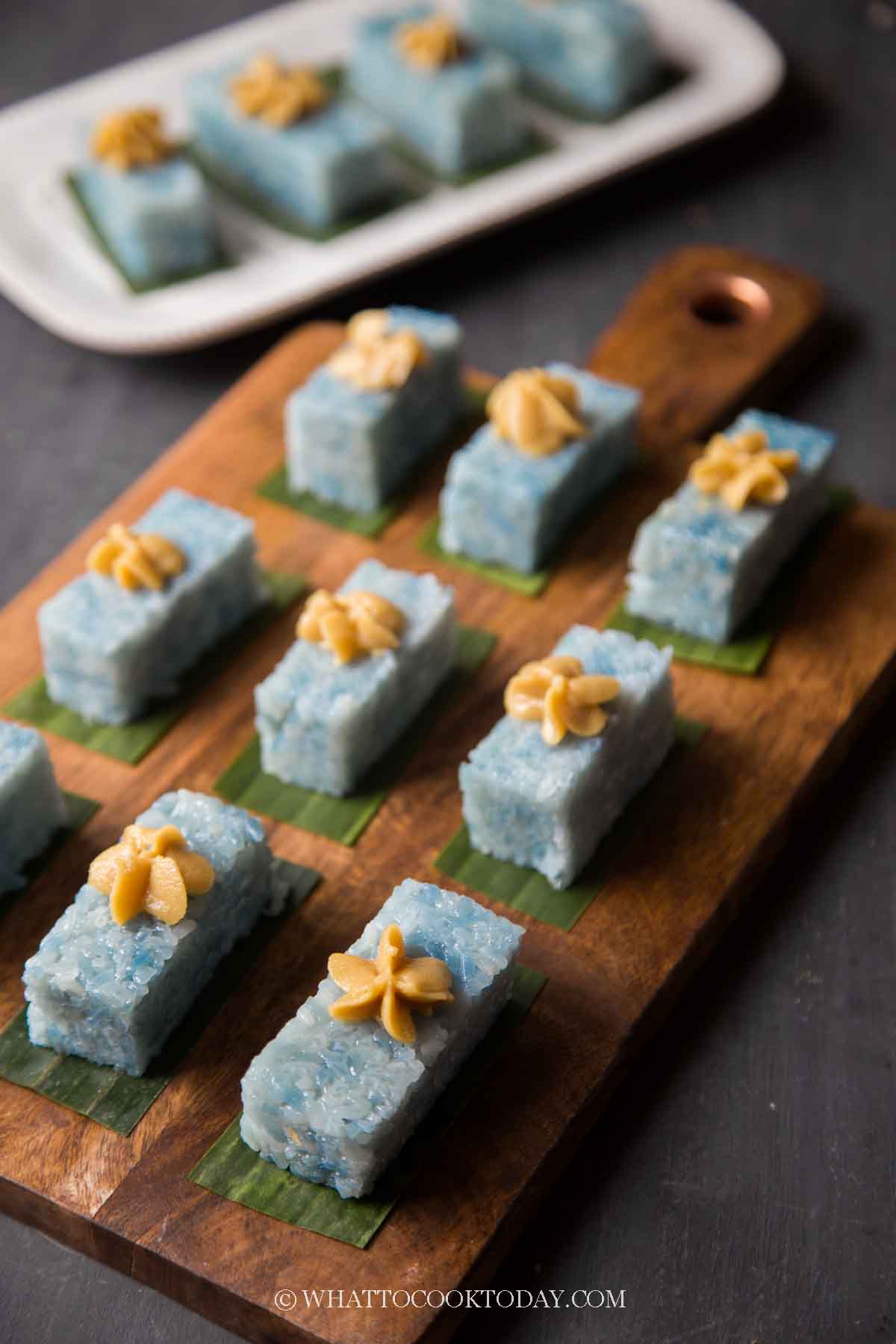 Pulut tai tai is one of the popular nyonya kueh/kuih. The sticky rice is cooked in coconut milk and pandan leaves and so it is moist and flavorful. The rice is then pressed into molds or cake pan and then sliced and spread with delicious and creamy kaya jam. I remember my dad dearly when I see pulut tai tai. This was one of his favorite kueh to go with his afternoon coffee break.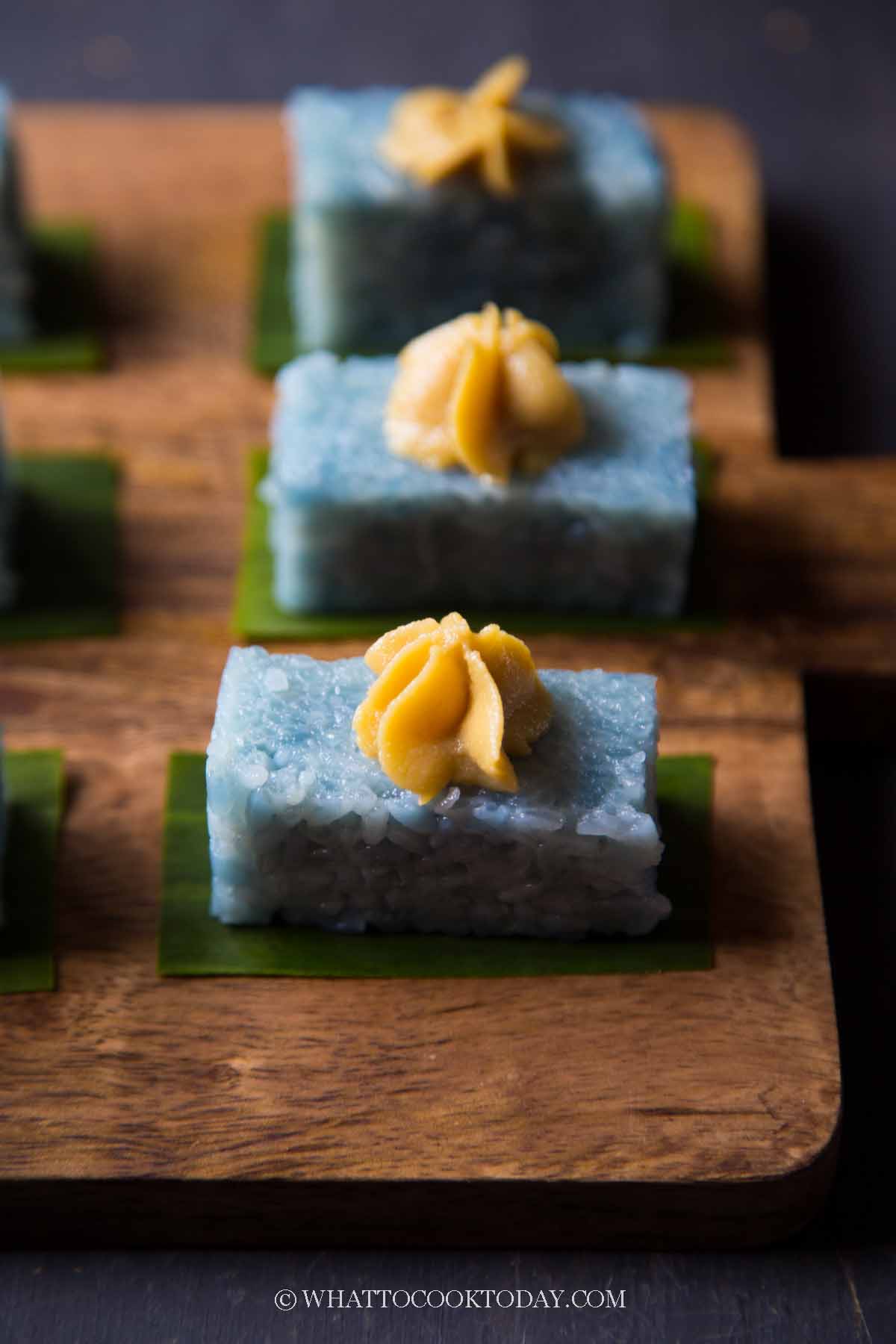 What is pulut tai tai or pulut tekan?
Pulut means glutinous rice or sticky rice in Bahasa or Malay language. Tai tai usually refers to a rich housewife. It is named as such because this pulut tai tai kueh/kuih was served to the wealthy tai tai back in the olden days. It is known as pulut tekan too. Tekan means to press down, so there you go! 😉
The recipe rundown
Taste: The glutinous rice has an amazing aroma from coconut and pandan leaves and paired so well with a rich creamy coconut kaya jam
Texture: Moist glutinous rice and creamy kaya jam
Ease: Easy
Pros: The recipe is naturally gluten-free and fairly easy to be made. You can steam the rice on the stove or pressure cook it
Cons: Some of you may not be able to find fresh blue pea flower or dried blue pea flower for the blue color. However, this is just for presentation and doesn't alter the taste. You can still use blue food coloring to achieve the same look if you want to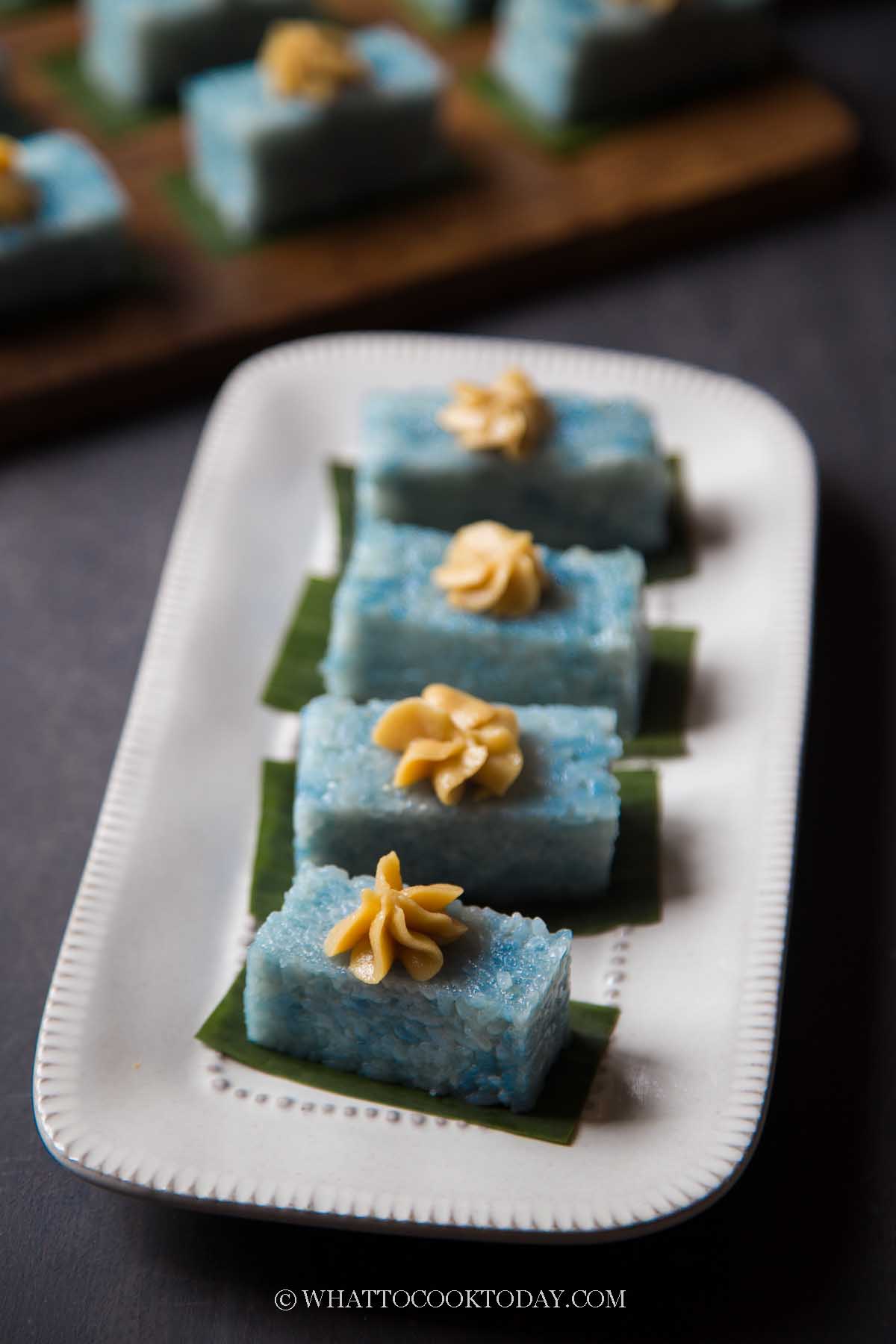 Ingredients for the sticky rice cake portion
1. Glutinous rice
Use white glutinous rice also known as sweet rice or sticky rice. Do not substitute with other rice such as sushi rice. Sushi rice is kinda sticky, but it's not the same texture as glutinous rice and it won't turn out right
2. Coconut milk
I use canned coconut milk, usually unsweetened
3. Butterfly pea flower
You can use fresh or dried flowers. If you are using fresh, use half the amount called for in the recipe. I only have the dried butterfly pea flowers
4. Pandan leaves
Pandan leaves are available at Asian grocery store. It can be frozen or fresh
5. Salt
I don't recommend omitting salt in this recipe as the small amount really brings out the flavor of this kueh/kuih
6. Sugar
I use granulated sugar. You can use caster sugar
How to make pulut tai tai
1. Prepare the butterfly pea flower juice
Boil the flowers in 250 ml of water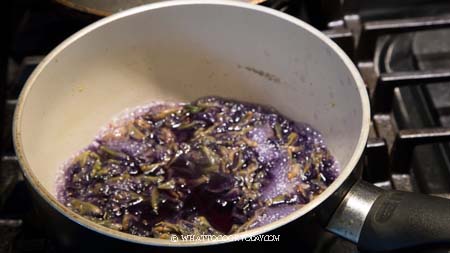 Turn off the heat and then let the flowers steep for 10 minutes


Strain the juice and discard the flower. Set aside to let it cools down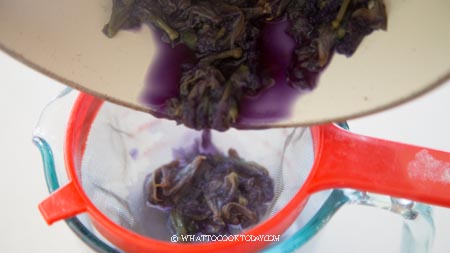 2. Soak the glutinous rice
Get about 130 grams (1/3 cup) of the glutinous rice and put it in another bowl. Soak this portion with the butterfly pea flower juice.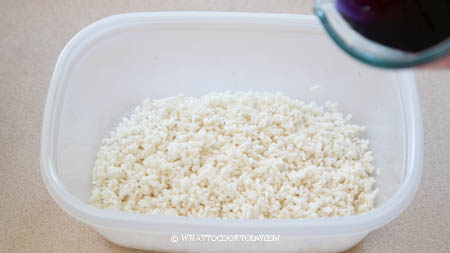 Soak the rest of the 270 grams of the rice in water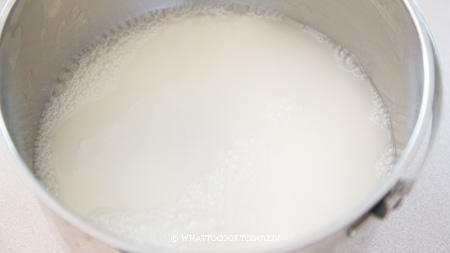 Soak them for at least 4 hours or overnight if you have the time


After soaking, drain off the soaking liquid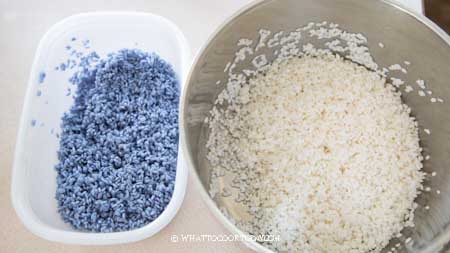 3. Cooking the rice
Mix coconut milk with water, salt, and sugar. Stir to mix.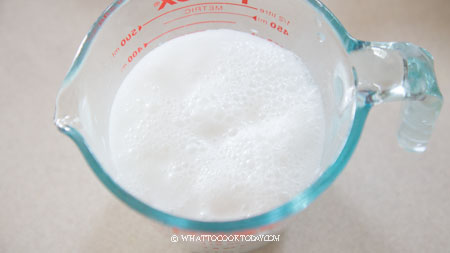 Place the soaked rice in a steaming dish (make sure it can fit in your Instant Pot if you plan to use pressure cooker).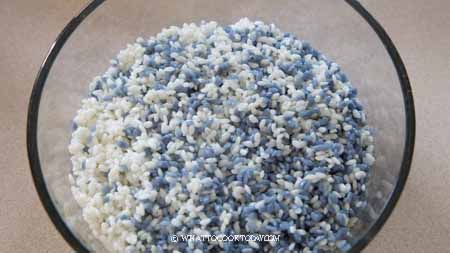 Pour the coconut milk mixture into the rice and stir to mix. Put the knotted pandan leaves and kinda push them into the rice for maximum flavor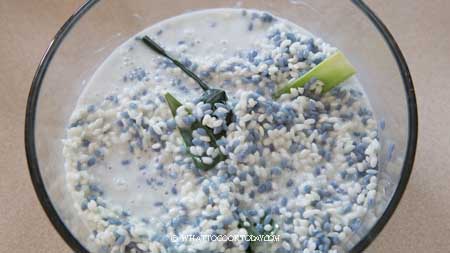 Steam over high heat for 25-30 minutes on the stove. If you are using an Instant Pot pressure cooker, pour 1 cup of water into the inner pot. Put the trivet in. Place the steaming dish on top of the trivet. Secure the lid and turn the pressure release valve to seal. Push "pressure cooker" and make sure it's on "high pressure". Set the timer to 15 minutes and then wait 5 minutes before fully release the pressure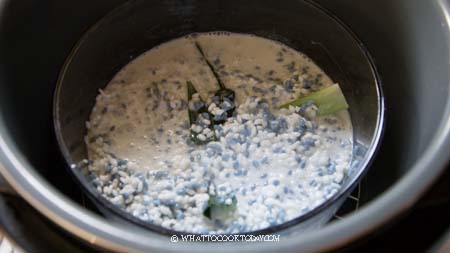 4. Assembling the cake
Once the rice is done cooking, fluff it with a fork or rice paddle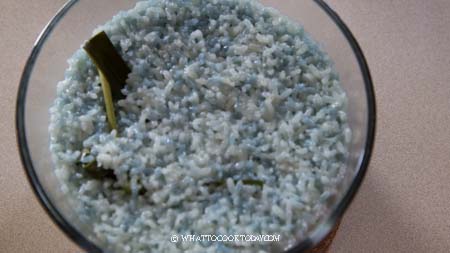 Transfer the rice to a pan lined with parchment paper or banana leaves (it adds extra aroma)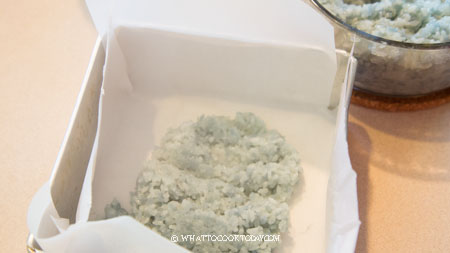 Really press down on the rice to make sure it is packed down. If you don't pack it down, the kueh will fall apart when you cut it later


Let the pressed rice cake cools down at room temperature for at least 4 hours before cutting. Don't put it in the fridge as the rice will harden when it's cold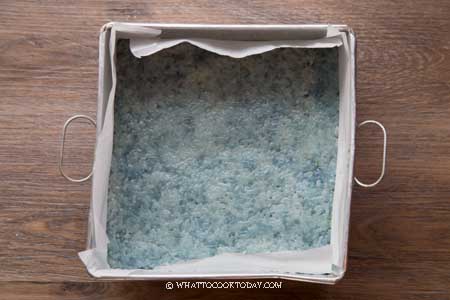 5. Decorate with kaya jam
Cut the cake into the desired size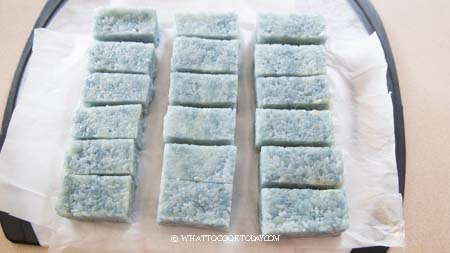 You can place them on banana leaves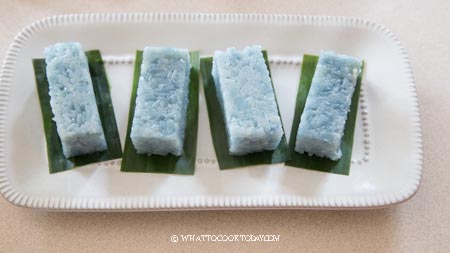 Since glutinous rice turns hard when it's chilled, I suggest only decorate as many kueh you are going to serve that day with kaya jam. That way, you can store the leftover sticky rice in the fridge and then warm them up in the microwave or in the steamer and then decorate with kaya jam just before serving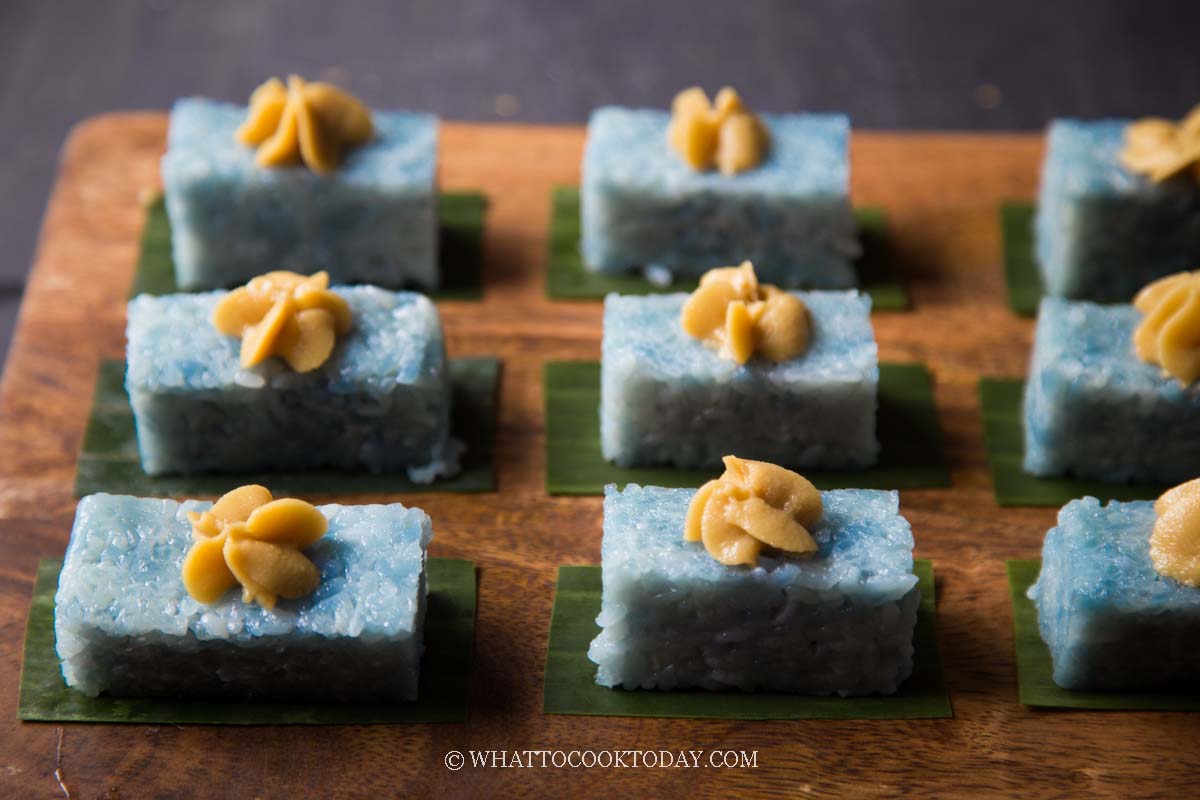 Tips
1. Make sure you soak the rice for at least 4 hours. Overnight is best as the color will be more vibrant
2. Use banana leaves to line the pan if you have some. It adds an extra layer of aroma
3. Really press down on the cake. The cake may fall apart if you don't pack it down
Did you make this pulut tai tai / pulut tekan recipe?
I love it when you guys snap a photo and tag to show me what you've made 🙂 Simply tag me @WhatToCookToday #WhatToCookToday on Instagram and I'll be sure to stop by and take a peek for real!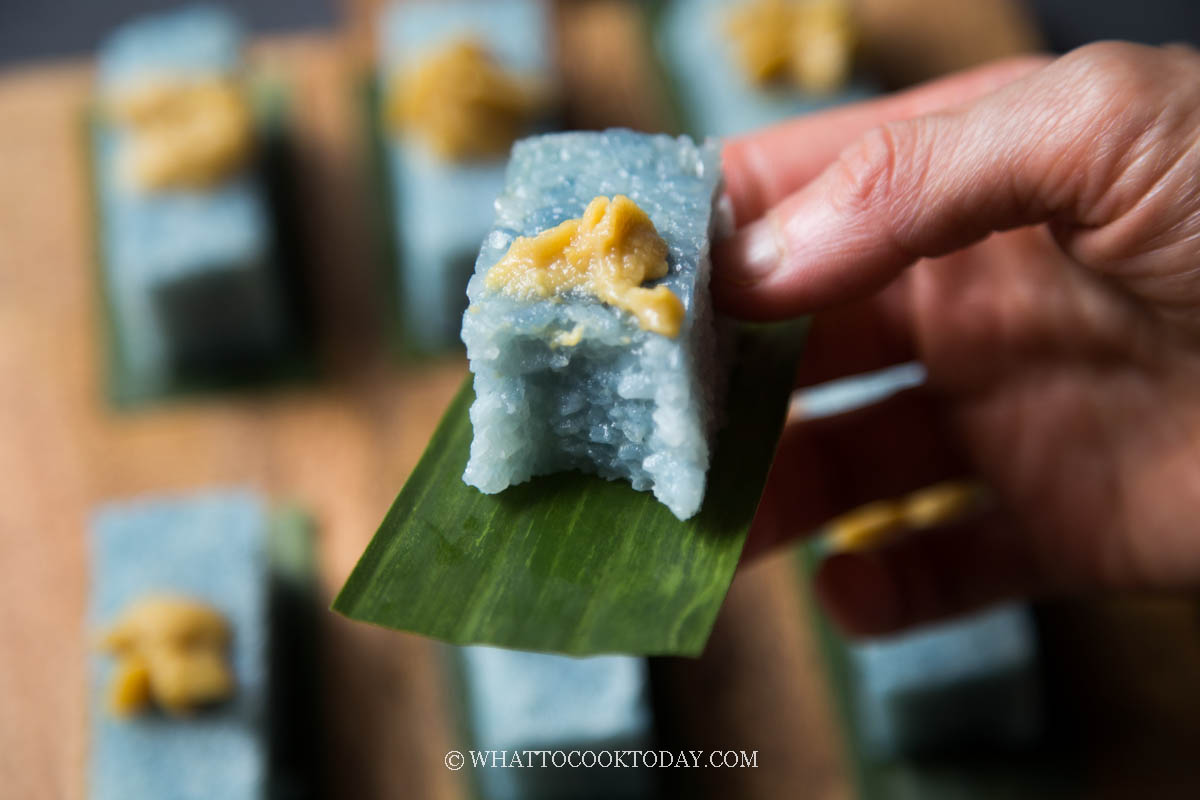 The recipe is adapted from Nonya Flavour Cookbook with some modification
Pulut Tai Tai / Pulut Tekan (Pressed Glutinous Rice Cake with Kaya Jam)
Ingredients
For blue pea flower extract:
For kaya jam (use either one):
Instructions
Prepare the butterfly pea flower juice:
Boil the flowers in 250 ml of water. Turn off the heat and then let the flowers steep for 10 minutes. Strain the juice and discard the flower. Set aside to let it cools down
Soak the sticky rice:
Get about 130 grams (1/3 cup) of the glutinous rice and put it in another bowl. Soak this portion with the butterfly pea flower juice. Soak the rest of the 270 grams of the rice in water. Soak them for at least 4 hours or overnight if you have the time

After soaking, drain off the soaking liquid
Cooking the rice:
Mix coconut milk with water, salt, and sugar. Stir to mix. Place the soaked rice in a steaming dish (make sure it can fit in your Instant Pot if you plan to use pressure cooker). Pour the coconut milk mixture into the rice and stir to mix. Put the knotted pandan leaves and kinda push them into the rice for maximum flavor

Steam over high heat for 25-30 minutes on the stove. If you are using an Instant Pot pressure cooker, pour 1 cup of water into the inner pot. Put the trivet in. Place the steaming dish on top of the trivet. Secure the lid and turn the pressure release valve to seal. Push "pressure cooker" and make sure it's on "high pressure". Set the timer to 15 minutes and then wait 5 minutes before fully release the pressure
Assembling the cake:
Once the rice is done cooking, fluff it with a fork or rice paddle. Transfer the rice to a pan lined with parchment paper or banana leaves (it adds an extra flavor that I really like). Really press down on the rice to make sure it is packed down. If you don't pack it down, the kueh will fall apart when you cut it later

Let the pressed rice cake cool down for at least 4 hours before cutting. They can be left at room temperature. Don't put it in the fridge as the rice will harden when it's cold
Decorate with kaya jam:
Cut the cake into the desired size. Place them on banana leaves if you have some

Since glutinous rice turns hard when it's chilled, I suggest only decorate as many kueh you are going to serve that day with kaya jam. That way, you can store the leftover sticky rice in the fridge and then warm them up in the microwave or in the steamer and then decorate with kaya jam just before serving
Recommended products: