Cilok is a popular bite-size snack or street food in Indonesia and it is incredibly easy to make. Boiled tapioca dough is served with delicious savory peanut sauce.

What is cilok?
Cilok is a popular street food/snack that originated from the city of Bandung in West Java. Cilok is actually an abbreviation of aci di colok. Aci means tapioca starch in a Sundanese dialect. Di colok means the act of poking. So basically the cooked tapioca balls are skewered/poked in a bamboo skewer. Aci di colok is considered a bit lengthy for daily conversation and so they abbreviate it to cilok (aCI di coLOK). The tapioca balls are then served with savory peanut sauce, drizzle of chili sauce and some sweet soy sauce (kecap manis).
The recipe rundown
Taste: Cilok doesn't have much flavor on its own and needs to be served with the peanut sauce
Texture: It has that chewy texture thanks to the tapioca starch. If you ever have the Chinese tang yuan (glutinous rice balls) or the Japanese dango, it kinda has that same texture
Ease: Easy
Pros: Cilok are easy and quick to make. It makes for fun appetizer too
Cons: Cilok may toughen a bit when left at room temperature for hours, which is normal. Once reheated, they will soften again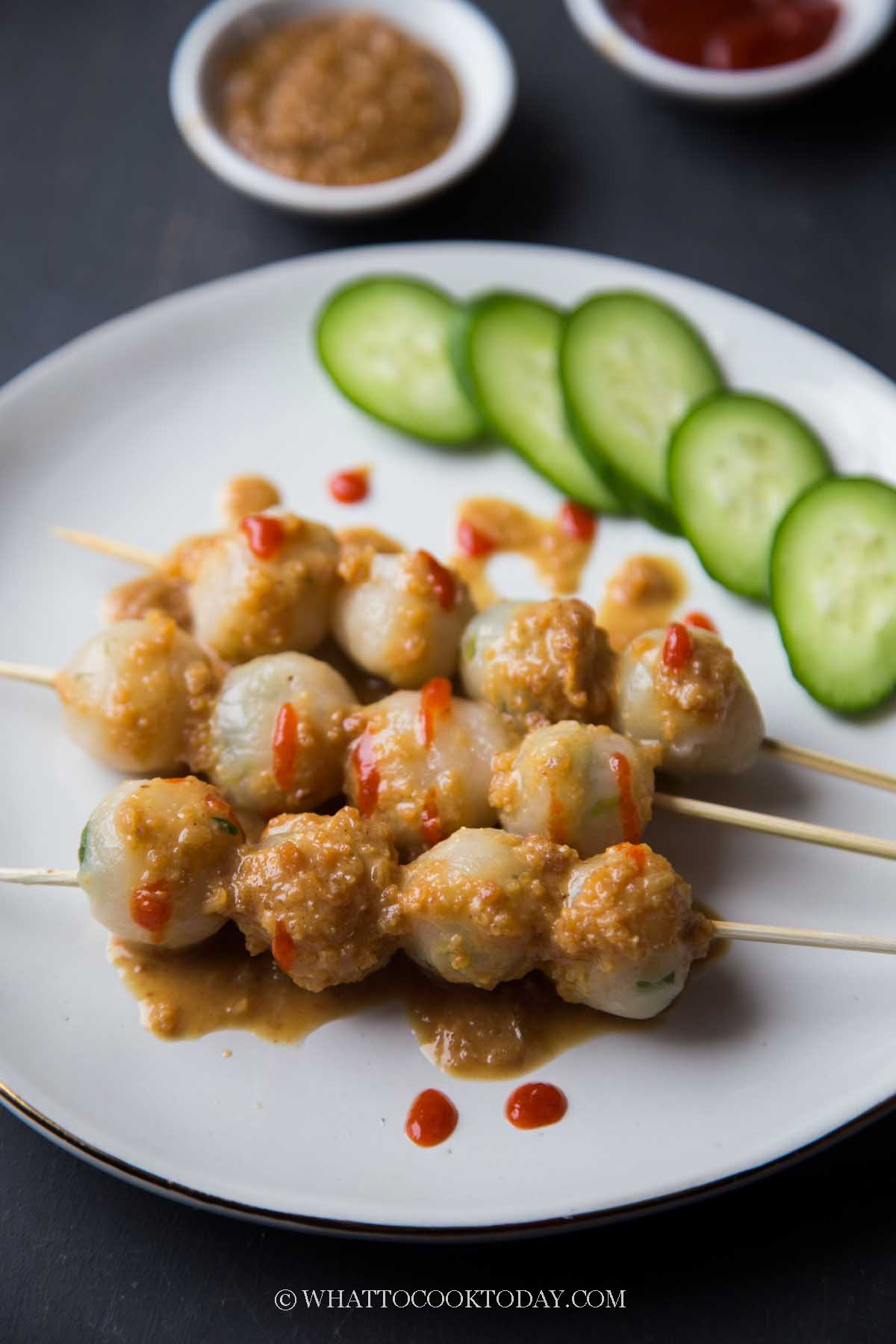 Varieties
Boiled version: Cilok can be made plain without any filling or you can put savory filling such as ground meat, chicken
Deep-fried version: Cilok can also be deep-fried to give you that crispy outer layer
Soup version: Cilok can also be served in savory broth
How to easily make cilok
1. Prepare the peanut sauce
Put the peanuts, garlic, and chili in a food processor and process into a fine texture


Transfer to a skillet or saucepan. Add the rest of the ingredients and bring to a simmer and cook until the sauce thickens slightly. Have a taste and add more salt and/or sugar to your taste. The sauce is slightly spicy, savory, and sweet


The sauce can be kept in the fridge for up to one week


2. Prepare the tapioca dough
Place all the ingredients, except for hot water in a large mixing bowl


Stir to mix. Pour in the hot boiling water gradually, about 1/3 at a time. Use a spatula to stir to mix at first and then when it's not so hot anymore, use your hands to knead into a smooth dough


You can stop adding water if you are able to form a smooth dough. Cover and rest the dough for 30 minutes. Do not skip this step


3. Shape into balls
Pinch off the dough, about 15-20 gram each and roll into a smooth ball. Repeat with the rest of the dough. Keep them covered. If you plan to put some filling (optional), shape the dough into bowl-like and put the filling inside.


Enclose to seal tightly. Bring a large pot of water to a boil when you are almost done shaping the dough


4. Boil the tapioca balls
When water comes to a rolling boil, add 1 teaspoon of oil. Put the tapioca balls in. Stir a bit to make sure they don't sink to the bottom and stick to the bottom of the pot. Let them boil for the next 10-15 minutes. Even if cilok have floated before 10 minutes, don't take them out yet. The inside may not be cooked through just yet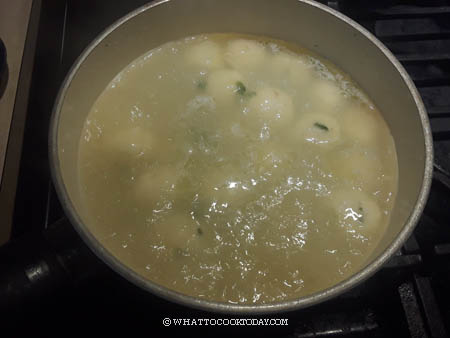 Remove from the boiling water and let them cool down. You can thread the balls into a skewer, about 4 cilok each


5. Serve
Serve cilok with a generous drizzle of peanut sauce and chili sauce. You can also serve the sauce on the side if you prefer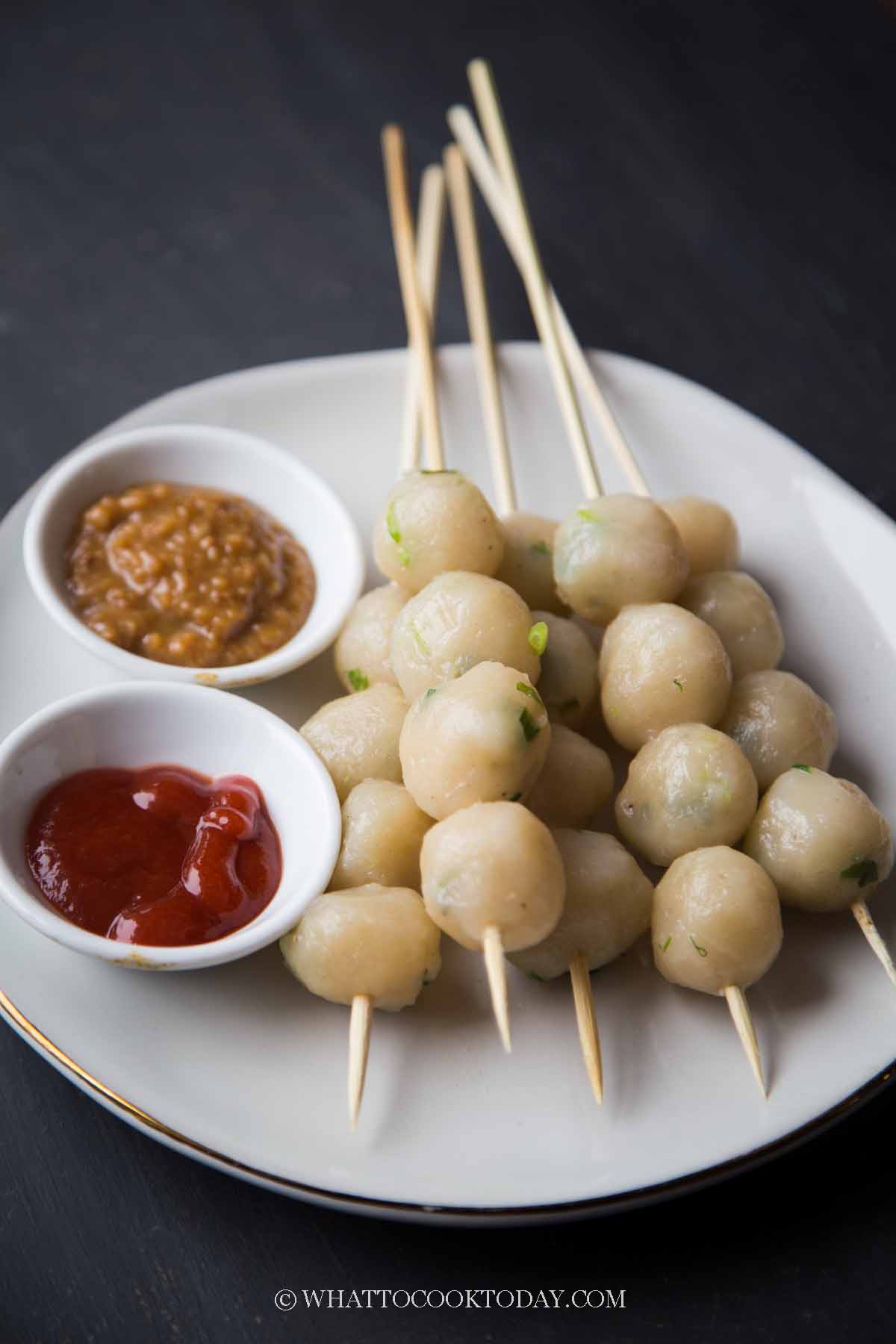 Filling suggestions
1. Meat
I suggest ground beef, chicken, or sausages that have been cooked. I used cooked chicken sausage that I ground up in a food processor
2. Cheese
You can use cheese cubes, grated or shredded cheese
3. Eggs
You can also make an egg omelet and then dice into small pieces
Did you make this cilok Bandung recipe?
I love it when you guys snap a photo and tag to show me what you've made 🙂 Simply tag me @WhatToCookToday #WhatToCookToday on Instagram and I'll be sure to stop by and take a peek for real!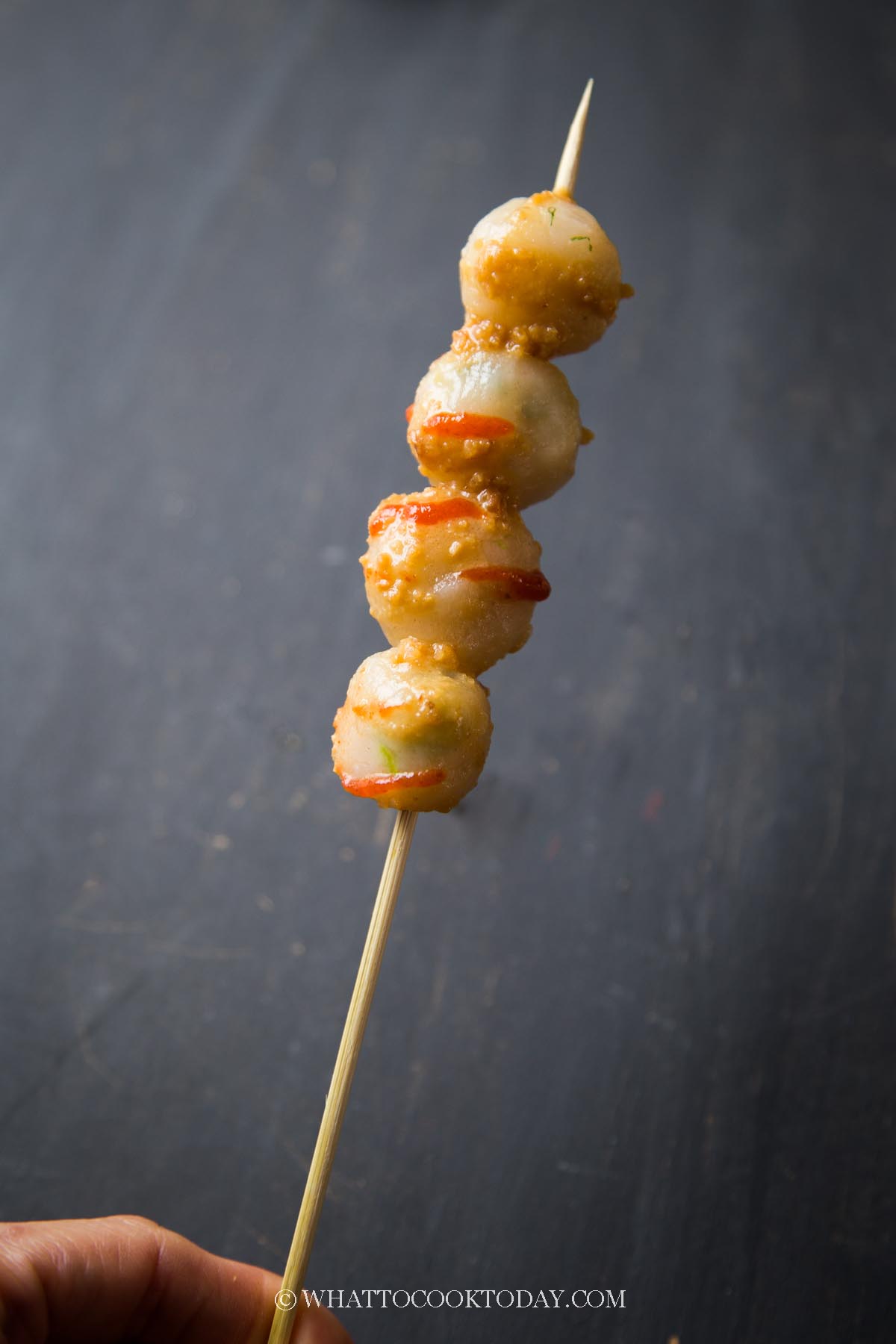 You may also like these snack or street food
Cilok Bandung (Tapioca Balls with Peanut Sauce)
Ingredients
Instructions
Prepare the peanut sauce:
I bought pre-roasted unsalted peanuts. If you have raw peanuts, I suggest dry fry them on a pan. It really adds a great flavor to the sauce. Put the peanuts, garlic, and chili in a food processor and process into a fine texture

Transfer to a skillet or saucepan. Add the rest of the ingredients and bring to a simmer and cook until the sauce thickens slightly. Have a taste and add more salt and/or sugar to your taste. The sauce is slightly spicy, savory, and sweet

The sauce can be kept in the fridge for up to one week
Prepare the tapioca dough:
Place all the ingredients, except for hot water in a large mixing bowl. Stir to mix. Pour in the hot boiling water gradually, about 1/3 at a time. Use a spatula to stir to mix at first and then when it's not so hot anymore, use your hands to knead into a smooth dough. You can stop adding water if you are able to form a smooth dough

Cover the dough and let it rest for 30 minutes. This is important and please do not skip. I've tried skipping this part and the cilok turned out tough. Resting the dough will ensure that the gluten has relaxed and the cilok will be soft and chewy
Shape into balls:
Pinch off the dough, about 15-20 gram each and roll into a smooth ball. Repeat with the rest of the dough. Keep them covered. If you plan to put some filling. Shape the dough into bowl-like and put the filling inside. Enclose to seal tightly. Bring a large pot of water to a boil when you are almost done shaping the dough
Boil the tapioca dough:
When water comes to a rolling boil, add 1 teaspoon of cooking oil. Put the tapioca balls in. Stir a bit to make sure they don't sink to the bottom and stick to the bottom of the pot. Let the boil for the next 10-15 minutes. Even if cilok has floated before 10 minutes, don't take them out yet. The inside may not be cooked through just yet

Remove from the boiling water and let them cool down. You can thread the balls into a skewer, about 4-5 balls each
Serve:
Serve cilok with a generous drizzle of peanut sauce and chili sauce. You can also serve the sauce on the side if you prefer
How to keep leftover:
Cilok can be kept in the fridge for maximum of 2-3 days. The longer you keep, the drier they may get. They will be tough for sure. Simply reheat in the microwave or briefly boil them in hot water until heated through and they are as good as new again
Recommended products: