Learn how to easily make this gulai ayam Padang that is packed with an amazing flavor. It tastes even better the next day. The recipe can be cooked with an Instant Pot pressure cooker or on the stove.

What is Gulai?
I'm not exactly sure what's the translation of gulai would be in English. It looks like curry, but again it's also too general to say that it's curry. Gulai ayam is one of the popular Indonesian chicken dishes that it's a must to try. It may not be as popular as the Indonesian beef rendang worldwide, but gulai ayam is highly popular among the local, especially the Padang (Minang) version. The Padangnese is known for its amazing gulai and rendang. Gulai Padang is more reddish in color.
How to cook gulai ayam Padang
1. Prepare the spice paste
Put all ingredients to be ground in a food processor or blender (with an exception if you use some powdered ingredients, you can add those in later when you cook). Add a bit of oil to help you grind if necessary


2. Press saute on the instant pot. Add coconut oil (or cooking oil of your choice). Add the spice paste and stir fry until fragrant, about 3 minutes or so. Scrape the bottom of the pot to make sure nothing gets stuck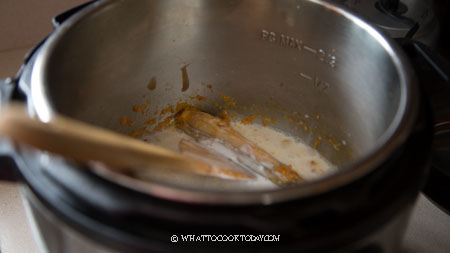 3. Add lime leaves, bay leaves, lemongrass stalk, and tamarind paste, and chicken piece. Stir to mix everything. Pour in coconut milk and water and seasonings. Give it one last stir


4. Close the lid and turn the steam release valve to "sealing". Press "pressure cooker" and make sure it's on high pressure. Set the timer to 15 minutes if using chicken thighs or drumsticks and 20 minutes for chicken leg quarters


5. When it's done cooking, release the pressure immediately. Carefully unlock the lid. Have a taste and adjust seasoning to your taste

I would say the majority of the work is probably on gathering all the different ingredients. It is a pretty long list but that is what makes this gulai ayam has an amazingly complex flavor. This gulai ayam tastes even better the next day as the flavor continues to develop. My kids love gulai ayam a lot.

Customization
There are many possibilities with this gulai. If you don't want to use chicken, here are some of the popular gulai besides gulai ayam.
1. Meatless: gulai tempeh, gulai tahu (tofu), gulai telur (eggs), gulai nangka/cubadak (young jackfruit)
2. Meat: gulai kambing (mutton), gulai sapi (beef gulai)
3. Seafood: gulai ikan (fish)
4. Offal: gulai hati (chicken liver), gulai ampla (chicken gizzard)
5. Vegetables: gulai daun singkong (cassava leaves), gulai rebung (bamboo shoots)

What to eat with gulai ayam
Gulai usually goes with white rice. If you ask me, that's all I need 🙂
It is also great with sambalado on the side, and veggie dishes such as sambal terong, dadar telur Padang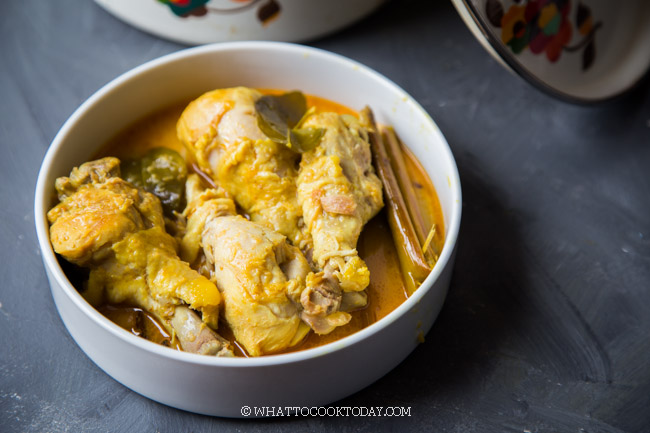 DID YOU MAKE THIS GULAI AYAM PADANG RECIPE?
I love it when you guys snap a photo and tag to show me what you've made 🙂 Simply tag me @WhatToCookToday #WhatToCookToday on Instagram and I'll be sure to stop by and take a peek for real!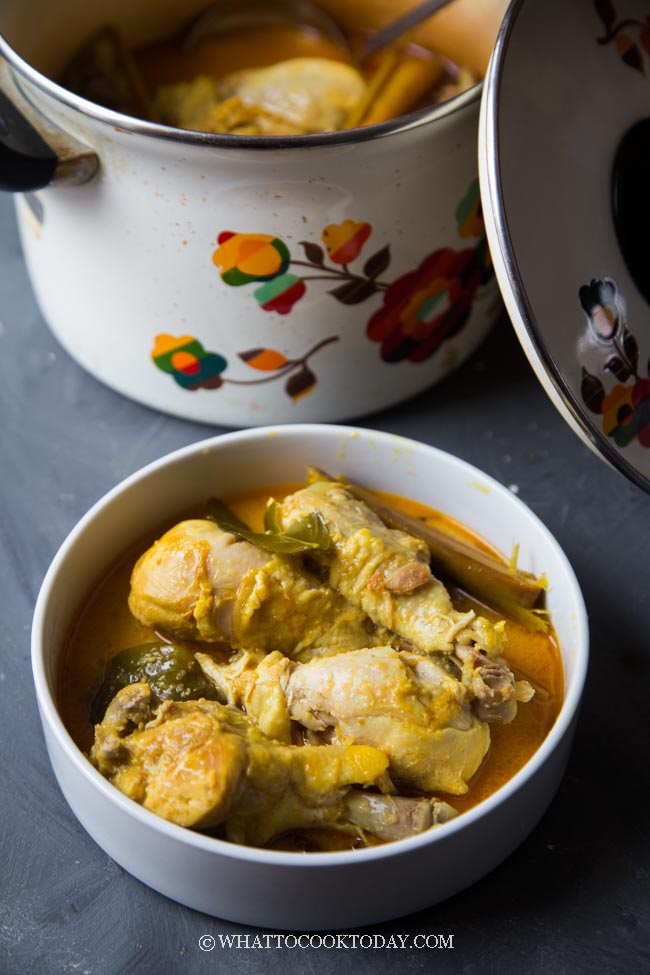 How To Cook Gulai Ayam Padang
Ingredients
Instructions
Prepare the spice paste:
Put all ingredients to be ground in a food processor or blender (with an exception if you use some powdered ingredients, you can add those in later when you cook). Add a bit of oil to help you grind if necessary
If cooking with a pressure cooker:
Press saute on instant pot. Add coconut oil (or cooking oil of your choice). Add the spice paste and stir fry until fragrant, about 3 minutes or so. Scrape the bottom of the pot to make sure nothing gets stuck. Add lime leaves, bay leaves, lemongrass stalk, and tamarind paste, and chicken piece. Stir to mix everything. Pour in coconut milk and water and seasonings. Give it one last stir

Close the lid and turn the steam release valve to "sealing". Press "pressure cooker" and make sure it's on high pressure. Set the timer to 15 minutes if using chicken thighs or drumsticks and 20 minutes for chicken leg quarters

When it's done cooking, release the pressure immediately. Carefully unlock the lid. Have a taste and adjust seasoning to your taste
If cooking on the stove:
Preheat a large heavy-bottom pot. Add coconut oil (or cooking oil of your choice). Add the ingredient paste and stir fry until fragrant, about 3 minutes or so. Scrape the bottom of the pot to make sure nothing gets stuck. Add lime leaves, bay leaves, lemongrass stalk, and tamarind paste, and chicken piece. Stir to mix everything. Pour in coconut milk and water and seasonings. Give it one last stir

Bring it to a boil and then lower the heat, cover with a lid and continue to let it simmer until the chicken is tender, about 30 minutes sor so

Have a taste and adjust to your preference
Leftover:
The gulai tastes even better the next day. Leftover can be stored in the fridge for up to one week max. Simply reheat on the stove over medium heat or in the microwave until it is heated through
Recommended products:
YOU MAY ALSO LIKE THESE POPULAR PADANG DISHES