Learn how to make Vietnamese-style flaky pastry filled with aromatic durian and sweet mung bean paste.
What is banh pia?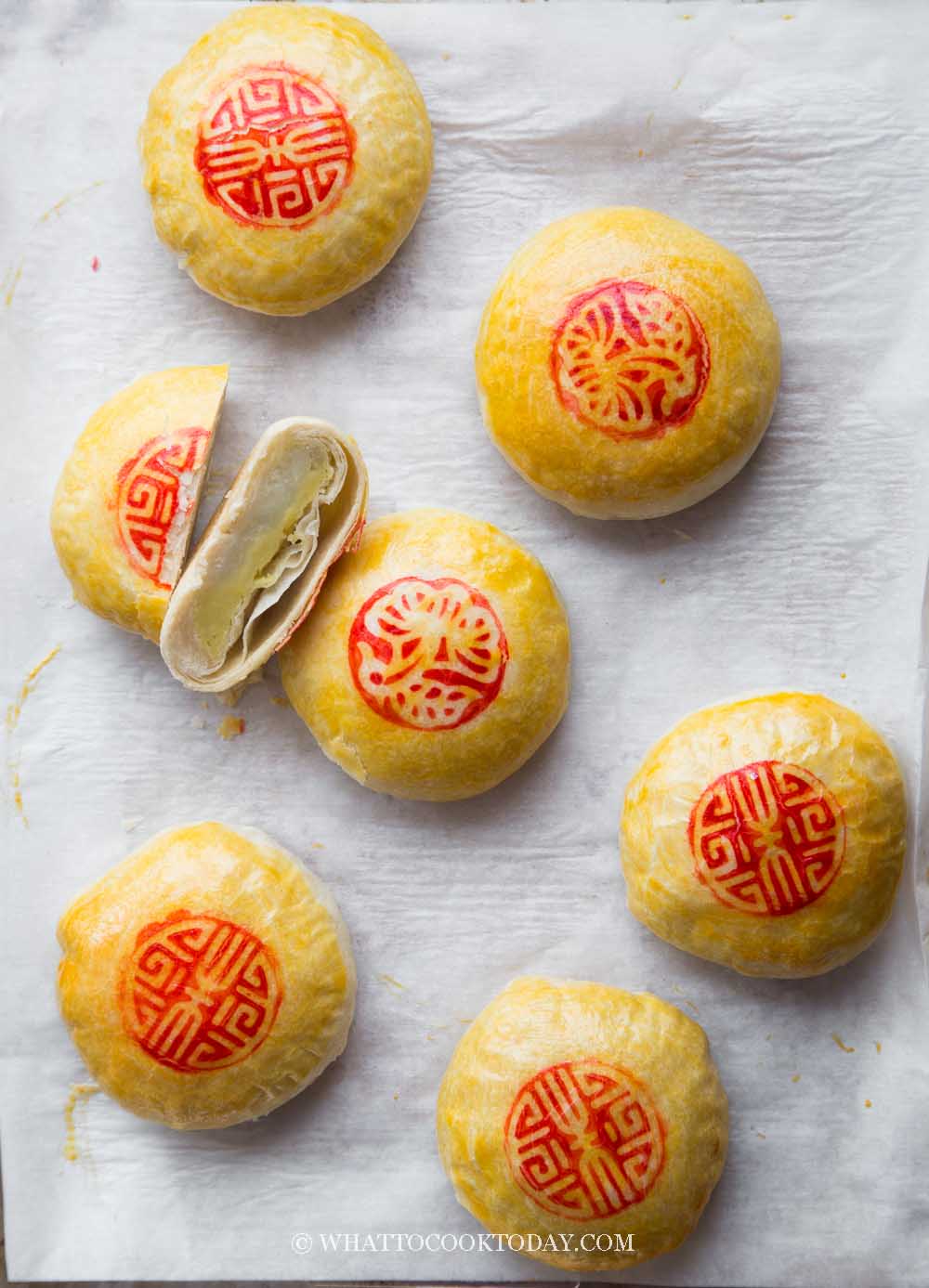 Banh pia is a Vietnamese take on the Chinese Suzhou mooncake. The flaky crust encases a sweet mung bean paste and durian paste filling. Though you can also fill it with other filling such as pork floss, salted egg yolk, taro paste and coconut are also popular ones.
I was so excited when I first saw Costco sell Banh Pia. They are pretty hot items as they are gone pretty fast as soon as they come in. So I decided I want to learn to make my own banh pia. I'm pretty impressed with the result. I love the soft flaky crust and the filling is just the right amount of sweetness.
If you have some experience making some Asian pastries, which involve making water dough and oil dough, this should not be hard! Even if you are a novice, I don't think it's that complicated either. It can be quite labor-intensive, but if you break down the task into two days, for example, make the mung bean paste and durian filling the day before totally helps!
How to make durian mung bean paste banh pia
1. Combine all ingredients for the water dough and mix into a rough dough. Cover and let it rest for 15 minutes.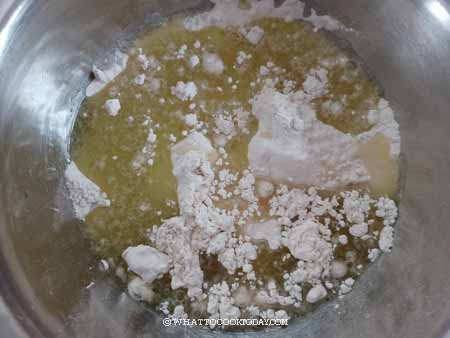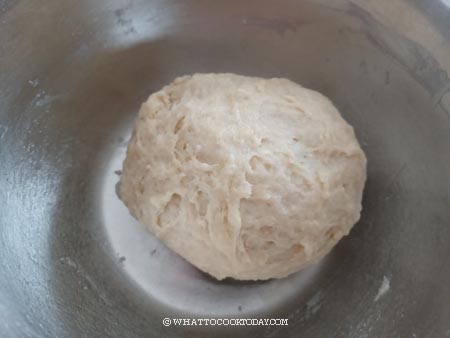 2. After that go back and give the dough a few kneading and you'll see the dough is smooth and flexible now. Cover and let it rest for 1 hour


3. Prepare the mung bean paste filling using this recipe. You can also use store-bought if you don't want to make it from scratch
4. For durian filling, Put the durian flesh and sugar on a non-stick pan and cook until the sugar melts and everything is well-incorporated, about 3-5 minutes. Remove from the heat. Take about 100 grams of the durian paste and mix with the mung bean paste filling. Set aside the rest of the durian paste for wrapping later
5. Portion out about 45-48 gram of mung bean paste filling into round balls. Flatten the filling into a disc and then scoop about 15 grams of durian paste and put in the middle of the mung bean paste and wrap around the durian filling to form a dough ball. Repeat with the rest of the mung bean paste and durian filling

6. Divide the water dough into 10 equal pieces (about 40 grams each). Roll them into round tight balls. Cover and let the rest when you prepare the oil dough


7. Prepare the oil dough by mixing all the ingredients for the oil dough together to form a smooth soft dough. Divide into 10 equal pieces and roll into round balls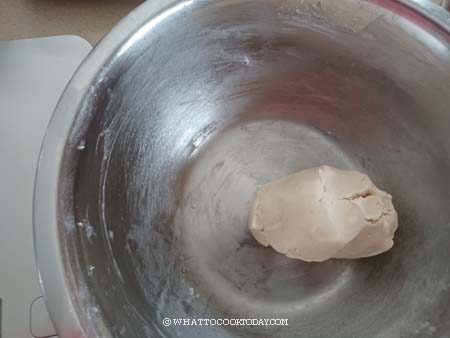 8. Flatten the water dough into a disc. Put the oil dough in the middle and wrap the water dough around it. Repeat with the rest of the dough. Cover and let them rest for 15 minutes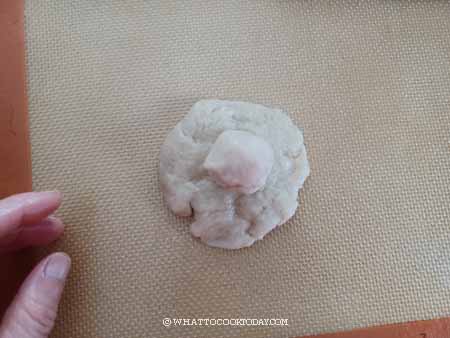 9. Take one dough and flatten slightly with your palm and then roll it out into a rectangle, about 2 mm in thickness


10. Then roll it up like a Swiss roll.


11. Rotate 90 degrees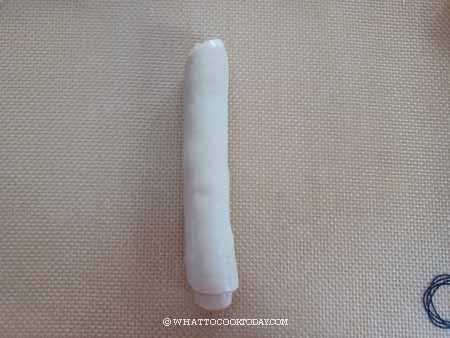 12. Then roll it out again vertically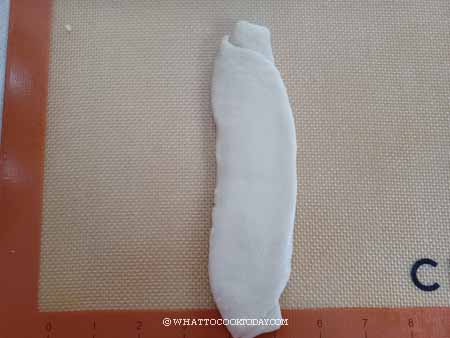 13. Then roll up like a Swiss roll again


14. Repeat this with the rest of the dough. Keep them covered to prevent drying. Let all the rolled-up dough rest for 15 minutes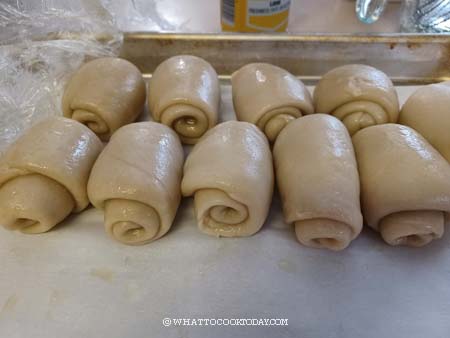 15. Preheat oven to 350 F (180 C). After 15 minutes, take one dough and flatten it slightly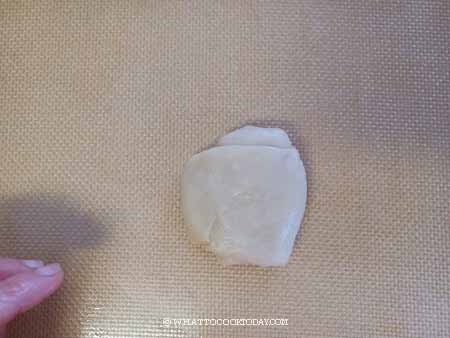 16. Roll it out into about 4-5 inch circle, about 2 mm in thickness. Put the filling in the middle


17. Wrap the dough around it. Pinch to seal the seam. Place the seam side down on a baking pan lined with parchment paper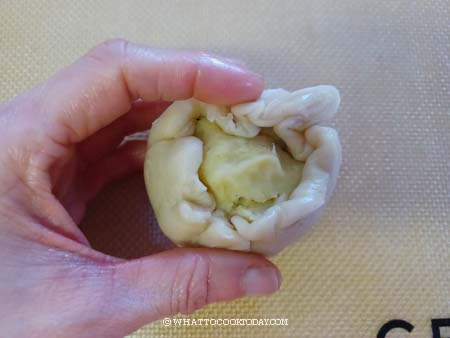 18. Use your palm to gently press the cake down so that it's flattened slightly. Repeat with the rest of the dough and filling. Arrange the pia on the baking pan about 1 inch apart. The pia won't spread


19. Combine food gel with water. Place a cotton pad or absorbent paper towel on top. This helps to absorb excess color. I use a moon cake mold for this. Dip it into the food gel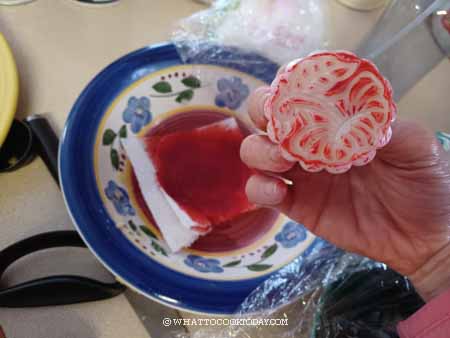 20. Gently press it on top of the pia. Repeat this with the rest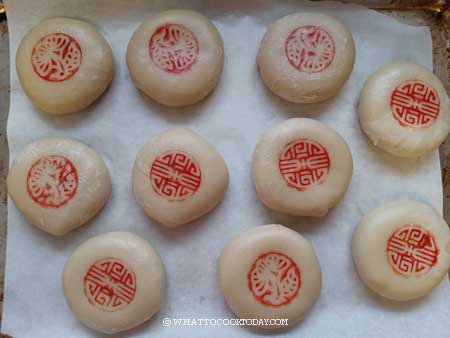 21. Bake in the middle rack for 20 minutes, rotate the pan after 10 minutes. Then remove from the oven and let them cool down for about 5 minutes


22. Then apply the egg wash on the surface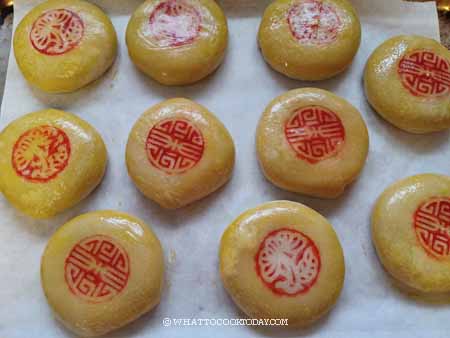 23. Bake for another 5 minutes or until lightly golden brown

Variations
If you don't like durian, you can just use mung bean paste filling or other filling such as taro paste, red bean paste, lotus paste and alo add salted egg yolks if you like.
How to store banh pia
1. Once the banh pia has cooled down completely, store them in air-tight container and try to refrain from eating them for the next 24 hours if you have the power to do so 🙂 I strongly encourage you to do so for the best result. Give them some times to "mature" and you will be rewarded
2. They can be kept in the container for 2-3 days. For longer storage, I transfer to freezer bag (double layers) and they can be kept for one month that way. When ready to serve, I let them thaw at room temperature and you can eat them cold or warm them up slightly in the microwave if that's what you prefer. To me, they are nice both cold or room temperature

Did you make this banh pia recipe?
I love it when you guys snap a photo and tag to show me what you've made 🙂 Simply tag me @WhatToCookToday #WhatToCookToday on Instagram and I'll be sure to stop by and take a peek for real!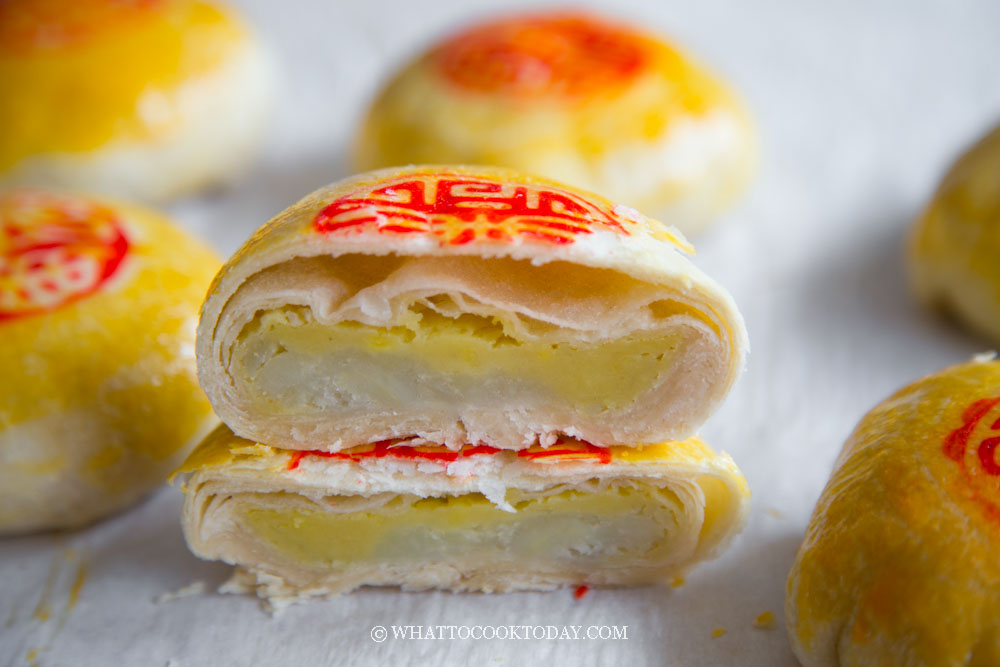 The recipe is adapted from here.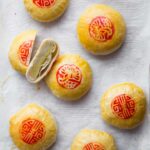 Banh Pia Durian Mung Bean Pastry
Ingredients
For the filling:
380

gr

mung bean paste

homemade or store-bought

250

gr

durian flesh

50

gr

sugar
Water dough:
200

gr

all purpose flour

100

gr

warm water

35

gr

sugar

30

gr

shortening

30

gr

oil

½

tsp

salt
For stamp (optional):
½

tsp

Red food gel

⅛

tsp

water

Cotton pad or absorbent paper towel
Instructions
Prepare the water dough:
Combine all ingredients for the water dough and mix into a rough dough. Cover and let it rest for 15 minutes. After that go back and give the dough a few kneading and you'll see the dough is smooth and flexible now. Cover and let it rest for 1 hour
Prepare the filling while the water dough is resting:
For durian filling, Put the durian flesh and sugar on a non-stick pan and cook until the sugar melts and everything is well-incorporated, about 3-5 minutes. Remove from the heat. Take about 100 grams of the durian paste and mix with the mung bean paste filling. Set aside the rest of the durian paste for wrapping later

Portion out about 45-48 gram of mung bean paste filling into round balls. Flatten the filling into a disc and then scoop about 15 grams of durian paste and put in the middle of the mung bean paste and wrap around the durian filling to form a dough ball. Repeat with the rest of the mung bean paste and durian filling
Back to the water dough:
Divide into 10 equal pieces (about 40 grams each). Roll them into round tight balls. Cover and let the rest when you prepare the oil dough
Prepare the oil dough:
Mix all the ingredients together to form a smooth soft dough. Divide into 10 equal pieces and roll into round balls
Combine water and oil dough:
Flatten the water dough into a disc. Put the oil dough in the middle and wrap the water dough around it. Repeat with the rest of the dough. Cover and let them rest for 15 minutes
Assembling:
Take one dough and flatten slightly with your palm and then roll it out into a rectangle, about 2 mm in thickness and then roll it up like a Swiss roll. Rotate 90 degrees and then roll it out again vertically and then roll up like a Swiss roll again. Repeat this with the rest of the dough. Keep them covered to prevent drying. Let all the rolled-up dough rest for 15 minutes

Preheat oven to 350 F (180 C). After 15 minutes, take one dough and roll it out into about 4-5 inch circle, about 2 mm in thickness. Put the filling in the middle and wrap the dough around it. Pinch to seal the seam. Place the seam side down on a baking pan lined with parchment paper. Use your palm to gently press the cake down so that it's flattened slightly. Repeat with the rest of the dough and filling. Arrange the pia on the baking pan about 1 inch apart. The pia won't spread

Combine food gel with water. Place a cotton pad or absorbent paper towel on top. This helps to absorb excess color. I use a moon cake mold for this. Dip it into the food gel and gently press it on top of the pia. Repeat this with the rest
Baking:
Bake in the middle rack for 20 minutes, rotate the pan after 10 minutes. Then remove from the oven and let them cool down for about 5 minutes and then apply the egg wash on the surface and bake for another 5 minutes or until lightly golden brown
Serving:
They tend to taste dry on the same day you make them. I strongly suggest to "age" the banh pia for 24 hours before serving. They taste better because the flavor has developed better and the oil in the dough and the filling has time to distribute evenly
Nutrition
Serving:
1
banh pia
|
Calories:
359
kcal
|
Carbohydrates:
61
g
|
Protein:
5
g
|
Fat:
11
g
|
Saturated Fat:
1
g
|
Polyunsaturated Fat:
3
g
|
Monounsaturated Fat:
5
g
|
Trans Fat:
1
g
|
Cholesterol:
19
mg
|
Sodium:
120
mg
|
Potassium:
138
mg
|
Fiber:
3
g
|
Sugar:
27
g
|
Vitamin A:
37
IU
|
Vitamin C:
5
mg
|
Calcium:
15
mg
|
Iron:
2
mg