If you are looking for a really good cranberry sauce to accompany your Thanksgiving or any Holiday meal, you have to try this caramelized cranberry apple sauce by chef Ramsay. It has a really nice balance of sweetness and tartness. The spices kick it up a few notches!
I don't normally reach for cranberry sauce whenever I have turkey for Thanksgiving. In fact, I would eat my turkey as is or with Indonesian sambal chili (the Indonesian in me I suppose!). Last year, I saw chef Gordon Ramsay prepared this caramelized cranberry apple sauce and so I was quite intrigued to try it out. It turned out really good! It has that perfect balance of sweetness and tartness. It's pleasantly refreshing because of the citrus but also warming because of the aromatic spices in there. I love the depth of the aroma because of the caramelization of the sugar!
The kids like the sauce! They don't eat it with the turkey, but they like to eat the sauce on its own ha..ha..! We are weird people I know! So, I thought this recipe worth sharing here and I hope if you do give it a try, you might feel the same way!
How to make Gordon Ramsay's caramelized cranberry apple sauce
1. Place the sugar, star anise, and cardamom in a dry pan over low-medium heat. Let the sugar slowly melt without stirring. It will continue to caramelize and turn into a caramel color

2. When it has turned into rich caramel color, add the cranberries and cook over medium heat. Let the cranberries cook until blistered, about 10 minutes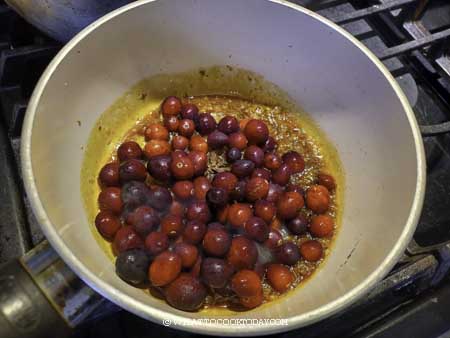 3. While that is cooking, core and peel the apple, and cut them into thin slices. Add this to the pan followed by a touch of salt and freshly ground black pepper. Let them simmer for another 10 minutes

4. Deglaze the pan by pouring the wine on the side of the pan. Add the zest of orange and orange juice. Continue to let it cook over medium-low heat for another 10 minutes until the sauce thickens slightly. Do not cook until too thick as the sauce thickens further as it cools down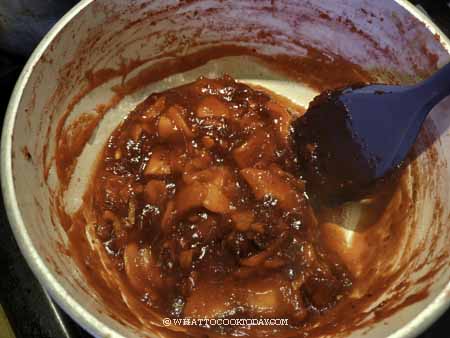 5. The sauce can be made 3-4 days before and kept in the fridge. The flavor develops even more. Simply bring to room temperature before serving

Did you make Gordon Ramsay's caramelized cranberry apple sauce recipe?
I love it when you guys snap a photo and tag it to show me what you've made 🙂 Simply tag me @WhatToCookToday #WhatToCookToday on Instagram and I'll be sure to stop by and take a peek for real!

Gordon Ramsay's Caramelized Cranberry Apple Sauce
Ingredients
150

gr

sugar

2

star anises

4

cardamom pods

lightly crushed

300

gr

fresh cranberries

2

large

apples

120

ml

ruby port

or cooking wine of your choice

Zest of one orange

Juice of one orange

Sea salt

to taste

Freshly ground black pepper

to taste
Instructions
Caramelize the sugar:
Place the sugar, star anise, and cardamom in a dry pan over low-medium heat. Let the sugar slowly melt without stirring. It will continue to caramelize and turn into a caramel color

When it has turned into rich caramel color, add the cranberries and cook over medium heat. Let the cranberries cook until blistered, about 10 minutes

While that is cooking, core and peel the apple, cut them into thin slices. Add this to the pan followed by a touch of salt and freshly ground black pepper. Let them simmer for another 10 minutes

Deglaze the pan by pouring the wine on the side of the pan. Add the zest of orange and orange juice. Continue to let it cook over medium-low heat for another 10 minutes until the sauce thickens slightly. Do not cook until too thick as the sauce thickens further as it cools down

Transfer the sauce to a serving bowl
Storing:
The sauce can be made 3-4 days before and kept in the fridge. The flavor develops even more. Simply bring to room temperature before serving
Nutrition
Serving:
1
serving
|
Calories:
105
kcal
|
Carbohydrates:
27
g
|
Protein:
0.3
g
|
Fat:
0.3
g
|
Saturated Fat:
0.02
g
|
Polyunsaturated Fat:
0.04
g
|
Monounsaturated Fat:
0.04
g
|
Sodium:
1
mg
|
Potassium:
75
mg
|
Fiber:
2
g
|
Sugar:
25
g
|
Vitamin A:
31
IU
|
Vitamin C:
3
mg
|
Calcium:
9
mg
|
Iron:
0.3
mg