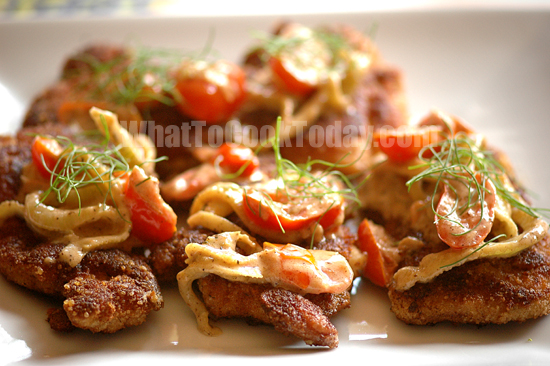 As I started to type this entry, I was thinking how could I describe how good this chicken Milanese with tomato and fennel sauce is. Describing it as simply delicious seems to be an understatement. When my husband had his first bite into this chicken and the sauce, he said "This recipe is a keeper"
Does that enough to tell you that I'm glad that I give this recipe a try ? The chicken itself is so juicy and tender and the sauce..oh that sauce!! It wasn't enough for both of us! I really do hope if you decide to make a chicken dish, please give this one a try. You won't be disappointed for sure. I get this recipe from Giada at Home by Giada De Laurentiis. The woman is a genious!!!
CHICKEN MILANESE WITH TOMATO AND FENNEL SAUCE (4-6 servings)
Chicken
1/3 cup all-purpose flour
2 large eggs
1 1/2 cups plain dried bread crumbs
2/3 cup freshly grated Parmesan cheese
2 tsp dried basil
1 tsp dried thyme
4 (6 to 8 ounce) boneless, skinless chicken breast halves, tenderloins removed
Salt and freshly ground black pepper
1/2 cup vegetable oil
Sauce
1 Tbsp olive oil
2 fennel bulbs, trimmed and thinly sliced, fronds reserved for garnish
2 cups (12 oz) cherry tomatoes, halved
1 garlic clove, minced
1 tsp dried thyme or 1 Tbsp chopped fresh thyme leaves
1/4 tsp salt, or more to taste
1/4 tsp freshly ground black pepper, or more to taste
1/2 cup (4 oz) mascarpone cheese, at room temperature
COOKING METHOD:
1. Place an oven rack in the center of the oven and preheat the oven to 150F. Line a rimmed baking sheet with a wire rack
2. Spoon the flour into a wide, shallow bowl. Crack the eggs into another wide, shallow bowl; lightly beat them. In a third wide, shallow bowl, combine the bread crumbs, Parmesan cheese, basil and thyme
3. On a work surface, place the chicken between 2 pieces of plastic wrap. Using a meat mallet, lightly pound the chicken until approximately 1/4 to 1/2 inch thick. Season the chicken with salt and pepper. Dredge the chicken pieces in the flour to coat lightly, then dip into the beaten eggs, allowing the excess egg to drip off. Coat the chicken with the bread-crumb mixture, pressing gently to adhere
4. In a large, nonstick saute pan, heat the vegetable oil over medium heat. Place 2 pieces of breaded chicken in the oil and cook until light golden brown, 3 to 4 minutes on each side. Transfer the chicken to the prepared baking sheet and keep warm in the oven. Repeat with the remaining chicken. Reserve the cooking juices in the pan

5. Add the olive oil to the reserved cooking juices in the pan and heat over medium heat. Add the fennel and cook, stirring frequently, until softened, 5 to 6 minutes. Add the cherry tomatoes, garlic, thyme, salt, and pepper. Cook for 5 to 6 minutes, until the tomatoes are tender. Remove the pan from the heat. Add the mascarpone cheese and stir until the mixture is creamy. Season with salt and pepper, if needed
6. To serve, arrange the chicken on a serving platter and spoon the sauce on top. Garnish with the fennel fronds
I'm actually swallowing my own saliva as I'm typing this. I need to make this chicken milanese again very soon.