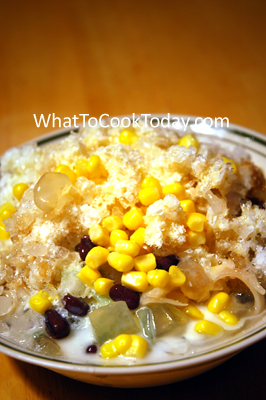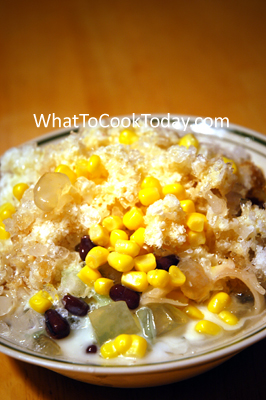 My hubby asked me one day if I knew how to make Es Campur. Es Campur is similar with Ice Kachang, that's how we call it in Indonesia. I haven't had it for a while too and to find Es Campur here in the U.S. is almost impossible. It is a dessert consist of red beans, corn, sweetened jelly, cendol, top with lots of shaved ice, drizzle with syrups, condensed milk and evaporated milk. The photo I took didn't do much justice I think, the ice was melting fast ;b
ICE KACHANG (4 servings)
1/4 C red beans, cooked till soft
1/4C sweet corn
1/4 C sweetened jelly, cubed
1/4 C cendol
1/2 C mixed fruit in syrup
4 tsp gula jawa/palm sugar syrup
2 tsp sweetened condensed milk
2 tsp evaporated condensed milk
1 big bowl of shaved ice
COOKING METHOD :
1. Cook 1 piece of gula jawa with a bit of water until gula jawa is melted
3. In individual serving bowl, portion the above ingredients and top with shaved ice
4. Drizzle with palm sugar syrup, evaporated milk and condensed milk. Serve immediately
NOTE: I did not put in other colored syrup because we are trying to avoid consuming artificial coloring as much as we can. You are welcomed to make red syrup by melting some sugar in a water and add some red dye.