This soft, slightly bouncy savory steamed rice cake is topped with dried shrimp topping is one of my favorite snacks. The kue is naturally gluten-free.

What is kue talam ebi or kuih talam berlauk?
You may be familiar with the sweet version of kue/kuih talam such as these Kuih/Kue Talam Pandan (Steamed Coconut Pandan Cake), Kue Talam Ubi (Steamed Sweet Potato Cake), and Kuih Talam Gula Merah/Gula Melaka (Steamed Palm Sugar Cake), but there is also a savory version known as kue talam ebi in Indonesia or kuih talam berlauk in Malaysia.
Kue talam ebi is a specialty from Kalimantan. The cake is made mainly of rice flour with some tapioca flour and coconut milk and then steamed and topped with savory topping made with dried shrimp.
Why you'll love this recipe
1. The texture of the kue talam is soft and slightly bouncy
2. The recipe is simple and straightforward

How to make kue talam ebi
1. Line your pan with a piece of banana leaf at the bottom or parchment paper if you don't have banana leaves


2. Soak the dried shrimp in warm water until soft. Discard water and finely chop the dried shrimp or you can use a food processor to shred it


3. Soak the chye poh in water for about 10 minutes to get rid of extra saltiness. Discard soaking water and finely chopped


4. Preheat a large skillet. Add cooking oil. Saute onion, garlic for about 1 minute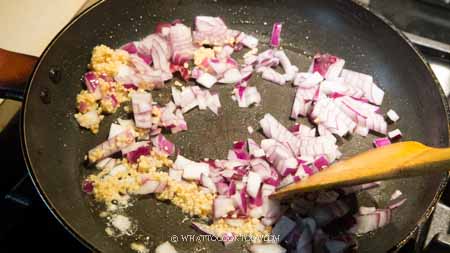 5. Add dried shrimp and chye poh, and sambal oelek (if using) and saute for about 2-3 minutes. Add salt and sugar to your taste. Remove from the heat and set aside to let it cool down


6. Bring the water in the steamer to a simmer. Wrap the lid with a cloth to prevent water condensation from dripping on the cake surface. Combine rice flour, tapioca flour, salt, and sugar in a large mixing bowl. Gradually add half of the coconut milk (500 ml) and stir to combine until no lumps. Strain if necessary. Set aside


7. Put another 500 ml of the coconut milk in a large pot and bring to just simmer. Do not boil or the coconut milk will "break". Turn off the heat. Slowly add the rice flour mixture while stirring at the same time to make sure it's smooth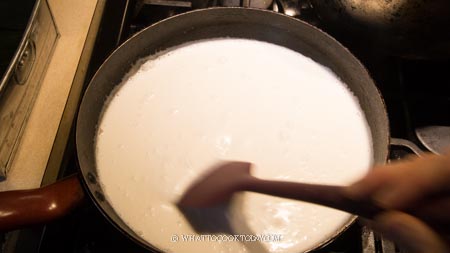 8. Turn the heat back on to the lowest heat and keep stirring. You will see a bit of lumps starting to form at the bottom of the pot. Turn off the heat. We just want to cook until it's slightly thickened. The mixture is just still slightly thickened with some lumps but pourable and runny. Pour this into the prepared pan. Don't worry about the lumps. They will even out during steaming


9. Steam the cake over medium heat for 30 minutes or until the cake is dry and springy to touch on top and if a cake tester is inserted into a cake will come out pretty clean


10. Let it cool down completely before removing it from the pan. This may take 2 hours or so


11. Unmold the kue talam from the pan by loosening the four edges with a spatula or knife. Put a serving plate on top and then flip the kue talam over. Sprinkle with the topping all over the surface. Garnish with chopped green onion and fried shallots. Cut into serving size and serve

How to store kue talam ebi
The cake can be kept at room temperature for 1-2 days if it's not humid where you are. Otherwise, put them in an air-tight container and store them in the fridge for no more than one week. I do not recommend freezing as the texture of the cake will deteriorate. Simply heat it in the microwave oven for 1 minute or until just warm before serving.
Did you make this kue talam ebi/kuih talam berlauk recipe?
I love it when you guys snap a photo and tag to show me what you've made 🙂 Simply tag me @WhatToCookToday #WhatToCookToday on Instagram and I'll be sure to stop by and take a peek for real!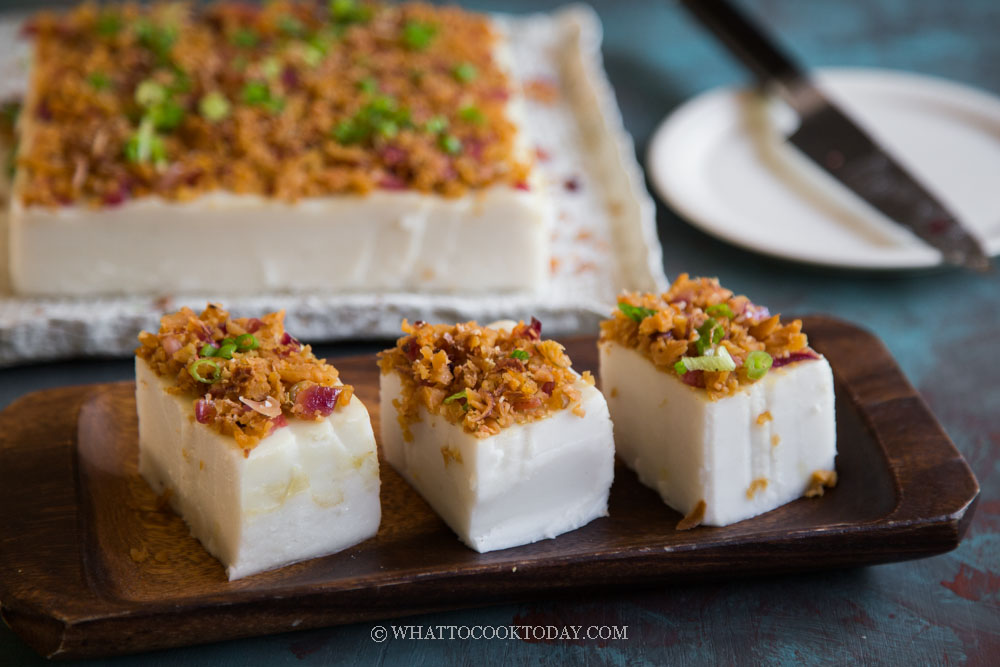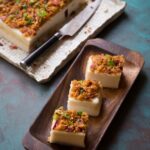 Kue Talam Ebi / Kuih Talam Berlauk (Savory Steamed Rice Flour Cake)
Ingredients
Topping:
1

Tbsp

oil

5

cloves

garlic

minced

1

small

purple onion

finely chopped

50

gr

dried shrimp

150

gr

sweet pickled radish (chye poh)

1

Tbsp

sambal oelek

optional

1

tsp

sugar

Salt to taste

1

stalk

green onion

2

red chili

seeded and cut into small pieces
Makes:
8
inch
8
x
8
inch
round
Instructions
Line you pan with a piece of banana leaf at the bottom or parchment paper if you don't have banana leaves
Prepare the topping:
Soak the dried shrimp in warm water until soft. Discard water and finely chop the dried shrimp or you can use a food processor to shred it

Soak the chye poh in water for about 10 minutes to get rid of extra saltiness. Discard soaking water and finely chopped

Preheat a large skillet. Add cooking oil. Saute onion, garlic for about 1 minute. Add dried shrimp and chye poh, and sambal oelek (if using) and saute for about 2-3 minutes. Add salt and sugar to your taste. Remove from the heat and set aside to let it cool down
Prepare the cake batter:
Bring the water in the steamer to a simmer. Wrap the lid with a cloth to prevent water condensation from dripping on the cake surface. Combine rice flour, tapioca flour, salt, and sugar in a large mixing bowl. Strain into a large skillet or pot

Put on the stove and turn the heat on to the lowest heat and keep stirring. You will see some lumps starting to form at the bottom of the pot. Turn off the heat. We just want to cook until it's slightly thickened. The mixture is just still slightly thickened with some lumps but pourable and runny. Pour this into the prepared pan. Don't worry about the lumps. They will even out during steaming
Steaming:
Steam the cake over medium heat for 30 minutes or until the cake is dry and springy to touch on top and if a cake tester inserted into a cake will come out pretty clean

Let it cool down completely before removing it from the pan. This may take 2 hours or so
Serving:
Unmold the kue talam from the pan by loosening the four edges with a spatula or knife. Put a serving plate on top and then flip the kue talam over. Sprinkle with the topping all over the surface. Garnish with chopped green onion and fried shallots

Cut into serving size and serve
Nutrition
Serving:
1
serving
|
Calories:
171
kcal
|
Carbohydrates:
14
g
|
Protein:
4
g
|
Fat:
12
g
|
Saturated Fat:
10
g
|
Polyunsaturated Fat:
1
g
|
Monounsaturated Fat:
1
g
|
Trans Fat:
1
g
|
Cholesterol:
29
mg
|
Sodium:
350
mg
|
Potassium:
148
mg
|
Fiber:
1
g
|
Sugar:
1
g
|
Vitamin A:
50
IU
|
Vitamin C:
8
mg
|
Calcium:
24
mg
|
Iron:
2
mg