Laotian Omelette – Hearty omelette is loaded with fresh herbs and snake beans to make a great breakfast or as part of a multi-course Asian meal.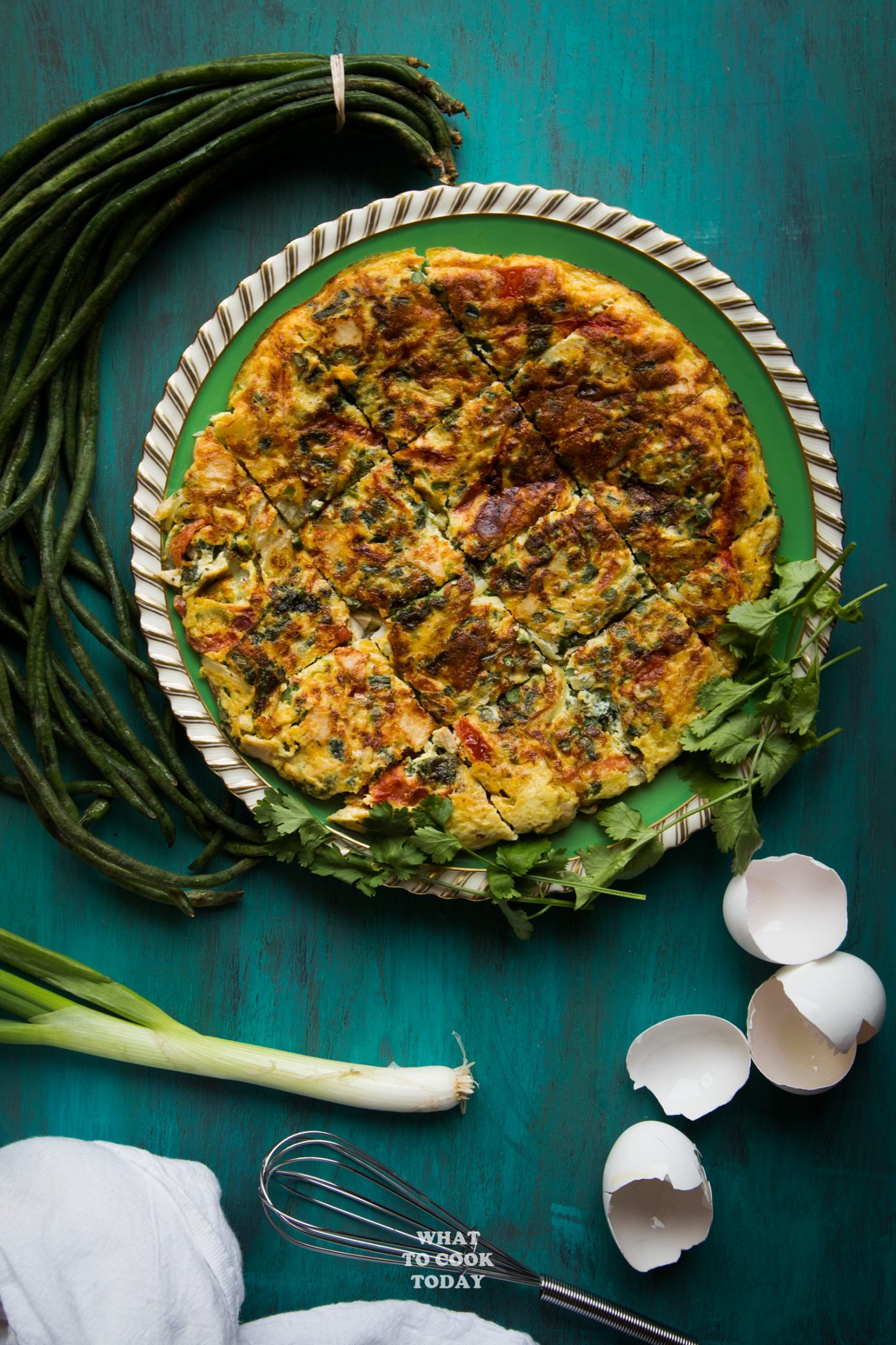 Whenever I'm backing out the car from our driveway to the street, my two kids will ask "Shall we pray mama?". My answer is usually "yes". When the fresh powdery snow just made its landfall on the road, our little car never fail to slide around and pretty much have a problem moving forward. It usually only happens on the street right in front of our house. We've figured the slightly uphill street is the culprit! So, I've told the kiddos "Please pray that our car won't get stuck again".
A few days ago, I was in the same situation again. The day before, it had rained and this rain had turned into a layer of ice because the temperature drops below zero and then dressed with some fresh powdery snow on top, it spelled trouble all over!!! Sure enough, the car was having trouble climbing up the hill and 2 people have to help me push the car! One of the kids said "Seems like praying doesn't help" LOL!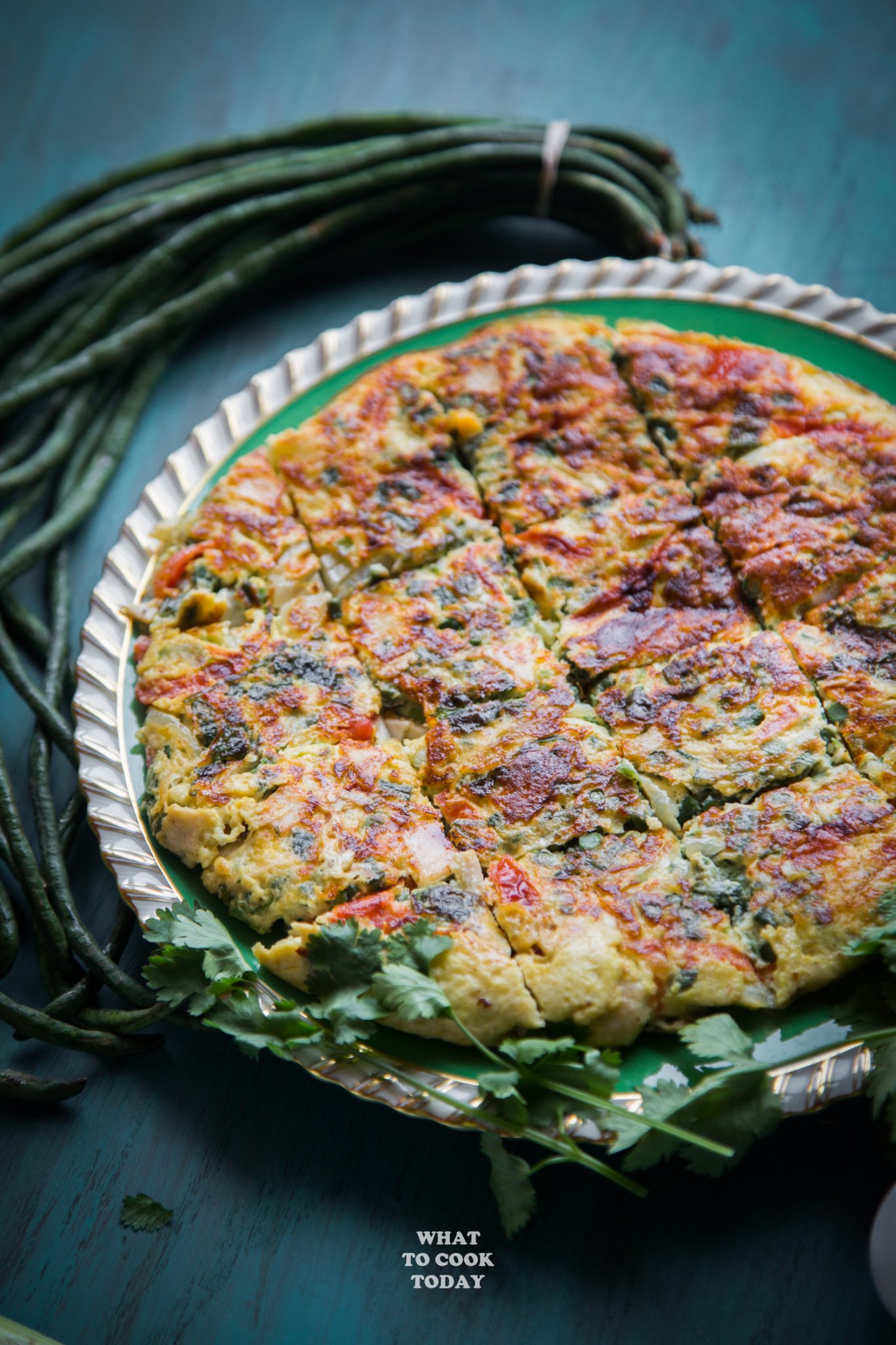 I told my husband that I was puzzled that other sedans didn't seem to get stuck and just moved along effortlessly, but this car never failed to give me trouble in the snow for the past 2 years that we've owned it! We later brought the car to have the tires checked and decided to change the tires. Boy…what a difference it makes! Why didn't I think of the tires before? I kept thinking it's probably because our car doesn't have 4 wheel-drive! Well, I'm sure the 4WD helps, but not every sedan is equipped with 4WD! We just had another round of snow and the car doesn't seem to have trouble moving now. Doh!!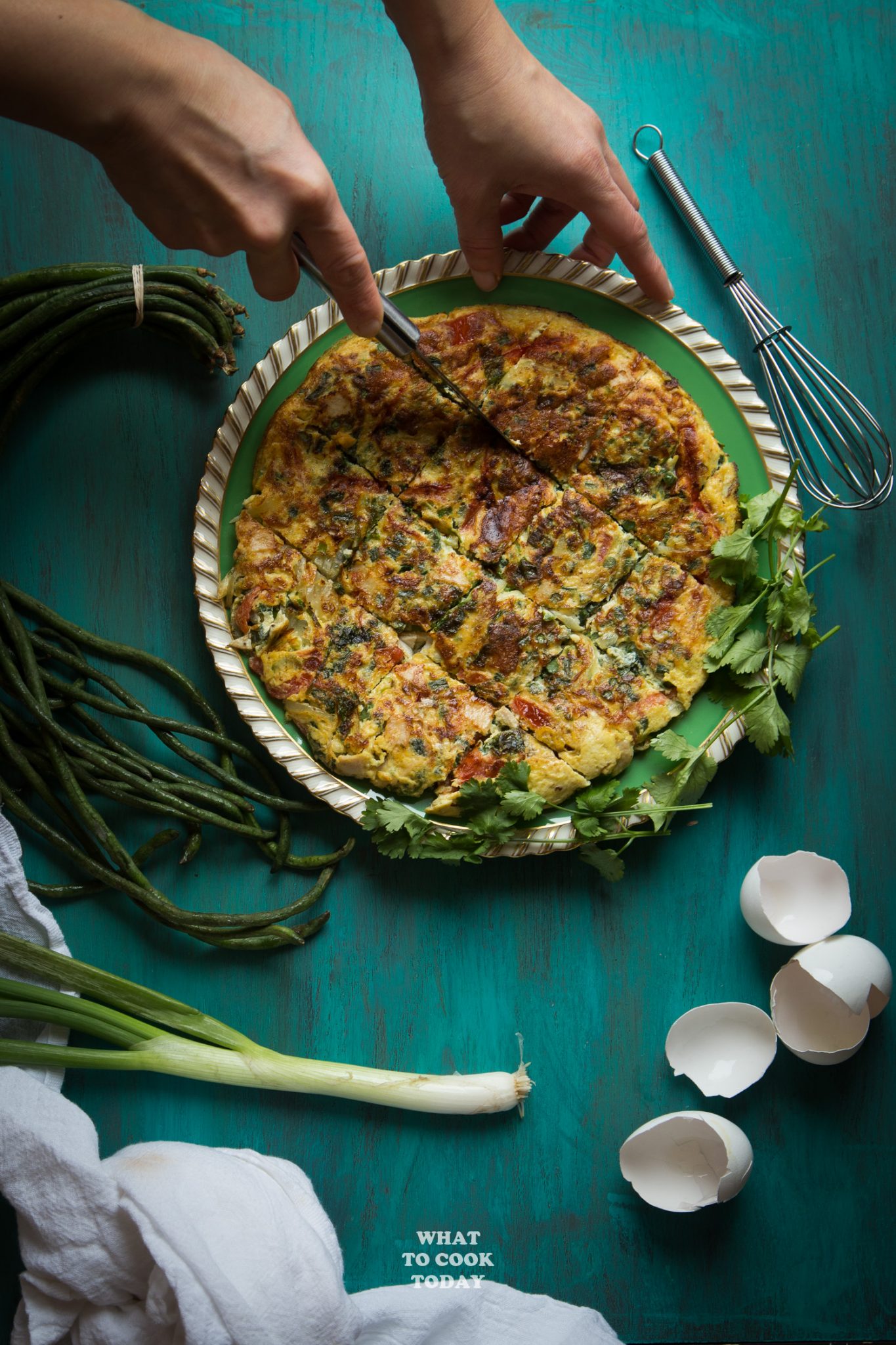 Now can you see why I despise Minnesota winter so much? Not only the temperature is single digit, but there's a "-" in front of the number!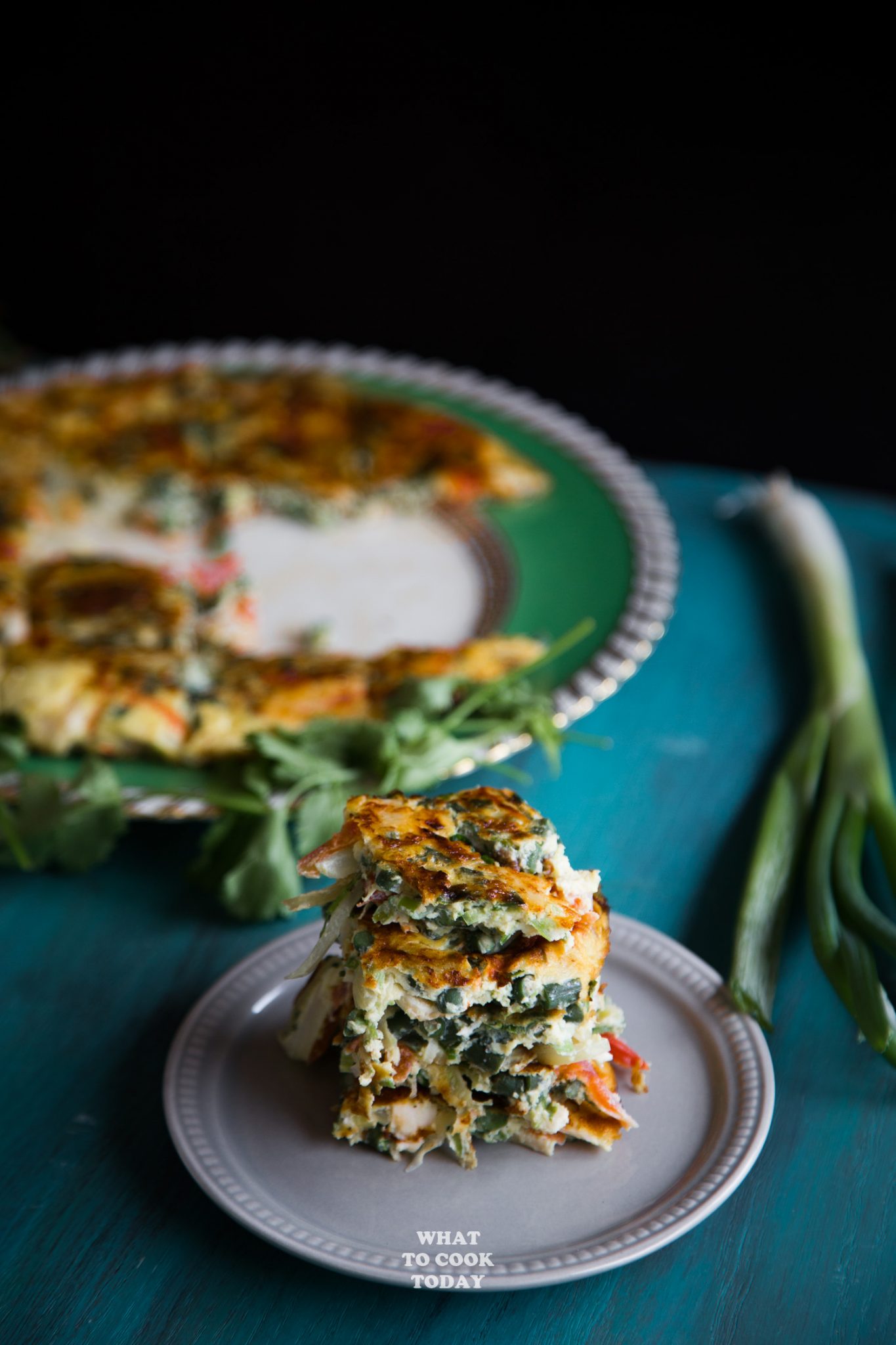 On a lighter note, this Laotian omelette reminds me of mom's cooking. Mom liked to used snake beans or some call it yardlong beans in omelette. In Indonesia, we call it kacang (bean/nuts) panjang (long). They are skinny and long. I love to make this Laotian omelette because they make for an easy meal that fills you up or perfect for a breakfast omelette too.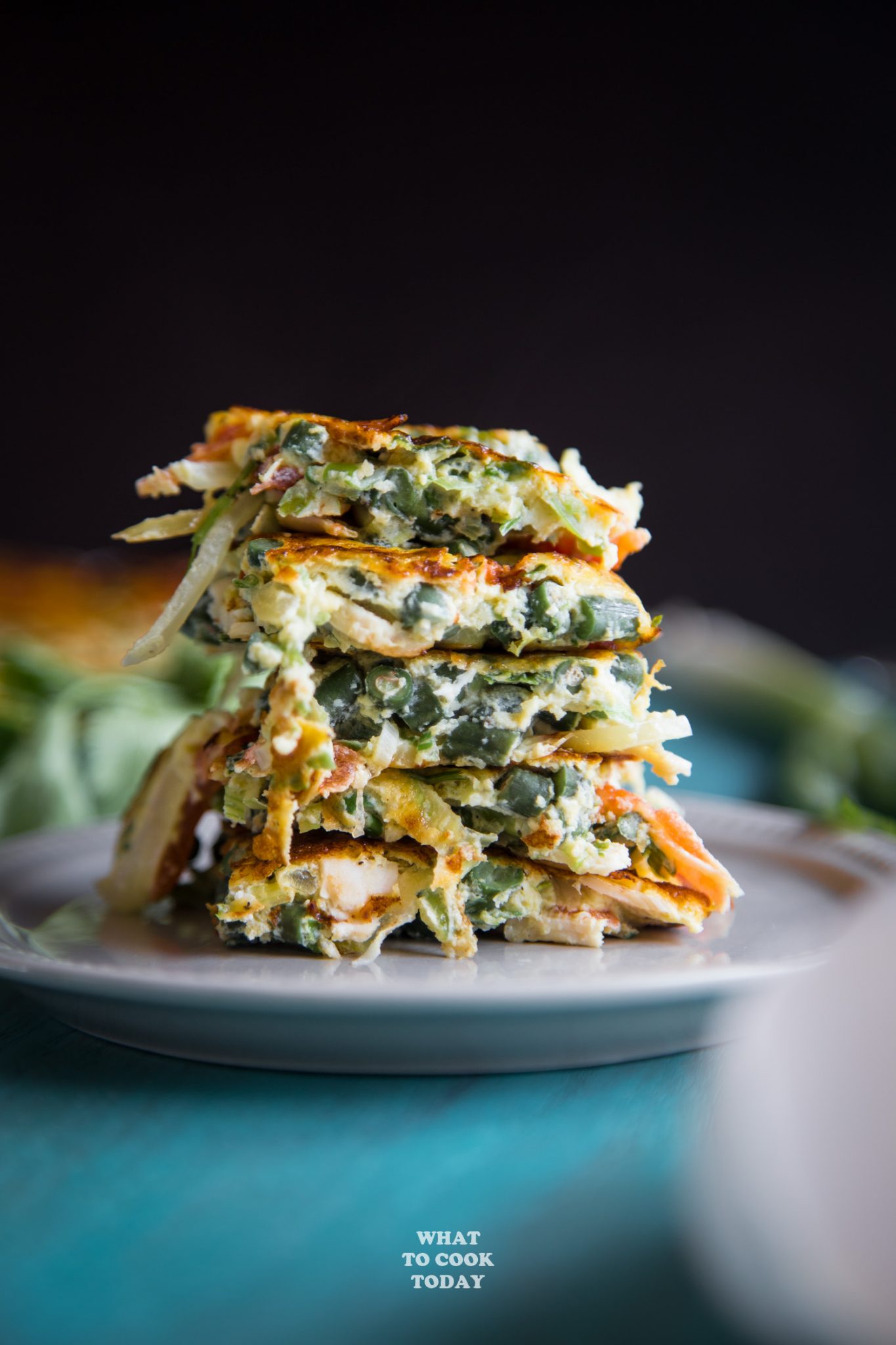 You can add other proteins like leftover ham, turkey, or chicken to this omelette too. Egg is one of the ingredients I always have in the fridge. If I have eggs, I have meals!
*This post contains affiliate links, which support this site at no extra cost to you
Recipe is adapted from Food From Northern Laos: The Boat Landing Cookbook

Laotian Omelette
Ingredients
2

large eggs

beaten

½

tsp

salt

¼

tsp

freshly ground black pepper

3

stalks

green onions

5

-6 cilantro leaves (including stalks)

3

-4 dill fronds

finely chopped

3

snake beans/yardlong beans

finely chopped

1

Thai chili

finely chopped, optional

1

Roma tomato

seeded and diced

2

Tbsp

cooking oil

divided
Instructions
Beat the eggs with salt and pepper in a large mixing bowl. Add in the rest of the ingredients into the bowl and stir to mix everything

Preheat a large non-stick skillet, about 8-10 inch. Add oil and swirl to coat the base and sides of skillet. Gently pour the egg mixture into the pan. Use a rubber spatula to push the sides of the omelette in and let the runny mixture flow in. Repeat along the edges of the omelette. Let it sits for several minutes. Use a rubber spatula to take a peek at the bottom of the omelette. It should be golden brown and firm, about 1-2 minutes. Once that happens, gently flip the omelette over to the other side. Slide the omelette onto a serving platter and cut into squares for convenience

You can also fold the omelette over into half and then slide onto a serving platter if serving as breakfast
OTHER EGGS RECIPE YOU MIGHT LIKE:
EASY PASTEIS DE NATA / PORTUGUESE EGG TARTS
DADAR TELUR PADANG (INDONESIAN THICK OMELETTE)
MA PO STEAMED EGGS
KHAI LOOK KHOEY (THAI SON-IN-LAW EGGS/EGGS WITH TAMARIND SAUCE)