Flaky puff pastry is filled with egg custard with its iconic blistered top from high-temperature baking is hard to resist
My first exposure to Pasteis De Nata / Portuguese Egg Tarts was when we went to Macau as part of our honeymoon trip. I made it a point to my husband that we couldn't afford not to try out the Portuguese Egg Tarts. We weren't disappointed. They were as good as they were claimed to be.
I have attempted several times trying to make Pasteis De Nata several times and they weren't as good until I discovered Kitchen Tigress Portuguese Egg Tarts. Definitely a success!
HOW TO PREVENT SOGGY PUFF PASTRY?
She gives a very good explanation on why cornstarch is added to the filling, which I didn't before. The cornstarch is there to stabilize the filling. There will be some degree of separation between the egg and sugar, however, too much of the separation will cause the sugar to not rise to the top and give you that nice shiny top. When they sink to the bottom, it will make your pastry soggy.
WHAT MAKES TOP OF THE PASTEIS DE NATA ITS BLACK BLISTERS?
I always think it's the sugar that makes the black blistered on the surface, but it's actually the film layer that forms when milk is heated. This recipe calls for a good amount of milk (and please don't use skim milk). It makes sense because I remember back in the old days, grandma often heats up the fresh cow's milk and sure enough, a layer of film will form on the top.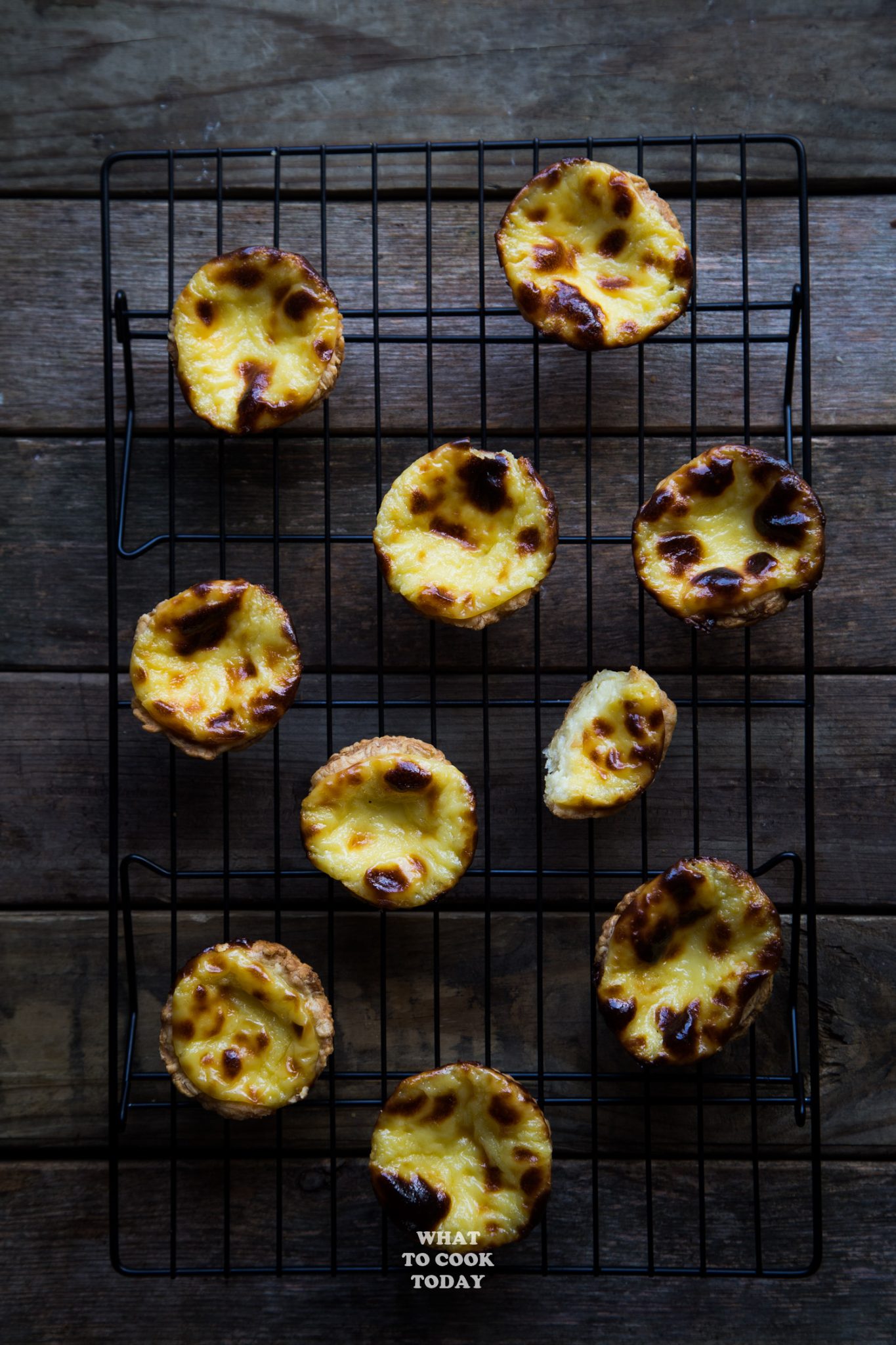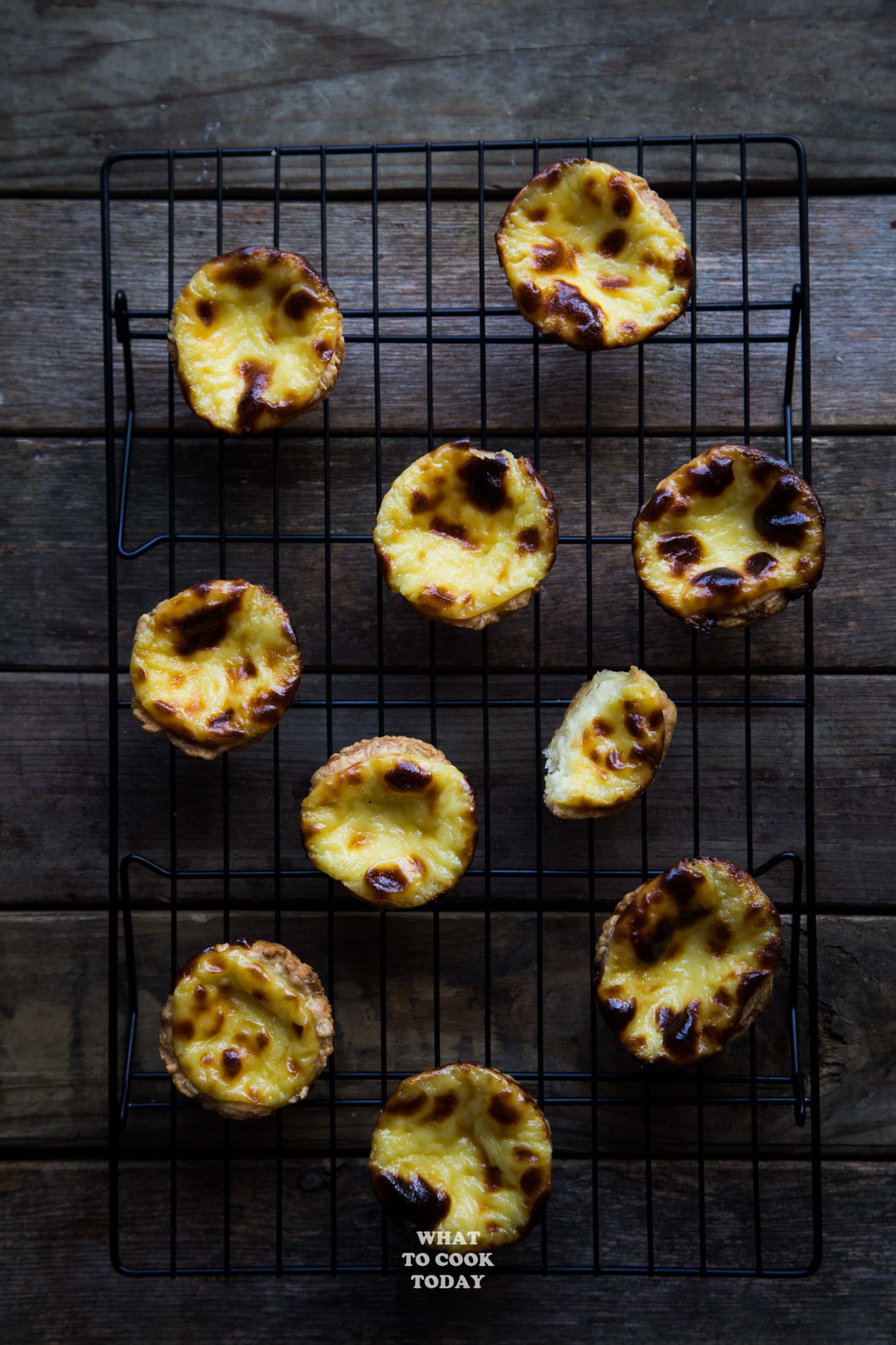 USE ALUMINUM TIN OR CUPS TO BAKE
When I first tried this recipe, it wasn't very successful because I use my regular steel muffin trays to bake the tarts. They are simply too "thick" and so the tarts weren't heated enough. As soon as I use aluminum, they turn out as they should.
I didn't make the puff pastry from scratch. I just feel like it's easier to get store-bought ones. I doubled up the recipe (how can you not!) and this is seriously due for a repeat again!
Easy Pastel De Nata / Portuguese Egg Tarts
Ingredients
2

frozen puff pastry sheets

let sit at room temperature until soft
Egg custard filling:
120

ml

heavy cream

120

gr

sugar

4

large

egg yolks (approximately 60 gr)

2

Tbsp

corn starch

520

ml

whole milk
Instructions
Use a cookie cutter or any cups that have about 3.5-inch diameter to cut out about 18 circles from your puff pastry sheets. Mold this over aluminum muffin cups. Place these back in the freezer

Place all the ingredients for egg custard filling in a mixing bowl. Use a balloon whisk to whisk until smooth. Prepare a water bath that you can put your saucepan in later. Transfer this to a medium saucepan over low heat and use a rubber spatula to keep stirring until the mixture started to coat the spatula thinly and the sides of the pan. Remove from the heat and transfer the saucepan to a water bath to let it cool down quickly

Make sure your oven is clean and no bits or anything that might burn in there and set off your smoke alarm (yikes!). Preheat your oven to 485 F (yes, it's pretty high temperature). While the egg custard mixture is ready, remove the puff pastry from the freezer and place this on top of a baking sheet lined with aluminum foil. pour the egg custard mixture until about 3/4 full in each shell

Place the egg custard in the oven, 3rd rack from the top and let it bake for 30 minutes. You want to rotate it every 10 minutes for even browning. Towards the end of cooking, the custard will start to bubble and blistered from the high heat

Remove from the oven and very carefully. Let it cool down a bit for about 1 minute and then unmould the tarts to a wire rack to let them cool down. They will turn soggy if they sit in the muffin cups for too long. The top will sink a little bit and this is normal, don't be alarm. Serve while warm if possible. The outside will be flaky and the filling is creamy and smooth
Notes
You can store the completely cool down tarts in the refrigerator and reheat them in the oven at 400 F for about 10 minutes. I have tried using air fryer to reheat too, I know it sounds weird because we are not frying anything but it works too 😉
I have a feeling you might also like these:
Totoro Black Sesame Chiffon Cake
Burmese Semolina Cake
Caramelized Onion Baked Buns
Pandan Cinnamon Raisin Rolls
Bika Ambon