Crispy on the edge and soft in the middle, these leftover turkey scallion pancakes are ones of our favorites. Don't forget that soy ginger sauce too.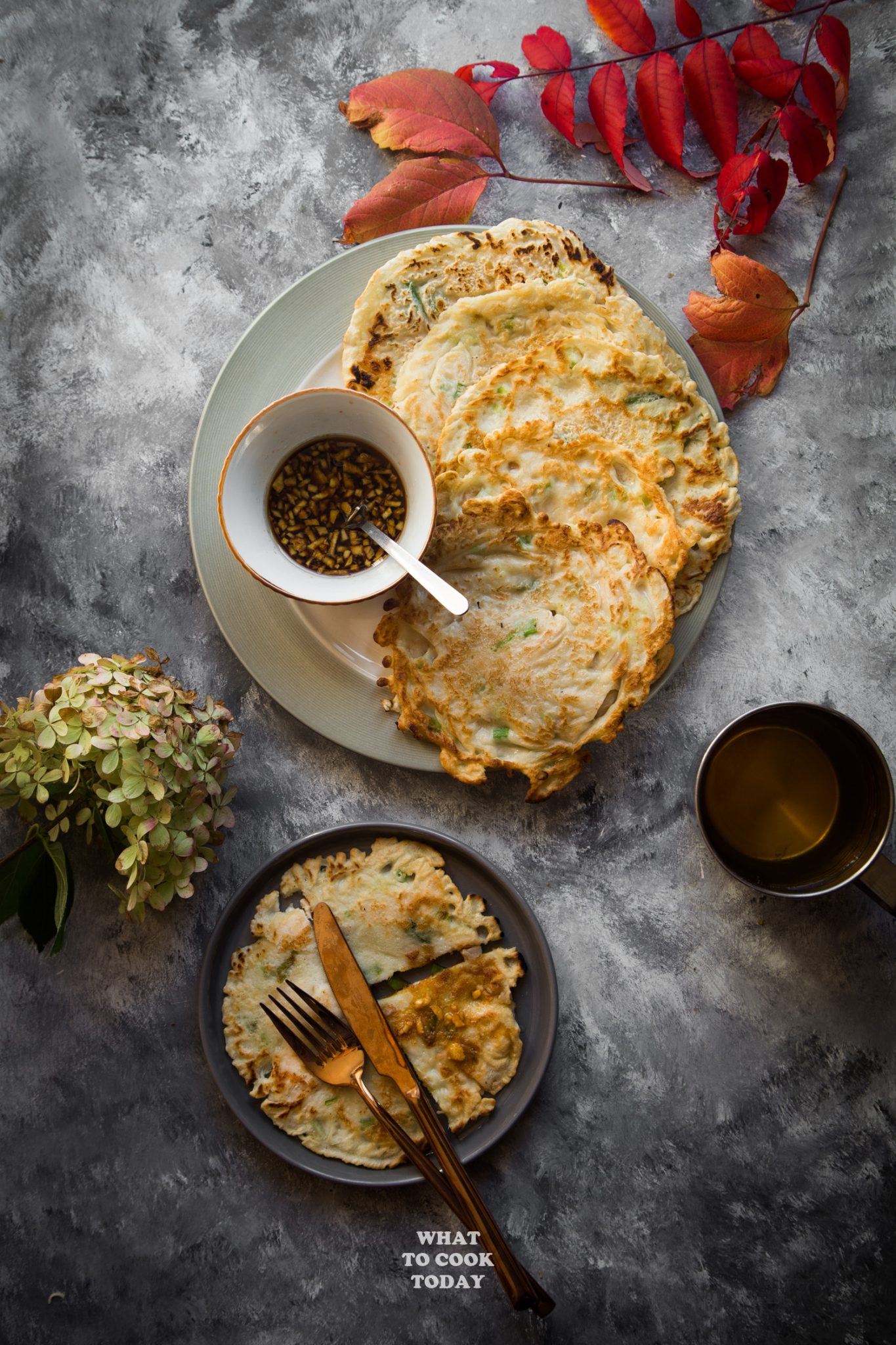 Every season I do have that problem transitioning from Fall to Winter. The fact that I couldn't just slip into shorts and wear flip-flop to go out anymore is just killing me. Okay, maybe not killing, but you know…when I can see goosebumps when that wind blows! Apparently, my daughter seems to have the real struggle. After months of wearing skirts and dresses without having to wear leggings and tights, asking her to wear one prompted lots of bargaining and reasoning from her end, which in the end she still has to wear it. We are almost November here people and we just got our first snowfall a few days ago. The snow didn't stay for long though (Sorry kids!). Really…who am I to complain! It seems to be a "mild" year so far. We haven't been dumped feet of snow like we had in October a few years ago at least! We probably will after I publish this post!
So..what they say about people staying at home more during this "winter is here" months (I miss you GOT) is as realistic as it can be. I'm seriously do not feel like stepping out there most of the time. Why would I if I could stay in this warm house, baking and cooking my favorite food. And then, of course, I'm still wondering why I simply can't go back to my pre-pregnancy weight 7 years later! These Leftover Turkey Scallion Pancakes were born on that snowy day we had a few days ago. Something about stirring the batter and watching snowfall from the kitchen window. Something about that!
Savory pancakes like these Turkey Scallion Pancakes are our favorites. Crispy on the edge and soft in the middle. The soy ginger sauce is a must too. The batter is slightly different with the Chinese Scallion Pancakes, which gives crispier and flakier result. These Turkey Scallion Pancakes are much softer.
It's hard to stop at one. And I don't want to!

Leftover Turkey Scallion Pancakes and Soy Ginger Sauce
Ingredients
1

cup

all-purpose flour

½

cup

rice flour

½

tsp

baking powder

1 ½

cups

cold water

1

large egg

3

stalks

green onion

roughly cut into 1-inch pieces

3

cups

leftover turkey meat (mixture of white or thigh meat or whatever you prefer)

roughly diced
Soy-ginger sauce:
2

inch

knob of fresh ginger

peeled and finely chopped/grated

3

-4 Tbsp (or more)

Soy sauce

1

tsp

sesame oil

optional
Instructions
Preparing soy-ginger sauce:
Place all the ingredients in a sauce bowl. This can keep in refrigerator for up to 1 week
Making the pancakes:
In a large bowl, combine the flour, rice flour, and baking powder. Stir to mix. Add water and egg and mix lightly. The mixture should be the consistency of pancake batter but doesn't have to be smooth. Stir in the green onions, turkey, and salt

In a large skillet, heat about 1 Tbsp oil over medium-high heat. Ladle about 1/2 cup batter into the skillet and spread it out to an 8-inch circle. Cook until edges turn brown and crispy, 3 to 4 minutes. The oil will give you that crispy edge. Flip it over, add a little bit more oil around the pancake, and cook for another 3-minutes or so until cooked through. Repeat with the remaining batter, adding oil as needed. Serve the pancakes hot out of the skillet. Cut into wedges or serve whole. They are best served while still hot
Other savory pancakes recipe you might like:
MARTABAK MESIR (INDONESIAN BEEF STUFFED PANCAKES)
KOREAN LEEKS PANCAKES (BUCHU BUCHINGAE)
CHINESE SCALLION PANCAKES
PARSNIP PANCAKES
SHER PING PANCAKES / PAN-COOKED FILLED PANCAKE
KIMCHI PANCAKES/GIMCHI BUCHINGAE