Soft and fluffy chiffon-style pandan flavor Swiss roll cake filled with sweet coconut inti filling. A Southeast Asian twist to the classic Swiss roll cake.

What is ondeh ondeh or klepon Swiss roll cake
Ondeh ondeh, or also known as klepon in Indonesia, is a sweet dessert in the shape of round ball made of glutinous rice filled with sweet coconut inti filling and then roll in grated coconut. This is one of my favorite desserts. I made ondeh ondeh chiffon cake in the past and this time around I thought it would be fun to make the roll cake version.
Fun Fact
In case you don't know, onde onde in Indonesia is not the same with ondeh ondeh in Singapore and Malaysia. In Indonesia, onde onde refers to this crispy sesame balls / jian dui.
How to make ondeh ondeh or klepon Swiss roll cake
1. Preheat oven to 350 F (180 C) for a conventional oven. Lower the temperature by 20 degrees for a convection oven
Spray the baking pan, 9 x 13 x 1 inch, with non-stick cooking spray or brush some oil and then line with a parchment paper on the bottom and the side
2. In a large mixing bowl, whisk egg yolks, oil, sugar, and pandan juice until combined. Sift in the cake flour, salt, and baking powder. Whisk to mix until combined and no lumps


3. Make sure the egg whites are at room temperature. Place egg whites in a mixing bowl of a stand mixer fitted with a whisk attachment. Whisk until foamy on medium speed and then add cream of tartar or lemon juice/vinegar and whip again for another minute then and 1/3 of the sugar and continue to add sugar until you use it all up. Whip until the egg white develops a medium-soft peak (refer to video if you need to). When you lift the meringue up it will hold up its shape but the tail will bend. Do not whip until stiff peak. The cake will crack when you roll it later


4. Fold about 1/3 of the meringue into the egg yolk batter and use a rubber spatula or whisk to fold or whisk until mix and continue to fold in the next 1/3 until you use up all the meringue and the batter is smooth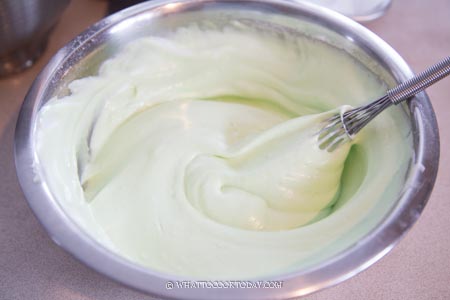 5. Pour the batter into the pan and use a rubber spatula to help to spread evenly. You can use a dough scraper to help you even out the surface too if necessary


6. Gently tap the baking sheet on your working surface several times to pop any air bubbles. Bake in a preheated oven for 30 minutes and then switch to convection mode (fan mode) and bake for another 3-4 minutes or until the top is golden brown and dry to touch. If you don't have convection mode, bake another 5 minutes and check to make sure the top is golden brown and dry to touch. It is important that the top is dry to touch so this layer won't peel off when you roll later


7. Remove the cake from the oven and then lift it out from the pan immediately to a cooling rack and peel off the parchment paper from 4 sides. This helps to prevent wrinkles on the surface. Let it cools down like this for 5-6 minutes (I use a timer to actually time it)


8. After 5-6 minutes. Place a new piece of parchment paper, larger than the cake, on top of the cake and flip over to the other side. Peel off the parchment paper


9. Use a serrated knife to trim about 1/4-inch of the 4 edges from the side you will start rolling, which is the long side near you. This makes rolling the cake easier


10. Use a serrated knife to make 4 shallow slits. about 1 inch apart, taking care not to cut through the cake. This makes rolling the cake easier


10. Spread the inti filling on the surface of the cake, leaving about 1-inch border all around. You want to spread most of the filling near the side you are going to roll up from and there should be less filling towards the other end because as you roll up, the filling will get push forward and by the time you roll to the other end, it is just a perfect amount of filling


11. Very gently use one hand to lift the parchment paper up to help you roll the cake up until you reach the other side. Tuck the parchment paper under and use a dough scraper to help you tighten the roll up


12. Remove parchment paper so the skin of the cake won't peel off later when you remove the parchment paper


20. If you choose to decorate the surface of the cake, you can brush with some honey and sprinkle with grated coconut. You can also use desiccated coconut or coconut flakes. Alternatively, you can always frost it lightly with some whipped cream and then sprinkle the coconut. It's up to you. Trim off about 1/4 inch from both ends to make the cake looks neater

Did you make this ondeh ondeh/klepon roll cake recipe?
I love it when you guys snap a photo and tag to show me what you've made 🙂 Simply tag me @WhatToCookToday #WhatToCookToday on Instagram and I'll be sure to stop by and take a peek for real!

You may also like these recipes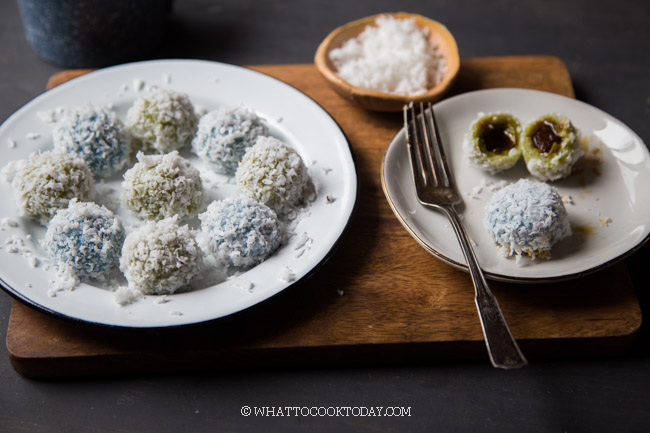 Ondeh Ondeh Swiss Roll Cake
Ingredients
Cake batter: (recipe doesn't use baking powder)
80

gr

egg yolks room temperature

about 4 egg yolks

55

gr

cooking oil

55

gr

pandan juice

½

tsp

pandan essence

for brighter green color, optional
Meringue:
120

gr

egg whites room temperature

about 4 egg whites

90

gr

sugar

¼

tsp

cream of tartar

or use 1/2 tsp lemon juice or vinegar
Coconut inti filling:
250

gr

grated unsweetened coconut

150

gr

gula Melaka/gula Jawa

or use coconut sugar

120

ml

water

¼

tsp

salt

2

Tbsp

all-purpose flour
For decoration: (optional)
Honey

grated unsweetened coconut
Instructions
Prepare the filling: (can be prepared few days ahead and keep in the fridge)
If you use gula Jawa/gula Melaka, place the sugar in the saucepan with water and melt over low heat and then strain. Sometimes there are some impurities in the gula Jawa. You don't have to do this if you use coconut sugar

Mix all the ingredients for the filling. Place this over a medium-size skillet and stir-fry over medium heat for about 2 minutes or so. The sugar will start to dissolve (if you use coconut sugar) and the mixture will be "wetter". Stir fry again until the mixture is dry. Sprinkle in all-purpose flour and stir to mix. The filling will be more "sticky" and easier to roll. Remove from heat and let it cool down completely before storing in the fridge
Things to prepare:
Preheat oven to 350 F (180 C) for a conventional oven. Lower the temperature by 20 degrees for a convection oven

Spray the baking pan, 9 x 13 x 1 inch, with non-stick cooking spray or brush some oil and then line with a parchment paper on the bottom and the side
Prepare the cake batter:
In a large mixing bowl, whisk egg yolks, oil, pandan juice, pandan essence (if using) until combined. Sift in the cake flour and salt. Whisk to mix until combined and no lumps
Prepare the meringue:
Make sure the egg whites are at room temperature. Place egg whites in a mixing bowl of a stand mixer fitted with a whisk attachment. Whisk until foamy on medium speed and then add cream of tartar or lemon juice/vinegar and whip again for another minute then and 1/3 of the sugar and continue to add sugar until you use it all up. Whip until the egg white develops a medium-soft peak (refer to video if you need to). When you lift the meringue up it will hold up its shape but the tail will bend. Do not whip until stiff peak. The cake will crack when you roll it later
Combine meringue with cake batter:
Fold about 1/3 of the meringue into the egg yolk batter and use a rubber spatula or whisk to fold or whisk until mix and continue to fold in the next 1/3 until you use up all the meringue and the batter is smooth . The batter should be a pourable consistency
Pour into prepared baking pan:
Pour the batter into the pan and use a rubber spatula to help to spread evenly. You can use a dough scraper to help you even out the surface too if necessary
Bake:
Gently tap the baking sheet on your working surface several times to pop any air bubbles. Bake in a preheated oven for 30 minutes and then switch to convection mode (fan mode) and bake for another 3-4 minutes or until the top is golden brown and dry to touch. If you don't have convection mode, bake another 5 minutes and check to make sure the top is golden brown and dry to touch. It is important that the top is dry to touch so this layer won't peel off when you roll later
Cool down:
Remove the cake from the oven and then lift it out from the pan immediately to a cooling rack and peel off the parchment paper from 4 sides. This helps to prevent wrinkles on the surface. Let it cools down like this for 5-6 minutes (I use a timer to actually time it)

After 5-6 minutes. Place a new piece of parchment paper, larger than the cake, on top of the cake and flip over to the other side. Peel off the parchment paper
Assembling:
Use a serrated knife to trim about 1/4-inch of the 4 edges from the side you will start rolling, which is the long side near you

Use a serrated knife to make 4 shallow slits. about 1 inch apart, taking care not to cut through the cake. This makes rolling the cake easier

Spread the inti filling on the surface of the cake, leaving about 1-inch border all around. You want to spread most of the filling near the side you are going to roll up from and there should be less filling towards the other end because as you roll up, the filling will get push forward and by the time you roll to the other end, it is just a perfect amount of filling

Very gently use one hand to lift the parchment paper up to help you roll the cake up until you reach the other side. Tuck the parchment paper under and use a dough scraper to help you tighten the roll-up

Remove parchment paper so the skin of the cake won't peel off later when you remove the parchment paper
Optional decoration:
If you choose to decorate the surface of the cake, you can brush with some honey and sprinkle with grated coconut. You can also use desiccated coconut or coconut flakes. Alternatively, you can always frost it lightly with some whipped cream and then sprinkle the coconut. It's up to you. Trim off about 1/4 inch from both ends to make the cake looks neater
Serve:
Very gently place the cake on the serving plate you plan to serve. Slice into desired serving size. Because this cake doesn't have any cream, you can serve it right away
Store:
If it's really humid where you are, you want to keep the cake in the fridge in air-tight container so the coconut won't go bad. Otherwise, you can keep the cake at room temperature for a day or two if humidity is not an issue
Nutrition
Serving:
1
serving
|
Calories:
358
kcal
|
Carbohydrates:
34
g
|
Protein:
5
g
|
Fat:
24
g
|
Saturated Fat:
15
g
|
Polyunsaturated Fat:
2
g
|
Monounsaturated Fat:
5
g
|
Trans Fat:
0.02
g
|
Cholesterol:
86
mg
|
Sodium:
181
mg
|
Potassium:
185
mg
|
Fiber:
4
g
|
Sugar:
21
g
|
Vitamin A:
115
IU
|
Vitamin C:
0.4
mg
|
Calcium:
19
mg
|
Iron:
1
mg