Sweet bean paste, soft and chewy mochi, salted egg yolks, and meat floss are wrapped in flaky pastry is Taiwan take on modern days mooncake. The combinations of flaky, soft, chewy texture and sweet and savory taste make this 3Q mooncake really unique and so good!!!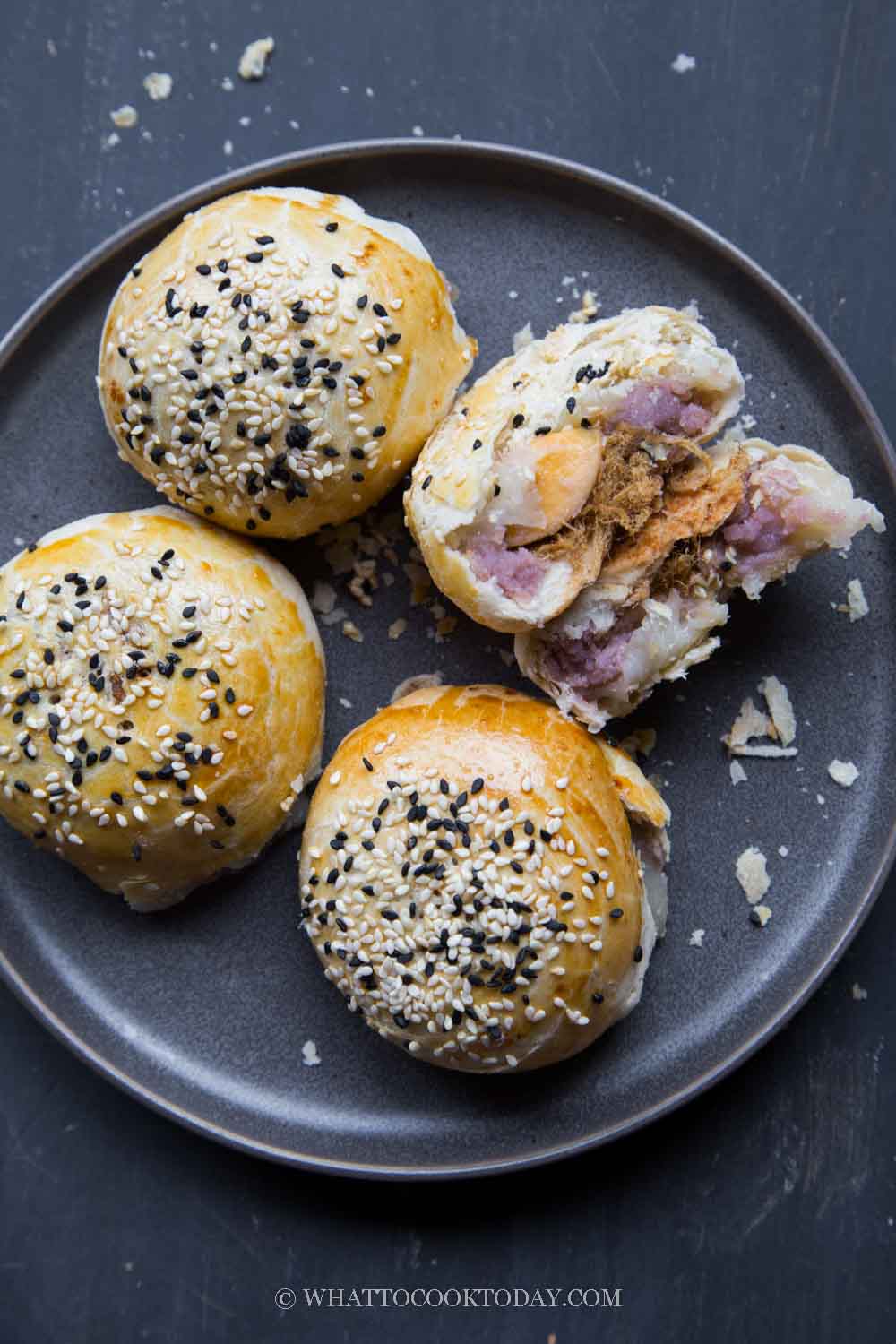 What is Taiwan 3Q Mooncake
Taiwan 3Q mooncake is not a traditional Chinese mooncake you often see. It's a modern twist from the traditional mooncake. The outer shell is flaky and flavorful. When I first saw them on Youtube, I knew immediately that I need to make this 3Q mooncake. I love that combination of texture and anything sweet and savory.
The filling consists of three elements (hence the name 3Q):
1. The sweet portion – sweet bean paste: typically red bean paste, but you can also use mung bean paste. I use sweet yam paste
2. The savory portion – salted egg yolks & neat floss: You can use pork, chicken, or fish floss. I use pork floss
3. They bouncy and chewy portion – QQ mochi: QQ means "bouncy"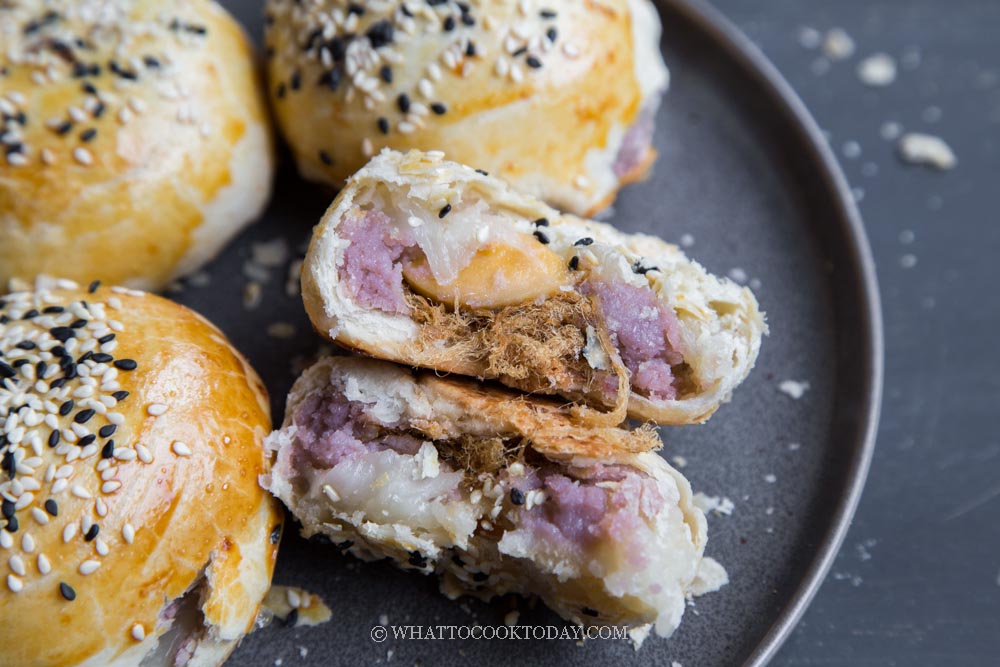 How to make Taiwan 3Q mooncake
1. Mix all the ingredients for mochi. Strain the batter if necessary. Pour this on the pan and keep stirring over medium-low heat until the mixture started to thicken. Keep stirring until the dough leaves the side of the pan, smooth and not sticky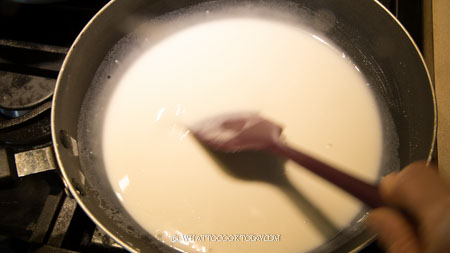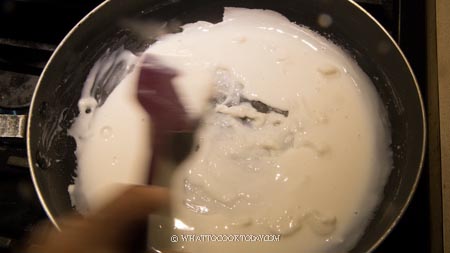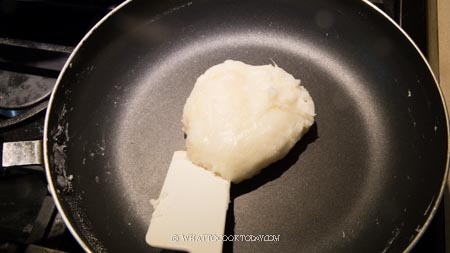 2. Let it cools down completely when you prepare other things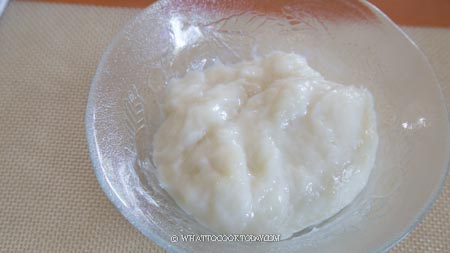 3. Prepare the water and oil dough
In a large mixing bowl, mix flour with icing sugar. Rub the shortening into the flour mixture. It will feel crumbly, resembling bread crumbs. Gradually add the water and continue to mix and knead until you form a non-sticky dough. Cover and let it rest for 30 minutes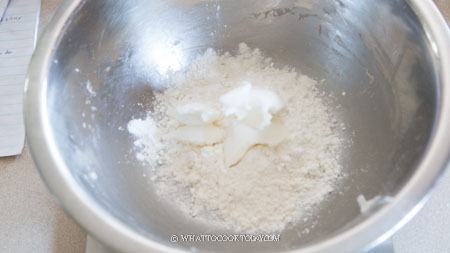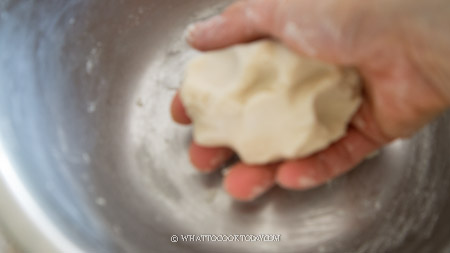 Rub the butter into the flour until it forms a smooth dough. Add food coloring and knead until the color is even. Cover and let the dough rest for 15 minutes


4. Flatten the taro paste into a circle. Put a portion of pork floss. Add salted egg yolk and then cover with a taro paste, it's okay if you can't cover the entire ball. Cover with a flatten mochi dough on top of the other half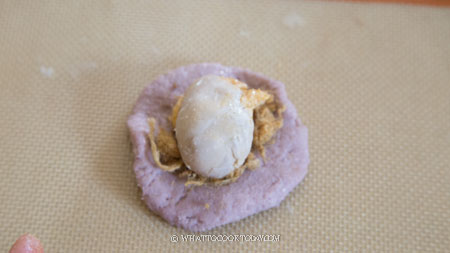 5. Divide water dough into 6 portions. Divide the oil dough into 6 portions. Flatten the water dough and roll into a round circle. Place the oil dough inside. Wrap the water dough around the oil dough. So the oil dough is nested inside the water dough now. Repeat with the rest of the doughs. Keep them covered and let them rest for 30 minutes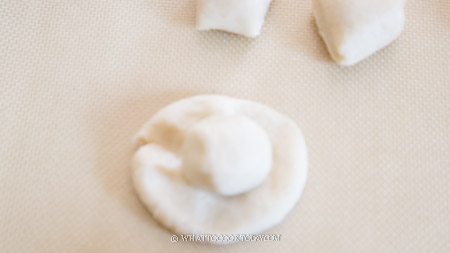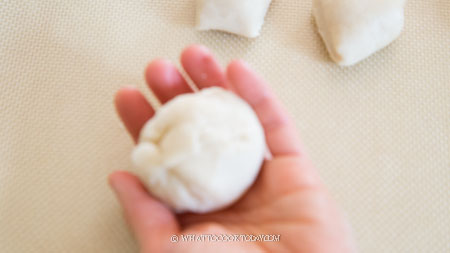 6. Work with one dough at a time. Use a rolling pin to roll this dough into a flat oval shape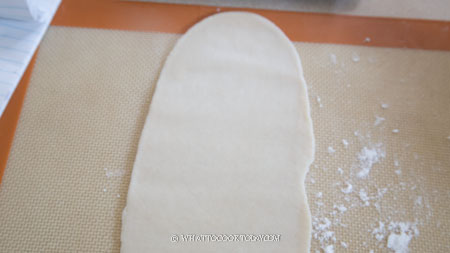 7. Roll it from the side


8. Flatten into a long log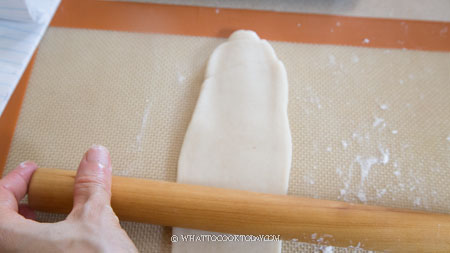 9. Roll it up into a Swiss roll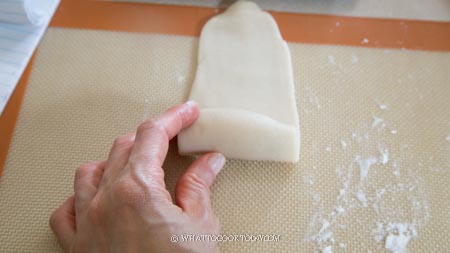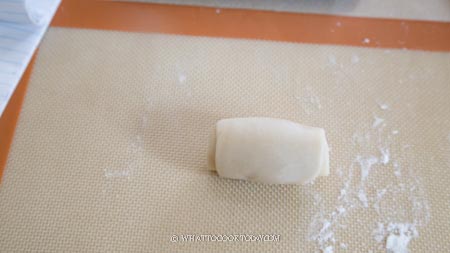 10. Flip to its side and cut into half with a very sharp knife (serrated knife is recommended)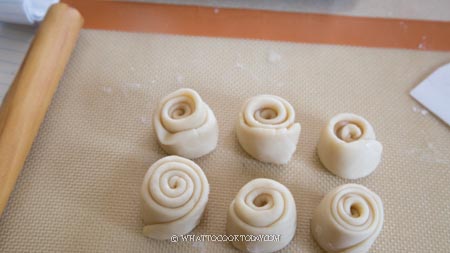 11. Place the cut-side facing down. Use a rolling pin to roll it out into a circle, about 7-inch in width and place the filling on top. Gather the sides to wrap the filling. Pinch to seal at the bottom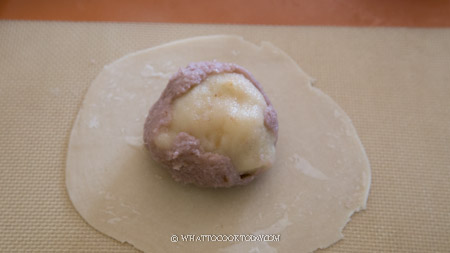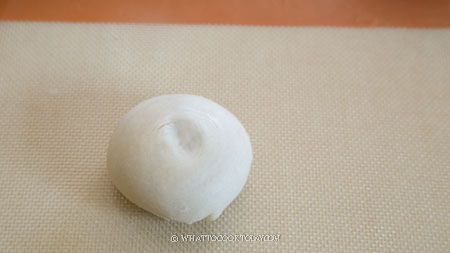 12. Brush the top with egg wash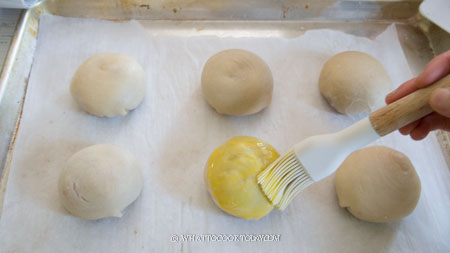 13. Dip the top into a bowl of sesame seeds. Place them on a baking sheet lined with parchment paper


14. Use a skewer or fork tines to poke about 5-6 holes on top. This is to prevent the filling from bursting during baking


15. Place the baking sheet, 3rd rack from the top into the oven and bake for about 30 minutes or until the top is lightly golden brown.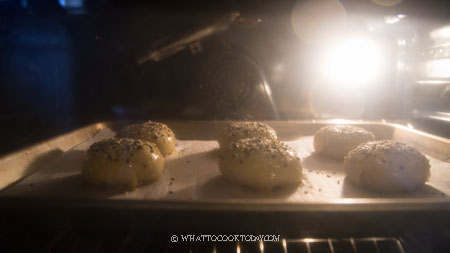 16. Remove from the oven and let them cool on the baking sheets for 5 minutes and then remove to cooling rack to let them cool down completely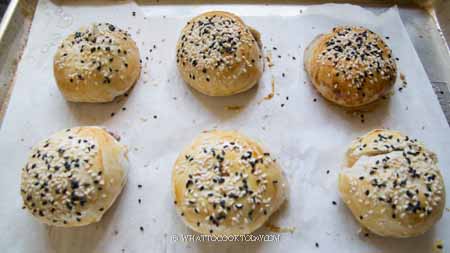 Look at that stretchy mochi inside the mooncake

How to store Taiwan 3Q mooncake
1. Let them cool down completely on a cooling rack
2. Put them inside a paper bag. Push all the air out and fold over. The paper bag can help to retain the crisp and flakiness at least for a day or two
3. For longer storage, put the whole paper bag inside a freezer bag. Push all the air out and seal the bag. They can be kept for up to 3 months in the freezer
4. Thaw them at room temperature and then reheat briefly in the oven or an air-fryer at 350 F for 8-10 minutes or until crisp again and the mochi will be stretchy again
Did you make this Taiwan 3Q mooncake recipe?
I love it when you guys snap a photo and tag to show me what you've made 🙂 Simply tag me @WhatToCookToday #WhatToCookToday on Instagram and I'll be sure to stop by and take a peek for real!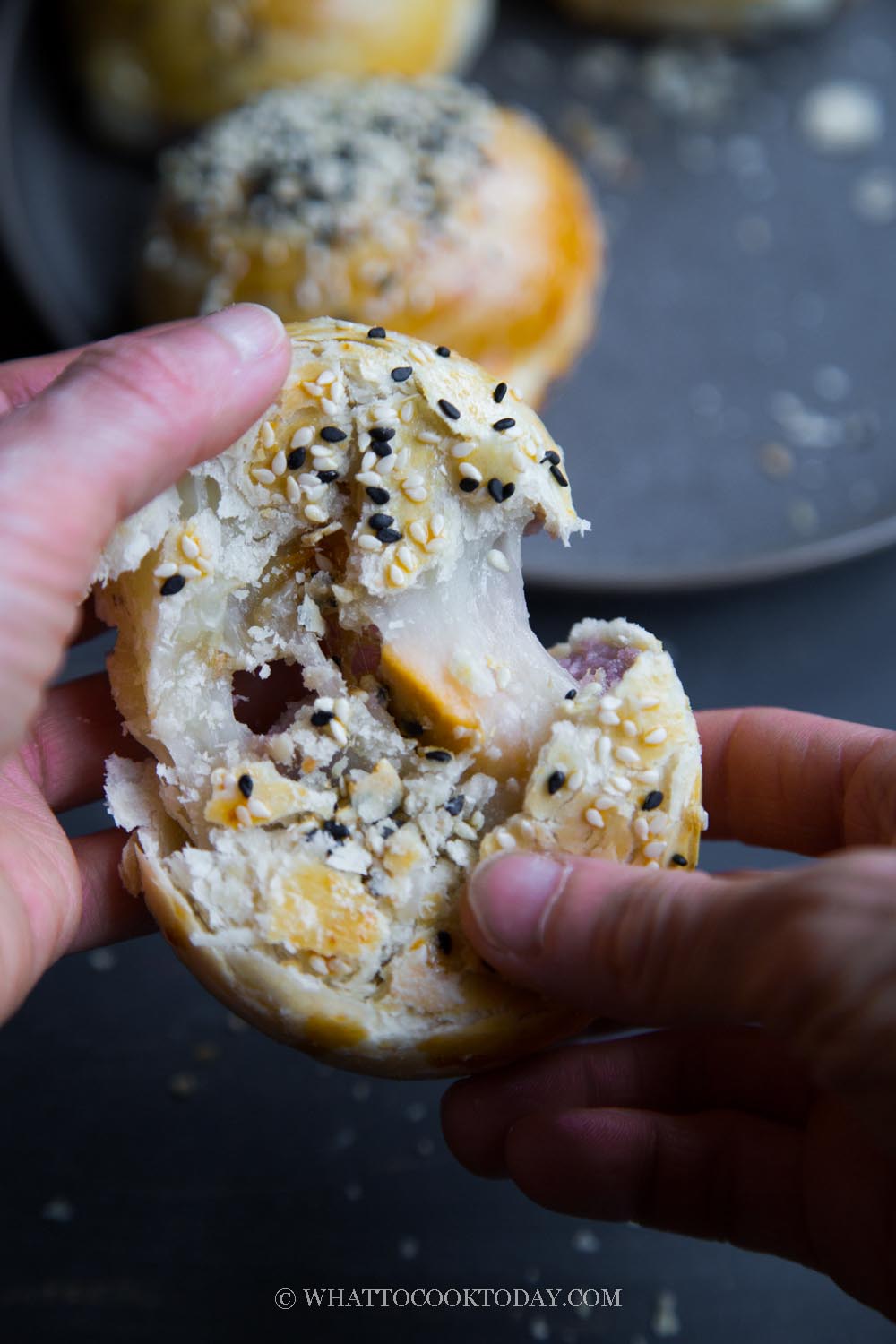 How To Make Taiwan 3Q Mooncake (台灣3Q月餅)
Ingredients
Egg wash:
1

egg yolk

1

tsp

water

pinch of salt
Instructions
I use store-bought cooked duck eggs so I don't need to steam anymore. If yours are raw, steam the salted egg yolks for 10 minutes over medium heat and let them cool down completely

Divide the taro paste that has been chilled in the fridge into 12 portions, about 30 grams each. Roll into round balls, covered and keep in the fridge while you prepare the rest

Portion out the pork floss into 12 portions
Prepare the mochi:
Mix all the ingredients for mochi. Strain the batter if necessary. Pour this on the pan and keep stirring over medium-low heat until the mixture started to thicken. Keep stirring until the dough leaves the side of the pan, smooth and not sticky

Wrap with a plastic wrap and let it chill in the fridge for 30 minutes. Oil your palms and then divide into 12 equal portions
Prepare the water dough:
In a large mixing bowl, mix flour with icing sugar. Rub the shortening into the flour mixture. It will feel crumbly, resembling bread crumbs. Gradually add the water and continue to mix and knead until you form a non-sticky dough. Cover and let it rest for 30 minutes
Prepare the oil dough:
Rub the butter into the flour until it forms a smooth dough. Add food coloring and knead until the color is even. Cover and let the dough rest for 30 minutes
Assemble the filling:
Flatten the taro paste into a circle. Put a portion of pork floss. Add salted egg yolk and then cover with a taro paste, it's okay if you can't cover the entire ball. Cover with a flatten mochi dough on top of the other half

There's no right and wrong here, you can also just lightly flatten the taro paste then put a portion of pork floss on top, a salted egg yolk and a slightly flattened mochi. So it's kind of like stacking up the filling
Shaping:
Preheat oven to 200 C (400 F). My oven only uses bottom heat. Please adjust accordingly if you use convection top and bottom heat oven

Divide water dough into 6 portions. Divide the oil dough into 6 portions

Flatten the water dough and roll into a round circle. Place the oil dough inside. Wrap the water dough around the oil dough. So the oil dough is nested inside the water dough now. Repeat with the rest of the doughs. Keep them covered and let them rest for 30 minutes

Work with one dough at a time. Use a rolling pin to roll this dough into a flat oval shape. Roll it up from the side and then flatten into a long log. Roll it up into a Swiss roll. Flip to its side and cut into half with a very sharp knife (serrated knife is recommended)

Place the cut-side facing down. Use a rolling pin to roll it out into a circle, about 7-inch in width and place the filling on top. Gather the sides to wrap the filling. Pinch to seal at the bottom

Combine both white and black sesame seeds in a bowl. Brush the top with egg wash and then dip the top into a bowl of sesame seeds. Place them on a baking sheet lined with parchment paper

Use a skewer or a fork tines to poke about 5-6 holes on top. This is to prevent the filling from bursting during baking
Baking:
Place the baking sheet, 3rd rack from the top into the oven and bake for about 30 minutes or until the top is lightly golden brown. Remove from the oven and let them cool on the baking sheets for 5 minutes and then remove to cooling rack to let them cool down completely
Notes
You can also use only 6 salted egg yolks and cut into half to make 12 if you don't want to use one whole yolk per mooncake
Recommended products: