Easy one-pot nasi kebuli ayam is incredibly aromatic that you will find yourself can't stop eating it. I'm not kidding!
You know that feeling when your entire house is filled with the aroma of spices from cooking this Nasi Kebuli Ayam? It's truly incredible! My husband walked into the house and he said "What's cooking? It smells amazing!" Of course, I walked outside and my hair and wardrobe smelled like nasi kebuli too, but who cares really!
Traditional nasi kebuli is usually made with goat or lamb and has its origin traced back to the Middle East, South and Central Asia. Similar to nasi biryani and also a pilaf/pulau. Nasi kebuli is particularly popular among the Arab community in Indonesia and Betawi people in certain part of Indonesia.
There's also the chicken version that is adapted from the goat version. Some served it with fried chicken. This Nasi Kebuli Ayam here is an easy one-pot version where the chicken is cooked along with the rice. My kids LOVE this nasi kebuli.
I think everyone will LOVE YOU if you bring this over for pot luck or hey..served it as a side dish to go with your Holiday meal entertaining! No regrets !!!
Some people like to serve this Nasi Kebuli Ayam with diced pineapples. It's a great combination. I made some acar timun / cucumber pickles and it was incredible. My husband likes to eat it with this sambal kecap pedas too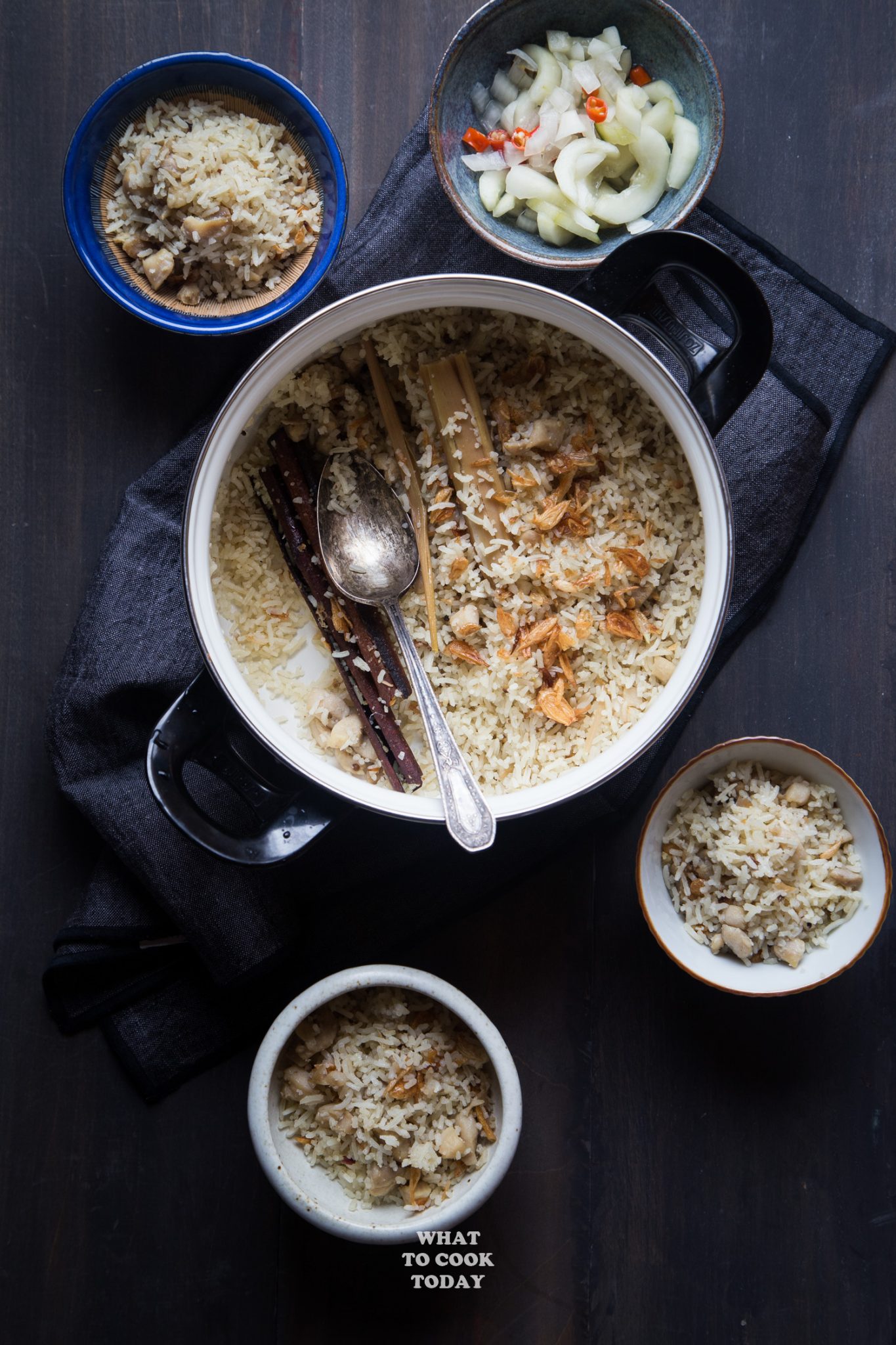 Nasi Kebuli Ayam / Indonesian Chicken Spiced Rice
Ingredients
3

cups

long-grain rice

soaked in water for 30 minutes

2

Tbsp

butter

700

grams

boneless chicken

diced

3

cups

chicken stock
Spices and seasonings:
5

shallots

peeled and sliced

4

cloves

garlic

peeled and thinly sliced

1

tsp

coriander seeds

2 cloves

1

stalk lemongrass

discard outer layer and use only fat bottom third of the stick

1

large cinnamon stick

½

tsp

nutmeg powder

1 ½

tsp

salt
Instructions
Heat a large pot with a tight-fitting lid over high heat. Add in butter and let it melt. Add the chicken pieces in the pot and let it brown a little bit, about 3 minutes. Dish out into a plate. The chicken is not cooked yet at this point. In the same pot, add the rest of the ingredients in the spice and seasoning list, stir fry until really fragrant about 3 minutes. Add the chicken back in and stir fry for another 1 minute
Using pot to cook the rice:
Add rice grains into the pot and stir to mix. Add the chicken stock and bring to a boil. Once it boils, lower the heat, cover and let it simmer for 20 minutes. Remove from the heat and let it sit for 10 minutes undisturbed

Uncover the lid. The rice should be soft and fluffy at the end of cooking time. Use a fork to fluff the rice
Using rice cooker:
Add rice grains into the pot and stir to mix. Add the chicken stock. Stir to mix everything. Remove from the heat and transfer this to a rice cooker and finished cooking in the rice cooker, about 20 minutes
Serving:
When ready to serve sprinkle the rice with a generous amount of crispy shallots. Can be served as side dish or entree
Other Indonesian Rice Dishes you might like:
Mini Nasi Tumpeng (Indonesian Spiced Yellow Rice)
MINI NASI TUMPENG (INDONESIAN SPICED YELLOW RICE)
NASI BAKAR AYAM KEMANGI (GRILLED RICE WITH CHICKEN AND BASIL)
NASI SAYUR MEDAN (INDONESIAN VEGETABLES WITH RICE)
NASI GORENG PETAI / PETE (STINK BEAN FRIED RICE)
OR Check out my rice and grains collections here