Fragrant and rich pressed steamed sticky rice cake is topped with gula merah custard on top. This traditional kue/kuih is popular in Indonesia, Malaysia, and Singapore.
I have major weakness for traditional kue/kueh like this serimuka gula merah. In Indonesia, we call this kue talam ketan gula merah. Traditional kuih serimuka is usually layered with pandan custard on top. This gula merah (or known as gula Melaka in Singapore and Malaysia) version is also really good.
Kue talam gula merah VS kue talam ketan gula merah
This kue talam gula merah has custard-like texture on both layers. Ketan means sticky rice (glutinous rice) in Indonesian language. Kue talam ketan gula merah is made with sticky rice on the bottom and custard-like layer on top. So that's the difference.
Ingredients and substitutions
1. Glutinous rice
This is also known as sweet rice or sticky rice. Please don't confuse this with sushi rice. Even though it is called sticky rice, but sushi rice is not a good substitute for glutinous rice. There is no substitute for glutinous rice
2. Coconut milk
I used canned coconut milk
3. Gula merah
Also known as gula Melaka. If you don't have this, you can use coconut sugar, or light or dark brown sugar. Just know that if you use light or dark brown sugar, the color will be much lighter. I have to mix with some light brown sugar and that's why the color is much lighter
4. Eggs
I use large size eggs, usually weigh about 50-55 grams without the weight of the shell
5. Tapioca flour
You can substitute with cornstarch if you must, but try to use tapioca flour for the best result
6. Rice flour
Rice flour cannot be substitute with other startch/flour in this particular recipe. I usually use Thai rice flour
7. Vanilla extract
It adds a nice aroma. You can skip it if you want
How to make kuih serimuka gula merah
1. Soak the rice for at least 4 hours or overnight in water. Mix this with coconut milk, water, and salt and stir to mix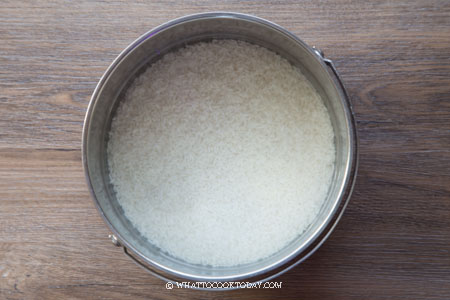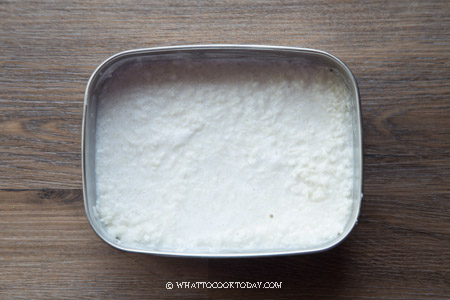 2. Steam the rice over high heat for 25-30 minutes or until the rice is soft and fluffy


3. Grab an 8×8-inch square tray or 9-inch round tray and brush with some oil on the bottoms and all sides. Cut a parchment paper to line the bottom of the pan. This will make your life easier when you try to remove cake from the pan. Transfer the sticky rice to the tray. Cover with a piece of parchment paper and really use your palms to pack the rice down so your cake won't fall apart when you cut it
4. Put gula merah, coconut milk, and salt in a saucepan and bring to a simmer. Keep stirring to prevent coconut milk from "separating". Cook until sugar melts and dissolves. Set aside to cool down to lukewarm


5. Whisk the eggs and vanilla extract in a large bowl. When the gula merah mixture has cooled down, pour this into the eggs and whisk. Sift in tapioca and rice flour. Whisk to combine and then strain mixture to make sure there are no lumps


6. Transfer the mixture to a cup with a spout or use a ladle to spoon the mixture over the rice. Pour or spoon half of the mixture gently over the sticky rice. Pop any bubbles you see.


7. Steam on medium-low heat for the next 10 minutes, with the lid slightly ajar. This helps to let the steam out and give a smooth layer.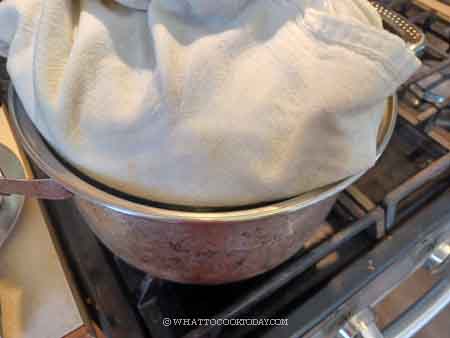 8. The layer is half-cooked at this point and that's okay, we want it that way. Very gently pour the rest of the gula merah mixture on top and continue steaming for the next 30 minutes over medium-low heat or until the top is no longer jiggly or wet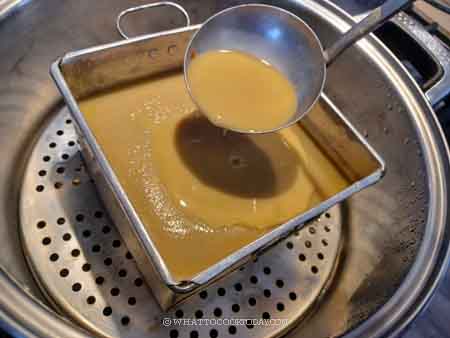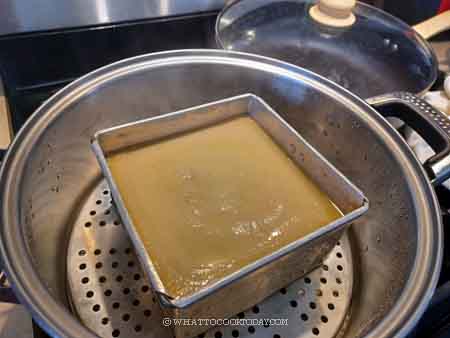 9. Remove the cake from the steamer and let it cool down completely before cutting, about 4 hours or so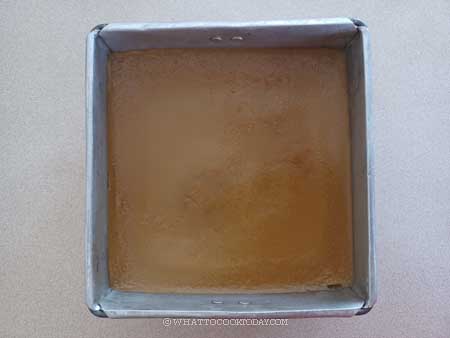 10. Loosen the edge with an oiled knife or plastic knife and then gently transfer the kueh out from the pan and cut to desired size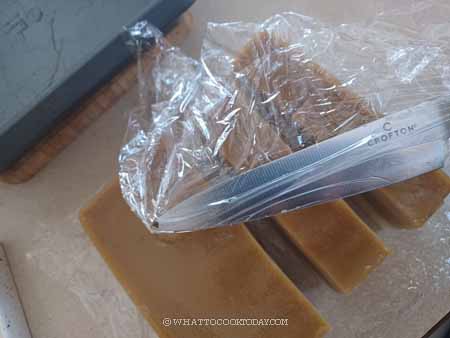 Did you make this kuih serimuka gula merah recipe?
I love it when you guys snap a photo and tag it to show me what you've made. Simply tag me @WhatToCookToday #WhatToCookToday on Instagram and I'll be sure to stop by and take a peek for real!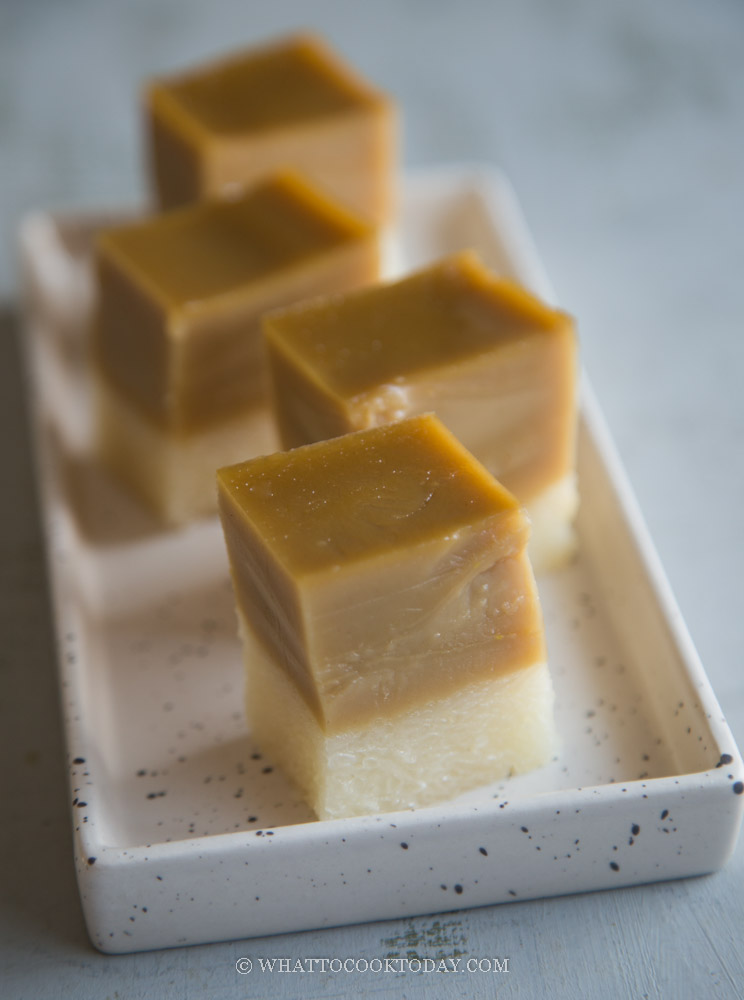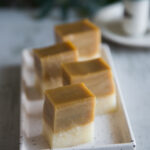 Kuih Serimuka Gula Merah / Kue Talam Ketan Gula Merah
Ingredients
Bottom layer – if using the stove to cook the sticky rice cake
Bottom layer – If using an electric pressure cooker to cook sticky rice:
Instructions
Cooking sticky rice with a steamer:
Soak the rice for at least 4 hours or overnight in water

Drain the water you use to soak the sticky rice. Place the sticky rice in a tray. Pour in the coconut milk and salt and stir to mix. Place this in a steamer and steam on high heat for about 25-30 minutes or until cooked through and soft. Remove from the steamer. Refill water in the steamer if necessary and get it ready to steam the cake again later. Wrap the lid of the steamer with a cloth to prevent water dripping back on the cake, which will make the surface of the cake not smooth
Cooking sticky rice with Instant Pot pressure cooker:
No need to soak the rice. Place all the ingredients for the bottom layer in a pan that is at least 3-inch height and can fit in your instant pot. Stir to mix and make sure the rice is covered by liquid. Pour 1 cup of water into the inner pot of the instant pot. Put a trivet in and place the pan with rice on top. Close the lid. Turn the steam release valve to "sealing". Press "pressure cooker" and make sure it's on "high pressure". Set timer to 30 minutes. Wait 10 minutes and then fully release pressure
Pressing the rice cake:
Grab an 8×8-inch square tray or 9-inch round tray and brush with some oil on the bottoms and all sides. Cut parchment paper to line the bottom of the pan. This will make your life easier when you try to remove cake from the pan. Transfer the sticky rice to the tray when it's still warm. Cover with a piece of parchment paper and really use your palms to pack the rice down so your cake won't fall apart when you cut it
Gula merah layer:
Put gula merah, coconut milk, and salt in a saucepan and bring to a simmer. Keep stirring to prevent coconut milk from "separating". Cook until sugar melts and dissolves. Set aside to cool down to lukewarm

Whisk the eggs and vanilla extract in a large bowl. When the gula merah mixture has cooled down, pour this into the eggs and whisk

Sift in tapioca and rice flour. Whisk to combine and then strain mixture to make sure there are no lumps
Steam the cake:
Bring the water in the steamer to a boil. Wrap the lid of the steamer with a cloth to prevent water condensation from dripping on the surface of the cake.

Transfer the mixture to a cup with a spout or use a ladle to spoon the mixture over the rice. Pour or spoon half of the mixture gently over the sticky rice. Pop any bubbles you see.

Steam on medium-low heat for the next 10 minutes, with the lid slightly ajar. This helps to let the steam out and give a smooth layer. The layer is half-cooked at this point and that's okay, we want it that way. Very gently pour the rest of the gula merah mixture on top and continue steaming for the next 30 minutes over medium-low heat or until the top is no longer jiggly or wet

Remove the cake from the steamer and let it cool down completely before cutting, about 4 hours or so
Serving:
Loosen the edge with an oiled knife or plastic knife and then gently transfer the kueh out from the pan and cut to desired size
Recommended products:
Nutrition
Serving:
20
servings
|
Calories:
206
kcal
|
Carbohydrates:
35
g
|
Protein:
3
g
|
Fat:
6
g
|
Saturated Fat:
5
g
|
Polyunsaturated Fat:
0.2
g
|
Monounsaturated Fat:
0.5
g
|
Trans Fat:
0.002
g
|
Cholesterol:
19
mg
|
Sodium:
104
mg
|
Potassium:
103
mg
|
Fiber:
1
g
|
Sugar:
12
g
|
Vitamin A:
27
IU
|
Vitamin C:
0.3
mg
|
Calcium:
21
mg
|
Iron:
1
mg