A traditional nyonya kuih made with grated cassava and coconut milk mixture are baked to give you a cake that is naturally gluten-free, not too sweet, soft, springy with a crispy crust at the same time. The recipe can be made with or without egg.
OMG! Yes…this bingka ubi kayu is like one of my most favorite cakes ever! I know I have lots of favorites, but this is TRULY one of my favorites after Candied Cassava with Coconut Milk! I love tapioca/cassava! I have like serious OD when it comes to cassava or what we call ubi kayu in Indonesian. I can eat steamed or fried cassava roots on its own dipped in a bit of salt! Yeah..that's the kind of snack I grew up eating. Cassava and tapioca mean the same thing in case you are wondering and I'll use them interchangeably in this post.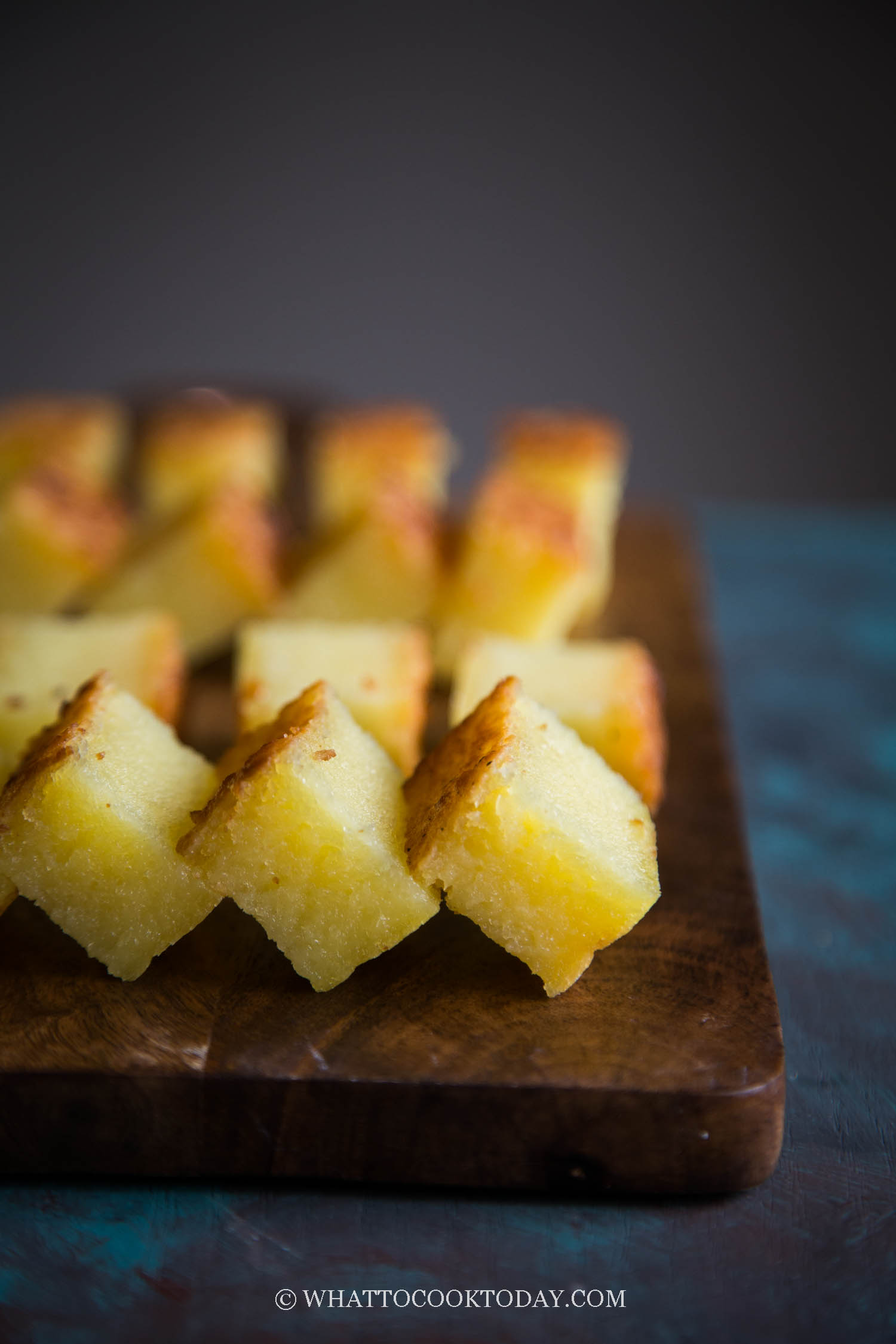 ONE OF THE EASIEST CAKE TO MAKE
This cake is almost impossible to fail if you ask me. You only need one bowl and add everything in there. Stir and bake. I used frozen grated cassava I bought from the store so it saved me some work from having to cut the cassava. Cassava has tough outer layer skin and honestly, I hate to cut cassava by hands 🙂

INGREDIENTS
1. Cassava/Tapioca Root
You can use fresh cassava or frozen and already grated. You can't substitute with just tapioca starch however
2. Coconut Milk
This adds richness to the cake. I used Asian canned unsweetened coconut milk. Do not use the coconut milk sold as a beverage, they don't give much flavor if at all
3. Sugar
I use granulated sugar. You can use Keto-friendly sugar like monk fruit sugar
4. Egg
The egg acts as a binder and also gives the cake its soft moist texture. Simply omit for eggless version and refer to the recipe card
5. Grated unsweetened coconut (for eggless bingka ubi)
This is available at most Asian grocery store. They are usually in the frozen section
6. Oil
I used neutral-tasting oil like avocado or grapeseeds oil. Feel free to use melted butter or melted coconut oil (same amount called for in the recipe) if you want
7. Salt
A pinch goes a long way and it brings out the overall flavor
HOW TO EASILY MAKE KUIH BINGKA UBI KAYU WITH OR WITHOUT EGG
1. Preheat oven at 375 F (190 C). Place all ingredients in a mixing bowl and stir to mix until combined. Simply omit egg for eggless version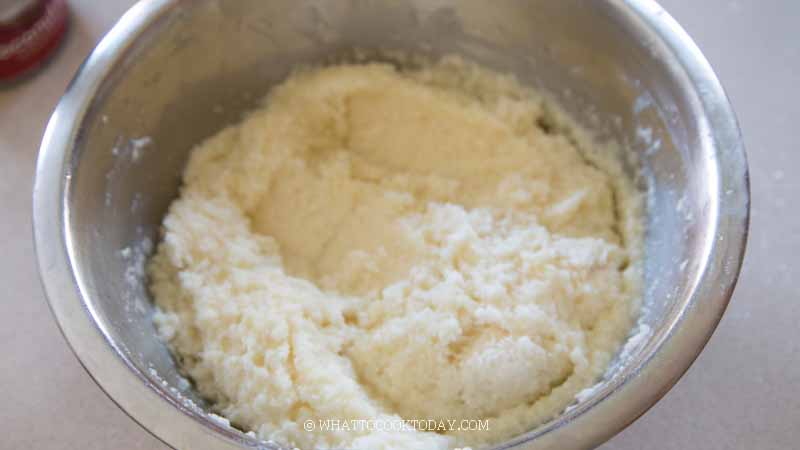 2. Line the bottom of the pan with a banana leaf or parchment paper. I just use non-stick cooking spray. The cake is easy to remove once it cools down and won't stick to the pan. Pour the batter in and smooth the top with a rubber spatula the best you can. It won't be perfectly smooth.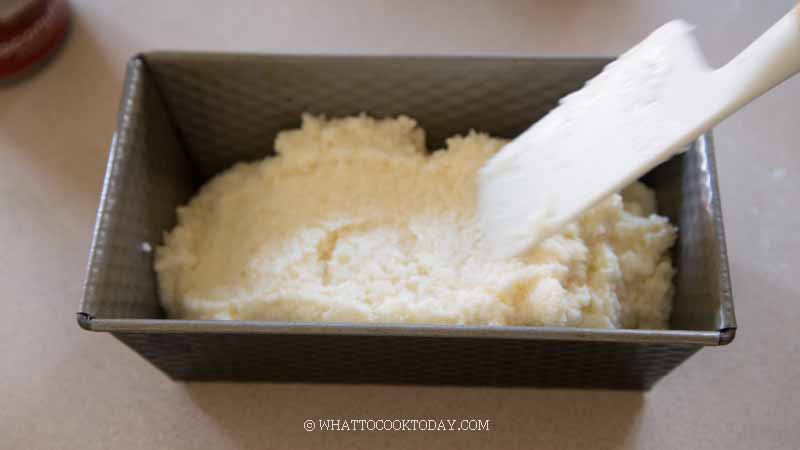 3. Place this inside the oven, 3rd rack from the top and let it bake for the next 60 minutes (1 hour). The cake shouldn't jiggle when you shake the pan. If you insert a skewer, it may not come out entirely clean because it's still very hot. Turn on broiler on low and broil for 3-5 minutes to get a crispy crust and deeper golden brown on top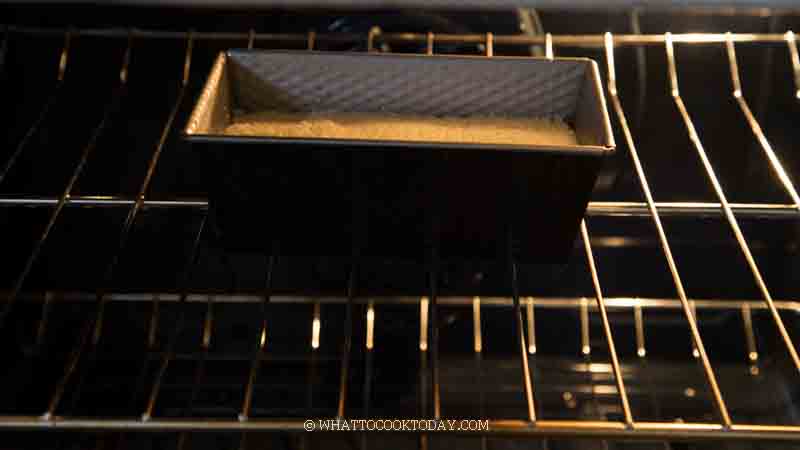 4. Let the cake cools down for at least 1 hour before cutting into the size you like

This is a cake that doesn't require many skills (totally suits me!). Now the family finished this in one day! I baked a pretty small one though, which I regretted! My kids absolutely love this bingka ubi kayu.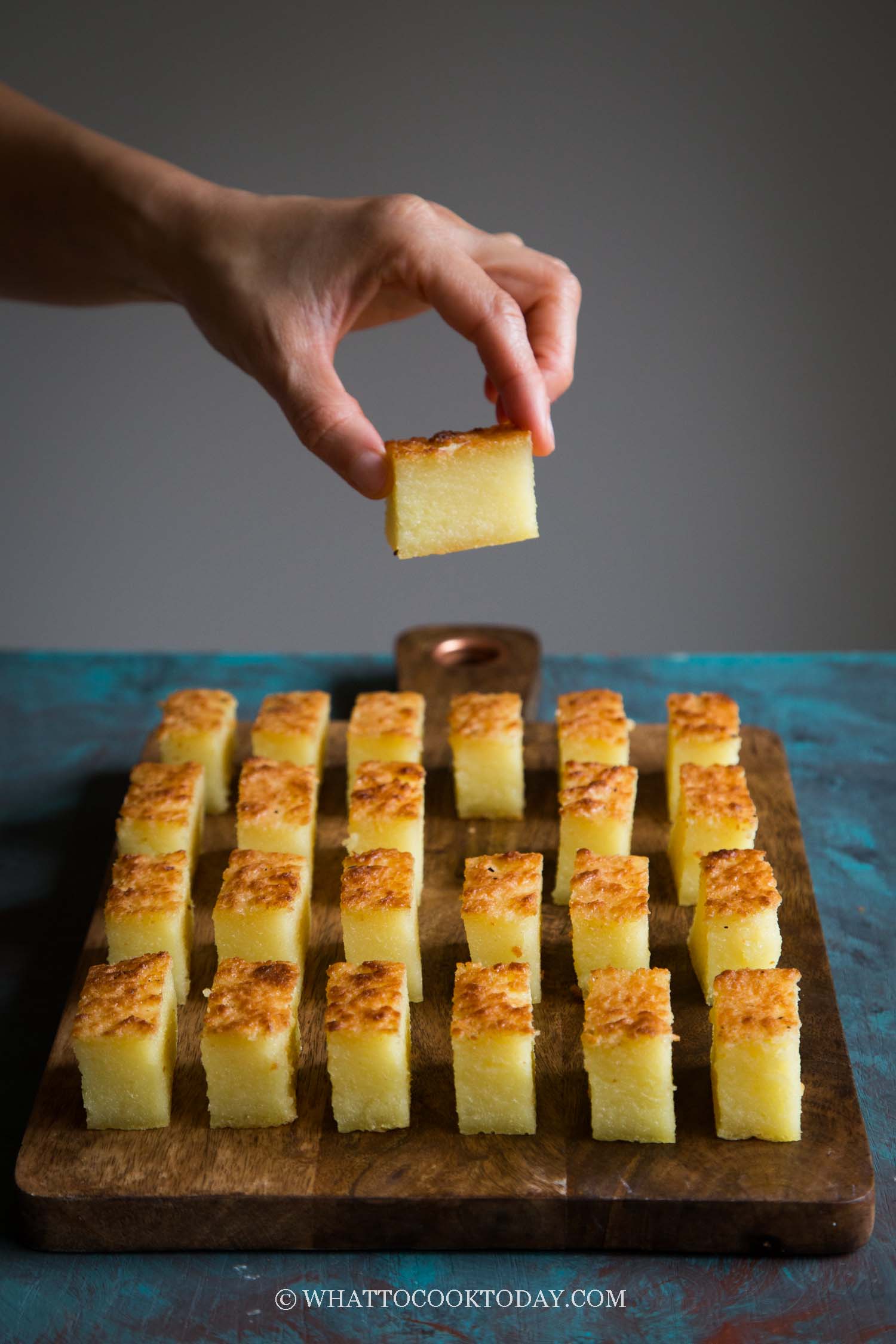 EGGLESS BINGKA UBI KAYU
Eggless bingka ubi kayu is very tasty too. It may not have the nice yellow tone the egg version has, but the texture and flavor is still pretty spot on. The addition of grated unsweetened coconut and adjusting the amount of liquid in the recipe makes this recipe vegan friendly now and I'm pretty happy with the taste. I made this in a wide pan instead of a loaf pan and that's why it's much shorter.

DID YOU MAKE THIS EASY KUIH BINGKA UBI KAYU RECIPE?
I love it when you guys snap a photo and tag to show me what you've made 🙂 Simply tag me @WhatToCookToday #WhatToCookToday on Instagram and I'll be sure to stop by and take a peek for real!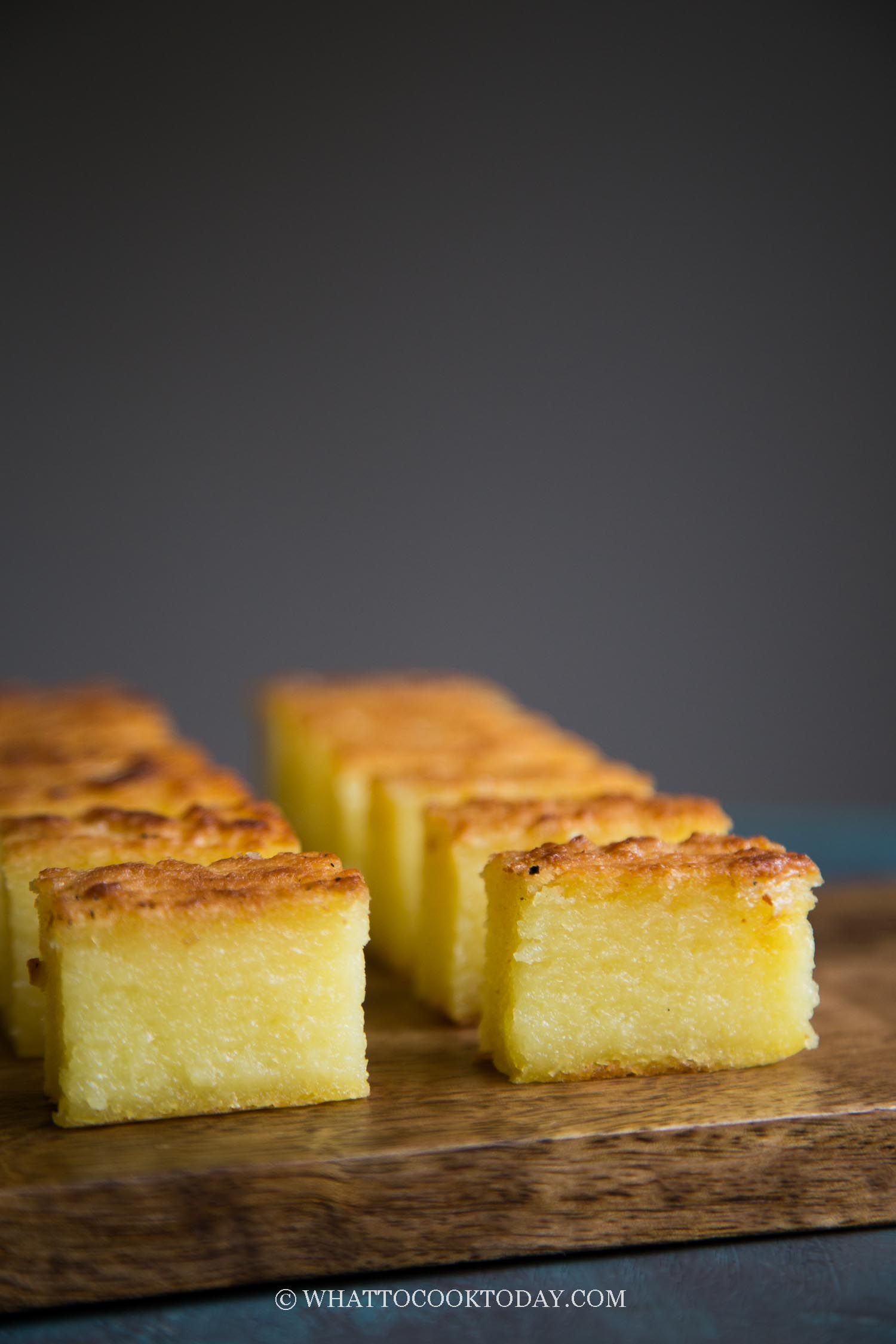 *The Recipe was last published in 2018 and now has been improved and also to include eggless bingka ubi kayu and video recipe is added on November 1, 2020*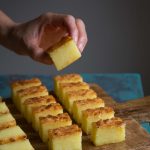 Kuih Bingka Ubi Kayu (Baked Cassava/Tapioca Cake) - Egg or Eggless version
Ingredients
With egg version:
500

gr

frozen grated cassava (thawed)

1.1 lbs. squeeze out extra liquid if you think it's too much liquid after thawing

150

gr

sugar

12 Tbsp

120

ml

coconut milk

8 Tbsp

20

gr

cooking oil

1 Tbsp

1

large

egg

about 50 grams without shell

¼

tsp

salt

1

Tbsp

tapioca starch

you can use arrowroot starch, potato starch, or cornstarch
Eggless version:
500

gr

frozen grated cassava (thawed)

1.1 lbs. squeeze out extra liquid if you think it's too much liquid after thawing

150

gr

sugar

12 Tbsp

250

ml

coconut milk

1 cup

20

gr

cooking oil

1 Tbsp

90

gr

grated unsweetened coconut

1/2 cup, thaw if frozen

¼

tsp

salt

1

Tbsp

tapioca starch

you can use arrowroot starch, potato starch, or cornstarch
Instructions
If you use fresh cassava:
Cut the cassava into about 2-inch chunks. Place them in a blender (in batches, not all of them at once). Add a bit of water to get it going and blend until it turns into fine pieces. Once all of the cassava has been processed, squeeze the liquid out. AS MUCH AS YOU CAN. But save the liquid that you squeeze out. Let the liquid sit while you prepare other things. The starch will sink to the bottom. Carefully discard the liquid and add those starches into the cake batter later. This is important because the starch contributes to that springy texture
Prepare the cake batter:
Preheat oven at 375 F (190 C). Place all ingredients in a mixing bowl and stir to mix until combined.

Line the bottom of the pan with a banana leaf or parchment paper. I just use non-stick cooking spray. The cake is easy to remove once it cools down and won't stick to the pan
Bake the cake:
Pour the batter in and smooth the top with rubber spatula the best you can. It won't be perfectly smooth. Place this inside the oven, 3rd rack from the top and let it bake for the next 60 minutes (1 hour). The cake shouldn't jiggle when you shake the pan. If you insert a skewer, it may not come out entirely clean because it's still very hot
Brown the top:
Turn the broiler to low and put the cake back into the oven and let it brown. Do not walk away and let it brown until it has that nice golden brown, about 3-5 minutes. Remove from the oven completely and let it cools down for about 1 hour before cutting
Storing:
The cake can be stored at room temperature for 2-3 days if it's not too humid, otherwise, store in the refrigerator for up to 1 week. The cake will harden once you refrigerate and it's normal. You can reheat in a microwave or loosely wrap them in a foil and use a toaster oven or an air-fryer or oven to reheat at 350 F for 5 minutes or until warm and the cake is soft. I do not recommend freezing the cake because the texture changes
YOU MAY ALSO LIKE THESE NYONYA KUE/KUIH