Learn how to make these traditional Chinese coconut biscuits with the amazing aroma of coconut and that sandy and brittle texture that reminds you of the good old coconut biscuit made with only 6 ingredients.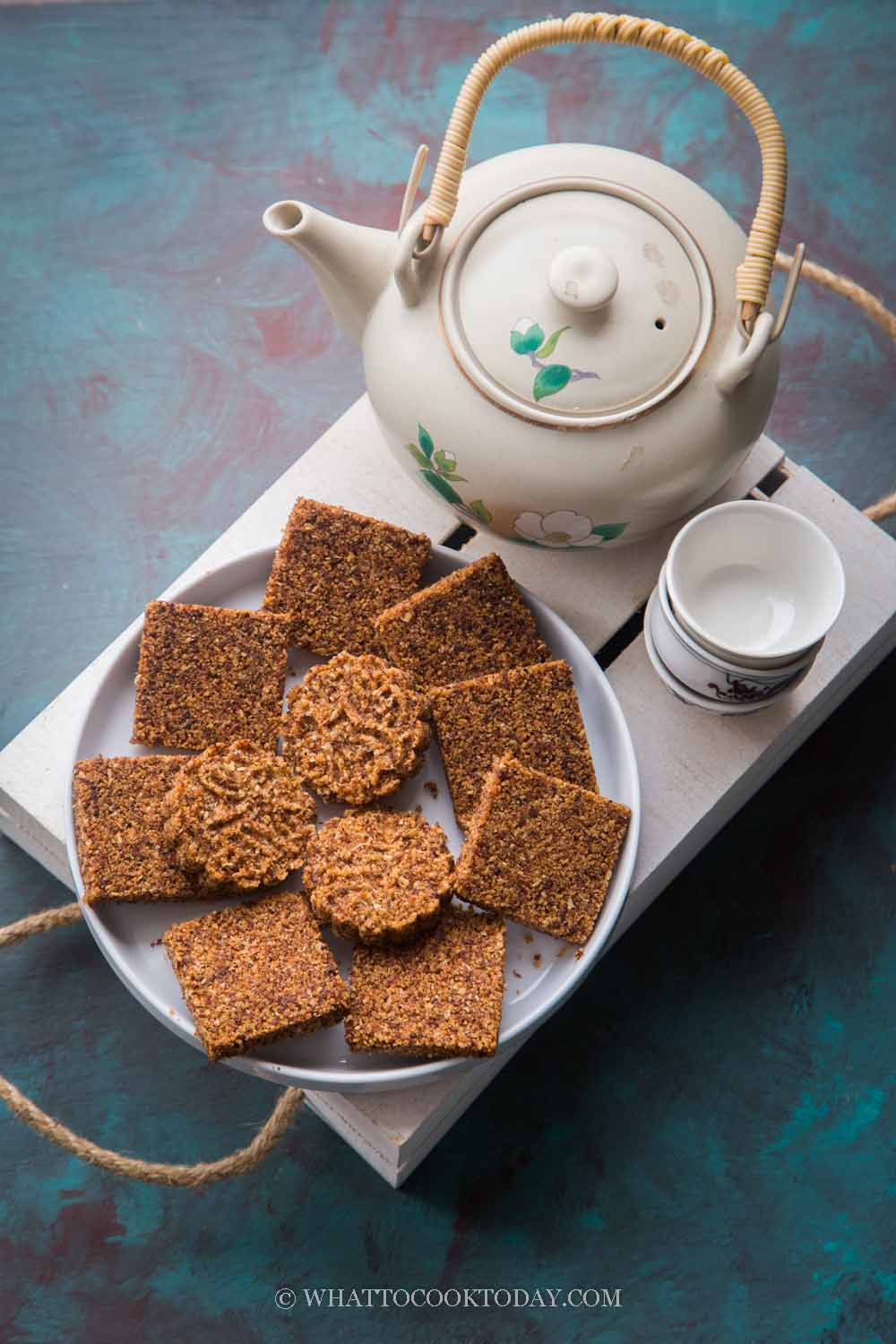 The first bite into this biskut kelapa or old-fashioned Chinese coconut biscuit sure reminds me of childhood. Mom usually had these biscuits around for snacks and also for Chinese New Year. When my mom saw the photo of this biskut kelapa that I made she told me this was also one of her favorite childhood biscuits. My mom is not a dessert, cake, or cookie person mind you! BUT, she loves this coconut biscuit too. She loves the aroma of coconut that mainly comes from the grated fresh coconut flesh and the coarse texture. This old-fashioned coconut biscuit is popular in Indonesia, Malaysia, and Singapore.
Ingredients
1. Bread crumb
You can use ready-made bread crumb or grind up some stale white bread, preferably unseasoned
2. Grated fresh coconut
I use frozen grated coconut (thawed). You can use desiccated coconut too, but it won't be as fragrant
3. Butter
I use unsalted butter. If you use salted butter, omit the salt. You can also use coconut oil
4. Sugar
You can use granulated sugar or caster sugar. Do not substitute with powdered sugar/icing sugar
5. Salt
6. Water
How to easily make biskut kelapa
1. Toast the grated fresh coconut on a dry pan over medium-low heat until lightly golden brown. Don't toast them too brown as your biscuit will turn out too dark after baking. You may still see some mixture of white and golden brown, that's ok. You won't be able to get them all evenly brown. Set aside to cool down
Put both the coconut and the bread crumb in a food processor and pulse them a few times to ground into fine consistency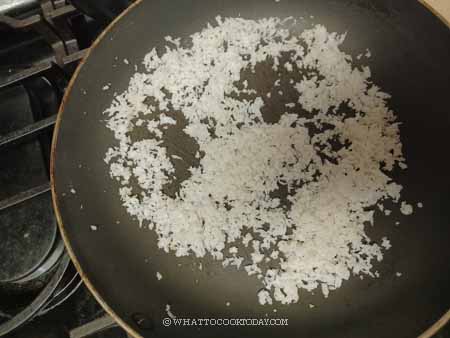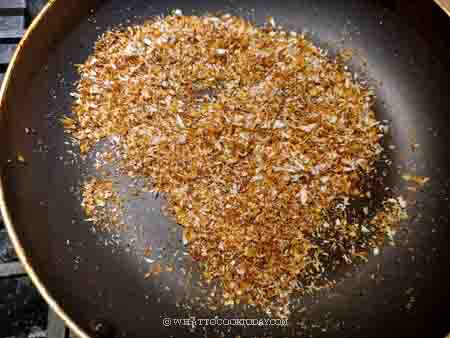 2. Toast the bread crumb on a dry pan too until just lightly golden brown, which happens pretty quickly compared to the coconut. So make sure to toast them separately and not together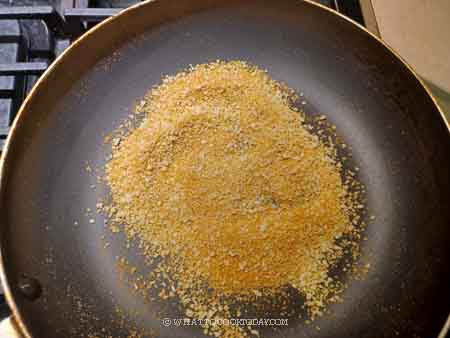 3. Melt butter or coconut oil and let it cools down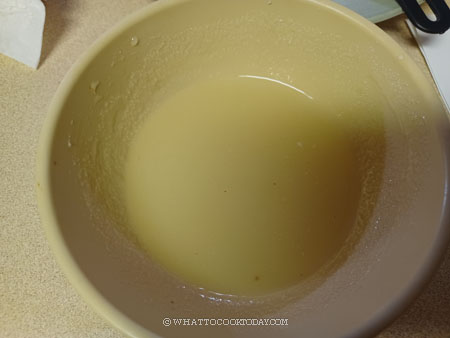 4. Preheat oven to 340 F (170 C) for a conventional oven. For a convection oven, lower the temperature by 20 degrees. Line a baking tray with a parchment paper. Mix all the ingredients with the coconut and bread crumbs. Stir to mix to combine them. Cover and let them rest for 15 minutes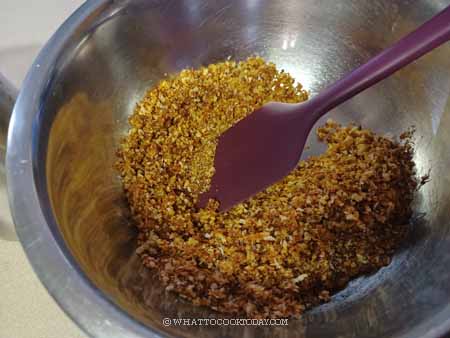 5. If you use a mooncake press, put about 1 1/2 – 2 Tbsp or more (this also depends on the size of the mold you are using) of the biscuit mixture into the cavity of the press. We want a biscuit about at least 1/2-inch (about 1.3 cm) thick. Kinda press the mixture down into the mold to pack it, then turn it down onto a baking tray and press the tool down to really compact the biscuit. If it's not packed enough, the biscuit will fall apart


6. If you use the Taiwanese pineapple tart mold (or any similar tool you have), scoop the biscuit mixture into the ring and use the press to pack it down to give you a cookie about 1/2-inch thick. Repeat with the rest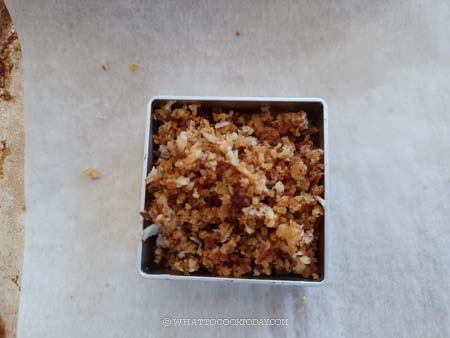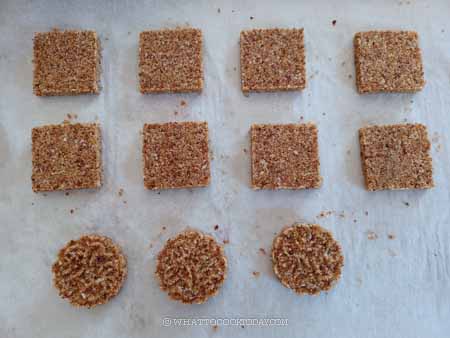 7. Bake the biscuits at the middle rack for 30 minutes


8. Let them cool down on the tray for about 10 minutes or so before transferring to a cooling rack to cool down completely

How to store biskut kelapa
Let the biscuits cool down completely and then store in an air-tight container and they stay crunchy for weeks

Did you make this recipe?
I love it when you guys snap a photo and tag to show me what you've made 🙂 Simply tag me @WhatToCookToday #WhatToCookToday on Instagram and I'll be sure to stop by and take a peek for real!

The recipe is adapted from Mykitchen101
Traditional Chinese Coconut Biscuit (Biskut Kelapa)
Ingredients
90

gr

bread crumbs

180

gr

grated fresh coconut

45

gr

melted unsalted butter/coconut oil

70

gr

granulated sugar

½

tsp

salt

30

gr

water
Instructions
Prepare the coconut and bread crumbs:
Toast the grated fresh coconut on a dry pan over medium-low heat until lightly golden brown. Don't toast them too brown as your biscuit will turn out too dark after baking. You may still see some mixture of white and golden brown, that's ok. You won't be able to get them all evenly brown. Set aside to cool down

Toast the bread crumb on a dry pan too until just lightly golden brown, which happens pretty quickly compared to the coconut. So make sure to toast them separately and not together

Put both the coconut and the bread crumb in a food processor and pulse them a few times to ground into fine consistency
Prepare the biscuit mixture:
Preheat oven to 340 F (170 C) for a conventional oven. For a convection oven, lower the temperature by 20 degrees. Line a baking tray with a parchment paper. Mix all the ingredients with the coconut and bread crumbs. Stir to mix to combine them. Cover and let them rest for 15 minutes

If you use desiccated coconut, you may need a bit more water to get to the consistency when you press the biscuit mixture with your palm and then when you release your palm the mixture stays but will crumble if you push it with your fingers

I use a small mooncake press mold (50-gram size) and also the Taiwanese pineapple tart mold (it has a square ring and a press, which is perfect for this biskut kelapa)

If you use a mooncake press, put about 1 1/2 - 2 Tbsp or more (this also depends on the size of the mold you are using) of the biscuit mixture into the cavity of the press. We want a biscuit about at least 1/2-inch (about 1.3 cm) thick. Kinda press the mixture down into the mold to pack it, then turn it down onto a baking tray and press the tool down to really compact the biscuit. If it's not packed enough, the biscuit will fall apart

If you use the Taiwanese pineapple tart mold, scoop the biscuit mixture into the ring and use the press to pack it down to give you a cookie about 1/2-inch thick. Repeat with the rest
Baking:
Bake the biscuits at the middle rack for 30 minutes. Let them cool down on the tray for about 10 minutes or so before transferring to a cooling rack to cool down completely
Recommended products:
Nutrition
Serving:
1
biscuit
|
Calories:
79
kcal
|
Carbohydrates:
8
g
|
Protein:
1
g
|
Fat:
5
g
|
Saturated Fat:
4
g
|
Polyunsaturated Fat:
1
g
|
Monounsaturated Fat:
1
g
|
Trans Fat:
1
g
|
Cholesterol:
5
mg
|
Sodium:
110
mg
|
Potassium:
41
mg
|
Fiber:
1
g
|
Sugar:
4
g
|
Vitamin A:
56
IU
|
Vitamin C:
1
mg
|
Calcium:
10
mg
|
Iron:
1
mg