Learn how to make Hokkien bak chang in a pressure cooker or with boiling method. The recipe is a no fuss but with same great taste. Also find the step-by-step on how to wrap bak chang.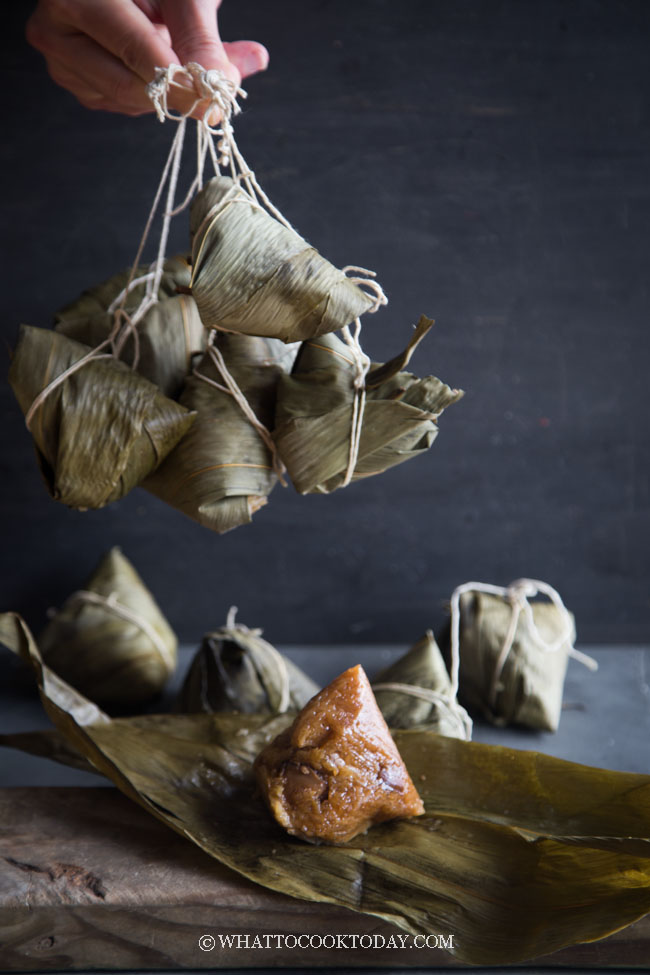 I've never imagined making zongzi or bak cang in Hokkien dialect, on my own. I mean this was something I took for granted. Either my mom would make them or my aunt would make some or my dad would buy some. Regardless, we always had some to eat. They are also available at most Asian grocery stores too, however, I always miss the one I had at home. Zongzi is traditionally eaten at the Dragon Boat Festival on the fifth day of the fifth lunar month (confused yet ? don't worry about the day and the month, just focus on the food).
WHAT IS DRAGON BOAT FESTIVAL?
The Dragon Boat Festival is the commemoration of the death of the great poet and official of the state of Chu, Qu Yuan, during the Zhou dynasty. He wrote a great deal of poetry during his life and serve in high offices. He was accused of treason during the warring states period. He felt despair and Qu Yuan drowned himself in the Miluo river in northern Hunan. People who admired Qu Yuan made rice parcels and threw them into the river in the hope that the fish would not consume Qu Yuan's body and ate the rice parcels instead.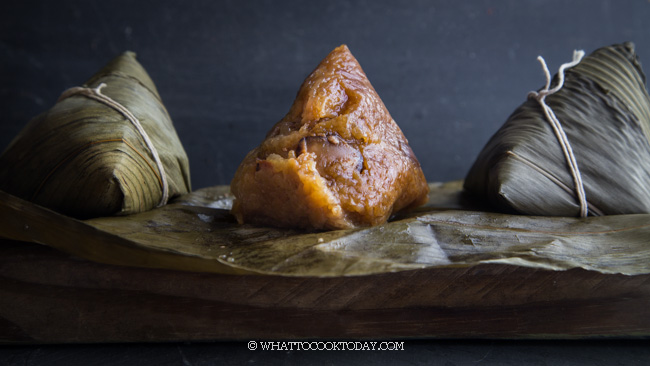 MY GRANDMA'S STORY OF DRAGON BOAT FESTIVAL
The version I've heard, told by my late grandma, was that zongzi is made and used as one of the offerings for deceased people. Zongzi made with glutinous rice is sticky in nature, so it will be sticky when eaten using hands. Some Chinese believe that the deceased person isn't aware that he has passed away and hence, when he eats the glutinous rice cones on the 7th day of his passing, his hands are sticky and when he washes hands, he will see his fingernails that have turned black (rotten). He will then know that he has deceased. So, the zongzi is used to help them realize that they have passed away and rest in peace. Interesting story!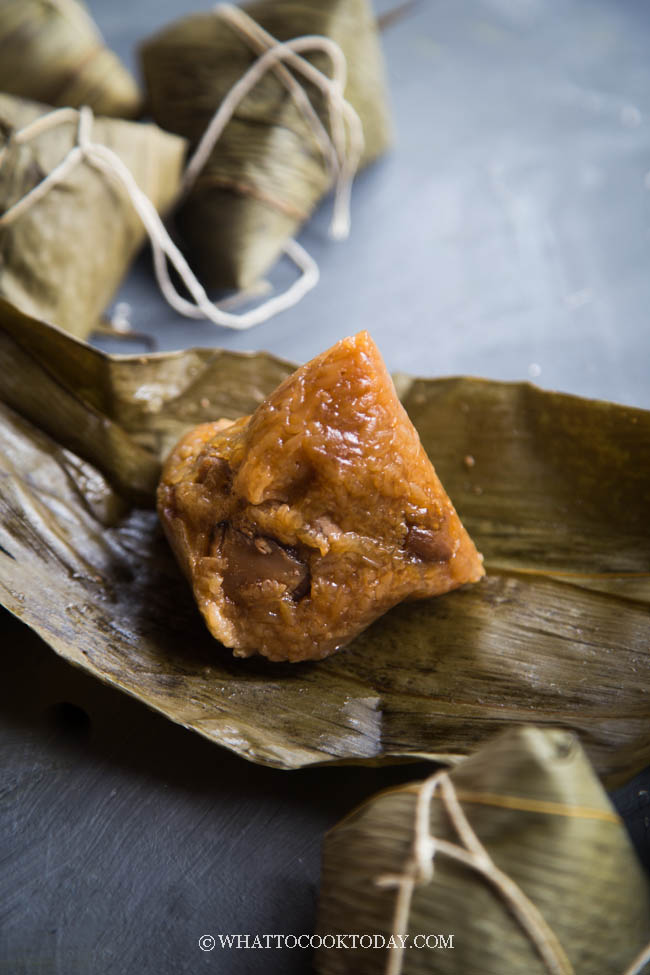 Despite all the stories out there, no one really knows for sure. I just know that Zongzi is eaten all over the world, especially in Asia. Of course, as the Chinese immigrated to other countries, this culture is carried along and now is eaten in other parts of Asia and has been adapted to local taste too.
DIFFERENT KINDS OF STICKY RICE DUMPLINGS (BAK CHANG)
SAVORY VERSIONS: There are Cantonese bak chang, Hokkien bak chang, Teochew bak chang, Hainanese bak chang, and Nyonya Chang as far as I know. All are made with glutinous rice and wrapped in bamboo leaves but with different variations in filling.
SWEET VERSIONS: alkaline dumpling (kee chang), sago dumpling
HOKKIEN BAK CHANG
My Dad's family is Hokkien and needless to say, Hokkien bak chang is what I grew up eating. Even though my mom's family is Teochew, but I've never tasted Teochew bak chang before. Teochew bak chang has both sweet and savory filling.
Hokkien bak chang is much darker in color because dark soy sauce is used and I know some has black-eyed peas added to the filling. I didn't use that. The meat filling is also cooked in five-spice powder and chestnuts and salted egg yolk are added. The glutinous rice grain is usually stir-fried in five-spice powder and dark soy sauce for that dark appearance.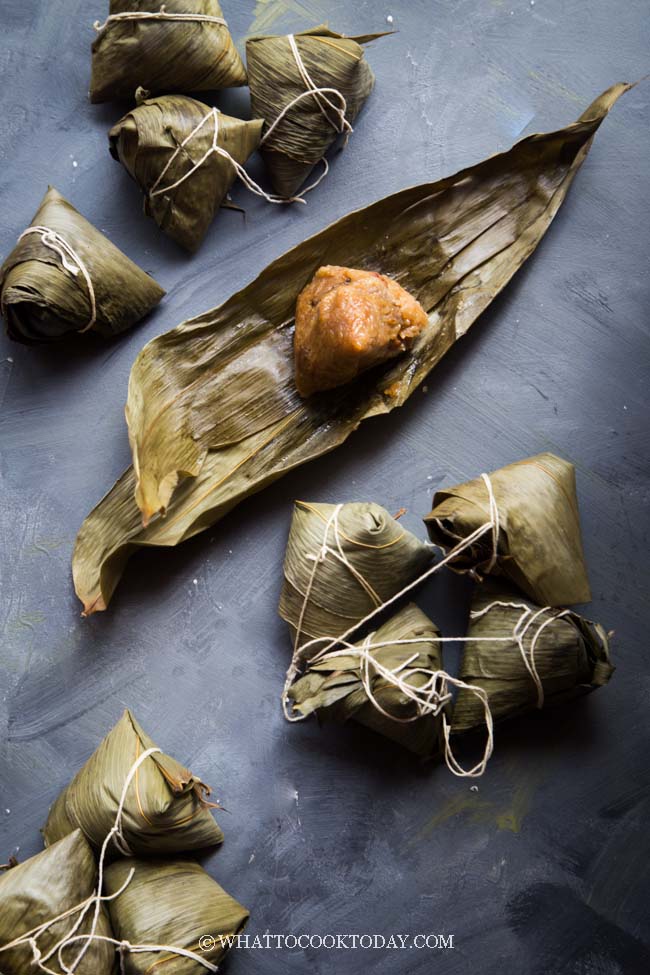 PRESSURE COOKER SAVES COOKING TIME
After the success with making Easy no-wrap bak change, I mustered up some guts to try out the traditional wrap bak chang. The Nyonya chang I made with pressure cooker turned out really great too. I simplified the recipe to make it less intimidating but I can assure you it still has the same great taste
1. NO SOAKING OF STICKY RICE
This is probably one of the best parts for me. The glutinous rice can be cooked in the pressure cooker without having to be soaked for hours or overnight. If you plan to boil them, you still need to soak the rice for at least 4 hours
2. REDUCTION IN COOKING TIME
By using a pressure cooker, you save time significantly from regular 2- 2 1/2 hours of boiling down to 50 minutes!
HOW TO MAKE AND PREPARE BAK CHANG
1. STIR FRY THE RICE
After soaking the rice (if you are not using a pressure cooker to cook the bak chang), drain all water. Preheat a large wok or skillet. Add cooking oil. Stir fry garlic until really fragrant. Add the rice followed by all the seasonings.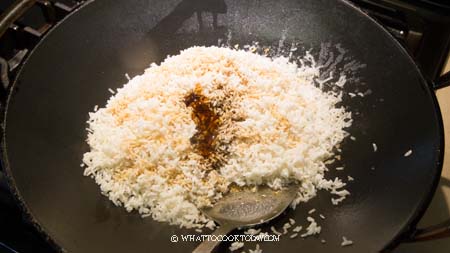 Stir fry the rice until it picks up all the seasonings and the rice turns slightly sticky. Remove from the heat and let it cool down before using it to wrap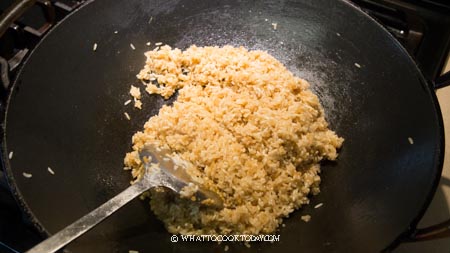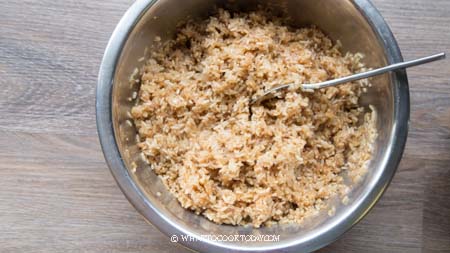 2. COOK THE MEAT FILLING
Preheat a pot or Dutch oven. Add cooking oil and stir fry the garlic until fragrant. Add dried shrimp and stir fry for another minute.


Add the meat and stir fry until the meat turns color.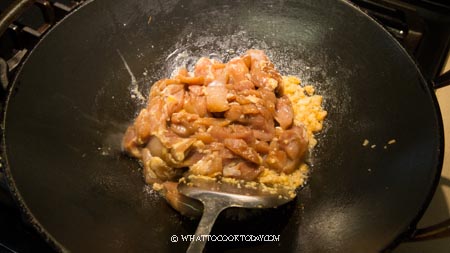 Add water chestnuts and mushrooms. Continue to stir fry until the meat is cooked through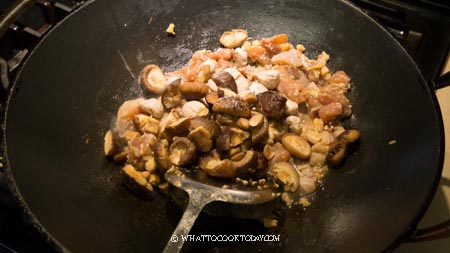 Stir to mix everything.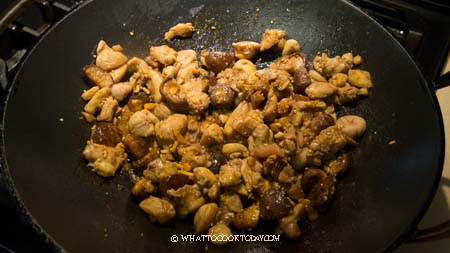 Add Chinese sausage and stir fry for another minute. Have a taste and add more soy sauce or salt to taste. It should be savory in taste.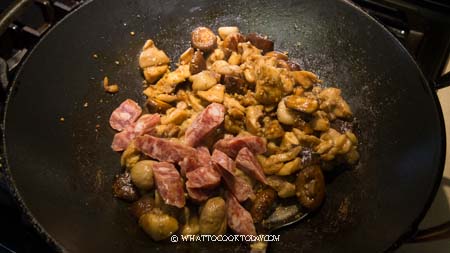 Stir in the crispy shallots (bawang goreng) if using. Dish out and set aside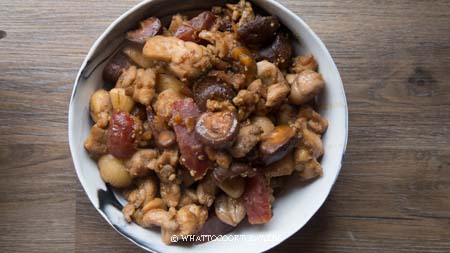 HOW TO WRAP BAK CHANG (STICKY RICE DUMPLINGS)
1. Stack 2 leaves on top of each other. If you have ragged leaves, you can use another leaf to cover by overlapping them so there won't be any leakage. Make sure the smooth side of the leaves are facing you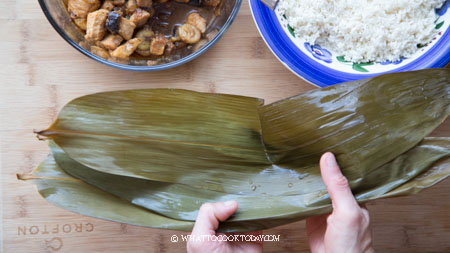 2. Fold into a cone shape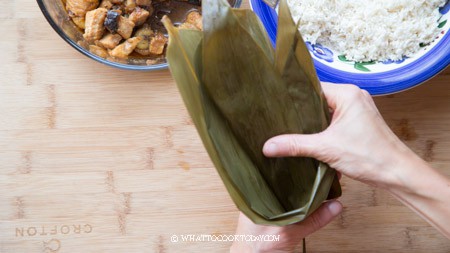 3. Fill it up with about 1 Tbsp of rice and use the back of the spoon to pack it in and slightly create an indentation in the middle for the filling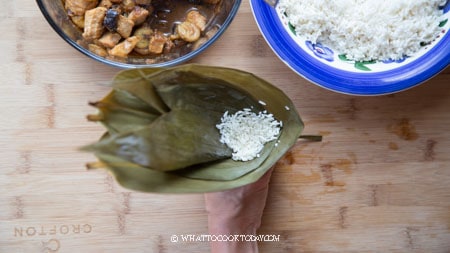 4. Then add chestnuts, mushrooms, Chinese sausage, and few pieces of the meat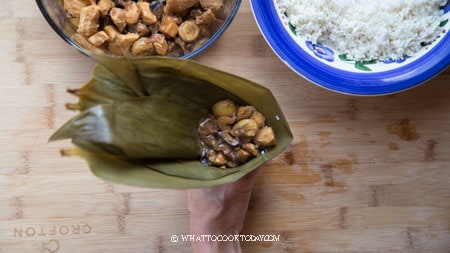 5. Top again with a scoop of rice and press with the back of the spoon to make sure they are tight.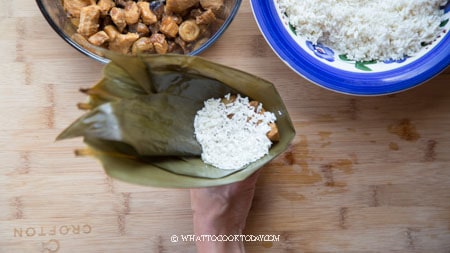 6. Fold one side down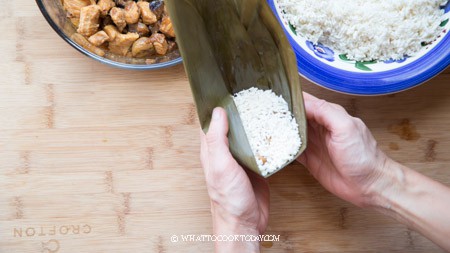 7. Fold the opposite site down


8. Fold the top over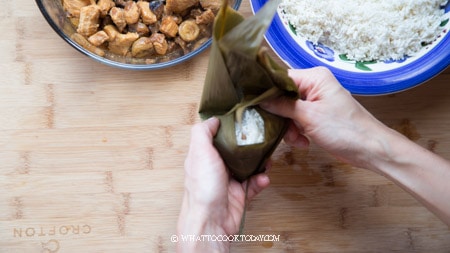 9. This is how it looks like at this point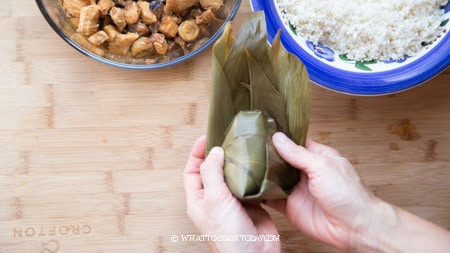 10. Fold the 2 wings over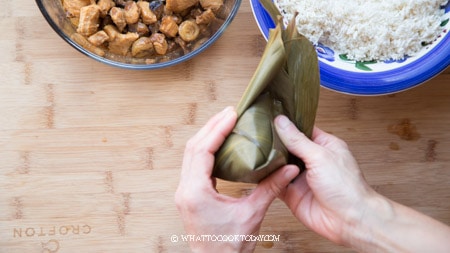 11. Now you have this extra piece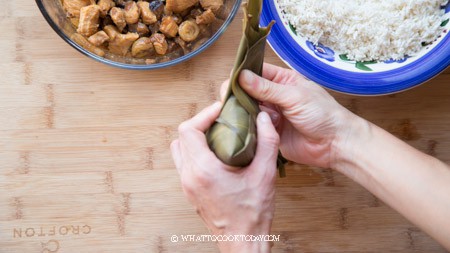 12. Fold it over to either side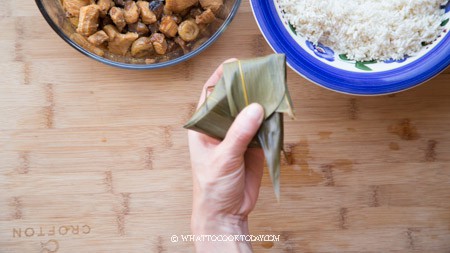 13. Secure with a kitchen twine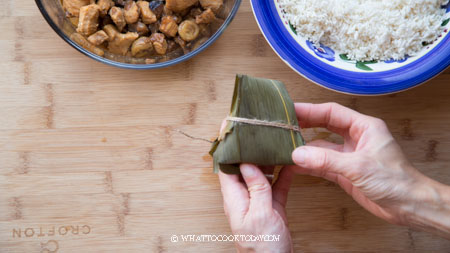 HOW TO STORE AND REHEAT BAK CHANG
You can freeze the bak chang in the freezer and it's good for 6 months. When ready to eat them, you don't thaw them. They can go straight from the freezer to the steamer with boiling water and steam for about 10 minutes on high heat or until heated through. You can also reheat them in a microwave on high on 1 minute increment until heated through.
TRY NO-WRAP BAK CHANG TOO
This No-wrap Bak Chang recipe is easy to put together with the same great taste. Thanks to mama for the recipe and thanks Fuschia, for another great story behind this awesome food! I just had a bite and OMG!!!! Superlicious!!!! The sense of satisfaction for being able to eat it and made it from scratch!!!!!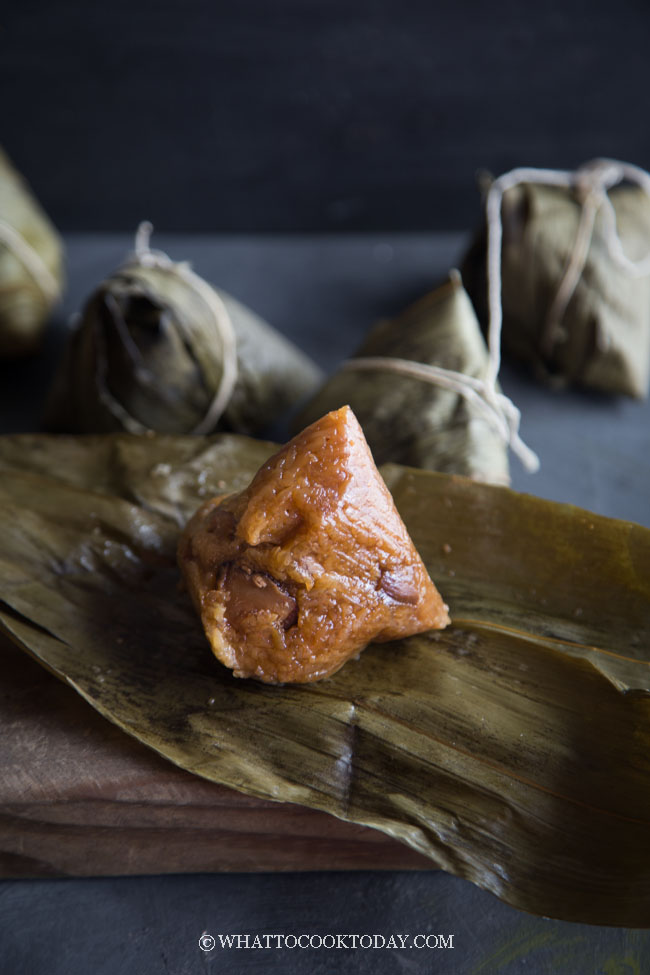 You may also like this vegetarian/vegan zongzi
DID YOU MAKE THIS HOKKIEN BAK CHANG RECIPE?
I love it when you guys snap a photo and tag to show me what you've made 🙂 Simply tag me @WhatToCookToday #WhatToCookToday on Instagram and I'll be sure to stop by and take a peek for real!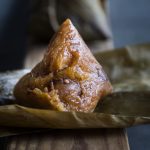 Easy Hokkien Bak Chang (Zongzi-Sticky Rice Dumplings)
Ingredients
Instructions
The day before:
If you are not using pressure cooker to cook the bak chang, you need to soak the rice for at least 4 hours or overnight. Drain off the water after that

Soak the bamboo leaves in water and then discard the water and wipe the leaves dry with clean cloth the next day when you are ready to use them

Place the meat and ingredients for marinade in a large zipper bag or bowl and marinated the meat overnight for best flavor and taste

Soak the dried chestnuts, mushrooms, and dried shrimp in water separately until soft. I just leave them soaking overnight. Remove the red membrane in chestnuts with a toothpick if you see any. Cut the mushrooms into smaller pieces and finely chop the dried shrimp
Cook the meat filling the day before:
Preheat a pot or Dutch oven. Add cooking oil and stir fry the garlic until fragrant. Add dried shrimp and stir fry for another minute. Add the meat and stir fry until the meat turns color. Add chestnuts and mushrooms. Continue to stir fry until the meat is cooked through Stir to mix everything. Have a taste and add more soy sauce or salt to taste. It should be savory in taste. Stir in the bawang goreng if using. Dish out and set aside
Stir fry the rice:
After soaking the rice (if you are not using a pressure cooker to cook the bak chang), drain all water. Preheat a large wok or skillet. Add cooking oil. Stir fry garlic until really fragrant. Add the rice followed by all the seasonings. Stir fry the rice until it picks up all the seasonings and the rice turns slightly sticky. Remove from the heat and let it cool down before using it to wrap
How to wrap zongzi:
Get the rice, the meat filling and the salted egg yolks (if using) ready for wrapping

Generally, you will need about 2 leaves, stacking on top of each other. If you have ragged leaves, you can use another leaf to cover by overlapping them so there won't be any leakage. Make sure the smooth side of the leaves are facing you

Fold into a cone shape. Fill it up with about 2 Tbsp of rice and use the back of the spoon to pack it in and slightly create an indentation in the middle for the filling

Then add chestnut, mushrooms, sausage, and few pieces of the meat into the cone. Top again with more sticky rice, filling up almost 3/4 of the cone. Make sure you really pack it down so the dumpling will be nice and tight later

Fold one side down. Fold the opposite site down. Most people don't fold the two sides and go straight to folding the top part down (as shown in the next step). But I feel like this helps me to wrap "neater" and shows the triangle shape better

Fold the top part down. Fold in both sides. You'll have this extra piece on top now. Simply fold it down to either one of the side

Tie with a string. Repeat with the rest of the filling and rice
Cooking with Instant Pot pressure cooker:
Fill up the inner pot halfway with water. Press saute and bring water to a boil. Add 1/2 tsp of salt. Place the bak chang in the inner pot of instant pot. I can cook 12-14 dumplings in my 6-quart instant pot. Top up with more water to make sure it covers the zongzi if necessary

Cover the lid. Turn the steam release valve to seal. Press "pressure cooker" and make sure it's on "high pressure". Set the timer to 1 hour. Release pressure immediately after that

Carefully open the lid and use a tong to gently remove the zongzi from the pot to a cooling rack. Let the water drips down. The zongzi will still be soft to touch. I recommend waiting 24 hours before eating them
Boiling on the stove:
Bring a large pot of water to a boil. Add 1/2 tsp of salt. Place the bak chang in a large pot. Bring it back to a boil and then cover and lower the heat to let it gently boil for the next 2 to 2 1/2 hours. If your bak chang is large in size you may need 3 hours or so. At the end of cooking time, you can take one out to see if it's cooked through. If the rice doesn't stick to the leaves and doesn't fall apart and the rice holds together nicely. It's done. If the rice falls apart, you need to boil them longer

Carefully use a tong to gently remove the bak chang from the pot to a cooling rack to let it cool down for 24 hours before eating them. They will still be soft to touch, but will firm up once they are cooled down completely
How to store and reheat:
If you have leftovers, you can freeze the zongzi in the freezer and it's good for 6 months. When ready to eat them, you don't thaw them. They can go straight from the freezer to the steamer with boiling water and steam for about 10 minutes on high heat or until heated through or you can reheat them in a microwave on high on 1 minute increment until heated through
Notes
I suggest to have more leaves in case there are some that are not in good shape and you need an extra leaf to cover
Recommended products:
Nutrition
Serving:
1
bak chang
|
Calories:
460
kcal
|
Carbohydrates:
67
g
|
Protein:
16
g
|
Fat:
13
g
|
Saturated Fat:
4
g
|
Cholesterol:
45
mg
|
Sodium:
1300
mg
|
Fiber:
2
g
|
Sugar:
4
g