Learn how to make basic soft fluffy Chinese baozi/mantou that can be made with or without filling or different shapes and flavors as you wish. All the tips you need to know and a step-by-step video to help you make smooth soft steamed buns with this recipe. The recipe also includes yudane or tangzhong method to extend the steamed buns' shelf life.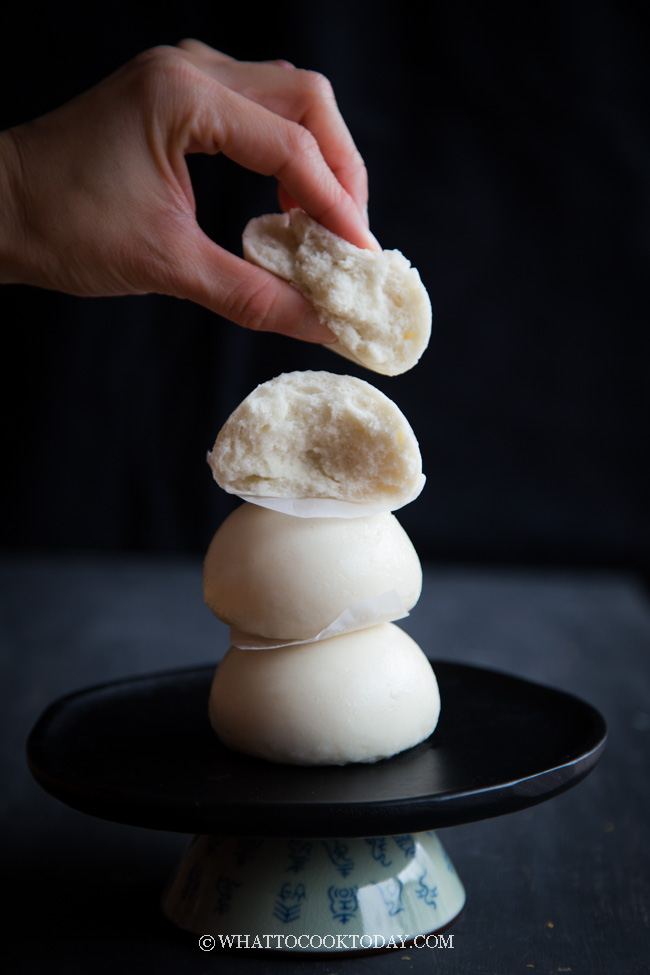 Are you getting tired of making steamed buns that come out wrinkly or collapse or simply just not smooth? I used to wonder why in the world perfectly-proofed buns come out horrible after steaming. As you read through the post below, you will find the reasons why. Making basic steamed buns is not complicated if you get the right tips and of course like they say practice makes perfect. Let's get started guys!
WHY YOU'LL LIKE THIS MANTOU RECIPE
1. You only need to proof the dough once
Unlike most steamed buns recipes where you need to proof the dough once, shape, and then proof again before you can steam. This recipe only requires one-time proofing
2. It's faster to make
Because you only need to proof the dough once, it saves a bit of time here
3. A basic steamed buns recipe that can be easily modified
This is a basic steamed buns recipe with no filling that you can adapt to fill with a sweet or savory filling or shape into different kinds of shapes you wish
4. Have I mentioned soft,fluffy, and slightly chewy?
I truly love this steamed buns recipe for its simplicity and how soft and fluffy the result is yet it has that texture like bread you can tear layer by layer. If you add yudane or tangzhong to the dough, your steamed buns will remain soft for days to come. It's incredible and highly recommend adding yudane or tangzhong (details below)
5. You don't need a chemical leavener like baking powder
This recipe doesn't use any baking powder. The yeast is enough to do the job beautifully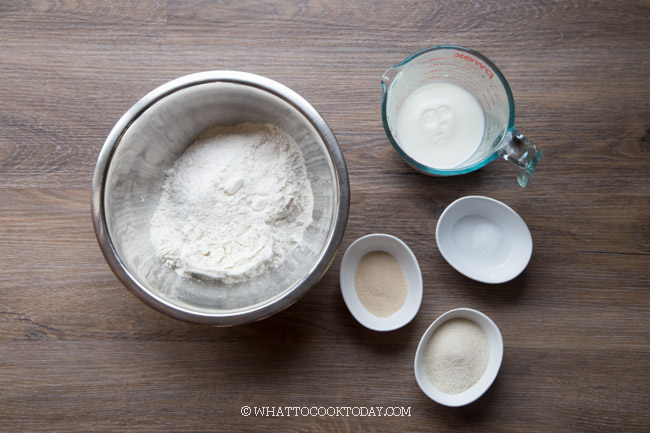 WHAT MAKES SOFT AND FLUFFY STEAMED BUNS?
A basic plain steamed buns recipe only needs 5 ingredients: flour (more in detail on the type of flour), instant yeast, cooking oil, sugar, and salt. Simple as that.
1. The flour you use
Here are what I've tried and the family really like:
1. All-purpose flour + wheat starch
2. Cake flour
3. Premixed Hongkong/Vietnamese bao flour
If you don't have any of the above, try this combination: all-purpose flour + cornstarch
2. Oil
Like in many cases, the oil helps to make the dough soft and not dried out (sort of like a moisturizer)
3. Using Yudane or Tangzhong (HIGHLY RECOMMENDED)
If you want steamed buns that remain soft and fluffy for days, I highly recommend using yudane or tangzhong. It's an extra small step, but it's so worth it.
Yudane is a Japanese version of water roux and Tangzhong is a Chinese version of water roux added to the dough. They act as natural dough improvers. Yudane is made with 1:1 ratio of flour and hot boiling water and usually, the amount of flour used is about 20% of the total amount of flour in the recipe. Tangzhong is made with 1:4 or 1:5 ratio of flour and water cooked into a paste. The amount of flour used is about 7-10% of the total amount of flour in the recipe.
Yudane needs to be prepared at least 4 hours before you plan to use it and you just need hot boiling water to gelatinize the starch. Tangzhong can be used on the same day as long as it has cooled down completely before you use it. Tangzhong is prepared by cooking the flour and liquid on the stove until it turns into a paste. Both give great results. It's just a matter of convenience. I usually prepare yudane or tangzhong in a bigger batches and then portion them out and store them in the fridge for up to 3 days or in the freezer for about one month.
4. Kneading
I remember back in my grandma's days when a stand mixer or bread maker wasn't available yet, the big bulk of the task of making soft fluffy, and smooth steamed buns lie on the kneading of the dough. Lots of kneading! If you have a stand mixer to knead the dough for you, then that's really good!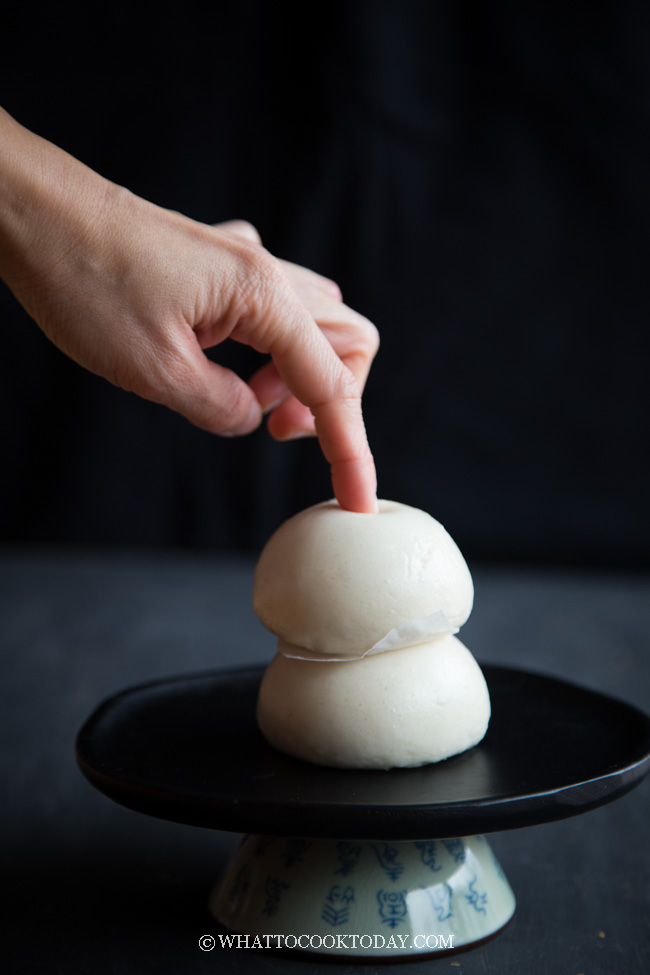 WHICH YEAST TO USE
You can use active dry yeast, instant yeast (which is what I use), and fresh yeast. The yeast helps to leaven the bao. I used to add baking powder to the recipe too, but I found that the texture of the buns is too spongy and I prefer the soft fluffy cake-like texture, besides, you have yeast, you don't need the baking powder, it's kinda an overkill IMHO. I recommend using instant yeast instead of active dry yeast or fresh yeast because it saves time and the proof faster too. BUT, I understand that some people still prefer to use active dry yeast, which will work for this recipe too (refer to recipe card's note). Some people said instant yeast gives a stronger yeasty flavor compared to active dry yeast. It's really a matter of preference I suppose. I don't feel like the steamed buns taste yeasty. You be the judge and follow your preference.
If you use fresh yeast, the general rule of thumb is to use 4 times the amount of instant yeast. So in this case, 4 grams of instant yeast would be 16 grams of fresh yeast.
In general, any type of instant yeast will work. There are so many kinds out there and the naming can be quite confusing. I'm not going to elaborate on yeast here, but just to share with you what you need to know within the context of this post.
FOR THIS RECIPE (low sugar content): I like this SAF Instant Yeast (Red Label). This instant yeast can be used for all kinds of doughs, from bread, steamed buns, to refrigerated or frozen dough. It works very well. It's suitable for dough that is not sweet. This recipe only calls for 3 teaspoons of sugar per 300 grams of flour.
IF YOU PLAN TO INCREASE SUGAR AMOUNT: Yeast can thrive with a bit of sugar, but too much sugar can inhibit their activities. If you plan to use the amount of sugar of 10% or more of the flour weight (10% of 300 grams is 30 grams of sugar or more), use this SAF Instant Yeast (Gold Label). It works so much better for sweet dough. You may also need to decrease the liquid amount if you increase the sugar amount as sugar makes the dough "wet".
You can definitely use whatever instant yeast or even regular active dry yeast if you like, just know that once you increase that sugar amount, the yeast will work much slower and will take much longer to proof the dough, not a big issue just a tad longer.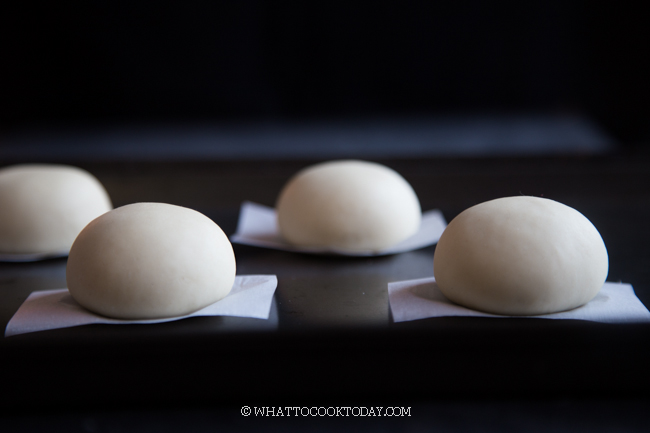 SOFT FLUFFY CHINESE STEAMED BUNS (MANTOU) STEP-BY-STEP MAKING GUIDE
1. MAKE THE DOUGH
Place the flour, instant yeast, sugar, salt in a mixing bowl. If you are using a stand mixer, use a dough hook attachment. Add cold milk or room-temperature water. Add cooking oil. You may need to add more milk/water if the dough is still a bit dry. Add more teaspoon by teaspoon until the dough comes together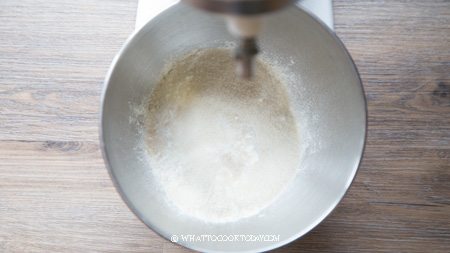 Continue to knead for 12-15 minutes (updated) on low speed (speed 2 on KA). The dough will feel smooth and not sticky. You don't need to knead until the window pane stage (updated).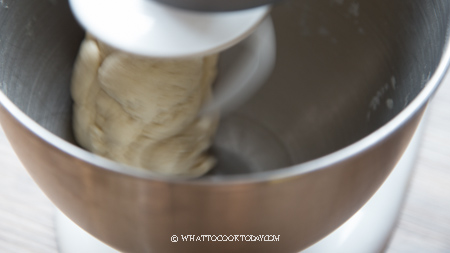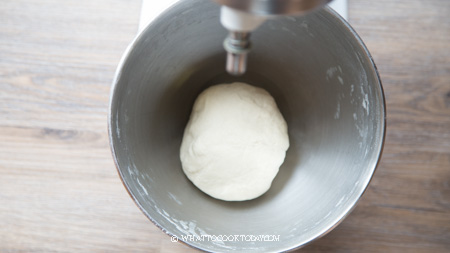 2. SHAPE AND SMOOTH THE DOUGH
Divide the dough into 10-12 equal portions (depends on how small or big you want the steamed buns to be)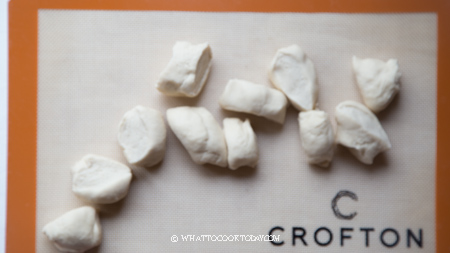 Work with one dough at a time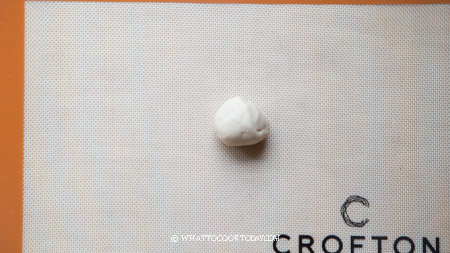 Pull and tuck the dough from top to bottom so the seams are at the bottom and the surface is relatively smooth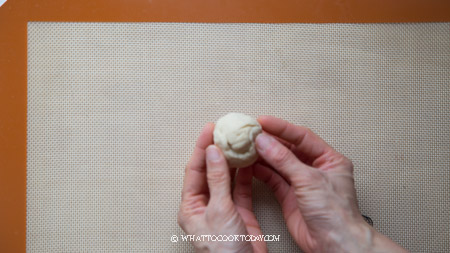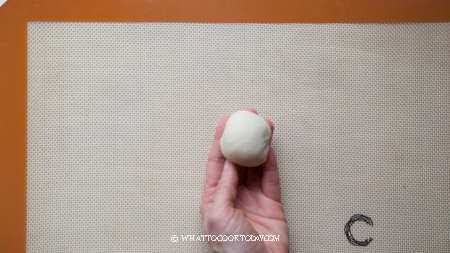 Roll the dough into a smooth round ball in between the palm of your hand or as I did in the video. REALLY make sure the dough is smooth.


Cup the dough with both palms and move the dough in a circular motion to shape it taller. This part is important so your steamed buns come out tall instead of spreading to the side after steaming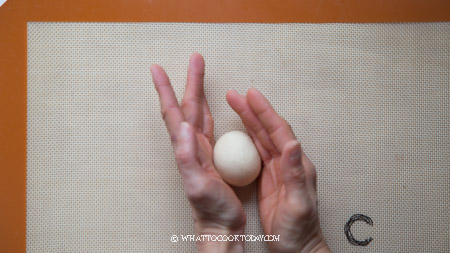 Lightly dab the surface of the bun with some milk using your finger to smooth the surface.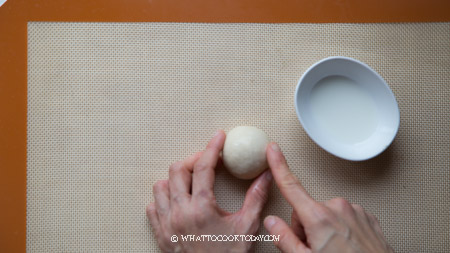 Place on a piece of parchment paper.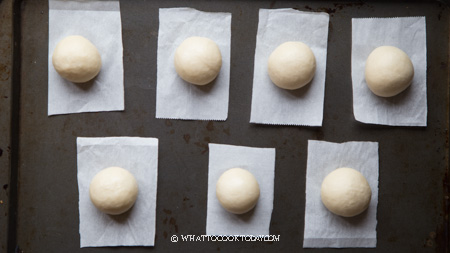 3. PROOF ONLY ONCE
Let the dough rise at room temperature. If it's winter where you are, you can use your oven "bread proof" function to let them proof in there, or simply turn on your oven to the lowest temperature and then turn it off and after 15 minutes, place the shaped buns in there to let them proof until about 50% of the original size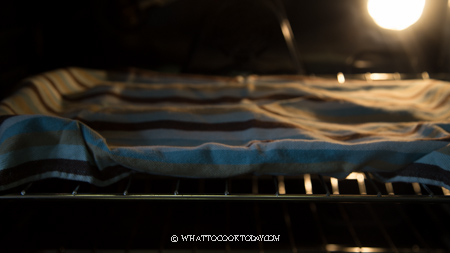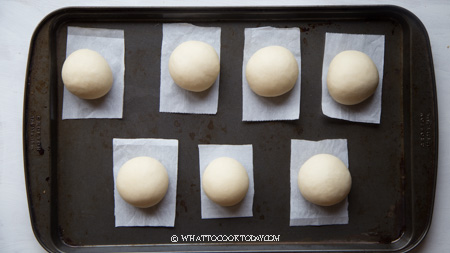 4. STEAM THE BUNS
Fill up the steamer with water but do not turn on the stove yet. Carefully arrange the proofed buns in the steamer, giving about 2 inches of space in between as they will expand quite a bit. Cover with a lid wrapped with a cloth to prevent condensation from dripping on the surface of the buns. If you use a bamboo steamer, you don't need to wrap the lid as a bamboo steamer absorbs liquid

Please note that I use the largest burner on my stove. Different sizes of burners will produce different amounts of heat, so use your largest burner. TURN THE HEAT TO MEDIUM (6/10)
When the water comes to a simmer, crack the lid open about 1/2 inch gap and start the timer. Steam with the lid cracked open like that for 10 minutes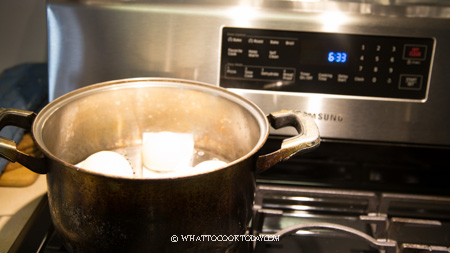 After steaming, turn off the heat. DO NOT OPEN THE LID of the steamer. Let the buns sit there for 3 minutes like this. The buns will not sink or wrinkle due to the sudden change in temperature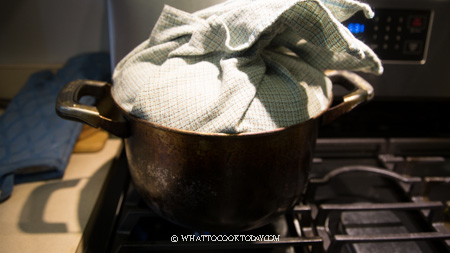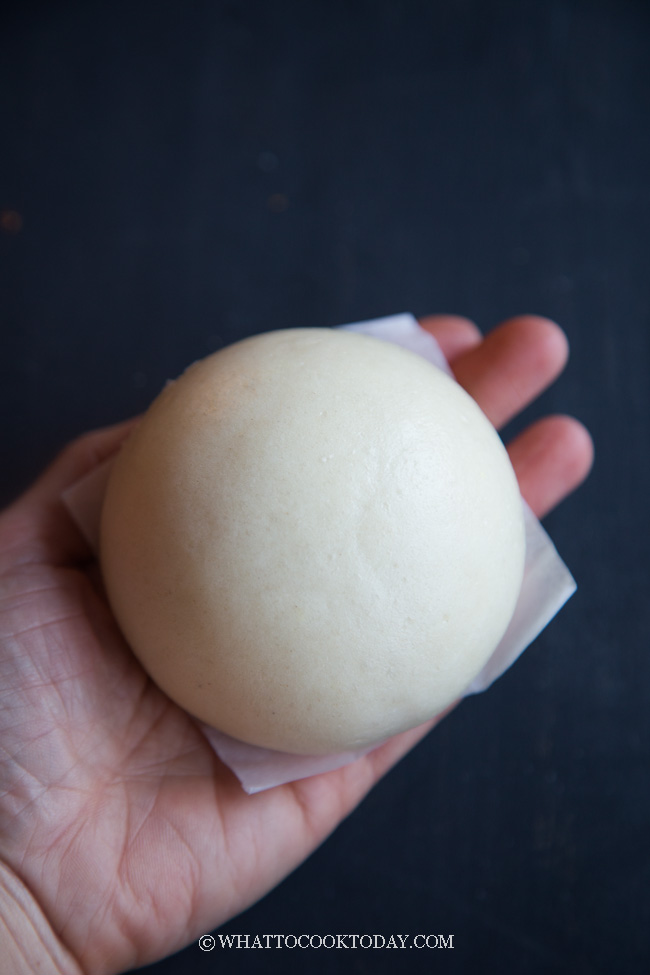 COOK'S TIPS TO MAKE SMOOTH STEAMED BUNS
I've been getting some questions from my readers that their steamed buns come out not smooth even after pushing out all the air. I have inconsistent results sometimes with the steamed buns being not smooth. Here are some tips I've learned after making LOTS of steamed buns:
1. USE ROOM TEMPERATURE OR COLD LIQUID
Instead of using warm liquid (milk or water), I start with room temperature liquid, such as cold milk or room temperature water. That way, the yeast doesn't work immediately while you are trying to shape the buns. It helps a lot not to have all those air bubbles while shaping
2. SMOOTH AND SHAPE IT TALL
Please refer to the video in the recipe card below to see how a few simple steps can help you to make the buns smooth, round, and tall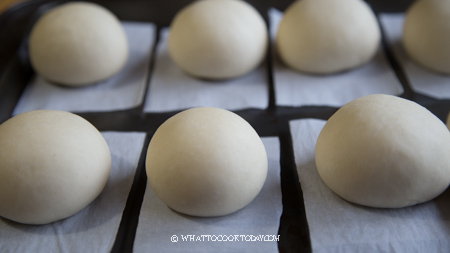 3. ONLY PROOF ONCE
Place the dough in a warm place. I use my oven bread proof function. The dough will puff up to about 50% of its original size at a warm temperature (between 75-95 F / 24-35 C). If it's colder where you are, it will take longer.
4. WRAP THE LID OF THE STEAMER WITH A CLOTH
The condensation collected on the lid will drip back to the steamed buns and create burn spots. By wrapping the lid with a cloth, you easily prevent this from happening
5. STEAM THE BUNS OVER MEDIUM HEAT
High heat will make the buns not smooth and expand to the side. I set the fire on medium now. I used to do Medium-high heat and the results weren't consistent, sometimes I got smooth buns, sometimes I didn't. But I always get smooth buns when I steam on medium heat
6. LEAVE ABOUT 1/2-INCH GAP TO LET STEAM ESCAPE DURING STEAMING
I've tested this method several times and the results were good and have been very consistent in producing mantou with the smooth surface when you steam over medium heat this way. Even when you have overproof the steamed buns, the steamed buns do not collapse and wrinkle, the buns will just expand to the side more after steaming
7. DON'T RUSH TO OPEN THE LID AFTER STEAMING
Let the steamed buns rest in the steamer for 3 minutes or so before opening the lid so your steamed buns won't collapse and shrink due to the sudden change in temperature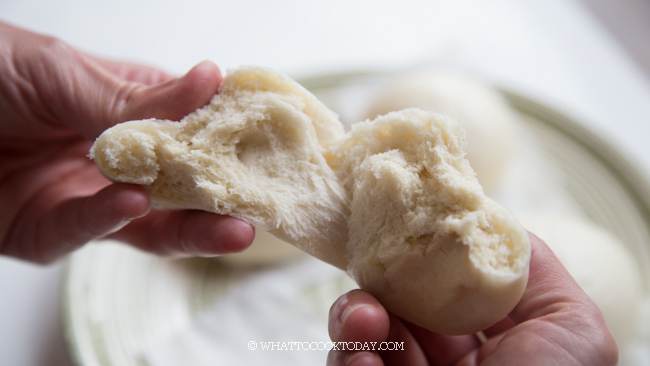 FREQUENTLY ASKED QUESTIONS ABOUT CHINESE STEAMED BUNS
I have made steamed buns A LOT in the past few years and I've learned from some of the flops to share with you and hopefully, you don't have to go through the same.
1. WHAT TO SUBSTITUTE FOR CAKE FLOUR?
Here in the U.S., cake flour is widely available, but it has been brought to my attention that cake flour is not available or any bleached flour is banned in Europe and Australia. You can use regular plain flour (we call it all-purpose flour in the U.S.) and add cornstarch to it. Here's how to make homemade cake flour: For every 1 cup of plain flour (about 115 gr) add 2 Tbsp of cornstarch. This will help to soften the steamed buns compared to just using all plain flour. DO NOT SUBSTITUTE CAKE FLOUR WITH SPONGE MIX (Cake flour is not available in Europe and sponge mix is more common).
2. WHY HOMEMADE STEAMED BUNS ARE YELLOWISH IN COLOR?
This is the question I was asked often when it comes to making steamed buns at home. If you use the premixed steamed buns flour that you bought from the store, the result usually is white in color. The answer is because of the flour. The flour has been treated or bleached to give you that white result. You don't have to use bleached flour. Regular unbleached flour will still give you great steamed buns.
3. DOES VINEGAR HELP TO WHITEN STEAMED BUNS?
I tried that before several times and the answer is No. I thought it would work some magic, but it didn't happen.
4. DO WHITE STEAMED BUNS TASTE BETTER?
Not necessarily. Don't let the color fools you. Just because you produce some yellow buns, they can still be soft, fluffy, and delicious! The color doesn't really affect the taste.
5. STEAMED BUNS COLLAPSE OR COME OUT WRINKLY
-Make sure the liquid is not warm
You want to start the dough "cold" by using cold milk or at least room-temperature water. So the yeast is not active while you are shaping the dough, which creates lots of air bubbles and hence, an unsmooth surface.
-Overproofing (read how to tell if the dough is done proofing and how to prevent over proofing below)
Yes, over-proofing is a problem too. When you let the dough proofs for too long, it will weaken the dough and when you steam it, it will collapse and cause that wrinkle and the buns will spread to the side making them look wide and flat.
-Air bubbles and not shaping them smooth
Make sure you push all the air bubbles out after resting for 15 minutes. Re-knead the dough a few times and then fill and shape the buns according to what you want to do. Make sure the surface of the buns is smooth or they will come out well..not smooth after steaming.
-Steaming over high heat
When I steam the buns over high heat, they always come out bumpy and simply not smooth. But once I adjust the heat to medium with the lid slightly ajar, the buns come out smooth.
-A sudden change in temperature
This is less likely the cause for severe wrinkles on the steamed buns, but the sudden change in temperature may sometimes cause the steamed buns to retract and sometimes even collapse and shrink causing the wrinkles once they cool down completely. Let them stay in the steamer for 3 minutes after you turn off the steamer.
-Another culprit usually is the filling inside the buns. Too much moisture in the filling will make the bun wrinkle and collapse too.
6. STEAMED BUNS ARE CRUMBLY AND CAKEY
– Not enough gluten development
You want to make sure to knead until the dough is smooth, silky, and elastic. Gluten is what contributes to the structure and that nice stretchy and "tearable" buns/bread
– Dough is too dry
This usually happens especially when you knead by hand. Most of the time we keep adding flour to help with the kneading. Dough may feel very sticky at the beginning when you knead by hand but will get better as you knead because gluten has developed. If you keep adding flour, the buns will come out dry and super crumbly
– Not enough hydration
You want to make sure to add enough liquid so a rough dough can come together and continue to knead until it's smooth and elastic
7. HOW TO TELL IF THE SHAPED DOUGH IS DONE PROOFING AND READY FOR STEAMING
1. VISUAL
They won't increase in size by much, ideally, only about 50% of their original size
2. FEEL
The dough feels light and airy when you lift it up, no longer dense and heavy like dough before you shape them
3. FINGER TEST
When you gently push on the dough, it will leave an indentation but will spring back slowly but you will still see some indentation. This dough is perfectly proofed. If it springs back right away, it needs to be proofed a bit longer. If it never springs back, then you have over-proofed the dough. If you proceed to steam, they are most likely going to be dense and tough because gluten is not developed enough in under-proofed dough and has weakened in the over-proofed dough.
8. HOW TO STOP THE DOUGH FROM OVER-PROOFING?
Most likely your steamer won't be able to accommodate all at one go. You may need to steam in 2-3 batches, which means, the rest of the batches will sit longer and continue to proof while waiting for the steamer. Not good for the buns! Here's what you can do: Make sure the cover them with plastic wrap and then place them in the refrigerator to slow down the yeast activity or halt it together until they are ready to be steamed
9. HOW TO RESCUE OVER-PROOFED DOUGH?
So, you did a finger test, you gently push on the dough and it never springs back. Ouch!! over-proofed! If you continue to steam them, they will collapse and come out dense. Here's how to fix it: Gently push down on the dough to flatten and then reshape it and let it proof again following the same instruction as before for proofing. It may not give you an ideal outcome after steaming, but that's the only thing you can do now
10. HOW TO STEAM MANTOU WITHOUT A STEAMER OR BAMBOO BASKET
You don't need an actual food steamer or bamboo basket to steam food. I don't have any food steamer. You can set it up by using:
– Large wok/large pot with a lid
– Metal trivet or wide and low heat-proof glass jar: this is to put a plate/tray on top for the food you want to steam
– A heat-proof plate or tray (that can fit into your wok or pot) to sit on top of the trivet: this is where you put the buns to be steamed
11. HOW TO STORE AND REHEAT MANTOU
Storing: If you make extra and plan to store them, let the already steamed buns cool down completely and then place them on a baking sheet, not touching each other, and then put the entire tray inside the freezer for about 1 hour. They will harden but are not completely frozen yet. Transfer to a freezer bag and they will not stick to each other anymore. Try not to keep it for more than 1 month.
Reheating: They can go straight from the freezer to the steamer. Steam on medium-high heat for 5 minutes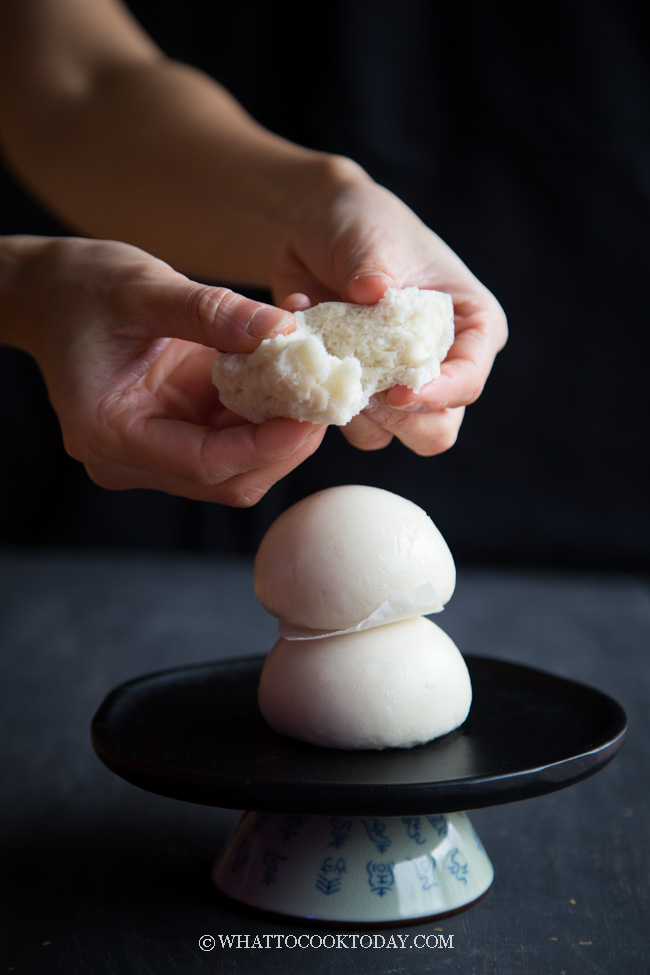 THIS RECIPE CAN BE USED FOR OTHER STEAMED BUNS WITH FILLINGS
This recipe can be used for other typed of steamed buns that are filled with savory or sweet fillings such as these:
Dou Sha Bao
Char Siu Bao
Pumpkin Flower Steamed Buns
Momofuku Steamed Pork Buns
Easy Sweet Piggy Steamed Buns
Scallion Steamed Buns (Hua Juan)-2 ways
Spiral Mantou Recipe
Pandan Liu Sha Bao
So, yes you can still make soft fluffy mantou without any premixed flour and with just a few basic ingredients you probably already have at home! They won't be as white as the ones in dim sum restaurants, but you won't be disappointed either!
You may be interested in trying these Super Easy No-Knead Chinese Steamed Buns. They are so easy, so fluffy and stay soft for days too!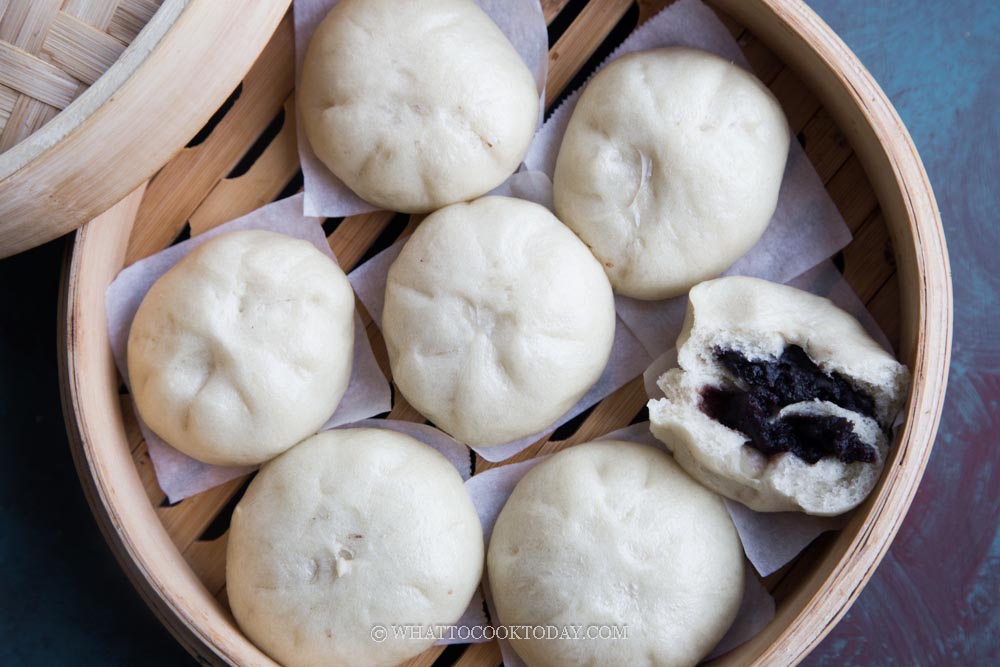 These Soft and Fluffy No-Yeast Chinese Steamed Buns are so good and super easy to make! Worth checking out especially if you don't like to work with yeast or just don't have any yeast on hand!
You may also like these Instant Pot Steamed Buns. You can use your Instant Pot as a steamer to steam the buns.
ALSO CHECK OUT THIS SOFT AND FLUFFY WHOLE WHEAT (WHOLEMEAL) STEAMED BUNS!
YOU CAN ALSO MAKE SOURDOUGH VERSION OF STEAMED BUNS
DID YOU MAKE THIS SOFT FLUFFY MANTOU RECIPE?
I love it when you guys snap a photo and tag to show me what you've made 🙂 Simply tag me @WhatToCookToday #WhatToCookToday on Instagram and I'll be sure to stop by and take a peek for real!
*I'm continuing to update this post as I discover or learn something new when I make steamed buns to make sure others can replicate the same result (if not better!)*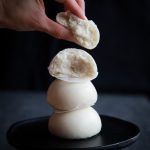 Soft Fluffy Chinese Steamed Buns Recipe (Baozi/Mantou)
Ingredients
Option 2:
180

gr

all-purpose flour

plus more for dusting

180

gr

cake flour
Dough for option 1 and 2:
4

gr

Instant yeast About 1 1/4 tsp, see notes 2,3,4

60

gr

sugar

you can cut down on the sugar or add more to your taste

1

Tbsp

cooking oil

½

tsp

salt

180

ml

cold milk

plus more to dab the surface of the buns later, see notes 5
Option 3 (with yudane):
75

gr

all-purpose flour

75

gr

hot boiling water
Dough for option 3:
105

gr

all-purpose flour

plus more for dusting

180

gr

cake flour

4

gr

instant yeast

½

tsp

salt

60

gr

sugar

you can cut down on the sugar or add more to your taste

1

Tbsp

oil

105

ml

milk

start with this amount
Option 4 (use tangzhong):
35

gr

all-purpose flour

175

gr

milk
Dough for option 4:
145

gr

all-purpose flour

plus more for dusting

180

gr

cake flour

½

tsp

salt

4

gr

instant yeast

60

gr

sugar

1

Tbsp

oil

Milk

as needed, you may not need
Instructions
If using yudane:
Measure out 75 gr bread flour in a heat-proof bowl. Place this on top of a kitchen scale.Bring water to a boil. I usually boil 15-20 grams extra than what I need to account for evaporation during boiling. When water comes to a boil, don't turn it off yet, let it boil for another minute or two to make sure it reaches boiling temperature. Use a thermometer if you have one. I make sure it's at least 212 F/100 C

Carefully but quickly pour the amount of boiling water you need into the flour and stir with a sturdy spatula until all the flour is hydrated by the hot boiling water. You will get a sticky dough

Let it cool down to about 122F/50 C. Wrap it with a cling wrap that I lightly sprayed with non-stick spray and let it sit on the counter if you will be using it in 4 hours later or in the fridge for the next day. They can be kept in the fridge for up to 3 days. The longer you rest the yudane, the better the quality of your bread
If using tangzhong:
Place milk and the flour in a small saucepan. Whisk until there is no more lumps. Cook this mixture over medium heat until it is thickened, about 5 minutes or less. Remove from the heat and let it cool down completely. You can also cover and keep it in the fridge to be used the next day. It can be kept in the fridge for up to 3 days or in the freezer for one month
Prepare the dough with a machine:
If you keep tangzhong or yudane in the fridge, take it out to let it sit at room temperature for about 30 minutes or so.

I highly recommend watching the video as it really helps to understand the process so much better

Place the flour/starch combination , instant yeast, sugar, salt, in a mixing bowl and stir to combine. Add milk and oil in a mixing bowl. Tear the yudane pieces to add to the dough or add tangzhong paste to the dough if you use either one

If you are using a stand mixer, use a dough hook attachment. You may or may not need more liquid. With option 1 I use close to 200 ml and with option 2 I need about 180 ml. This is just for your reference, you may need more or less

Turn on the mixer at the lowest speed to prevent flour from flying all over the place. Continue to knead at low speed (speed 2 on KA) for 12-15 minutes (updated for the best result) or until the dough is smooth, silky and elastic. You don't need to develop a window pane here
Prepare the dough by hands:
If you use yudane/tangzhong, just know that the dough is extremely sticky at the beginning and it can be quite frustrating. This is very normal. Don't give up. After being kneaded, it will get better

Place the flour/starch combination (either option 1 or 2), instant yeast, sugar, salt, and oil in a mixing bowl. Start with 180 ml of liquid, most likely you will need more liquid than called for in the recipe. I usually need about 180-200 ml of liquid. Mix until you get a rough dough (it's not going to be smooth yet). Cover and rest it for 15 minutes

Then go back and knead it. You'll be surprised by how easier it is to knead it now. Knead until the dough is smooth and pliable. The kneading motion is like washing a cloth by hands. At any point during kneading, you can always stop and rest the dough if you find it hard to knead and so much resistant. This is to relax the gluten. Then go back to knead again and you'll be surprised by the difference it makes by just resting the dough before kneading again. It's easier for you too. You want the dough that is smooth, silky, and elastic. Just to warn you that it's going to take some time to knead by hands. It may take 20-30 minutes total of time to knead by hands
If you are going to make steamed buns with filling:
Divide the dough into 10-12 equal portions. Flatten and gather the edge to round them up into dough balls. Cover and rest the dough for 15 minutes. This is not to proof the dough. It shouldn't double in size. This is to relax the gluten for easier shaping and rolling the dough, then proceed to next step that's applicable to you

Lightly dust the work surface with some flour. Work with one dough at a time. Flatten the dough with your palm and then use a rolling pin to roll it out to form a circle about 4-5 inches, with a slightly thicker middle part. This is to support the weight of the filling. Don't roll the dough too thin. If you roll the dough too thin, the filling might make the steamed buns "wrinkle" later when you steam. Place the filling at the center and then gather the sides to enclose the bun and pinch to seal. Flip the bun so the seam side is down now

Cup the dough with both palms and move the dough in a circular motion to shape it taller. This part is important so your steamed buns come out tall instead of spreading to the side after steaming. Repeat with the rest of the dough. Cover with a clean kitchen towel and proceed to proofing
If you are just making plain steamed buns with no filling (round shape):
Divide the dough into 10-12 equal portions. Flatten and gather the edge to round them up into dough balls. Roll the dough into a smooth round ball in between the palm of your hand or as I did in the video. REALLY make sure the dough is smooth.

Cup the dough with both palms and move the dough in a circular motion to shape it taller. This part is important so your steamed buns come out tall instead of spreading to the side after steaming

Place on a piece of parchment paper. Lightly dab the surface of the bun with some milk using your finger to smooth the surface. You can also mist with some water using a spray bottle. Loosely cover with clean kitchen towel to prevent drying. Work with another dough and do the same. Proceed to proofing after that
For mantou shape:
Roll the dough into a long log and use a dough cutter to cut into 8-10 equal portions using a serrated knife is best so it won't squish the dough down. Lightly dab the surface of the bun with some milk using your finger to smooth the surface or mist with some water using a spray bottle. Proceed to proofing step below
Proofing:
Let the dough rise at room temperature or at a warm place.  If it's winter where you are, you can use your oven "bread proof" function to let them proof in there, or simply turn on your oven to the lowest temperature and then turn off and after 15 minutes, place the shaped buns in there to let them proof. They won't necessarily double in size, but at least puff up to about 50% of the original size. This may take about 1 hour or longer at a warm temperature. Don't go by the time however. Observe the dough instead!

For active dry yeast and fresh yeast, you may need a bit longer for it to proof compare to instant yeast. If you use more sugar in the recipe, you may need to proof a bit longer too. Do not overproof your dough however

How do you know if your buns have proofed ? They will be about 50% bigger than their original size AND when you lift them up, they should feel significantly lighter. If not, let them proof a bit longer. They may not visually look bigger. Use a finger test too. When you gently push on the dough, it will leave an indentation but it will spring back slowly. This dough is perfectly proofed. If it springs back right away, it needs to be proofed a bit longer. If it never springs back, then you have over-proofed the dough. Loosely cover them with plastic wrap and put the over-proofed buns in the fridge to slow down the proofing while waiting for the steamer

An under proofed buns will be very dense and have bumpy surface after steaming. An over proofed buns may widen to the side and much flatter, but they shouldn't be dense and heavy. So, overproof may still be a bit "safer" compared to the buns not sufficiently proofed. Ideally, we want it to be perfectly proofed of course 😉
Steaming:
Most likely your steamer won't be able to accommodate steaming all buns at one go. You may need to steam in 2-3 batches, which means, the rest of the batches will sit longer and continue to proof while waiting for the steamer. Here's what you can do: Make sure to cover them with plastic wrap and then place them in the refrigerator to slow down the yeast activity until they are ready to be steamed

Fill up the steamer with water but do not turn on the stove yet. Carefully arrange the proofed buns in the steamer, giving about 2 inches of space in between as they will expand quite a bit. Cover with a lid wrapped with a cloth to prevent condensation from dropping on the surface of the buns. If you use a bamboo steamer, you don't need to wrap the lid as bamboo steamer absorbs liquid

Please note that I use the largest burner on my stove. Different sizes of burners will produce different amount of heat, so use your largest burner. TURN THE HEAT TO MEDIUM (6/10)

When the water comes to a simmer, crack the lid open about 1/2 inch gap and start the timer. Steam with the lid cracked open like that for 10 minutes

After steaming, turn off the heat. DO NOT OPEN THE LID of the steamer. Let the buns sit there for 3 minutes. The buns will not sink or wrinkle due to the sudden change in temperature

Proceed with the next batch and steam with the same method and setting as I mentioned above. You don't have to wait for the water in the steamer to cool down to start. Just turn on the stove to medium heat, crack the lid open immediately and the time starts when water is back to a simmer again
Serve warm or cool down:
Serve them warm or immediately remove the buns to wire rack to let them cool down. This is to ensure the bottom of the steamed buns will not be wet and soggy
Storing:
If you make extra and plan to store them, let the already steamed buns cooled down completely and then place them on a baking sheet, not touching each other, and then put the entire tray inside the freezer for about 1 hour. They will harden, but not completely frozen yet. Transfer to a freezer bag and they will not stick to each other anymore. Try not to keep for more than 1 month
Reheating:
They can go straight from freezer to steamer when you ready to eat them. Steam on high heat for 5 minutes and they are as good as new
Notes
Use potato starch (not potato flour) if you cannot find wheat starch. If you can't find potato starch, you can use cornstarch, though I highly recommend potato starch instead of cornstarch
You can use active dry yeast, but make sure to rehydrate the yeast in water or milk with 1 tsp of sugar. It will dissolve and be all foamy, about 10 minutes. If it's not, your yeast is no longer good. You can add the rest of the sugar into the dough later
You can also use fresh yeast, the amount would be 4 x the amount of instant yeast. So you'll need 16 grams of fresh yeast
I highly recommend testing the yeast for activity before starting to work on this recipe. You don't want to wait for hours only to find out your yeast is no longer good. Here's how:
Add 1 teaspoon of sugar and 2 1/4 teaspoons of yeast (one envelope) to 1/4 cup of warm water. Wait for 10 minutes and if you see foams and bubbles and you smell that yeast aroma, your yeast is still good to go. If not, then you need to get fresh yeast.
I recommend starting with a small amount of liquid and add more as you go because it really depends on the type of flour you use (they absorb liquid differently) and that's why I can't give you an exact amount but 180 ml is a good start and add as you go. If you use premixed bao flour, you may want to hold back about 30 ml of the liquid. You can use low-fat, fat-free, or whole milk. The more fat it has, the richer the taste of the steamed buns
Nutrition
Serving:
1
medium-size plain bun no filling
|
Calories:
149
kcal
|
Carbohydrates:
29
g
|
Protein:
4
g
|
Fat:
2
g
|
Saturated Fat:
1
g
|
Polyunsaturated Fat:
1
g
|
Monounsaturated Fat:
1
g
|
Trans Fat:
1
g
|
Cholesterol:
2
mg
|
Sodium:
108
mg
|
Potassium:
103
mg
|
Fiber:
1
g
|
Sugar:
6
g
|
Vitamin A:
25
IU
|
Vitamin C:
1
mg
|
Calcium:
26
mg
|
Iron:
1
mg